450 Bulldog powers from early 1970's
---
It began as a joint project with his father a decade ago. Now, you can spot this olive-green Ford Escort Bulldog Machine cruising the streets and circuits of Sweden, eagerly awaiting your attention.
---
Like a small green candy with gold, yellow, and black specks, it rolls down the gravel road. It's not very large but it's wide.
An Escort MKI original may not be all that exciting, but this Escort MKI is eye-catching. 
The black stripe along the sides, frames the car's waist and makes it look really fast. The number 73 on the door indicates the model year and gives even more expression that this one is built for speed.
The golden rims shine in the morning sun, giving the English Ford a real bulldog look. It truly signals that you should keep your distance, or there might be trouble.
It looks like it just wants to move forward. It doesn't matter if it's pouring rain, the wind is in storm dimensions, or the snow is deep; this car is meant to move forward.
A scent of ethanol catches up with the car as it stops.
A project together with his father
---
Daniel Zettervall, the owner, who is above average in height, unfolds himself from the cabin after parking the car in front of me.
On the door, it says "Mexico," which is a big tribute to Hannu Mikola's win with Gunnar Palm in the London-Mexico rally in 1970. They won the rally after driving for over a month, from April 19th to May 27th, from London to Mexico, covering 25,000 km. After that, Ford built an Escort Mexico model that had more performance than the original but still not quite the same performance as the rally car. However, many rushed to buy the car. Since then, the Mexico stripe has become a classic in the Escort world.
"The idea was to do something together with my dad," says Daniel.
---
Get your own magic poster today and support Fascinating Cars
Posters made by Fascinating Cars – shipped all over the world at local shipping cost
---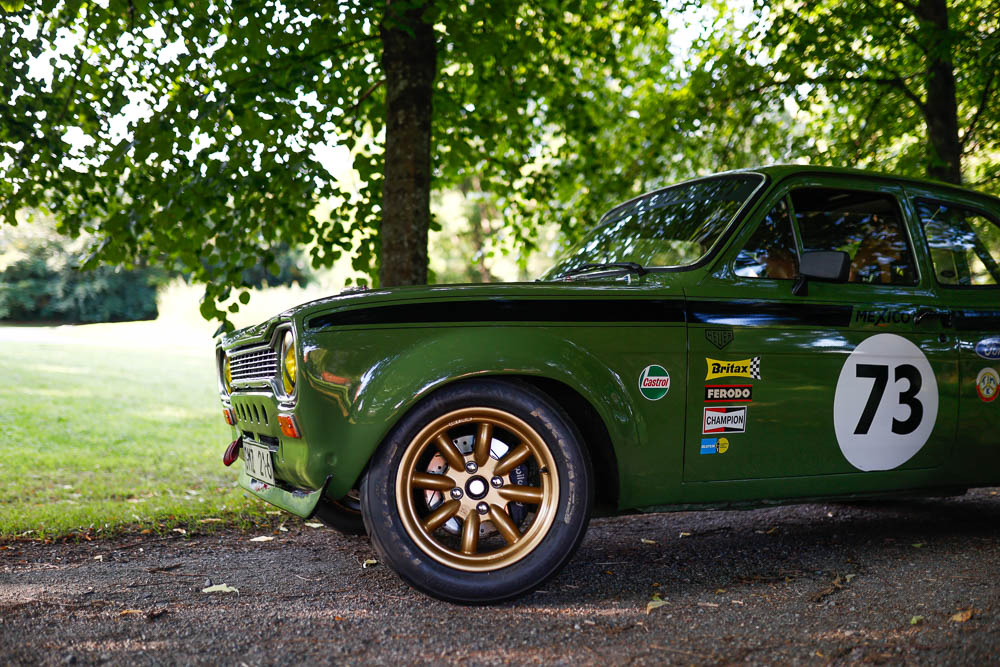 After working at different restaurants and bars and living for 2 years in the Swedish mountains, where he also started a company selling snowboards, Daniel wanted to do something else when he turned 25. He moved back to Stockholm and came up with the idea that he and his dad would build a car together.
Dad Mats has been involved with Fords his whole life and is a well-known Ford driver within the Swedish rally community.
At first, the plan was for Daniel to work on his mom's old Anglia and do something great with it. But he changed his mind as it was far too nice to modify. Instead, he was given an Anglia carcass that was standing outside the garage in Södertälje.
"The Anglia began to be repaired for rust, and a Zetec engine was acquired, but then the Escort and the Cosworth engine came up around the same time. The switch was quite easy."
The Escort was found on Tradera (Swedish ebay), somewhat of a renovation project, you could say. They placed a bid of 300 $, while no one else seemed to care, and the auction ended. The owner reached out and asked if they'd be willing to increase the price to 350 $. Without any hesitation, a little bit later, they drove west in Sweden to trailer it home.
70% of the car's sheet metal has been replaced
---
The year was 2013, and when the Escort was finally home, the project began to gain momentum.
"70% of the car's bodywork has been replaced. The entire floor has been replaced. Inner panels and fenders have been replaced," Daniel recounts.
He talks about the golden 15×8 Minilite rims that a neighbor had in their garage. They were so good-looking that they became a purchase and they determined the width of this car.
"We found fiberglass fenders that would be easy to put on."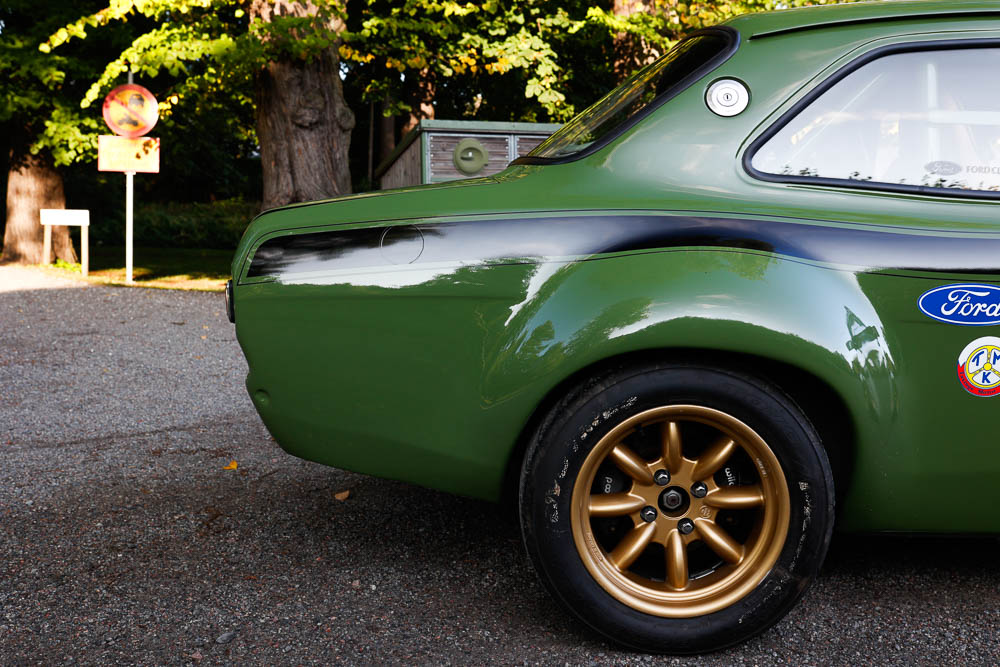 However, the rear fenders were uneven and didn't fit quite right. Daniel and his dad, Mats, had to get really creative. They cut off the wheel arches from the uneven fenders while simultaneously cutting off the wheel arches from a pair of extra front fenders they had acquired. Then, they molded the front fender's wheel arch to the rear fender. Problem solved.
Almost everything in the car has been replaced or modified, with only the grille with the lights, rear end, roof, and doors being original.
The cabin is snug and well-built
---
Looking into the cabin to see how everything fits tightly and is custom-made and at once you see that the seats can't be moved.
"When we built the car, the roll cage became somewhat tight, which made me get new seats because the ones I had planned to use were a centimeter too wide."
Daniel went online and found a pair of narrow light brown Cobra FIA Historic racing seats.
They fit precisely to the centimeter and were bolted in to fit within the 8-point Finess roll cage that Mats had welded together.
At the feet, there's a stylish, clean, and elegant Tilton 600 pedal set that practically screams, "Heel-toe me as much as you can," while the Sparco steering wheel with its smooth suede and golden hub leads to an electric power steering system from an Opel Corsa and an Escort MK2 HD – quick steering rack.
Everything in the cabin is clean and neat, and the red Sparco four-point harness adds a nice pop of color in the seat. Daniel, just like all other car owners, apologizes slightly for the wiring, but it looks quite professional.
When the car was finally completed in 2017, after nearly 4 years of work, the gauges on the dashboard were digital. However, after three years of driving, Daniel wanted to switch back to analog.
"Out with the new, in with the old!" as he writes on his Instagram feed.
In the center, there's a black Motamec lever connected to the hydraulic handbrake, and in front of it, there's a Coolerworx gear lever that controls the 6-speed Getrag/BMW gearbox.
The only thing in this cabin that may be a bit excessive is the box for the helmet, but what does it matter when it fits in so perfectly?
"We can get more than the existing 450 hp"
---
The car is built entirely around Daniel and how he wanted it to be. Or more accurately, how it should look. His father has been the mechanical genius in this build because his experience with Fords and car construction is like Wikipedia.
"The only thing was that he sighed loudly when I said I wanted a turbo in the car. Because he wasn't used to building those." Daniel says with a smile.
As we stand and look down at the Cosworth monster in the engine compartment, the GT 3067 Garrett turbo sits there just waiting to be used. It's as clean here as it is in the cabin, and the gears for the overhead camshafts look sharp and ready.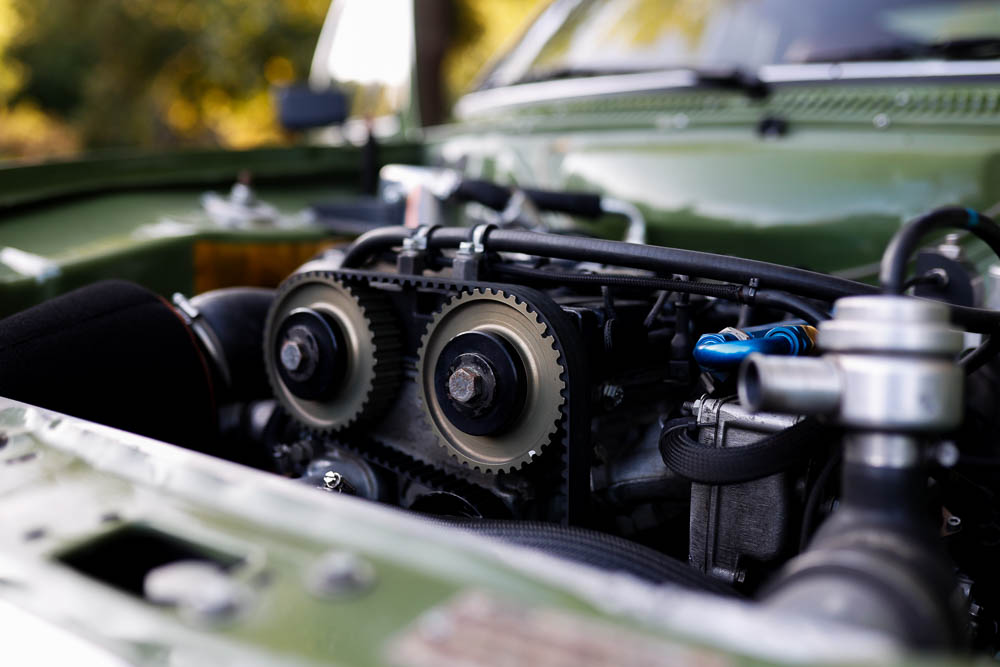 "The engine is based out of a 200 block bored to 92 mm with JE pistons and ZPR connecting rods and crankshafts."
The engine is dyno-tested to 450 hp and runs on E85, but Daniel says with a smile on his lips that they can get more horsepower out of it if they want to.
The firewall has been moved back 5 cm to make room for everything, and the engine mounts are made from old Ford leaf spring mounts.
Everything that makes the engine tick is meticulously thought through to 130%. The head is ported, it has Enem camshafts, dual valve springs, adjustable cam gears, a Tial 44mm wastegate, NUKE boost/fuel rail, Grp4 fuel tank in the trunk with a catch tank and 044 Bosch pump. This is engine magic controlled by a MaxxEcu Street control system.
The turbo is less than a meter in front of me
---
Of course, we have to take a spin and feel how the car handles. It's immediately evident that the dual-disc Sachs clutch with a hydraulic release bearing is something Daniel needs to work on; it doesn't look super easy.
I can hear everything that's going on in the car; there's a little creak here and a little creak there, and it's bumpy through the roadworks in the Stockholm suburbs. However, the struts from a Ford Capri, along with Bilsteins and GAZ Coilovers, absorb all the bumps in the road as we drive.
My backside and my shoulders just about fit into the Cooper seat. With a millimeter precision.
Less than a meter in front of me, I hear the turbo wind up and down – whoosh, whoosh – as Daniel presses the gas and propels us forward quickly.
The car hugs the ground, and I can't help but smile as the noise level rises along with the revs.
In the reflection of a bus shelter, I see how the olive green Porsche color truly suits this Escort MK1.
"This is what I like"
---
"The car has been through a few accidents too. Most recently, it caught fire at Gelleråsen when the oil return to the turbo was leaking. I've had a complete engine failure with the previous engine. My dad backed into it right after it was done with the paint, and then I lost the right rear wheel, one of the first times I drove it."
"But all of that is just part of owning and building a classic car."
During our meet, as Daniel tells me about this project that has been ongoing for 10 years, I am truly impressed. What passion and energy have been poured into this rolling work of art by both him and his dad.
During the hours we stand and talk and take pictures, five or six people roll, walk, or run by and offer encouraging words like "Nice car!" or point out what a beauty it is.
Daniel becomes equally happy every time, and he politely thanks everyone.
"This is what I like. The appreciation for all the hours and all the work that has been put into this car over all these years."
I completely understand him because there must have been so many hours invested in this awesome Escort MKI.
If you meet Daniel and his Ford, give him a cheer – or go to his Instagram account and follow – he deserves it.
---

---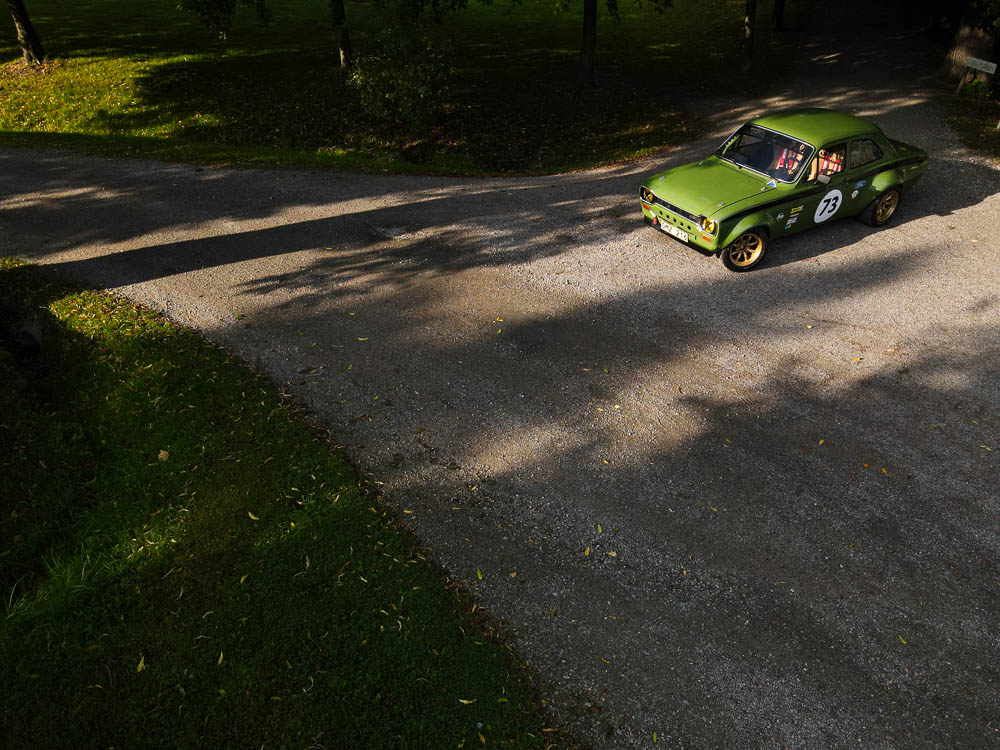 ---
Get your own wall paper and support Fascinating cars
Posters made by Fascinating Cars – shipped all over the world at local shipping cost
---
Follow the Fascinating Cars journey
---