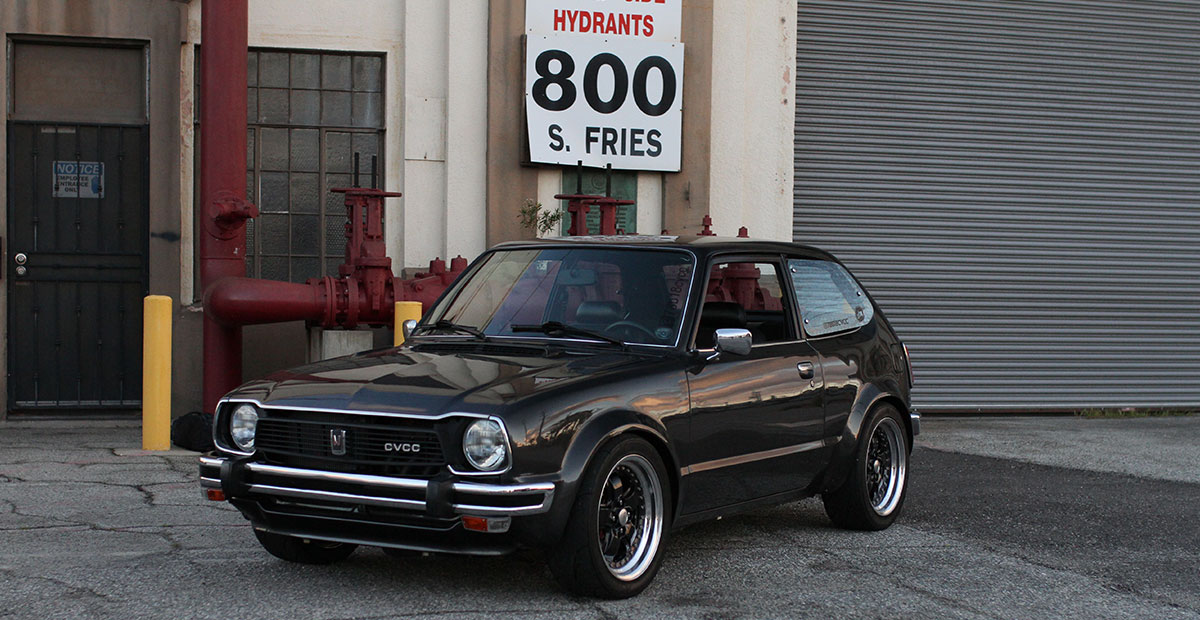 Original Civic from 1978 with 216 hp
---
Social media, American dream, Coffee n Cars, garage in the middle of Los Angeles, 216 horsepower that does not want to get into the ground on an award-winning car from 1978.
Next to me in a garage in Los Angeles stands Juan Salguero, a master of details everyone sees but does not perceive.
---
After texting back and forth for a week on Facebook, to meet at a Coffee cars meeting, we finally ended up in Juan's garage "Number 2" in the middle of Los Angeles.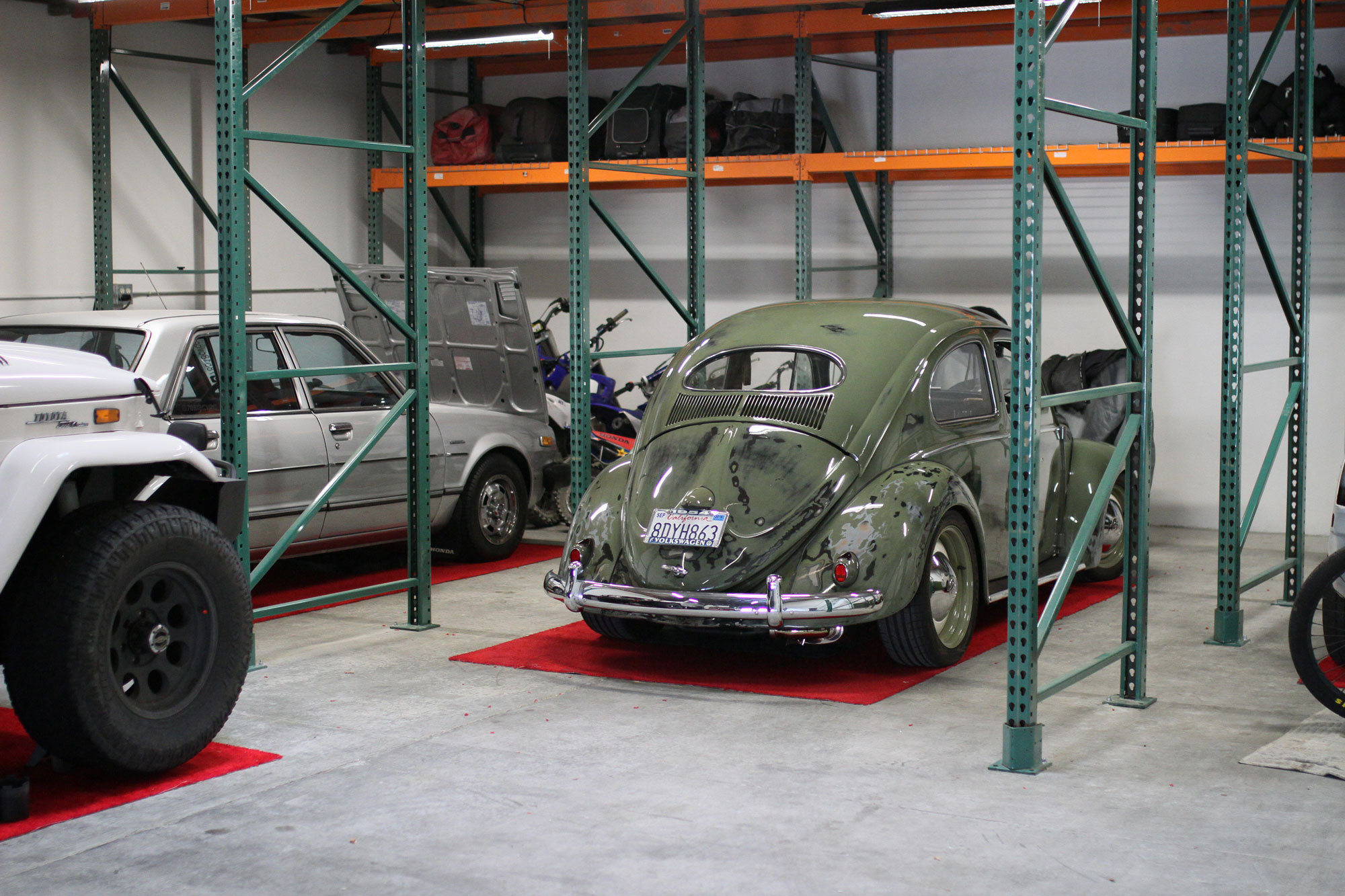 The white Toyota FJ40 from 1970 which is directly inside the door of the garage is making me think of South American mafia movie. It's perfect and stylish with its tainted windows and sturdy robust body.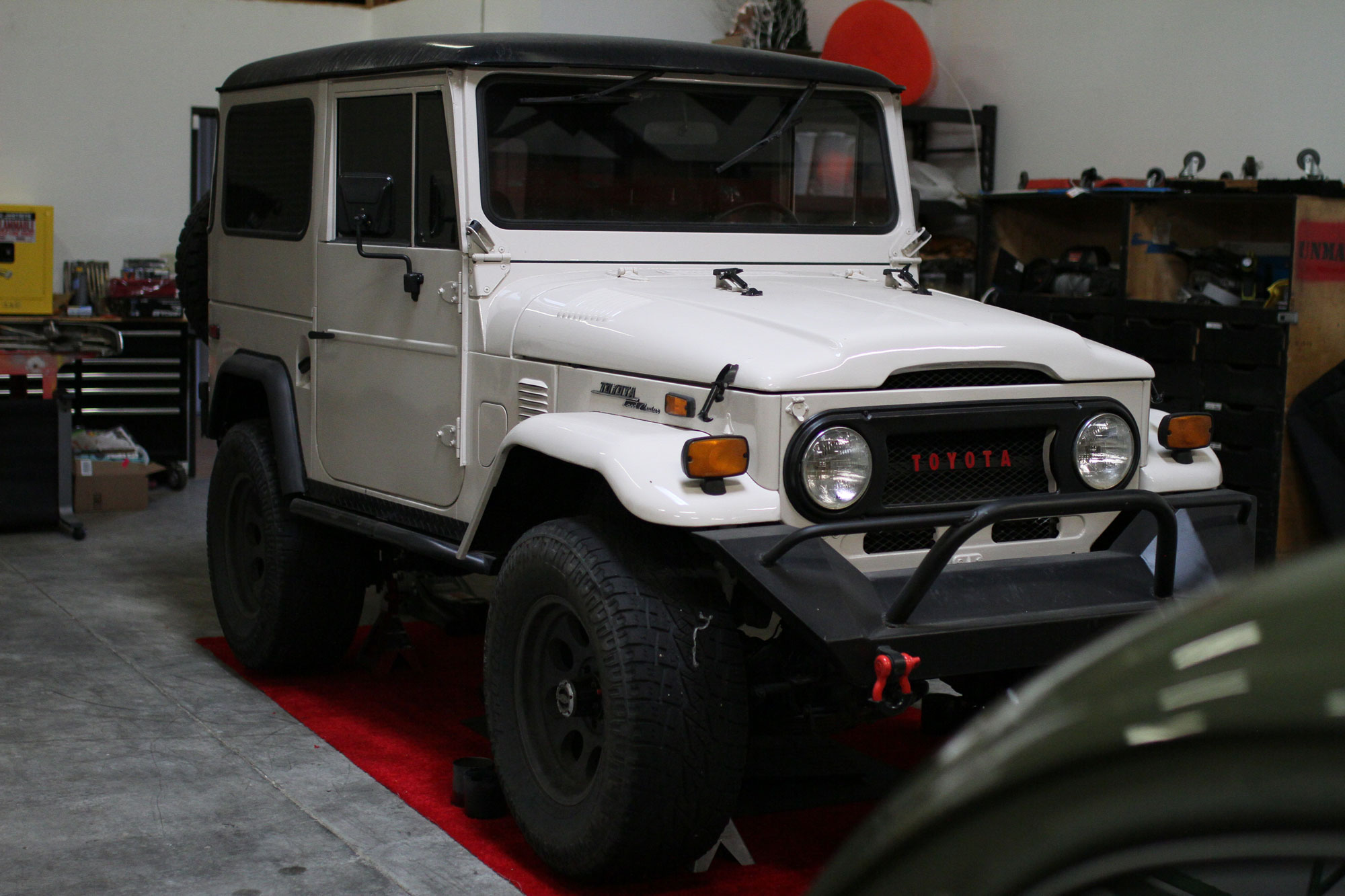 FJ40 was a dream car
---
"It's shaky to drive and maybe not the most fun to have in traffic here in Los Angeles. But I've always dreamed of having a FJ40, so when a the right deal was on the table, I had to buy it."

"Now it's part of my collection and I'll take it out for a ride once in a while. It has been a while since last," says Juan with a slightly thoughtful look.

A proof of that it may not be used that often is that it stands on a pair of axel stands, when I visit.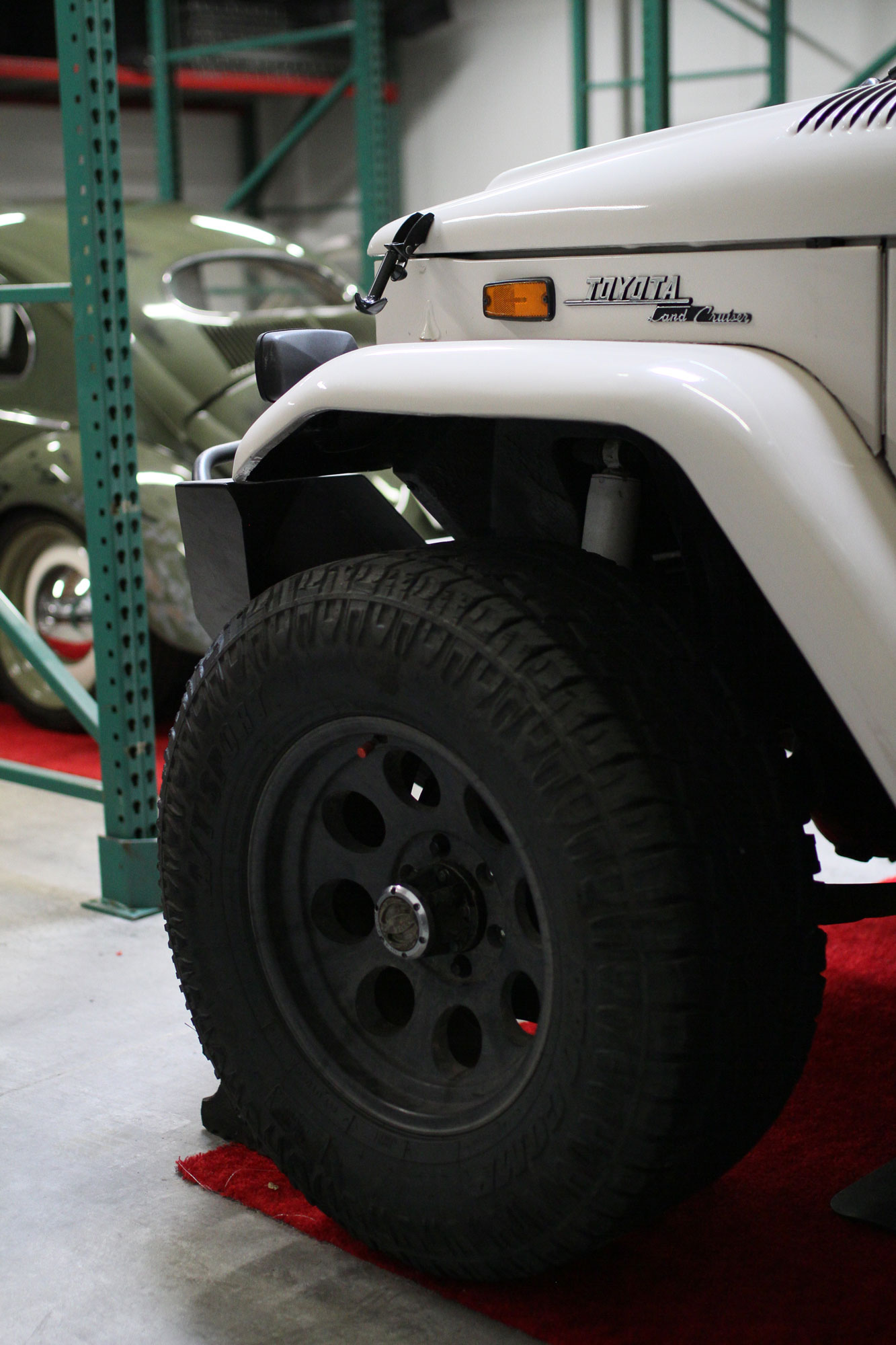 Honda Accord from 1979 with a B18 engine
---
The garage is calm and has an almost perfect light. The cars are in their own small stall and under them lies a nice red felt mat.
Along the wall is an older Accord from 1979, a oval window Beetle from 1954 and a skeleton of a first generation Honda Civic Cvcc.

"The Accord has been owned by the same man since it was bought. Most of it is original." Juan says with a serious smile on his face.

When we go towards the car, I can see that the interior seems to be totally original but when I look down the engine compartment nothing seems to be original, not at all.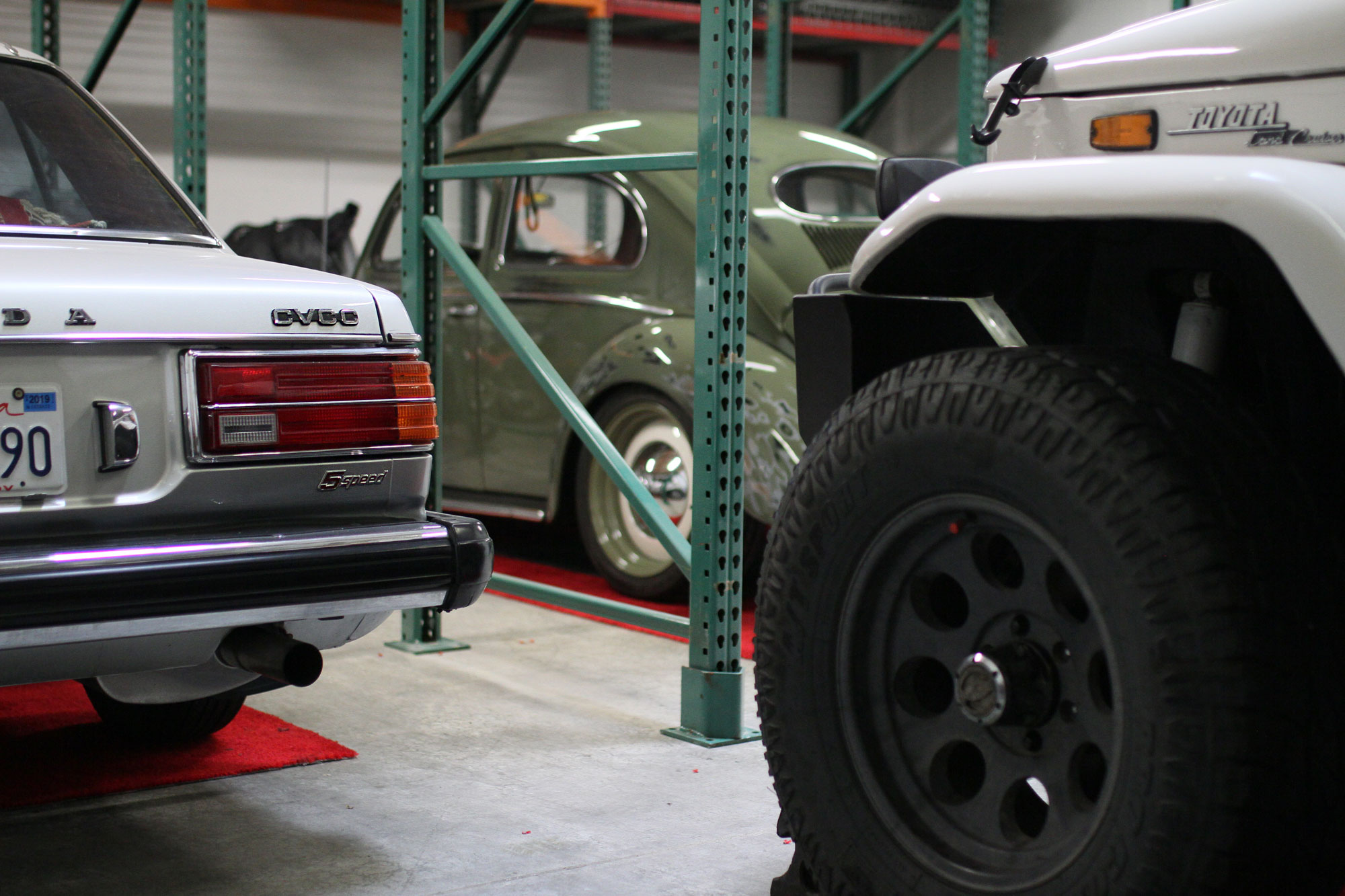 ---
Get your own Honda poster and support Fascinating Cars
Posters made by Fascinating Cars – shipped all over the world at local shipping cost
---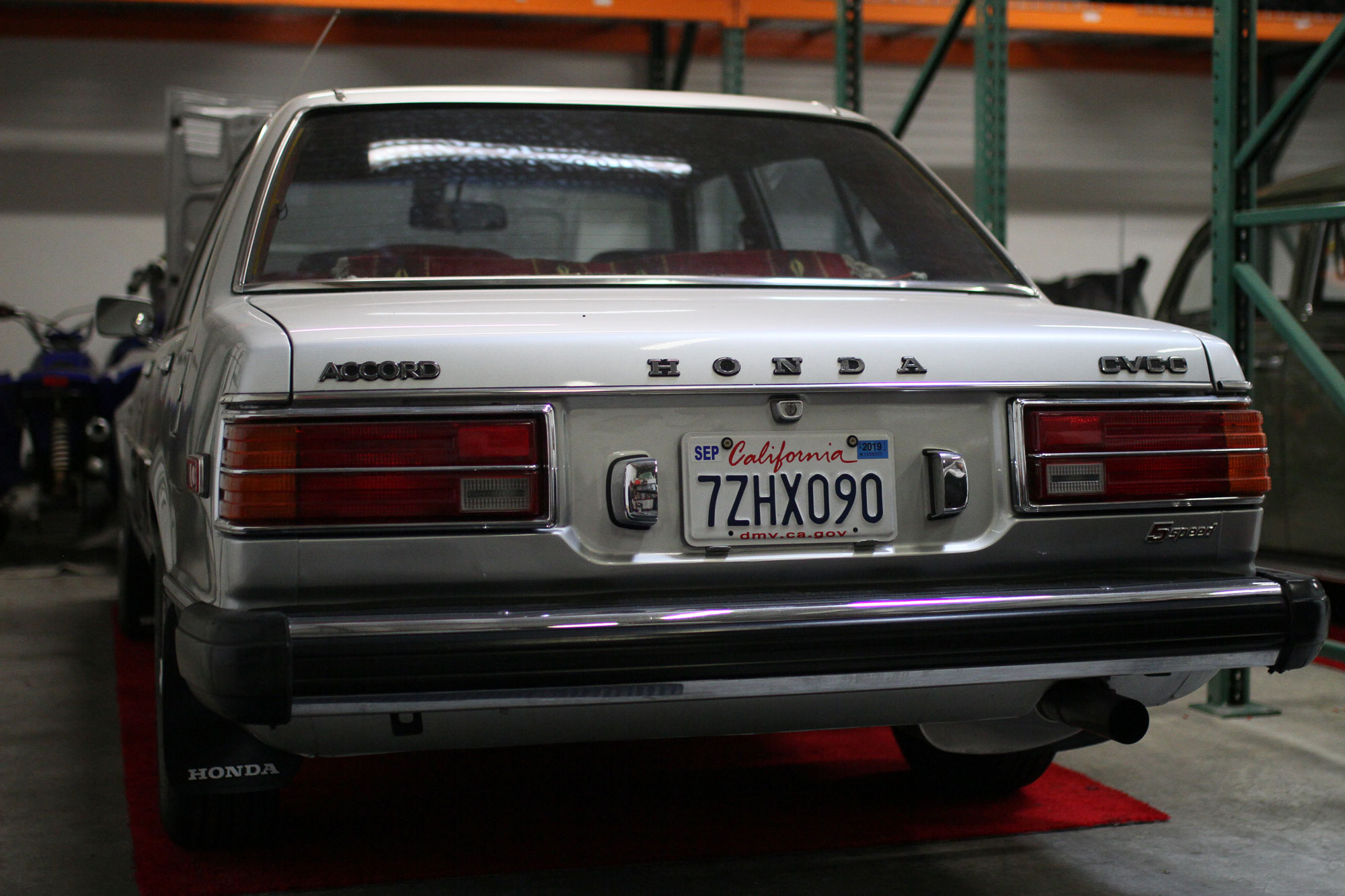 Juan explains what has been done with the car.

"The previous owner installed a B18 engine at the second engine swap. When I bought it I put in new suspension and upgrade parts of the engine, like intake and I re-tuned it abit."

"The intake was too big for the brake cylinder, so I had to modify it. I bought all kinds of Honda main break cylinders and in the end, we came to the conclusion that the S2000 cylinder was the right one."

The engine compartment and the car is clean from disturbing items and when I look down to watch what Juan is talking about, I see that the gap between the cylinder and the engine is 1 centimeter. Not kidding.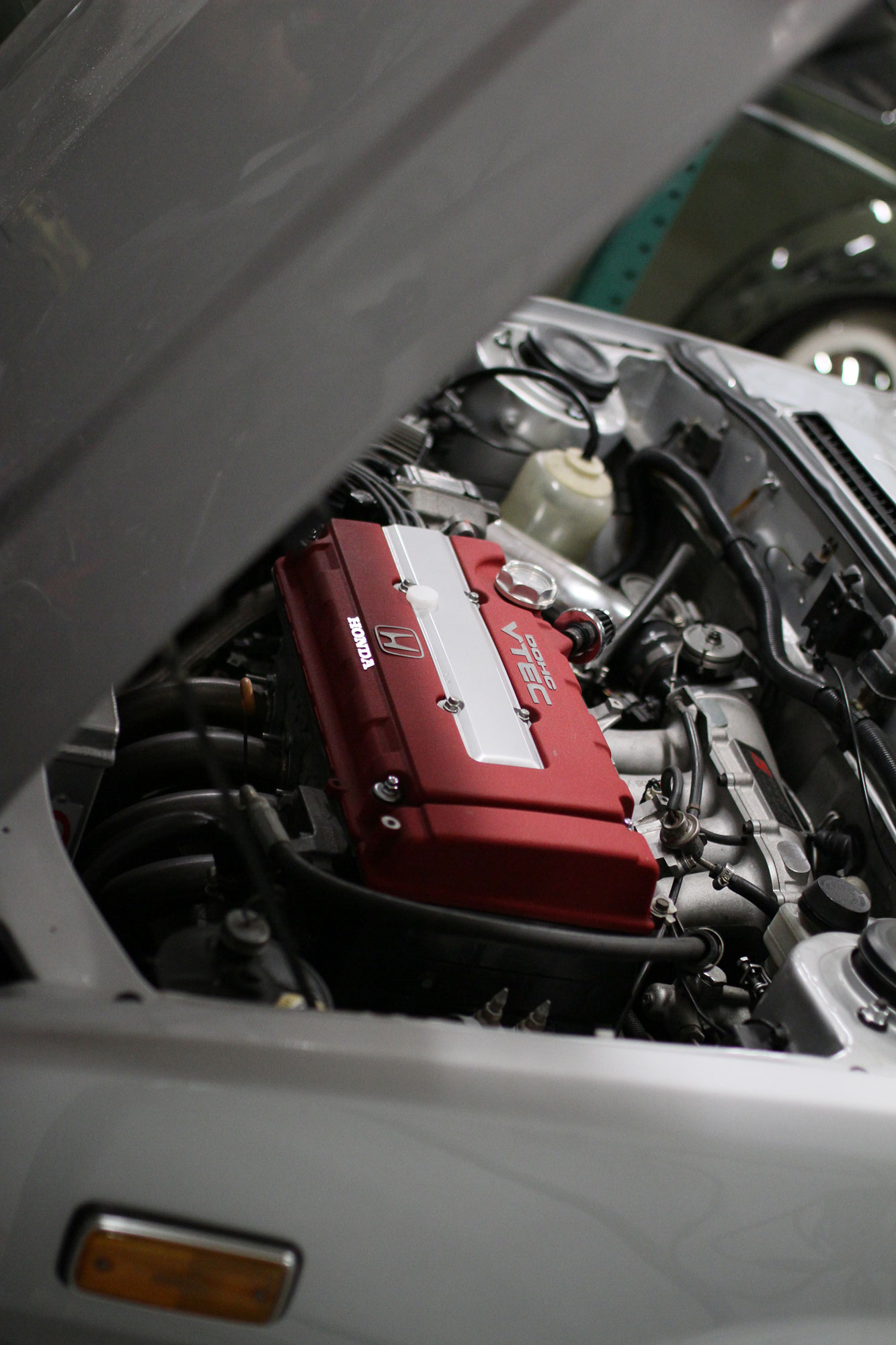 The Beetle is a SEMA show car
---
The Beetle in the both beside was a SEMA show car at 2012. It has seven layers of clearcoat and the patina is not original, it is homemade. It's a "gray zone" car from Europe that Juan felt was too unusual not to buy. One of very few oval windows Beetles from 1954 in the United States. Juan has upgraded it with a new 1776 cc engine and better suspension.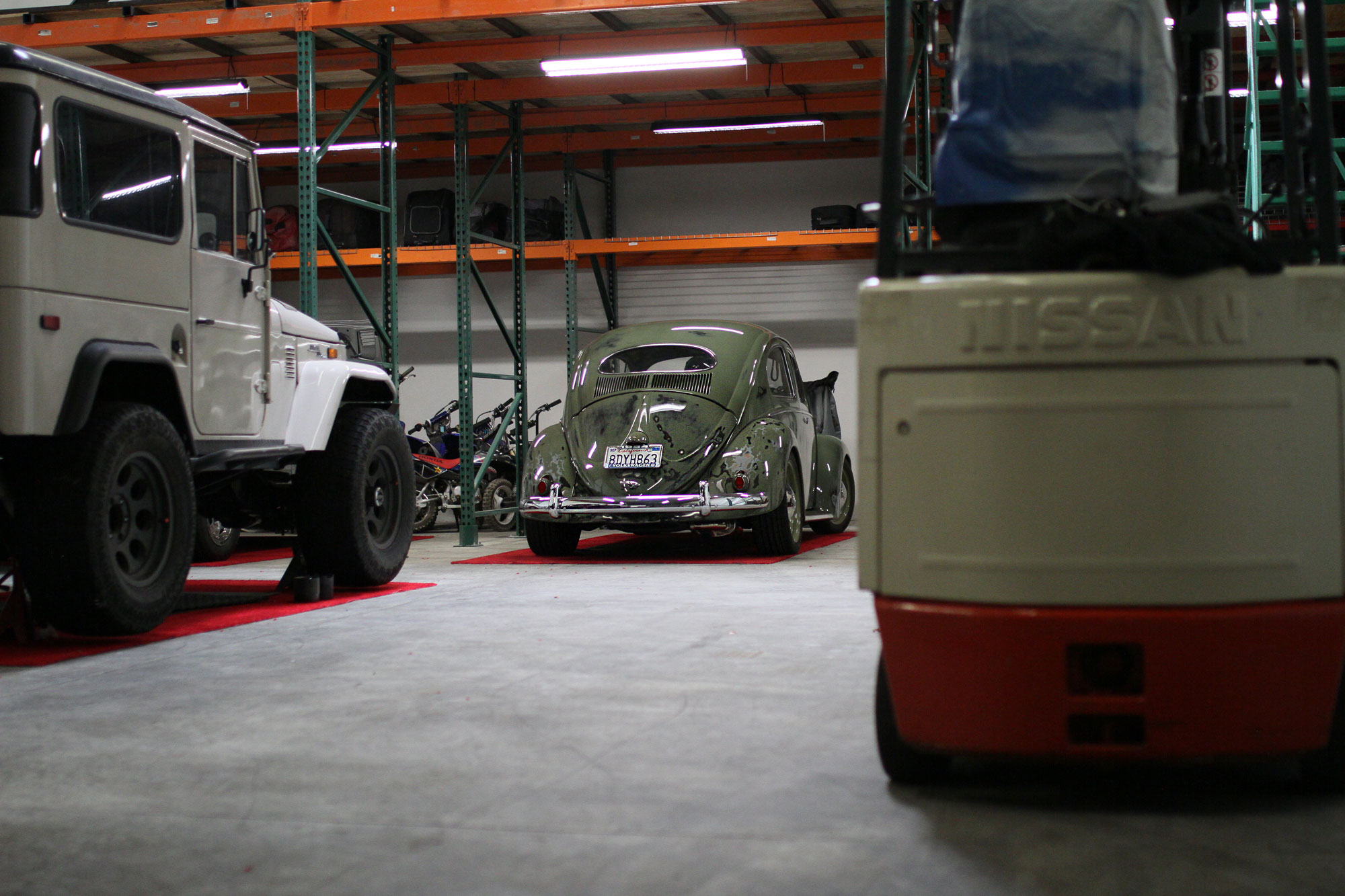 In the last ring corner is the skeleton of a first generation Honda Civic Cvcc.
"At first a I was thinking about making my other Civic a track car at first, but then the thoughts changed slightly. Therefore, this car will probably become a track car in the future, instead. I hope."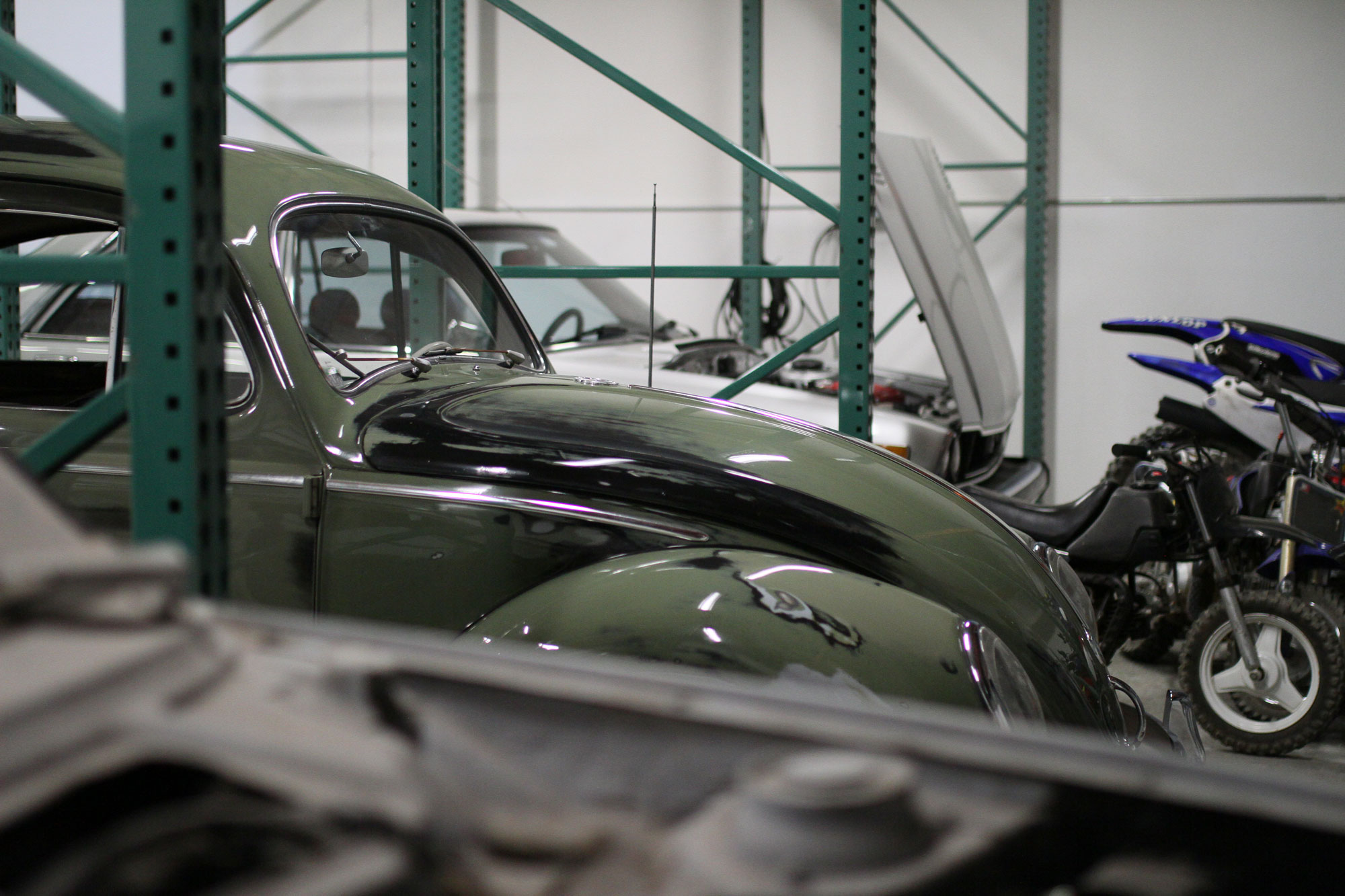 The bespoken award winning Honda Civic Cvcc from 1978
---
The award winning Civic from 1978 is missing when we visit the garage. Juan says it is on a major car event in Orange County but ends the sentence with a question:
"How about catch up later this week so you can have a look at it?"
"Of course," I answer without hesitating.
Later that week when we meet at Juan´s garage at his home in Lomita, he finally shows me the mythical and award winning Civic Cvcc from 1978.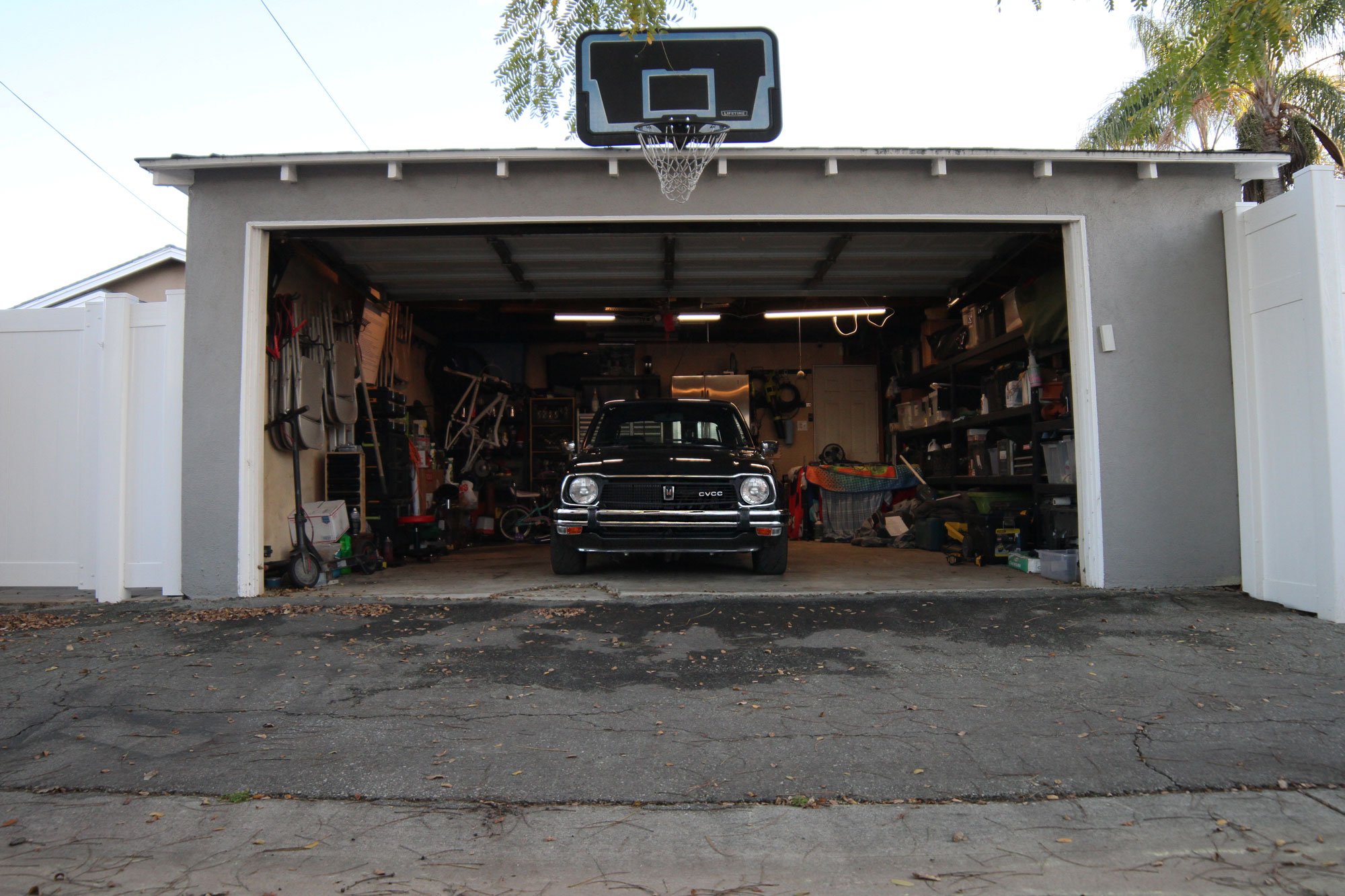 Support Fascinating Cars – get your own Honda poster
Posters made by Fascinating Cars – shipped all over the world at local shipping cost
---
The Civic was Juan´s first car
---
Juan has a special relationship with this car, because it was his first. When he turned sixteen, he got the key in his hand and then he never let go of either the key or the car.
"This is my first car, it's emotionally special to me."
"I got it from my" grandmother. "She wasn't really my grandmother but worked with my mother and became like my grandmother."
"She had driven the car 5 miles every day. Monday to Friday, since 1978 until I got it, 20 years ago. "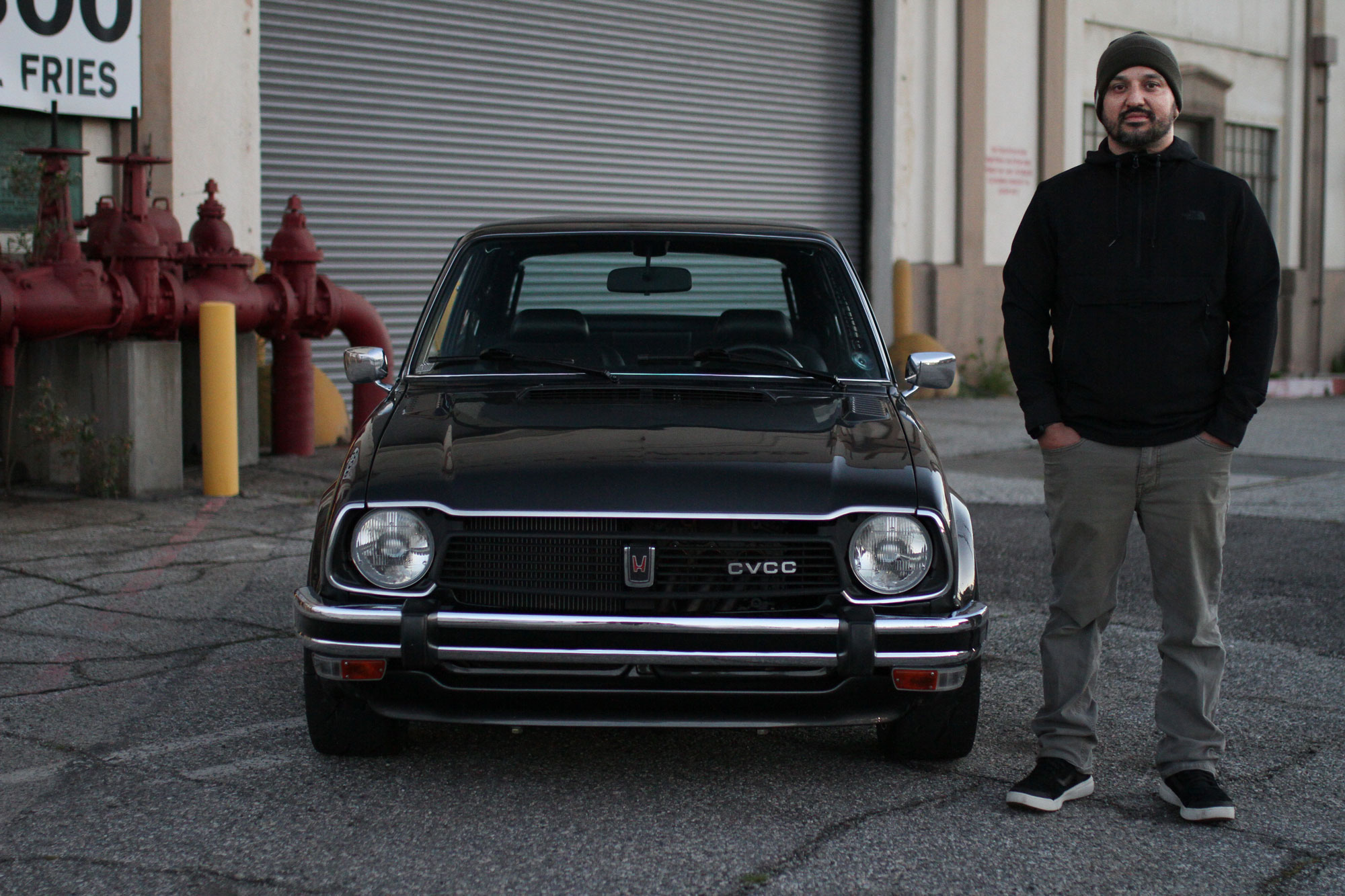 From here on, during the evening we spend together, I get a picture of Juan as a really humble, target-oriented person with a incredibly big heart.
Juan grew up in infamous South Central
---
Juan grew up in the infamous South Central area of ​​Los Angeles. The area that have received a stamp of crime, gangland and dope and the place where shit happens every day.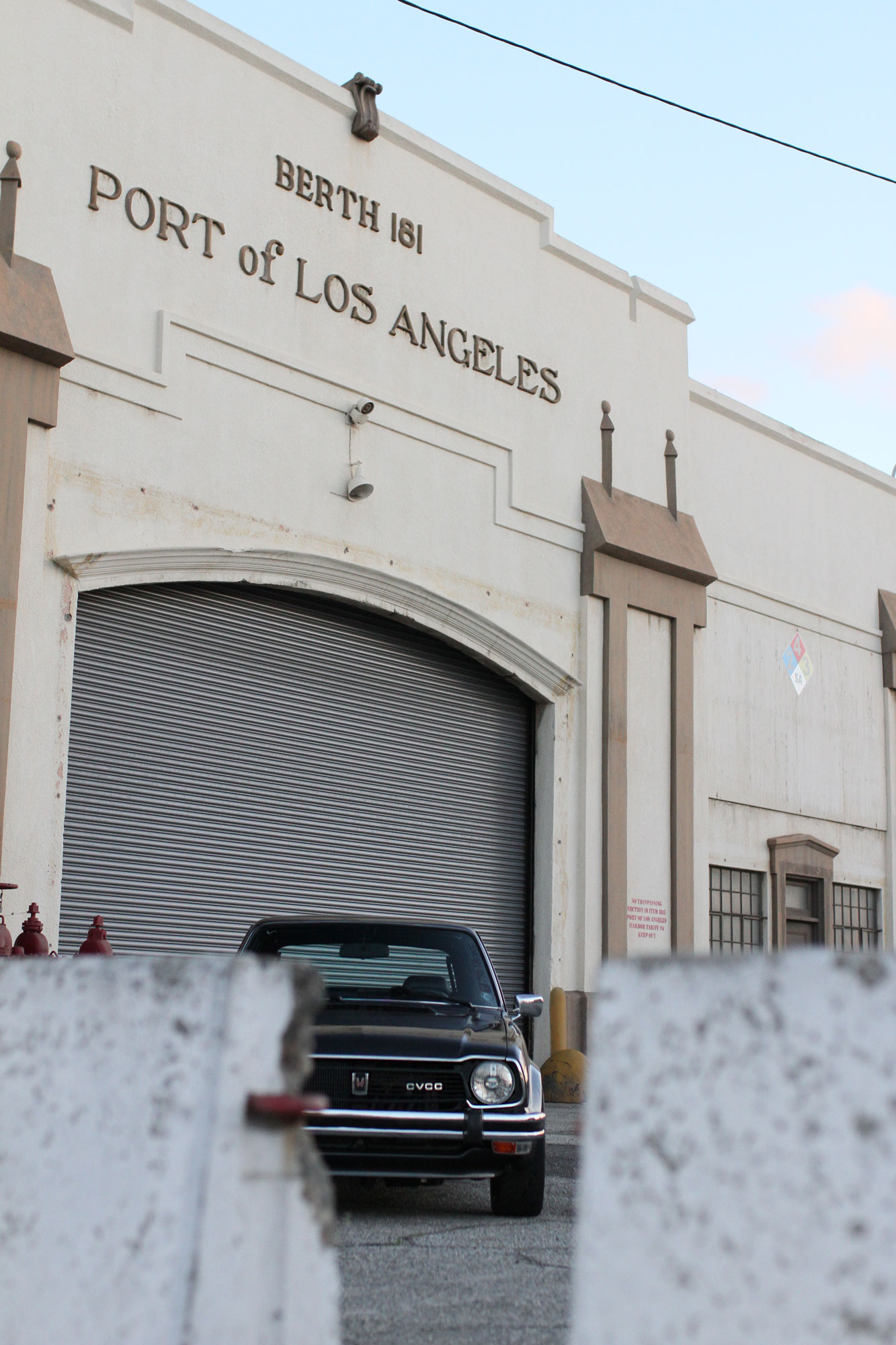 "That area is so stereotypical for those who don't come from there. Is not so strange due, perhaps, because everyone that sings about South Central and all the movies being filmed, is showing and telling what a messy area it is."

"Where I grew up as a child, we rode bicycles, played football and had fun on the streets like everyone else. Sure, it may have got messy when they came over from the "other side" and started to stir things up. But where isn't like that? "

Nodding understanding with what Juan says. Asking myself, how many times did it happen between different counties, schools and/or areas in the quiet secure suburbs of Sweden? It have happened, I tell you.

Hard work have created the dream
---
"My father disappeared pretty early from my life. He got 25 years in prison and was deported after that. Have not had that much contact with him ever since. "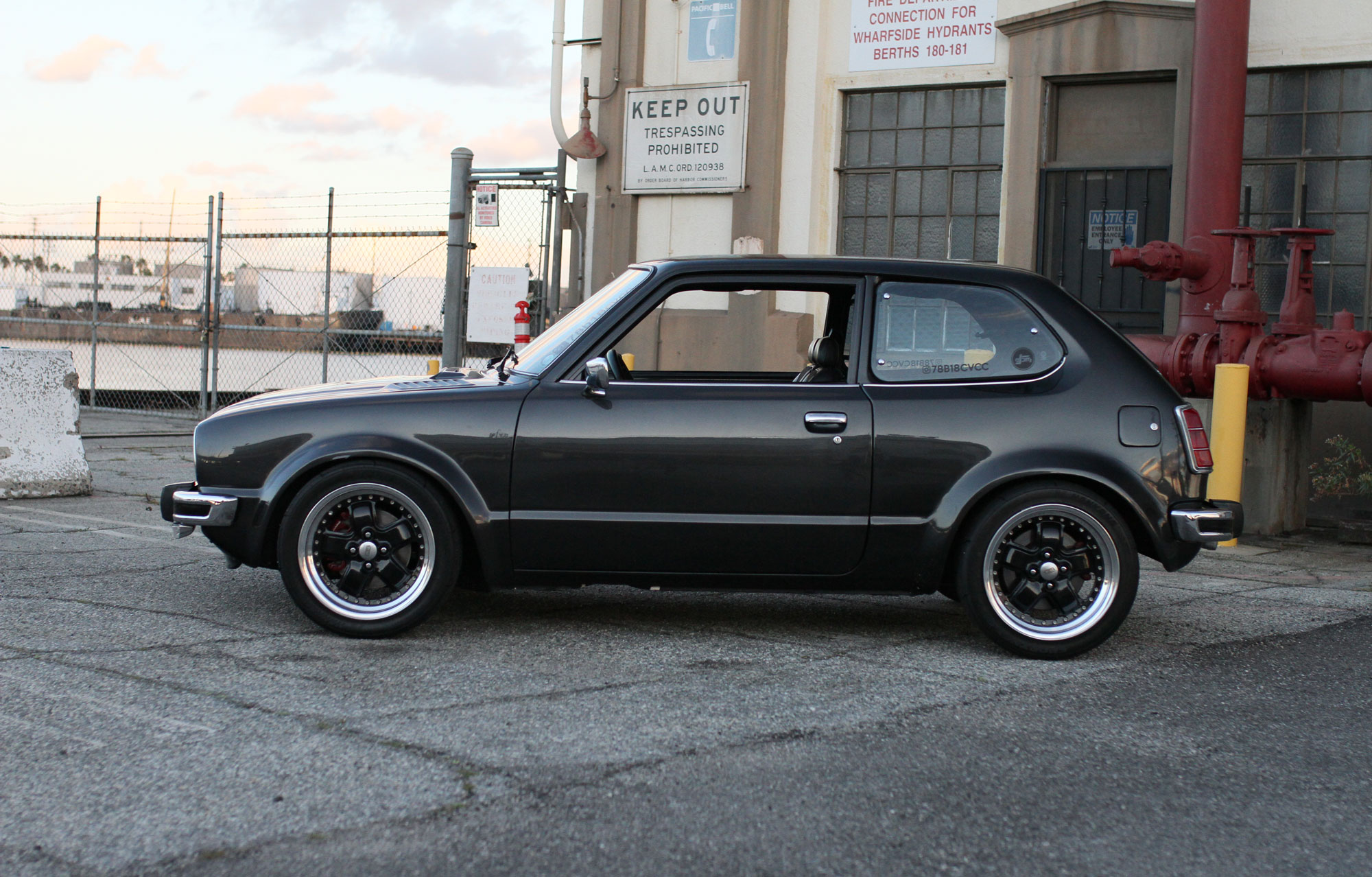 "My mom had to raise us and quickly we, my brother and I, learned to help out."
The school was never Juan's call and he started working when he was 16 in the evenings and weekends, for a lighting company. The role grew over the years and soon he became his own entrepreneur.
When Juan was around 25, his life changed and the "American dream" or more likely the hard work began to break through and give results.
---
Get your own magic poster today and support Fascinating Cars
Posters made by Fascinating Cars – shipped all over the world at local shipping cost
---
The Civic looks original but not
---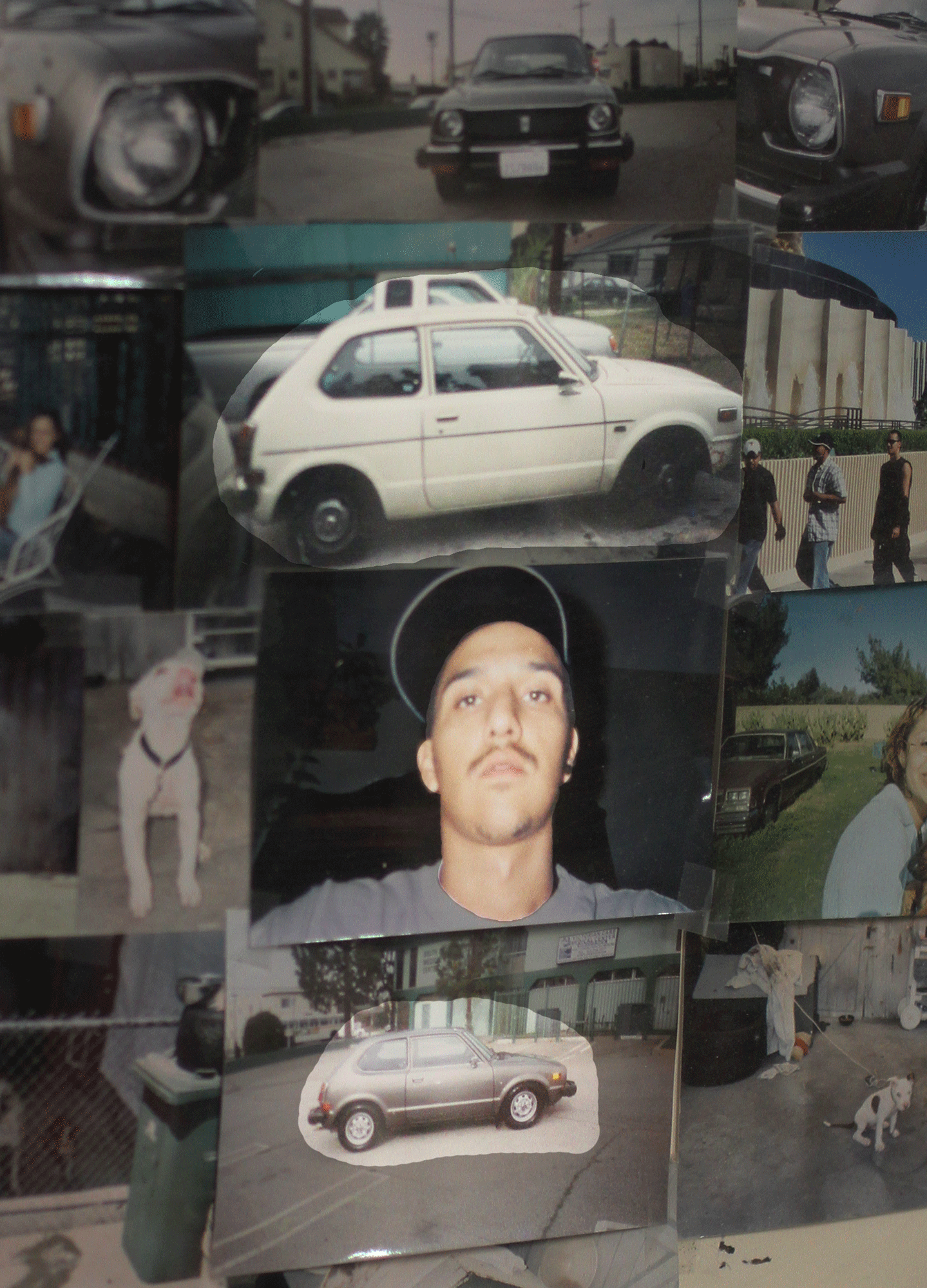 "When the money flow started to be stable, I wanted to redo the Civic to exactly what I had thought of."
"The first eight to ten years, I drove the car bone stock and made no changes, everyday with the mindset – if it breaks it breaks. May so be it. "
At a first glance when we stand in the garage, the Civic shape looks original, but firmly modified. A skilled car eye find that it is not 100% original and not just because it has a gray paint color from Lexus that shimmers in the light and a couple of wild wheels.
It looks more cruel, a bit meaner and sturdier than the original car, though it still looks original.
"I want the car to look and be as original as possible, that's my goal."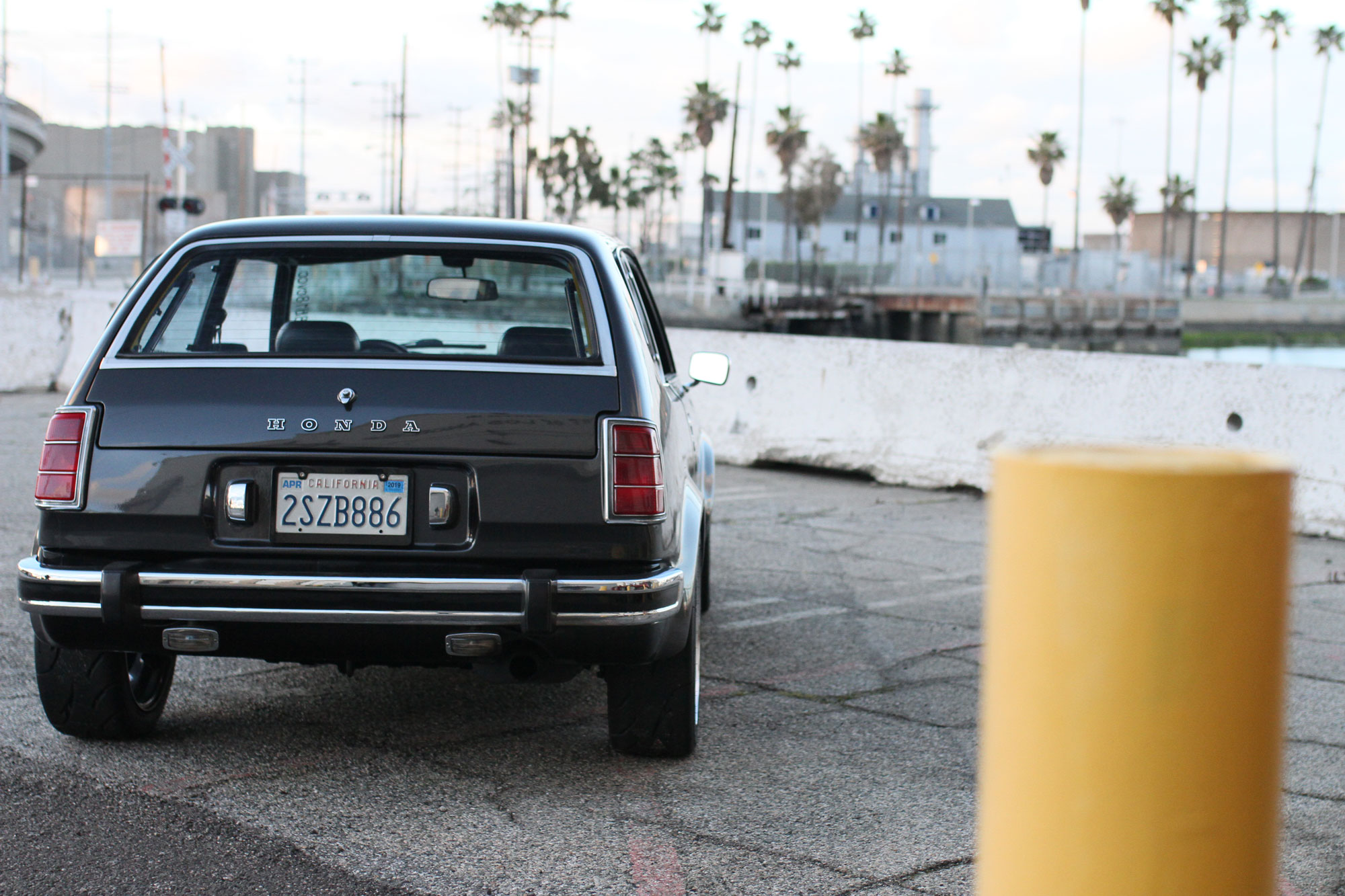 "What reveals the car on the outside is that the front fenders are widened 1.5 inches and the back 3 inches. The wider tires have to fit, you know."

"But it still so little that differ from the original, so it´s hard to tell"

The rims, that Juan himself have designed, came back from the manufacturing the week before our meeting. It's been on since then. Unfortunately, they were a few millimeters too wide and have already set their mark in the front fender.

"When I went over that Highway bumb, I feelt it in my whole body. The rims hit that fender and I knew it was cracked." Juan says and points to the front fender.

"We just need to re-paint it again, nothing more we can do about it." Juan says with a calm voice.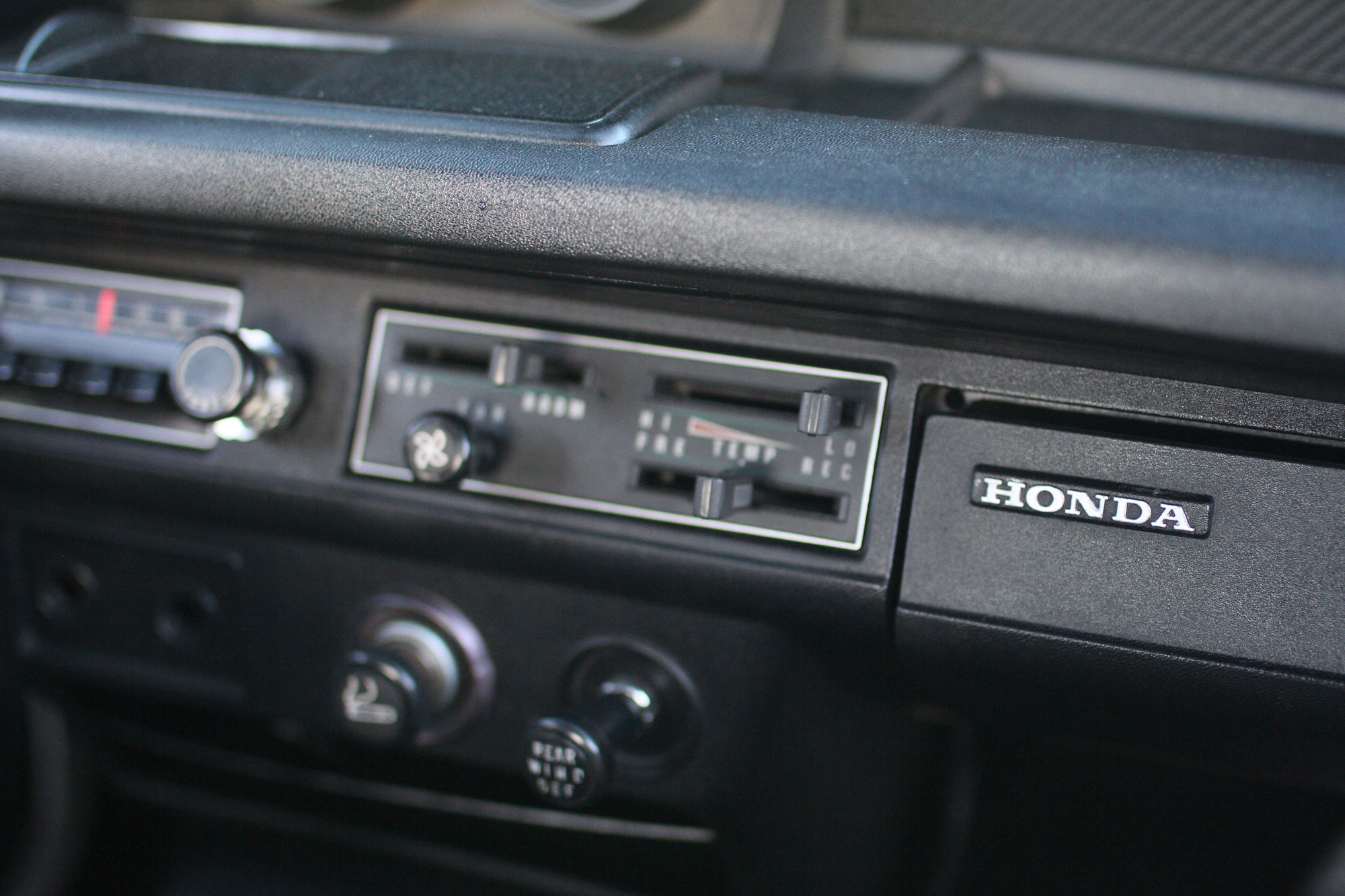 Everything with this car is thought through, millimeter by millimeter. I notice that is something that goes for all Juan´s cars. The stripped down details that makes a car soul breathe calmly. There is so much that has been done, but it is so little that is obvious for the spectator. Juan is a master of details everyone sees but does not perceive.
---
Support Fascinating Cars – buy a cool wall poster
Posters made by Fascinating Cars – shipped all over the world at local shipping cost
---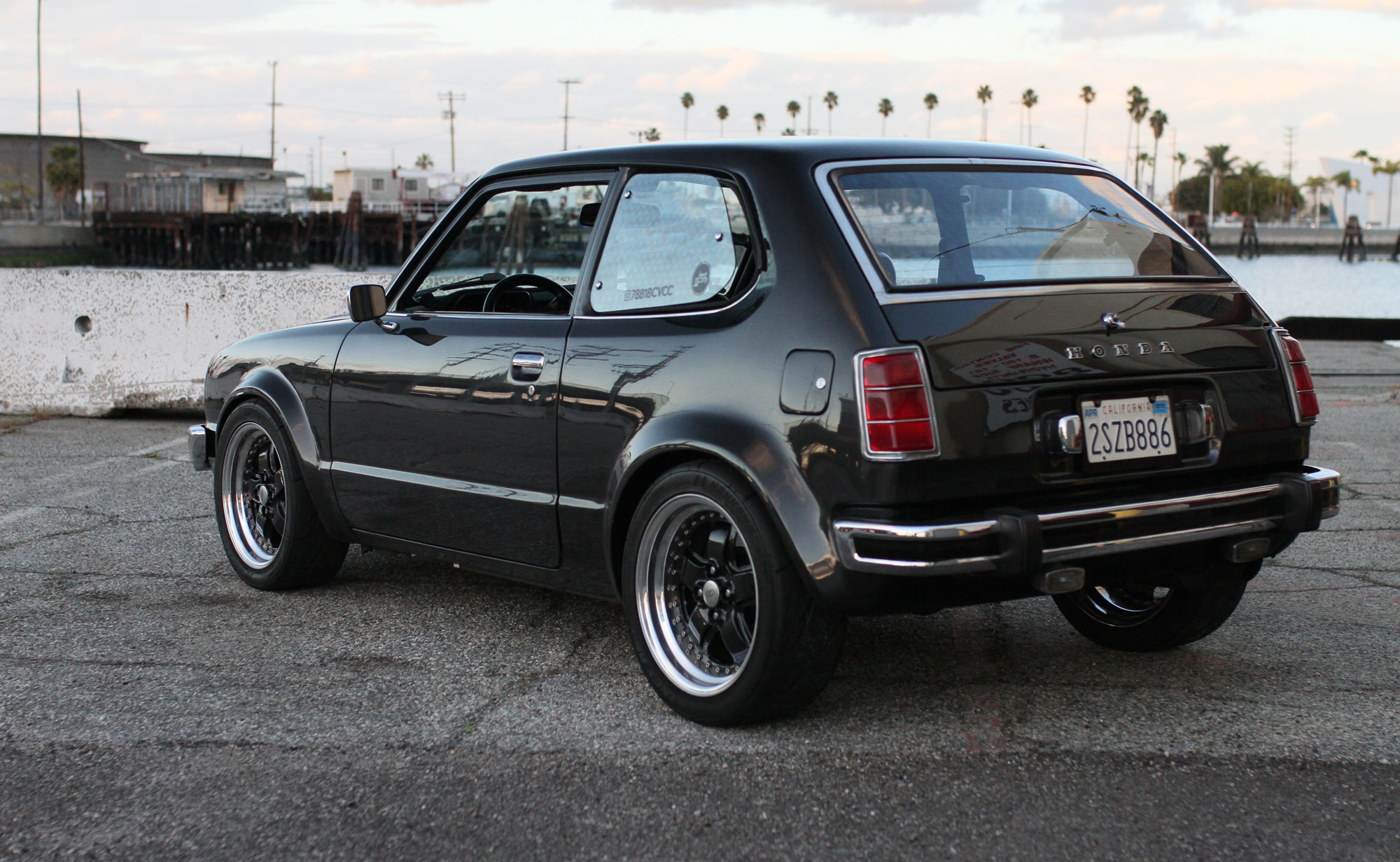 The Civic bumper is thought through
---
An example of thoughtfulness in the Civic's design is the bumper.
"There is a bumper from 1975 on in now. The bumber is cut and hugs the front and back of the car firmly. The real original is made of plastic and hangs out several centimeters from the body. This bumber became much better though the feeling is, that it is original, "says Juan with a convincing face.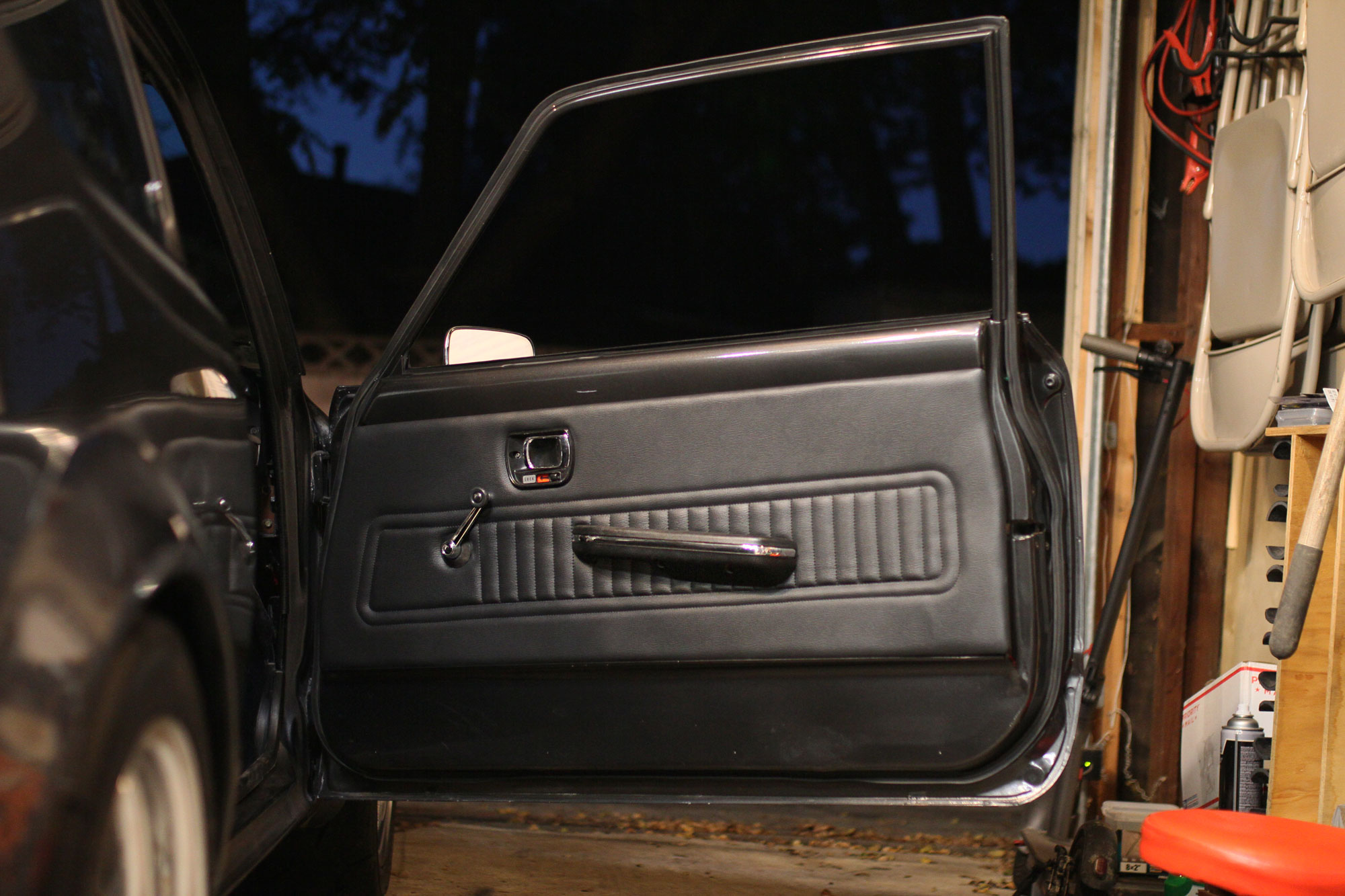 The interior is in to smallest detail copied from the original and newly manufactured. Nothing looks like bone stock boring, but it looks completely original. In addition to one thing – the gear lever, or should we say the Terminator crutch.
"Njjaaa okay, it's not original. Something have to stand out. "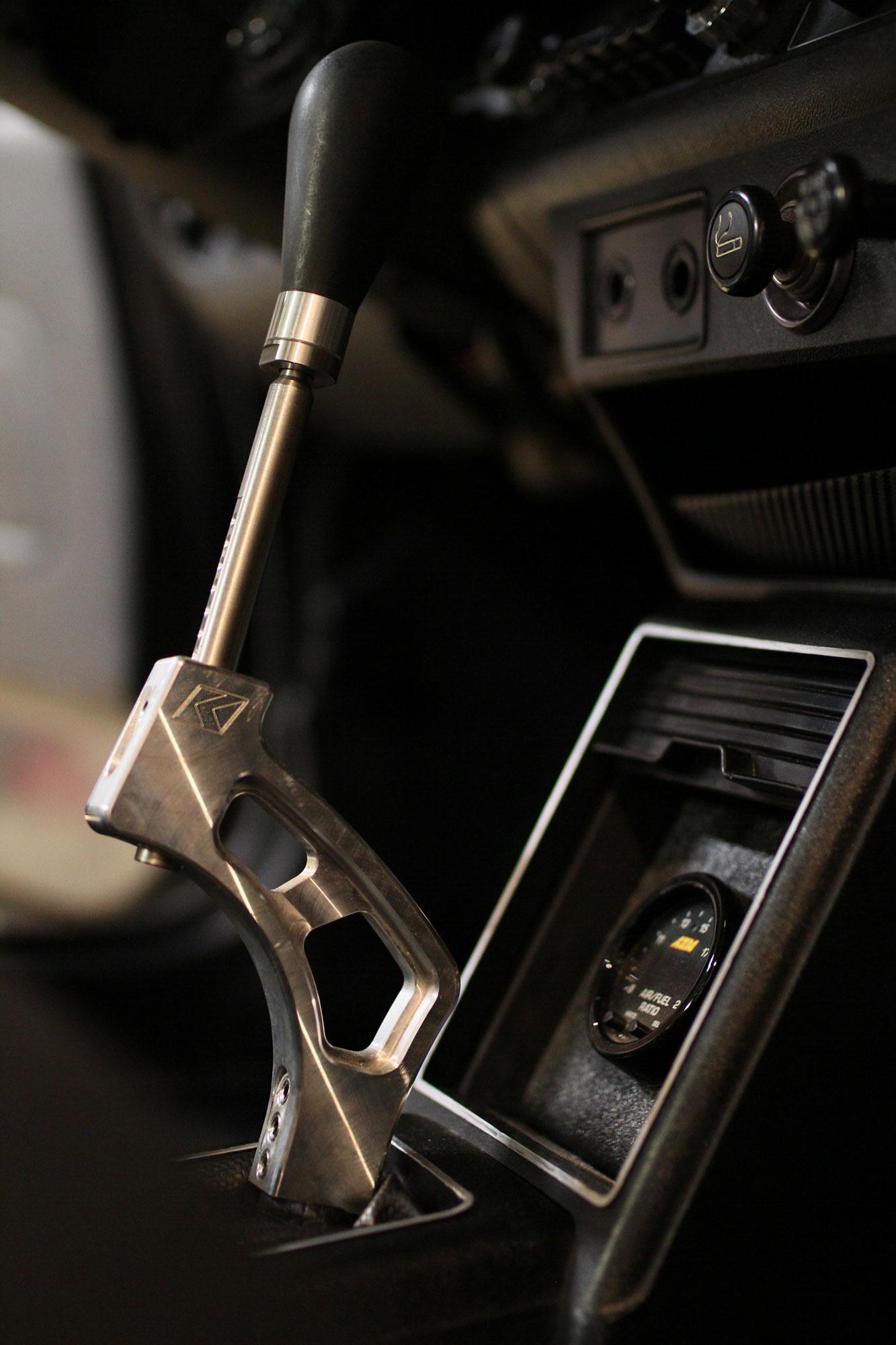 When Juan lifts the hood, it looks like Tetris. I can't understand how much engine you can fit on such a small surface.
"We had to rebuild the entire engine compartment to accommodate everything we were supposed to have inside. Down here, nothing is original. "Juan says with a smile.
216 horsepower – 750 kilos
---
"The engine is a B18c from an Integra -1998, a good friend have welded a totally new radiator, the air intake is shortened, the gasoline pump can handle 1000 horsepower."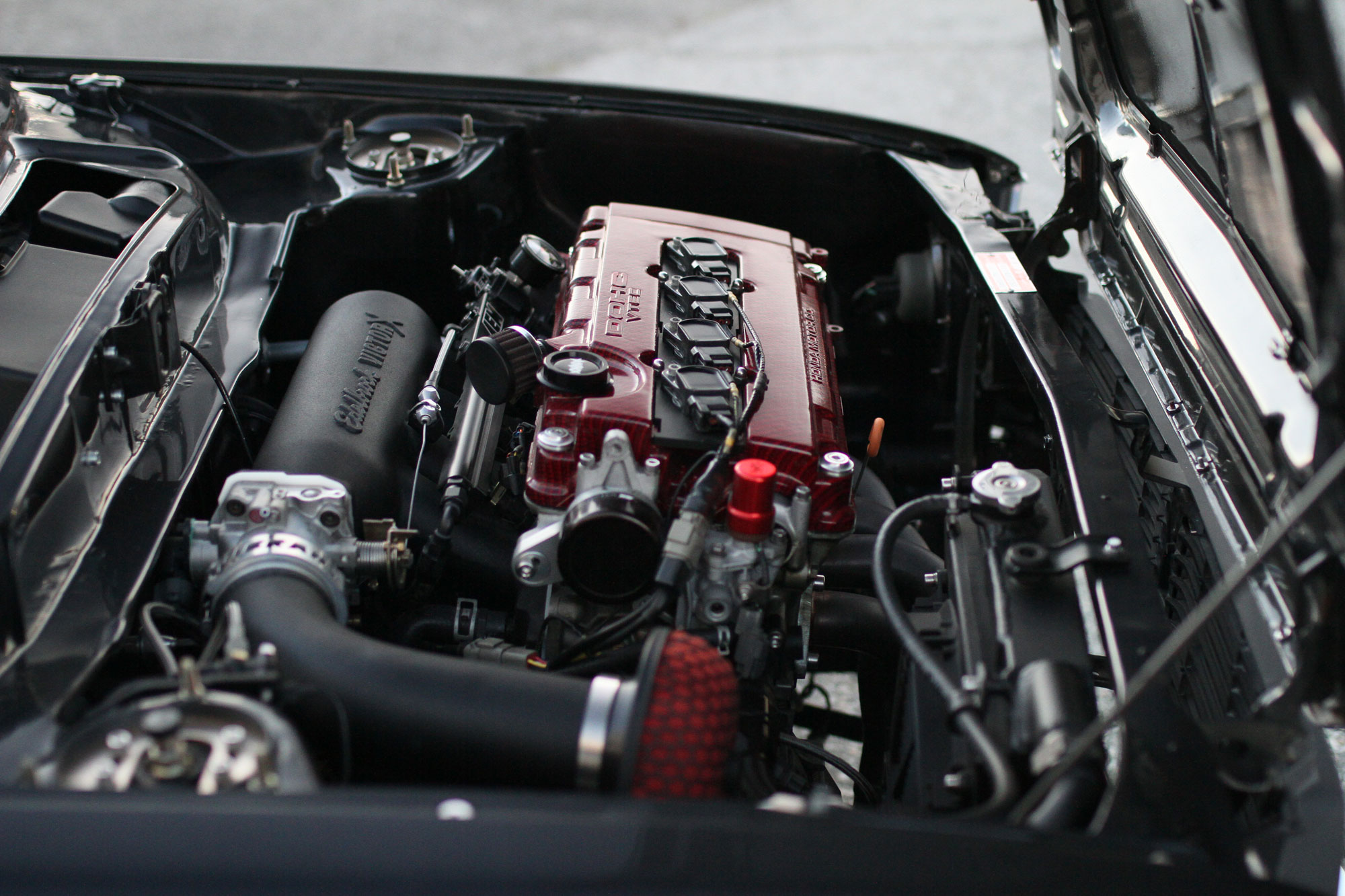 "Yes, everything in the engine compartment is modified. Everything is changed."
"We did cut out, rebuilt and welded everything together again, to fit exactly what we wanted."
"There are 216 horsepower on the wheels with this engine setting and then you should know that the car only weighs around 750 kilos.(1400 pounds)" Juan says with a glimpse in his eyes.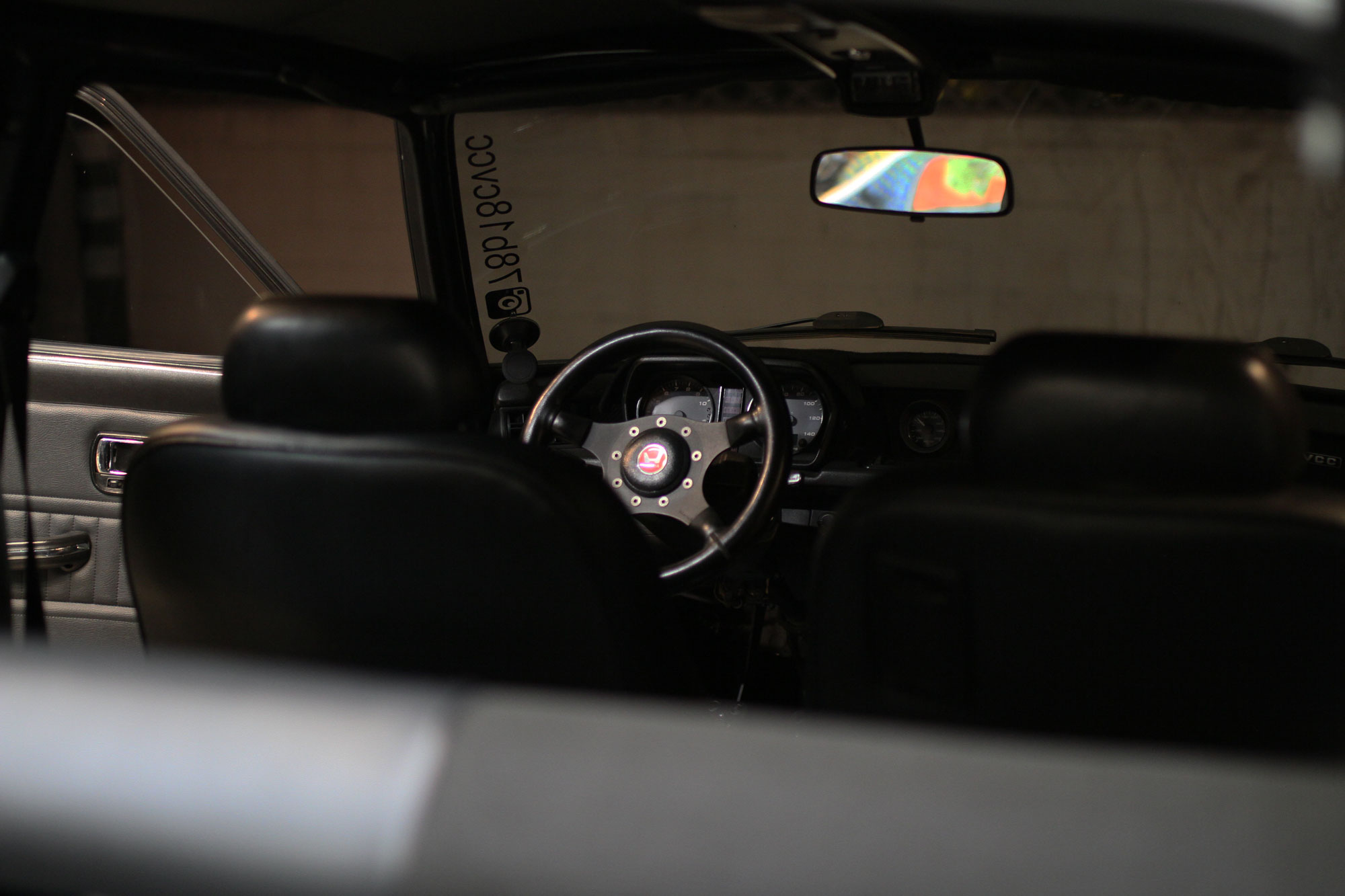 "I´m having an extremely hard and difficult time to get all the power down in the ground, without the front wheels spinning, all the way up to third gear."
The back is pressed against the chair
---
This I experience a few minutes later when we sit in the car on our way up on the highway. The ramp is long and straight ahead. We are completely alone and we have a couple of hundred meter in front of us.
I see in the corner of my eyes how Juan's hand is squeezing harder around the steering wheel, half a second later I feel my back is pressed against the chair. The engine roars and the whole car wants to toss to the left while Juan is revving up to push the third gear in.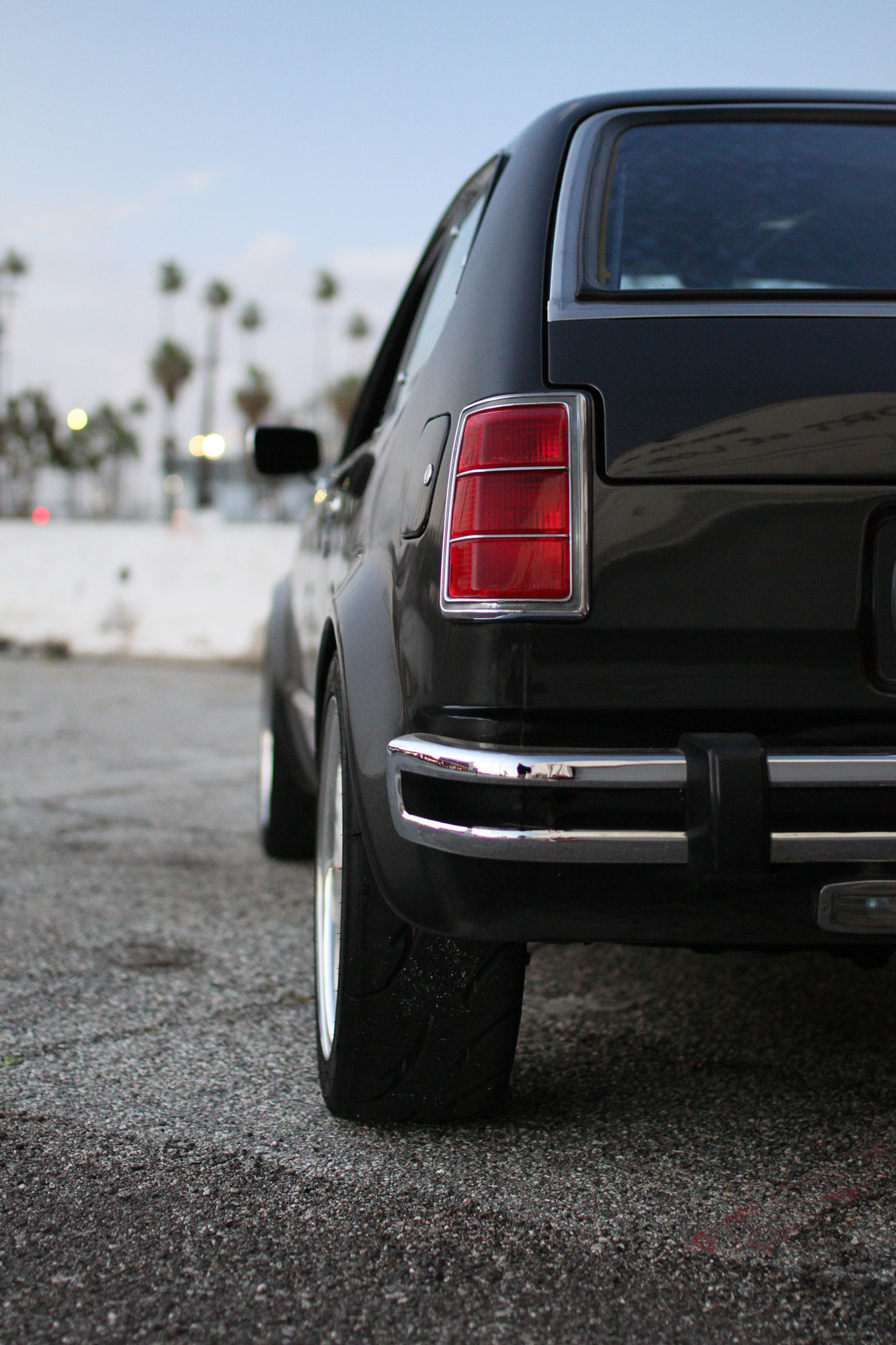 In two three seconds we are matching the car's speed on the highway. Juan is pushing the throttle and the car wants to pull left again. He tells me, almost screaming, over the engine grumble, that it's because the engine drive shaft on the left side is shorter than on the right side.
The acceleration is striking in this small car and it is difficult to talk when the engine is talking louder than us. Instead, I enjoy and smile while we cruise through the Los Angeles evening with 216 wild horsepowers that is controlled by Juan´s right foot.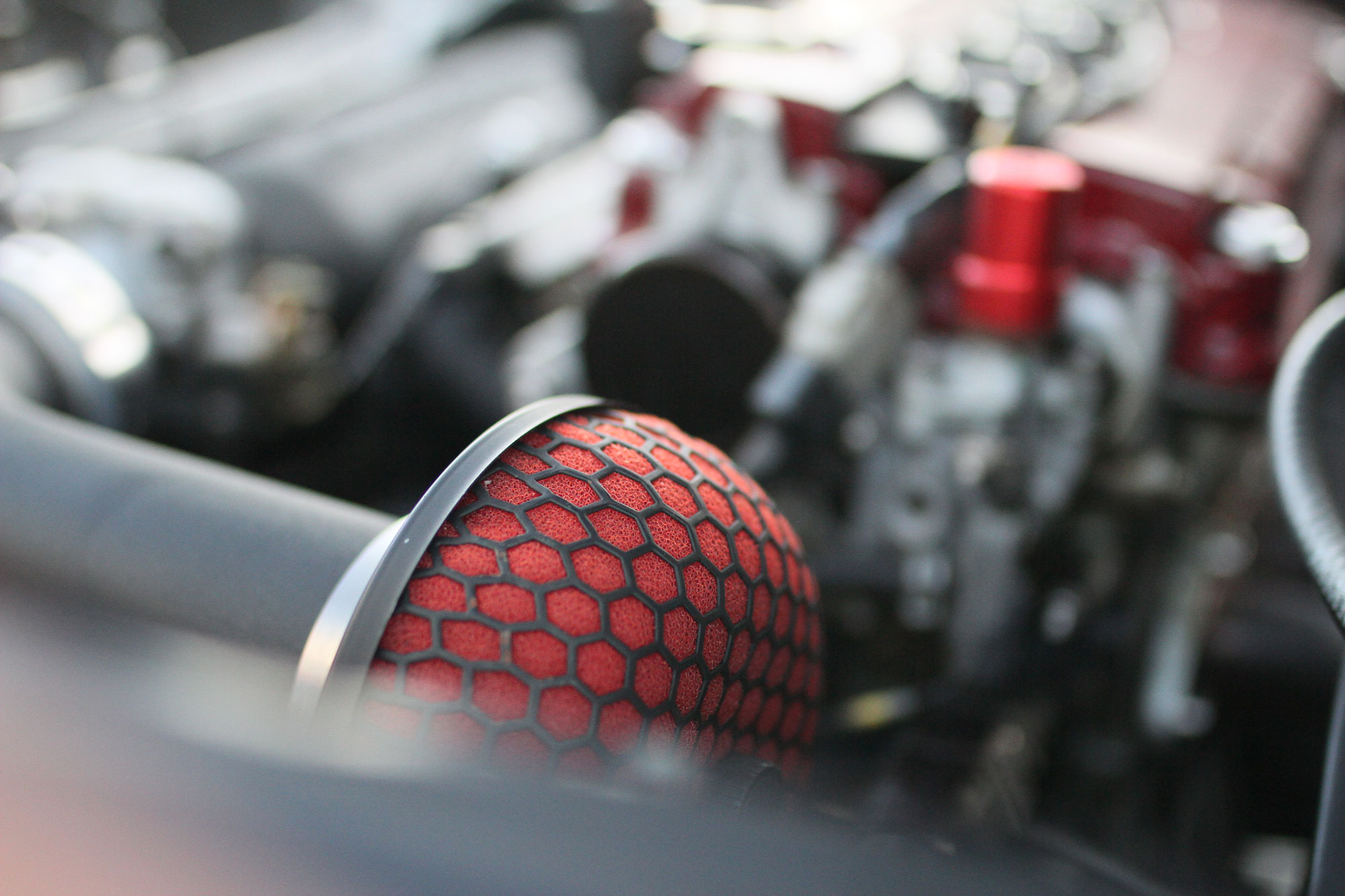 The Civic will dust the streets with Lambos
---
Once back at the garage, the idea strikes me that it is difficult not to be impressed by a car that looks 95% original and the engine is 100% modified. Every second that is put into this car have the intention of a original car, with a glimpt in the eye that it can dust Porsches, Lambos and Ferraris off the street.
Juan's Civic artwork is perfect according to himself and who am I to argue against him.
His lightening company has almost 400 shows a year and he seem´s to work hard and live the American dream in a humble and receptive manner.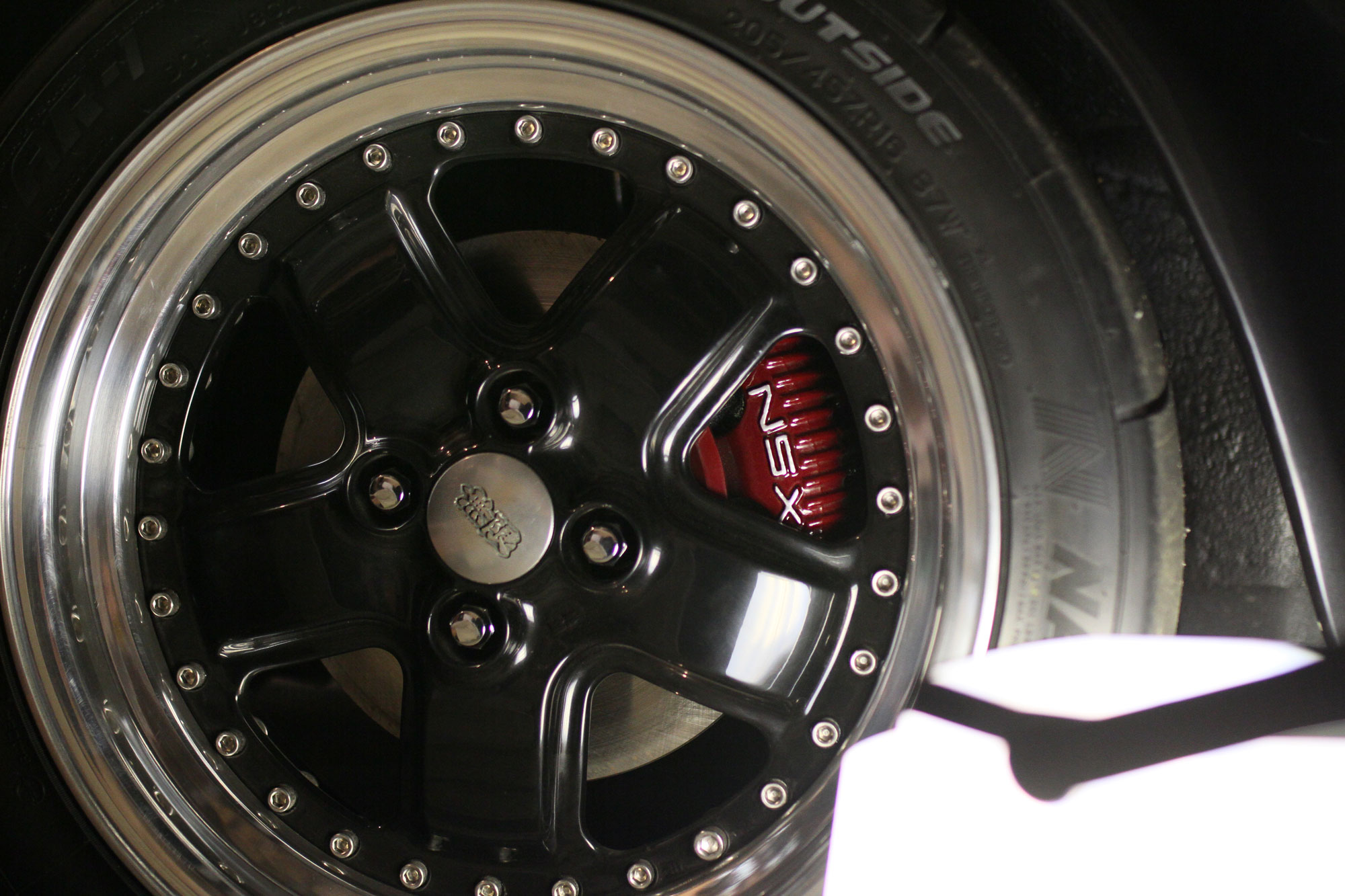 With delight and joy, I leave Juan and his Civic, while looking forward with excitement to see what he will do with his next project, a Honda Stepvan.
Juan, thank you for your time and keep on doing what you do!
The Spec´s for Civic and Accord
---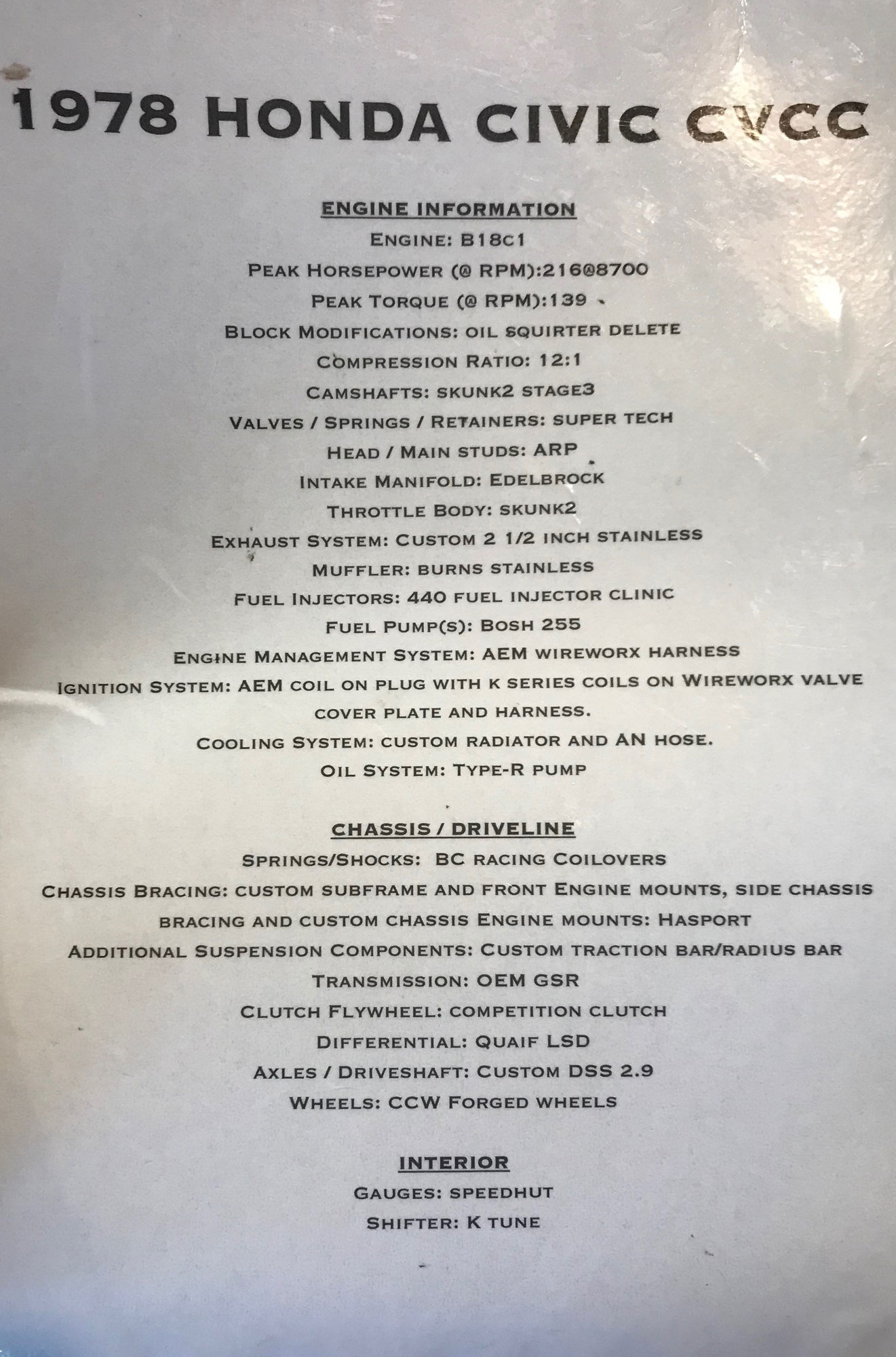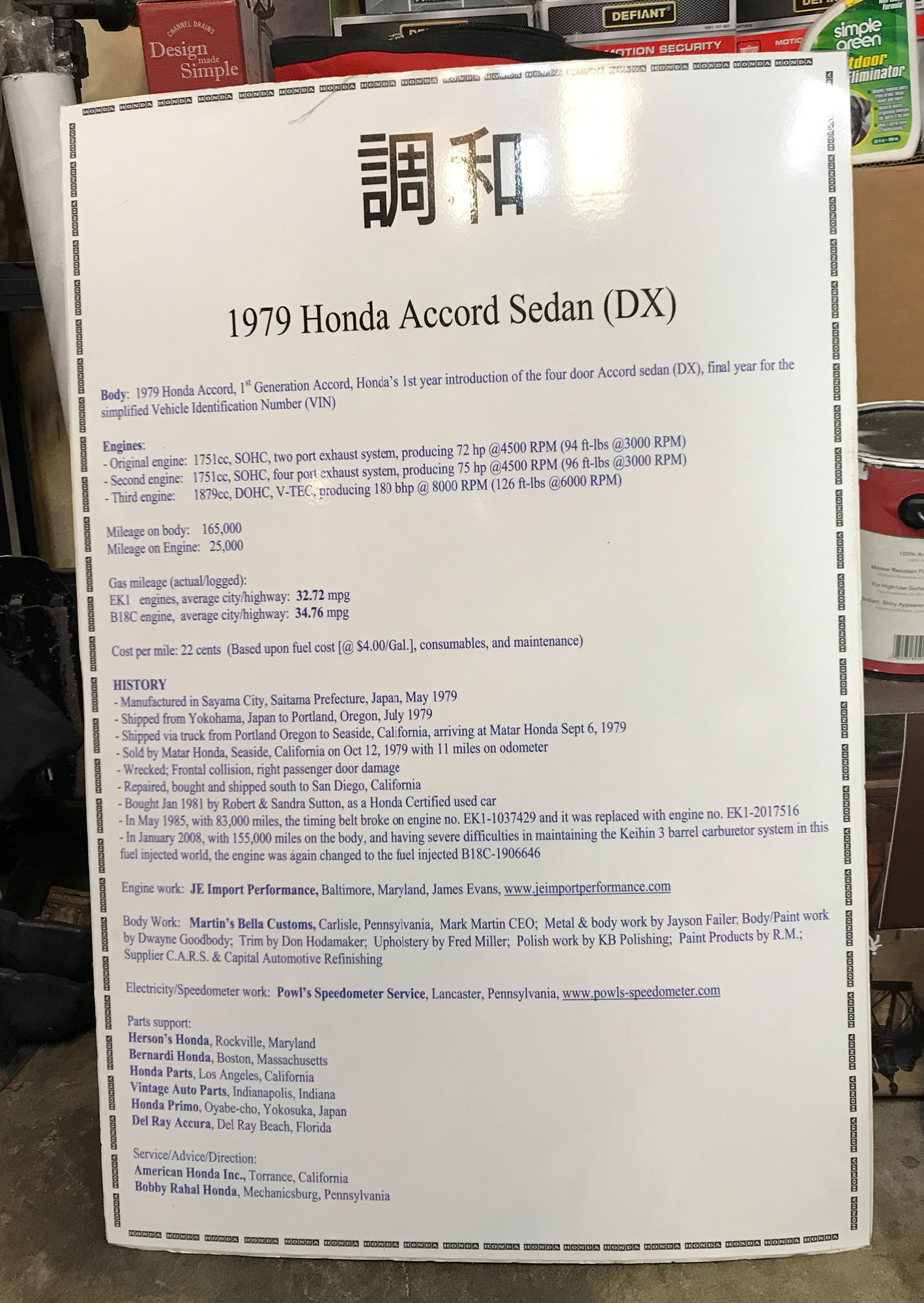 ---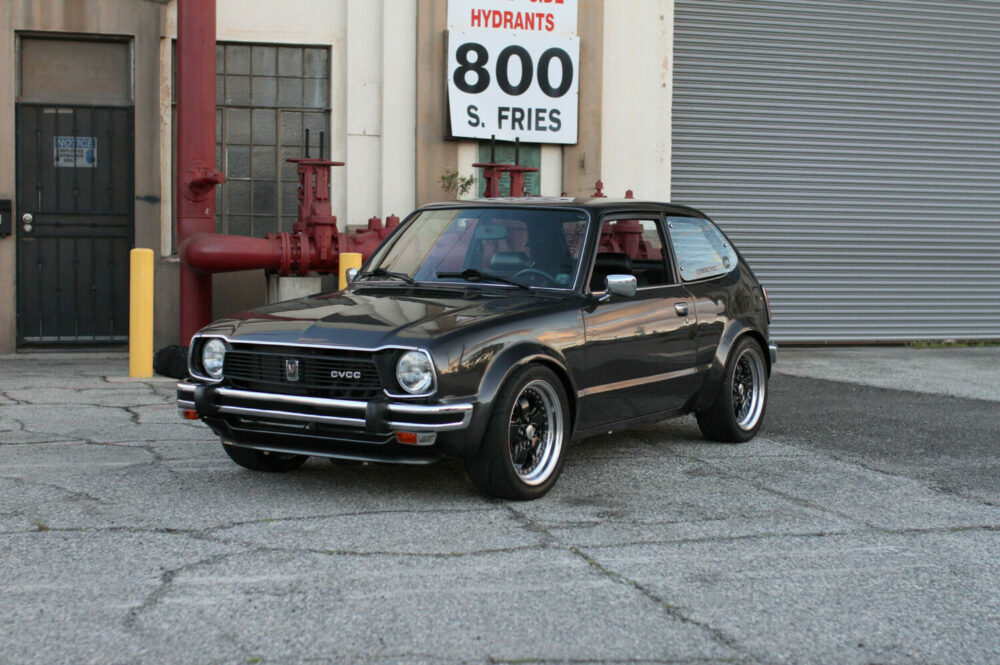 Honda Civic Cvcc Sleeper from 1978 wall posters
This Sleeper Honda Civic Cvcc from 1978 is a master piece.
Everything look like its from 1978, but everything is modern made with a 216 hp engine. 
All posters are with or without text under the picture.
Great quality – sent to you all over the world, with local shipping costs.
Posters of sleeper Honda Civic Cvcc 1978
---
Follow Juan and his future travel
---
Follow Juan on his trip through the Honda- and car world. As said in the article his next project is a Honda Stepvan from 1973. Let´s see what happens with that.
Follow the Fascinating Cars journey
---