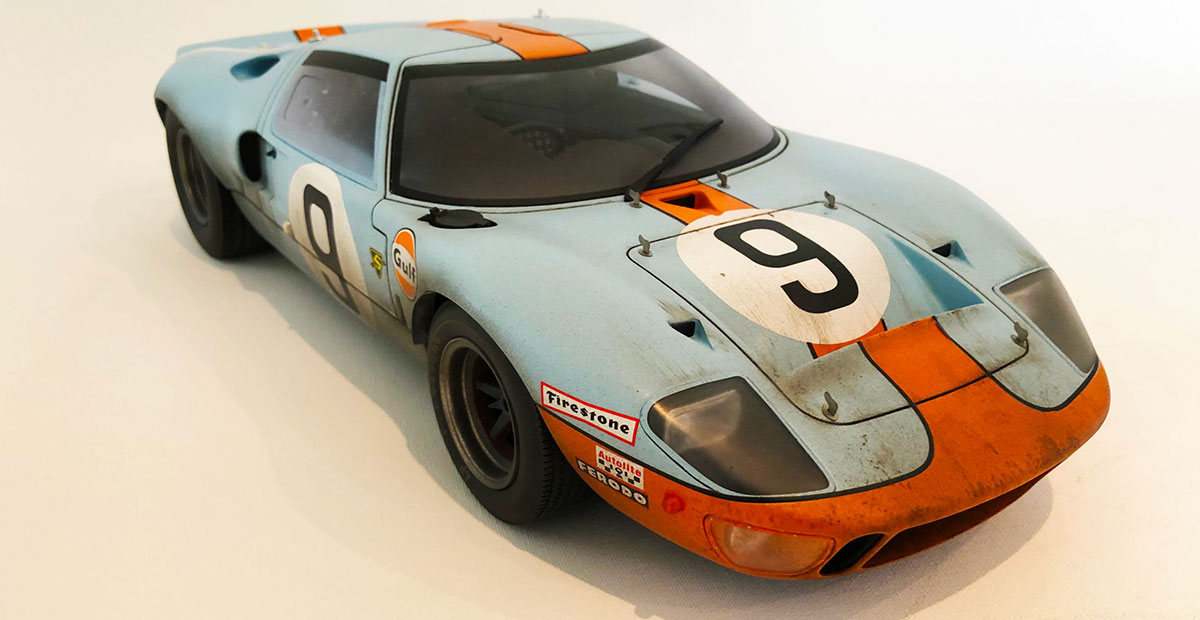 Sandlund Art – where car models comes to life
---
"I'll never agree to bargain – this is my hobby and I put my fervour, passion and my energy into every model that I build. That is why there is no room for bargaining"- Magnus Sandlund says firmly over the phone.
You understand his argument when you see what kind of art he is making.
Photo: SandlundArt
---
40 years ago, he sat with his father at the kitchen table and knotted together his first model, which was a Saab Viggen 37, scale 1:72.
"The construction was probably not that impressive. There were wide glue joints, gaps and bad brush paintings. But it was fun, so much so that I'm still doing it."
Time has flown by and a lot of models have been both built and collected over the years.
"Well, I have not only been building. Truth be told, I have collected a variety of different models too. I am an omnivore and generalist when it comes to my collections. It can be anything from Volvo and SAAB models, police cars in scale 1:43, Group B Rally models, LeMans cars. The summary of my collection is – scattered."
This whole aspect of collecting has not only filled half a garage in Sigtuna in Sweden where he lives, but also filled him with knowledge and expertise in what actually has value and what stands out in the car model world.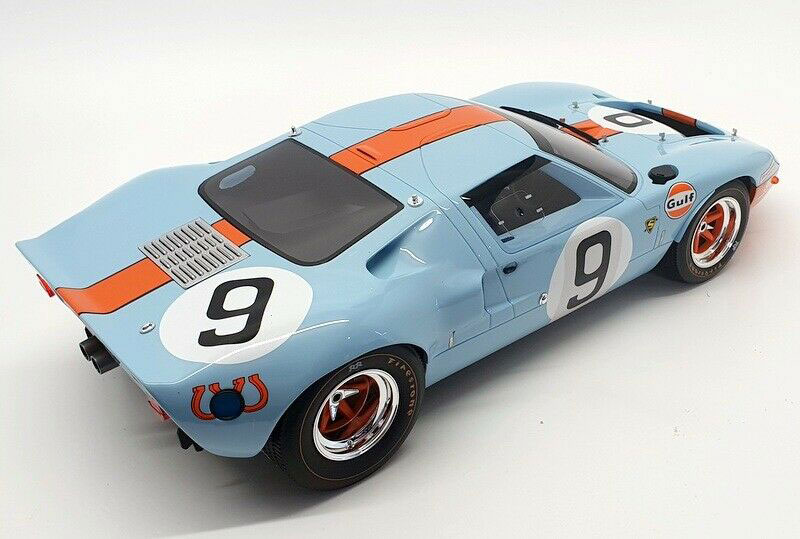 "I am trying to sell that collection. But there's not enough time and energy for everything so I prefer to work with my models and develop in that area. Someday I will have to deal with the collection, but for now it is what it is."
There's no debating that Magnus has developed and worked hard to get to where he is today. He does something called "weathering a model", which is to buy an already assembled Diecast car model which he then breaks apart, as Magnus explains it. After he has broken it down into parts, he puts his own touch on the body, the interior, the engine, the luggage compartment, the wheels – yes the entire car. Then he'll put it all back together again.
He likes older everyday Europeans
---
"It all started one day when my wife was away and I was at home with my 3 children. While the children were resting after lunch, I got annoyed by a shiny spotless wheel loader in the scale 1:50 in one of my collectors shelves. My first thought was that a wheel loader is never that clean while it's operating."
After that, Magnus started to paint dirt and rust on it with regular model paint. He put antennas and some extra equipment on it as well.
This was over 10 years ago and now at least a few hundred cars have passed Magnus' green Tamiya cutting mat.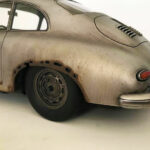 "It has taken a lot of training and energy to get where I am today. In the beginning, some models broke while I disassembled them, although I have learned how to proceed. Then it is always possible to fix most things when it comes to these models."
"I mostly sit with 1:18 cars and 1:43 cars. Have also tried cars on a 1:64 / 1:66 scale (type Hot Wheels) but there is a limit to what my eyes can handle, it gets way too small."
Magnus says further that it is preferably 1:18 models that he works with. Most older European everyday cars to get ahold of are on this scale, and this is a reasonable size car for him to work with.
"I like older European cars, and have a great fondness for the Swedish treasures SAAB and Volvo, which is why I start from ready-made collector cars and not plastic kits, where often the models are American or Japanese."
It should be added that Magnus has built larger cars too.
"Well, 1:12 LeMan's copies are something I have built. Most of those models are getting sold to the United States, don't know why."
---
---
Background of Sandlund Art
---
For Magnus, the interest in cars has always been there, since childhood, as he says himself. His father was perhaps not a super enthusiast but still had a great interest in cars, and rolled around in the more fun everyday cars such as Volvo 245 Turbo, Volvo 264 and various turbo Saab´s.
"I have had some classic cars myself, but while I had them they maybe they were not considered that classic." says Magnus with a light laugh and then continues:
"Had a great, perfect Saab 96, the first model, from 1960. Super nice with only one previous owner. A slammed Beetle with a roof rack and then, the Golf GTI MK1 from 1984. "
"In the Golf, I tore everything out, to run cone competitions. I remember it so well when I lifted the carpet and saw that it was completely stainless. I did not realize the value in that back then, though now a few years later my perspective is totally different of course." says Magnus with another laugh.
If you go to Magnus Instagram, you will also see that there are some LeMans- and rally cars that he has built over the years. He says he is not a fanatic but has followed these motorsports from a distance throughout the years.
"What I do now with my modeling is obviously a manageable way of dealing with my car interest."
What does it take to become this proficient in weathering models?
---
As we keep talking, I understand that "weathering models" is not just a hobby, but a burning passion in Magnus' life.
"This is my pressure valve in life and it's a lot of fun to sit with this every day. Here I have full control of the set and building, no one else can dictate what is to be done."
Magnus gets up every morning at 06.00 to sit in his studio, Monday to Sunday.
"Every night when I go to bed, I'm looking forward to waking up the next day and continuing where I left off."
Magnus has a daytime job completely different from model building. But he says that he has time for about 3 hours of building per day and if you include thought processes around the models, we could probably add a few more hours per day.
"I think that my analytical and a bit rigid personality has made me good at this, plus that I have trained quite a lot over the years."
The models are like time capsules
---
He explains how the creative process is brought about before the building takes place. First, he starts window shopping on eBay to find a theme. Then he goes on to analyse what the original car actually looks like. After that, the layers and dimensions of rust, dirt and character begin to take shape in his head.
"It all starts with an understanding of how things really look on real cars. On a rusty old car, the dirt and rust drains downwards, as rain and weather often come from above. It's different with LeMans cars – where the dirt is in the front of the nose since they are chasing at high speeds around the paved track, while rally cars are the dirtiest on the lower parts of the car, from the front wheels and back."
He looks a lot at reference pictures online to get a grip on what the cars might look like when, for example, they have driven around LeMans for 24 hours or they have been abandoned in a parking lot in storms, wind and rain for 15 years.
"Then I also have to think about when the "picture" of the car was taken. If it is a 60s car that is 25 years old, then the wear, character and feel of the car must also be 25 years old. Plus that all accessories for the cars, such as roof racks, newspapers, cans, bottles, parking tickets and so on must be contemporary. "
The more Magnus explains about his creative process, I realize that he actually does not engage in model building, this is pure art, based on different car models.
The cars themselves are like little time capsules that Magnus has built. Time capsules that showcase a snippet of what it was like back then, when the "picture" of the car was taken.
How, then, do you make such a beautiful creation?
---
"Once I have gone through the creative process and the car is in front of me on my green cutting mat, I have a clear idea of ​​what to do. If I do not have a clear idea of ​​what to do with the car while I am sitting there, the investigation continues as to what the picture should actually be. "
The first step is to wash the car with detergent to remove any dirt and grease. After that the windows are masked and a layer of clear lacquer is applied. This is partly to seal original varnish and decals for the next steps of the process, but also to facilitate for the Wash paint to stick.
Wash paint is a strongly thinned out paint that is oil-based.
"I ad an abundance of the brown / black-tinted color and wipe off the excess in a downward motion so that it resembles a real 'dirt running'."
Because Magnus puts on such a large amount of Wash-paint, the "dirt" flows naturally where it usually ends up on a car, in door cracks, bumpers, suspension, joints, around valves, etc.
After some drying time, everything is sealed with a layer of clear lacquer with an airbrush.
In the next step, Magnus applies rust with rust-colored Wash paint, using a brush or a shredded kitchen sponge.
Finally, when everything is finished, he seals all the parts with a matt clear coat and reassembles the car.
"There are a few different procedures when it comes to LeMans – and rally cars, as I said before. In this case the dirt comes from the horizontal direction instead of from above. So I have to apply the dirt from another angle." says Magnus in a self-evident tone.
---
---
The tools and accessories to weather a Diecast scale car
---
In addition to the Wash paints and the Airbrush, Magnus lists things that you can easily come by at any hardware store.
"Brushes of all sizes and varieties, contact glue and super glue, sandpaper that I cut into 5×5 cm pieces and an ordinary snap-off blade knife for making straight cuts in the plastic sheets from which I make most of the accessories."
"Then I'm printing a lot of newspaper covers, paper bags, parking tickets and such, and for that I run wood glue, as that is milder and better suited for the paper."
Besides this, Magnus frequently uses his Dremel grinding machine.
"With that machine, I have made a tool of my own that is vital for my manufacturing," Magnus says proudly and continues to tell that he sharpens a 2 mm welding wire so that it becomes pointed at the edge.
"It helps to pike all the small accessories so I can fix them and I can also poke marks when I need to drill small delicate holes."
Sandlund Art rejects many customers
---
We do not go into the exact number of inquiries Magnus receives but it is a lot, and unfortunately he has to say no to many.
"Most of the time people want copies of their own cars. Sometimes it works, sometimes it doesn't. The times it does not work, it can be things like aftermarket rims, roof lowering, very advanced paintwork, etc. that make it not feasible Then I will unfortunately have to say no, but it is good is to be able to do so at an early stage "
Should you want to order a car from Magnus, you sometimes end up in the creative process together with him, where you'll figure out what the image of the contemplated car should look like.
"Right now I am building a Greaser Rolls for a customer. It's simply a Rolls Royce, with flames, a roof rack and the classic hometown sign taped to the rear fender. "
Magnus laughs and says that it will of course say Lidingö (a posh island in the Stockholm area) on the rear wing and "BRAT" on the registration plate.
Magnus, a real artist
---
During our conversation, I've noticed that Magnus is like any other person and artist, there is always a little doubt as to how his work will be received by the audience.
He explains that, after such a long time, he begins to understand that he is doing a good job all things considered, because otherwise he would not receive as much attention and requests as he gets.
Personally, I am still fascinated by all these intricate details and the precision Magnus puts into his models. Plus, I am still amazed that he could doubt the viewer's reception of his work.
This is art according to scale, and Magnus, he's a real artist.
Order and/or follow SandlundArt on social media
---
Do you want to order a model, follow SandlundArt or get in contact with Magnus, please click on various option below.
Instagram
Facebook
---
---