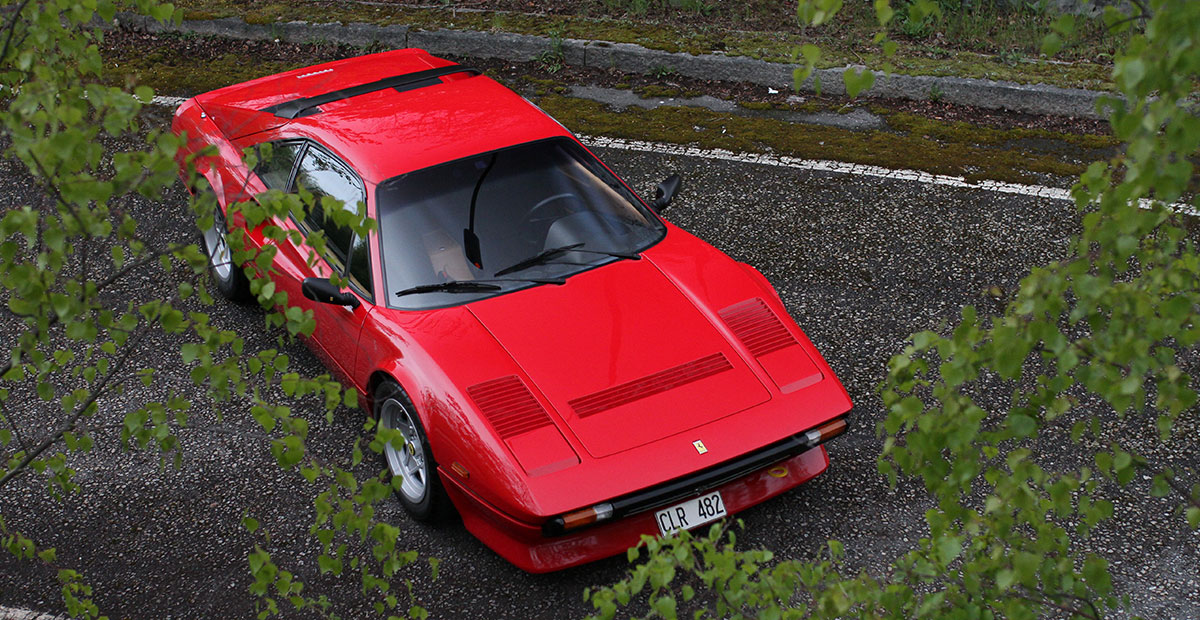 Ferrari 308 GTB QV 1984 – the modified dream car
---
"It doesn't get any more fun than what you do, that's my motto." Torbjörn says with a thoughtful smile. Then he gear down and the V8 wines and whistles in Stockholm's northern tunnel system.
Every bump and white line feels when we slide through all the underground tracks of the underground with the track prepared Ferrari 308 from 1984. Both our windows are down and I cannot stop smiling every time the engine leaves the 2500 line, on the rev meter, behind. The tunnels are filled with Italian music.
---
Sunday morning slowly starts to wake up and the sun stays behind all the gray clouds in the sky. In the distance I hear the beautiful sound of the Ferrari engine coming closer to me when it is crossing the bridge between the suburbs, Bromma and Solna, in Stockholm.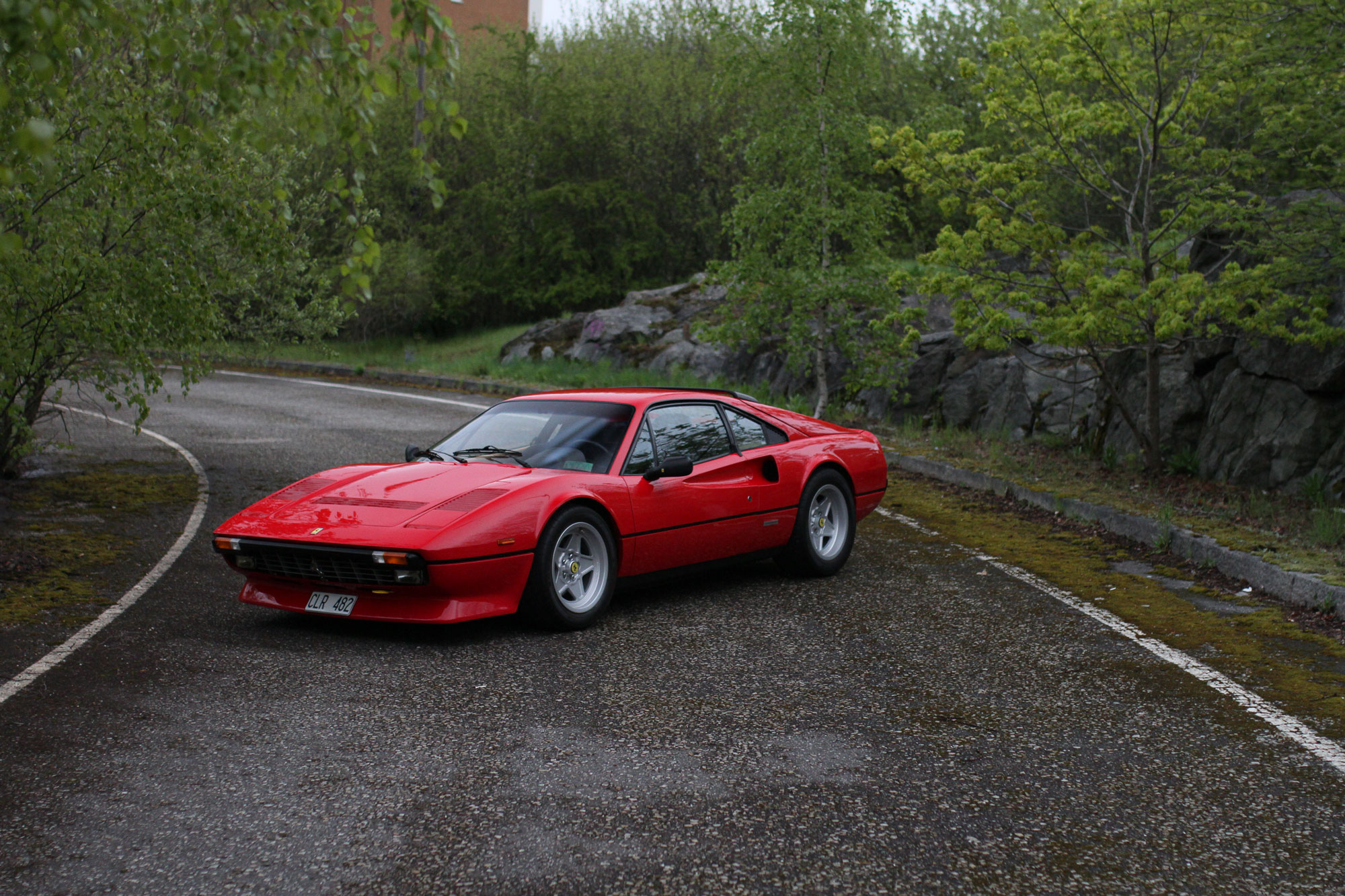 The 308 roles smoothly up to the highway exit
---
The low and slender 308 comes rolling behind the green bushes. The flat nose with the lit fog lights gets me to sigh with joy. Much of my childhood rinses over me. The right indicator shows that it´s about to turn into the abandoned highway exit where we are going to photograph. I have to tell myself to stop smiling as a grinning fool.

The red paint shines and quite quickly my eyes registers that the car looks slightly more wider than an original Ferrari 308.

Torbjörn get´s out of the car and I can't stop smiling. The car has so much class, dignity, history and icon shimmer around it self.

This particular car has the Italians really succeeded with. The shape indicates speed, glamor and feeling.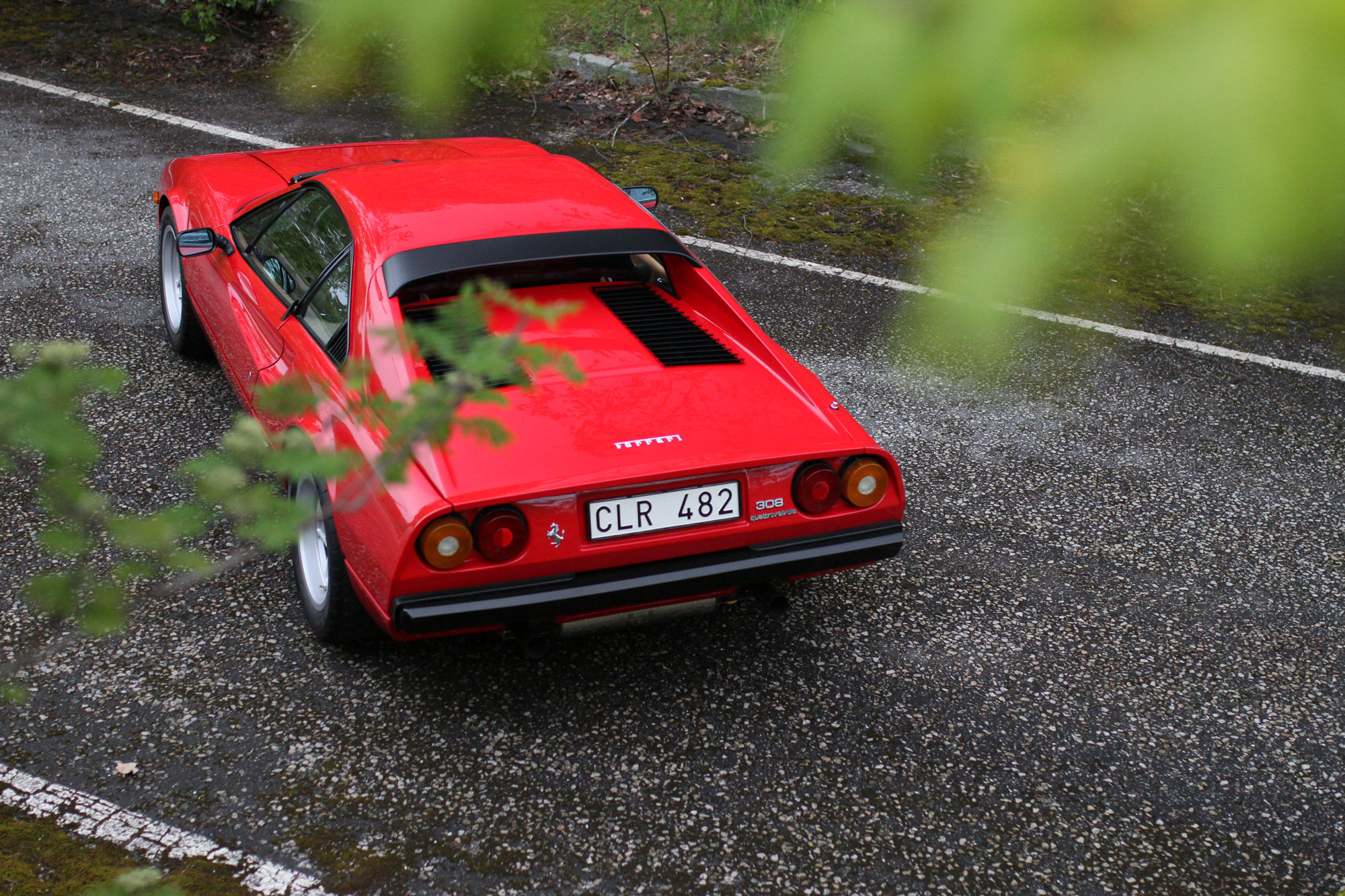 ---
Posters made by Fascinating Cars – shipped all over the world at local shipping cost
---
The Ferrari have got a really aggressive wheel seeting
---
Directly me and Torbjörn starts chit chatting with each other and Torbjörn tells about the observation that it looks more wide.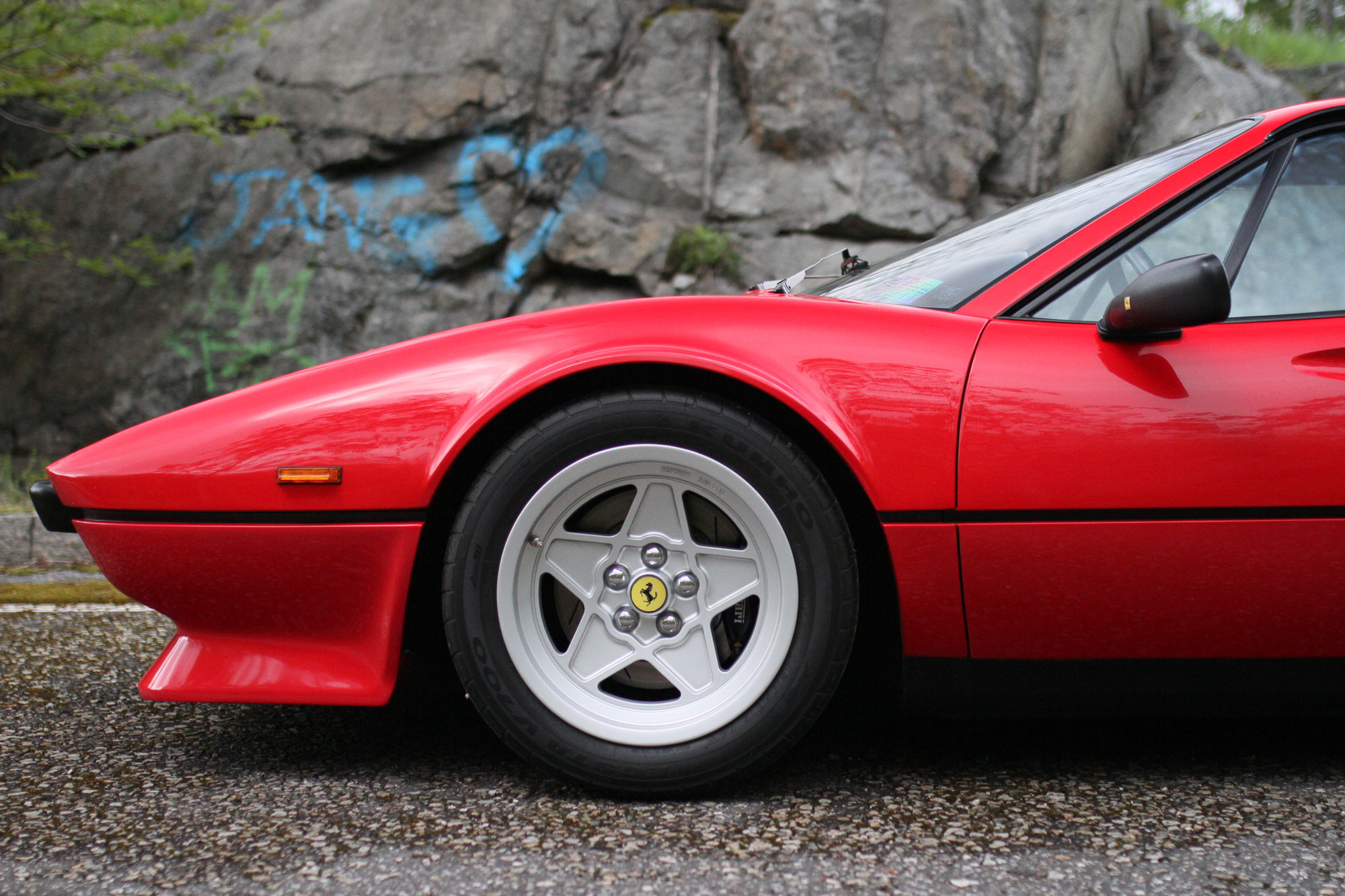 "The rims in the front are the 8" magnesium rims that original was in the back. Back now there are replica aluminum wheels that Skullman in Åkers Styckebruk has widened both inwards and outwards so that they now measure 9 "width and with the original offset. Kumho V70R tires 245 / 45R16 and 265 / 45R16. "

The front fenders are "rolled" on the inside so that the wheels will not touch. After running a Lancia Delta Integrale Evoluzione a few years on the track, before this Ferrari, Torbjörn had learned how he would prefer to have the wheel setting. It should be aggressive, minus 3 camber, to really make it lie like a patch in the curves.

"On track, it is more fun to turn than to gas straight ahead. Because the engine is not that strong but the car is incredibly balanced in the curves. "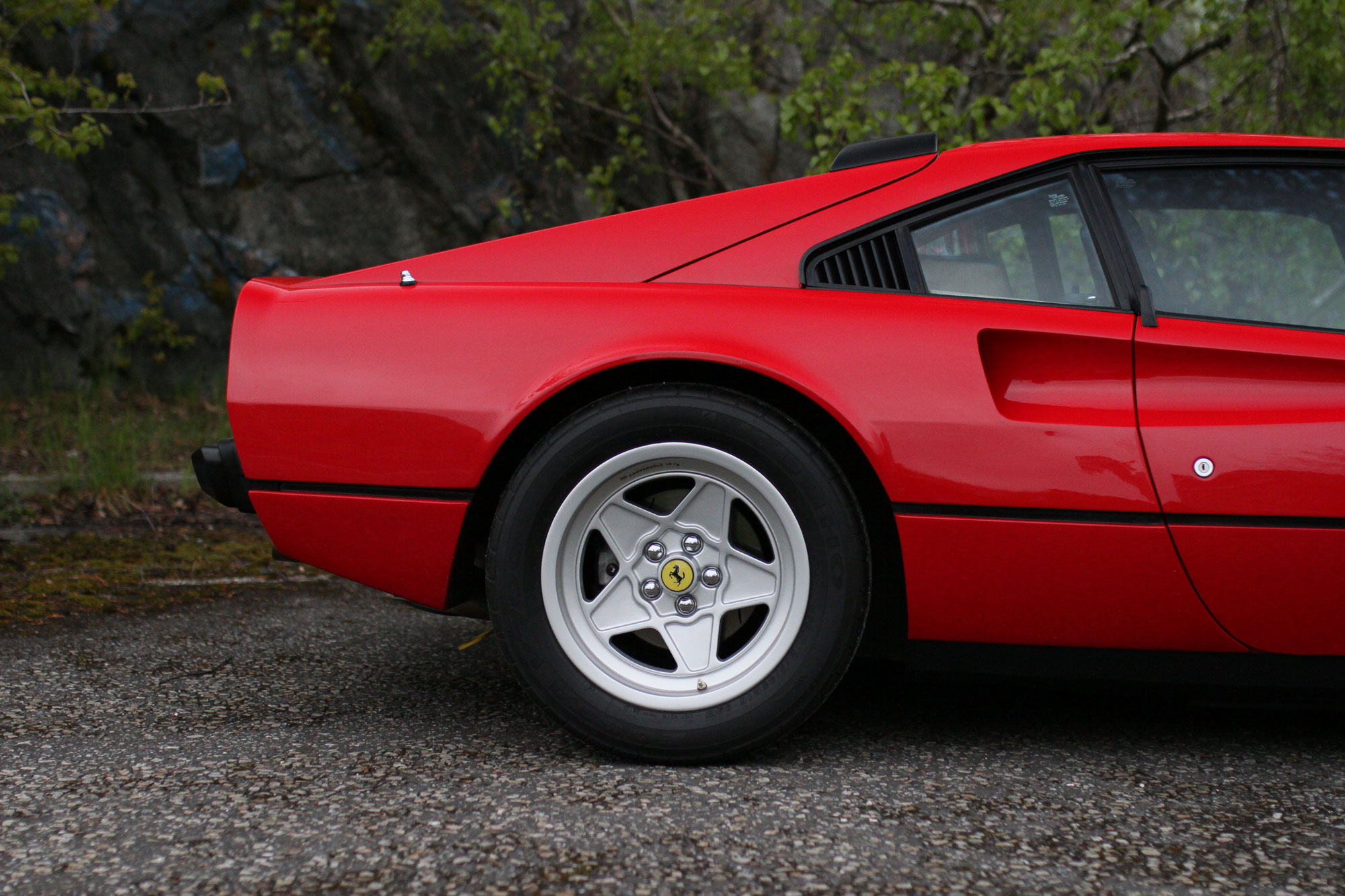 You have to work in a Ferrari 308
---
"In a Ferrari 308 you have to work and think more about how you drive. It is more fun to be in this at 70 km/h than 200 km/h in a modern car. Even though I like fast cars and good road management, driving experience is so much more than just speed, which this car delivers."

Gradually we go through what he has changed with the car since he bought it from Maranello Service in Italy 2010.

The biggest modifications were made during the first two winters, after that only minor adjustments and service have been made.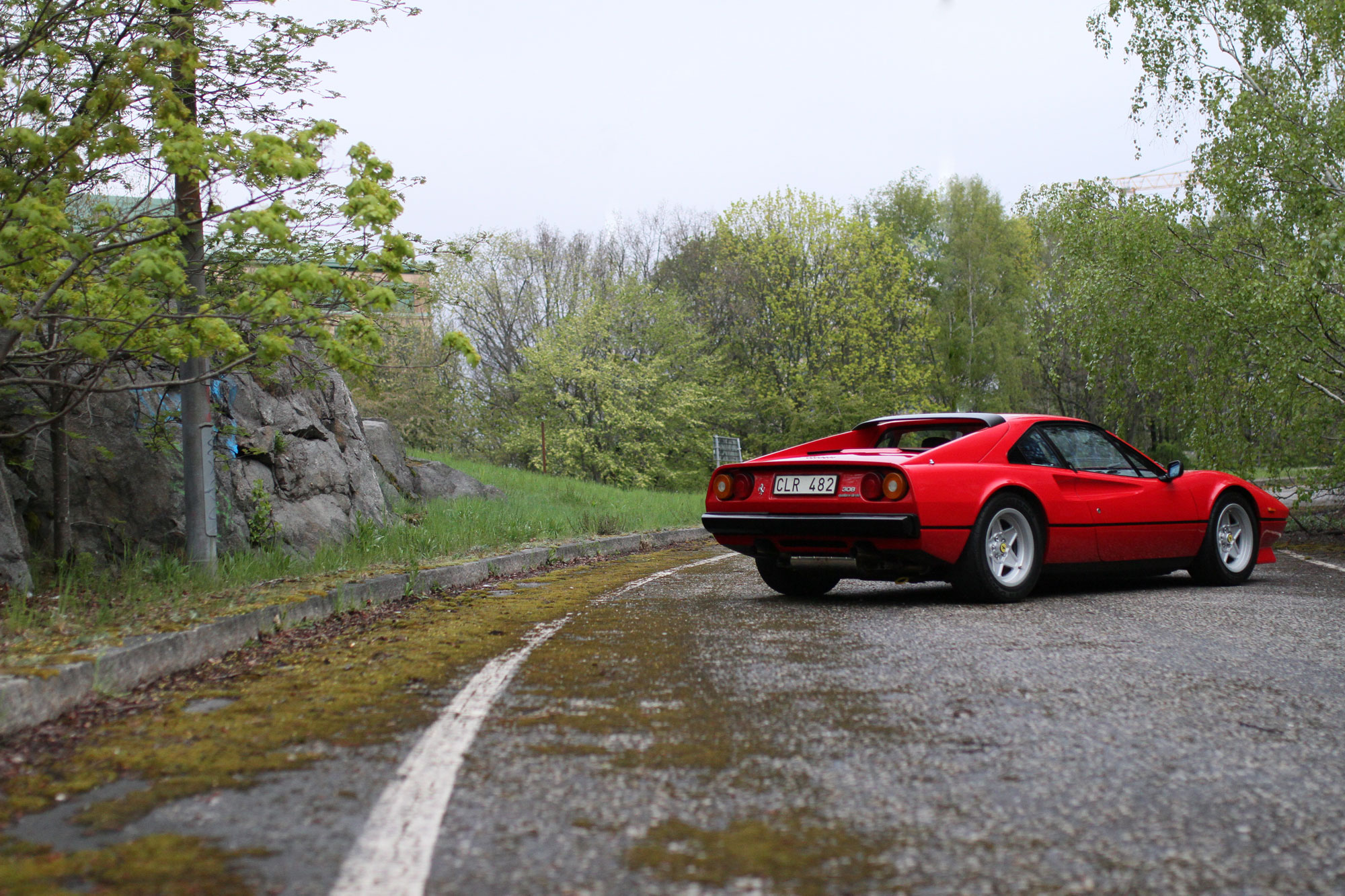 The engine is totally original
---
"The engine is a completely original 3.0 liter V8 with dual overhead camshafts and 4 valves per cylinder. There should be 240 horsepower. "

When we stand and look down into the engine, it strikes me that the engine feels so small and stripped. Thought it would be much bigger and look "stronger" and that the 90-degree V8 would look more advanced. But it looks like a original classic small engine.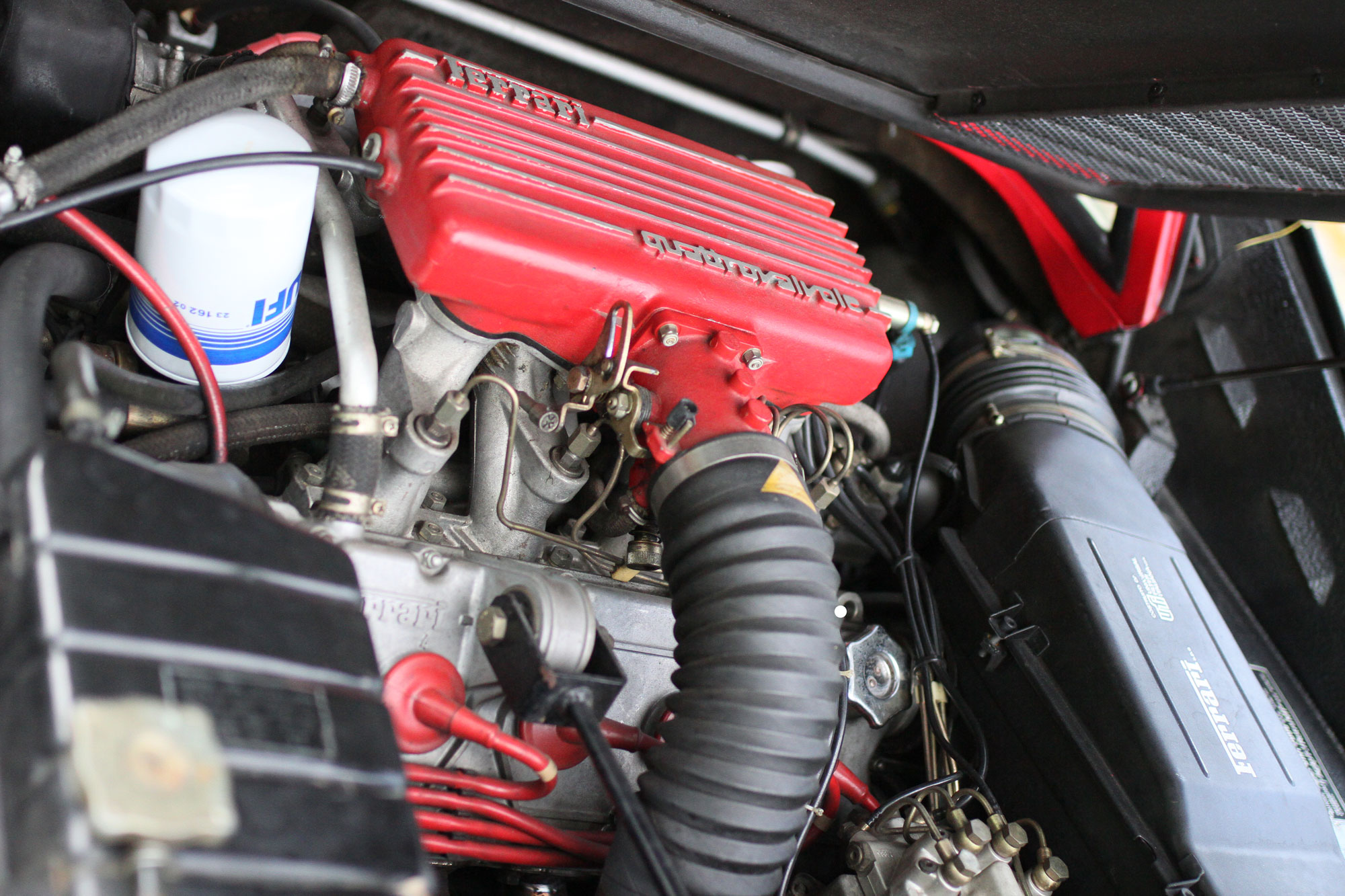 Torbjörn continues:

"I have switched to a sports air filter and let Nouvolari in England manufacture a sports exhaust system after my description with two vaguely cone-shaped exhausts, instead of the original dual exhaust. With two, it becomes more racing car look. "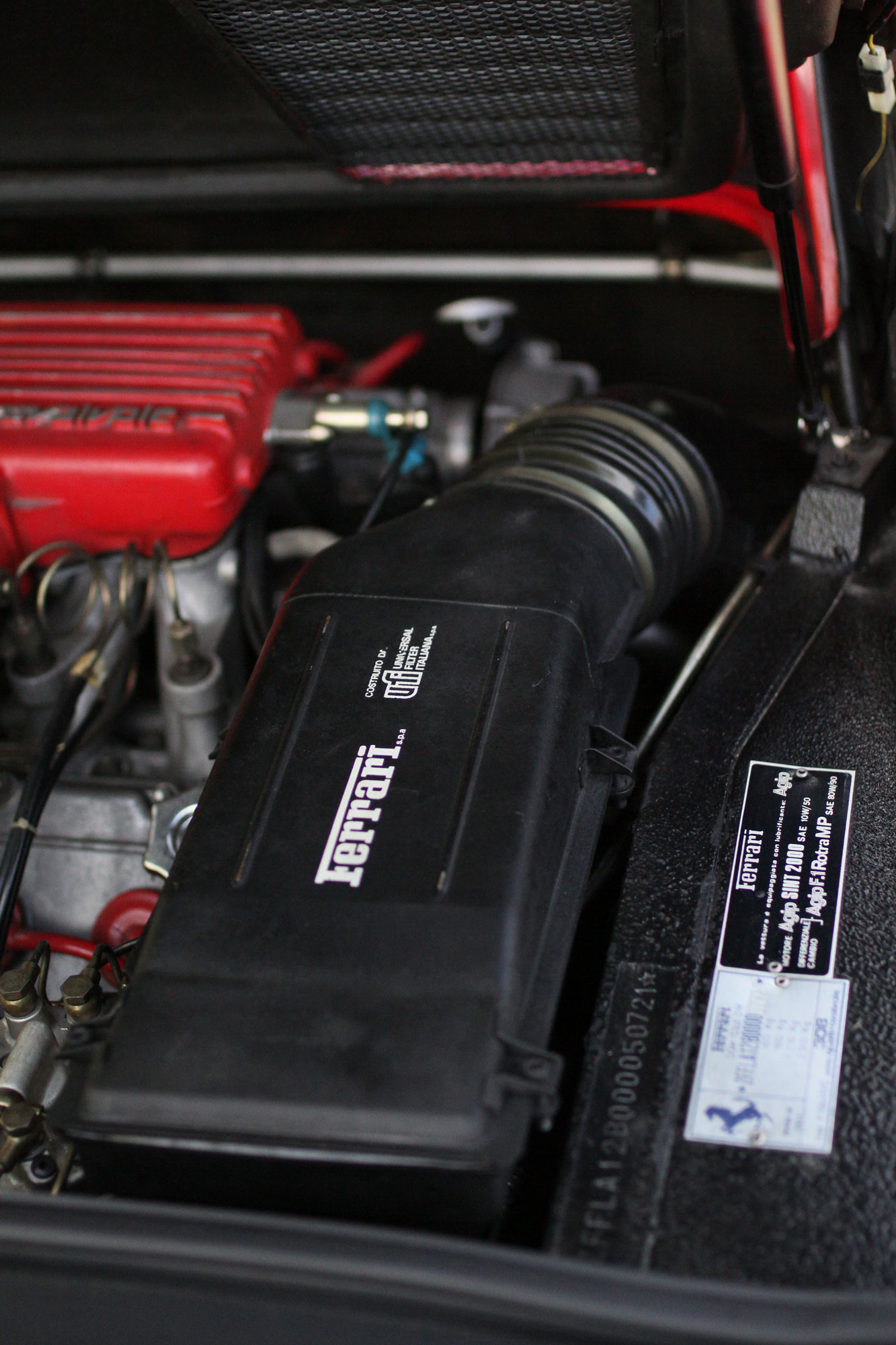 Torbjörn laughs and points at exhaust system:
"Those at Nouvolari didn't really think about it when they put their emblem on, because it is upside down when the exhaust system is installed."

When I lean down to look, yup, they have put the emblem up side down.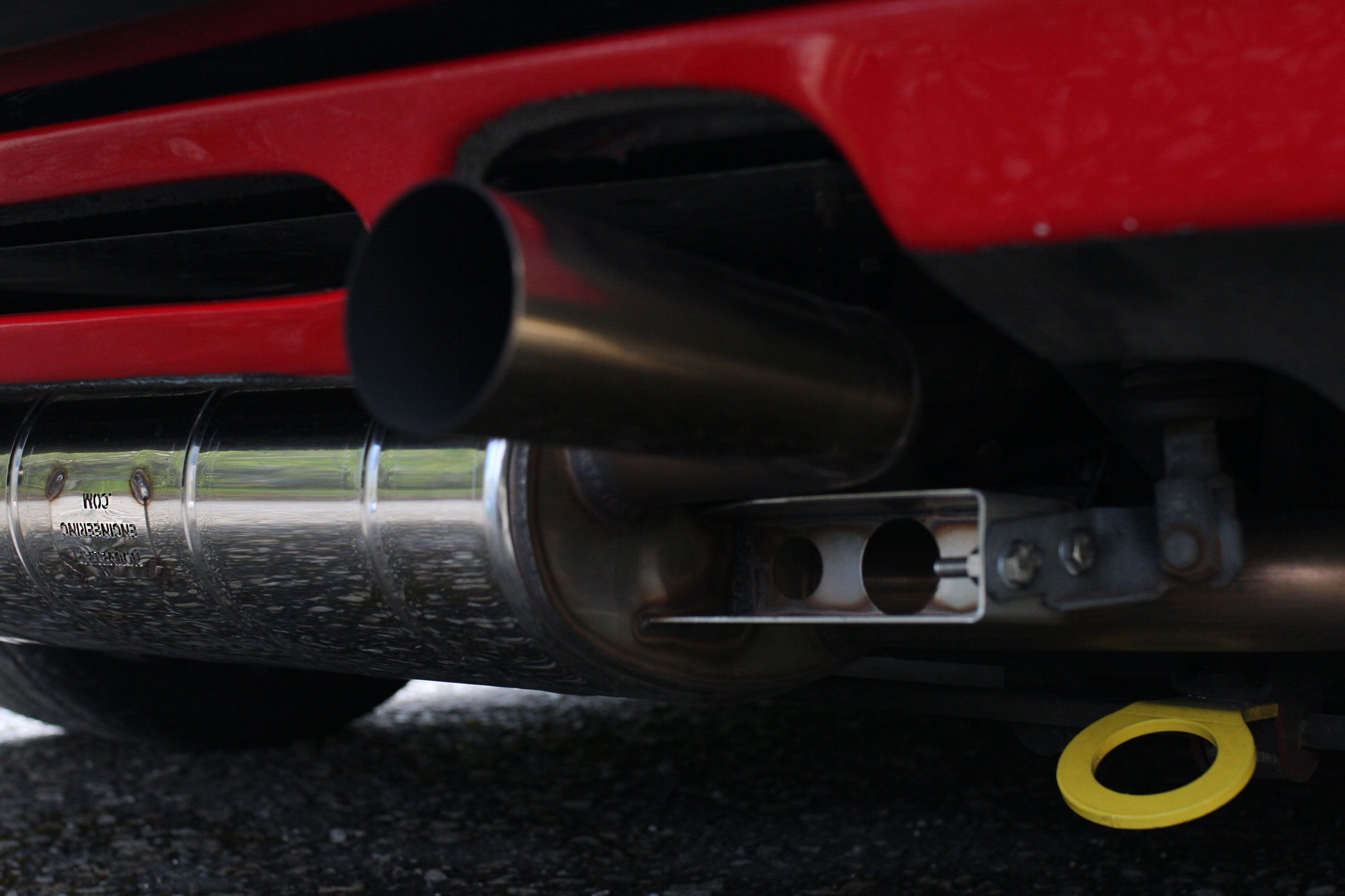 ---
Posters made by Fascinating Cars – shipped all over the world at local shipping cost
---
The 308 have gone through a modification
---
He continues the review of the car and tells me that he have mounted ripple sheets in the oil pan. A ready-made kit for Ferrari cars with wet sump to secure the oil pressure in long curves. At the same time, he replaced the seals in the gear shift shaft which runs through the motor thread to the gearbox. This is because there is a common error in the 308s that the engine and transmission oil are mixed, due to that the seal between is leaking.

"All bushings in the chassis are switched to harder or joint bearings, specially adjustable Öhlins coilovers with tuned springs, short steering gear that has been moved up to reduce bump stones as the car is lowered about 20mm. Aggressive wheel angles with more negative camber both front and rear, as said."

"A model-adapted brake kit from Girodisc with larger discs and Wilwood brake caliper with Carbotech lining, neatly painted in black with Ferrari logo gets exactly the place inside the original 16″ rims."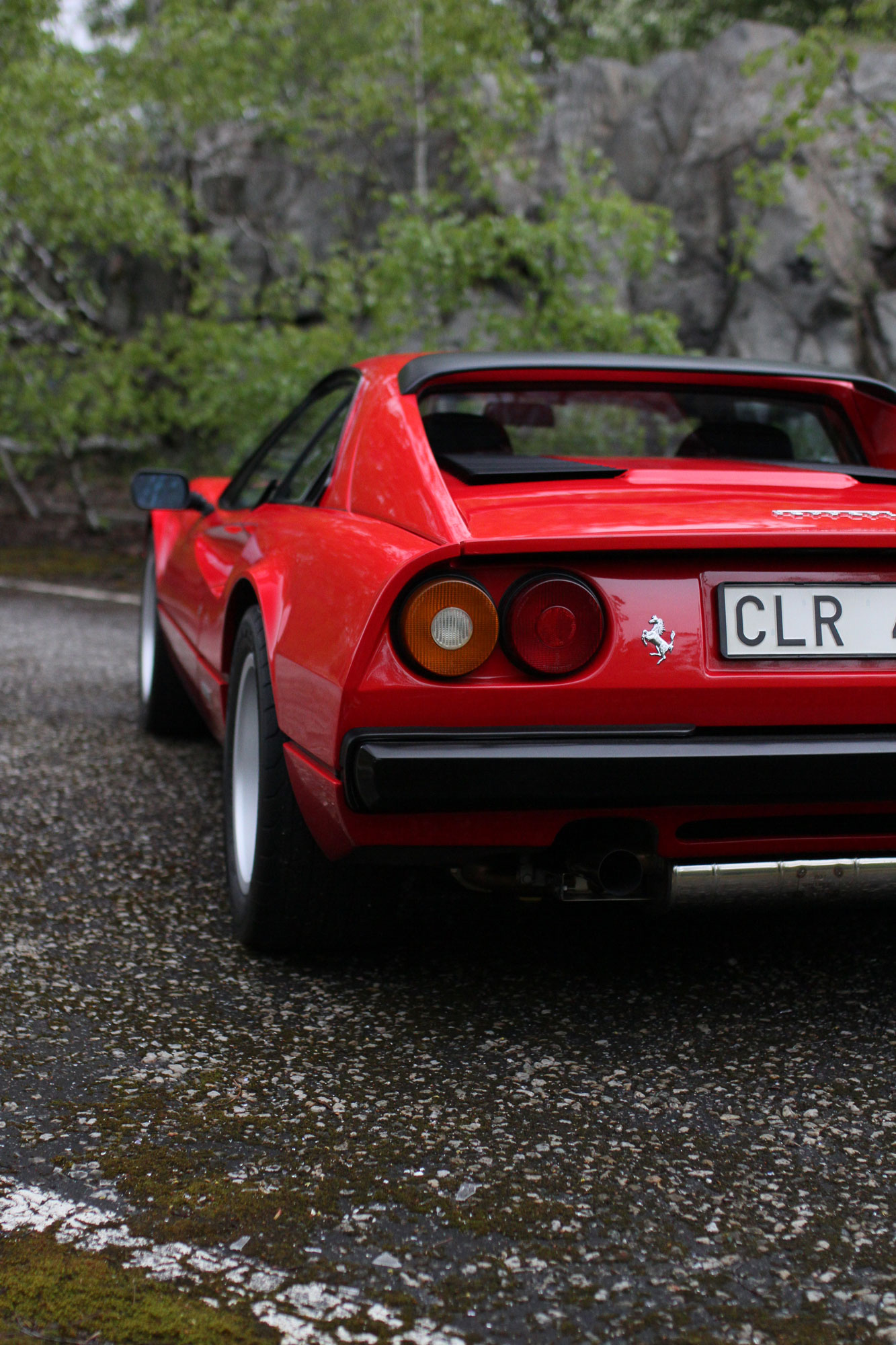 Porsches are good cars, but can easily get borring
---
"Sometimes I get help from some handy friend but for the most part I do all the work myself on the car. Service, adjustments etc. It is not that difficult."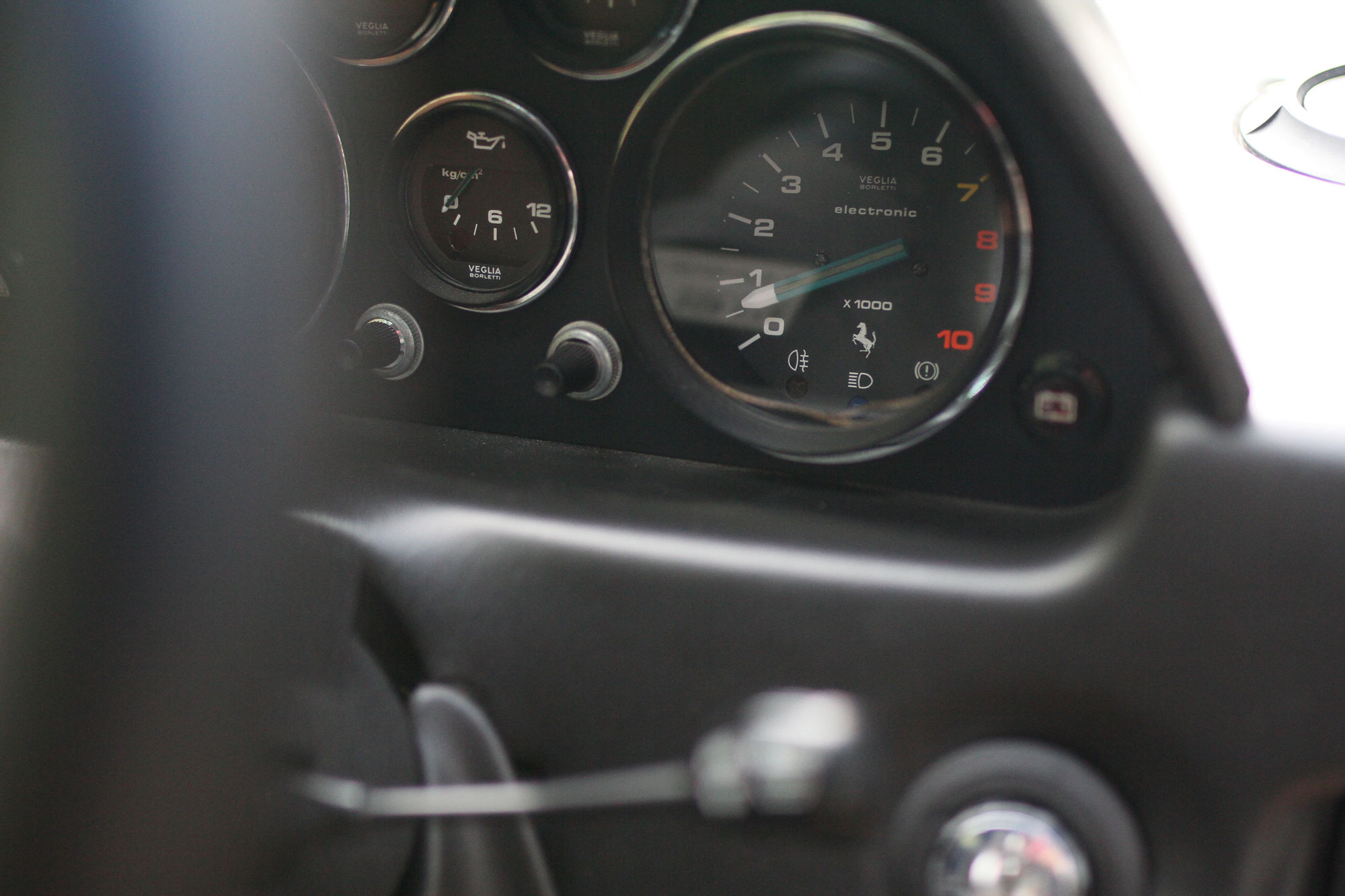 The self-confidence to work with cars began when he was 18 years old and worked at a car part dealer. The first couple of month at work he was allowed to renovate the manager's Porsche 911 Targa, to the cost of Torbjörn borrowed it for the summer.

"That Porsche, I went country and kingdom with, all summer. It was really fun, "says Torbjörn with a smile on his lips.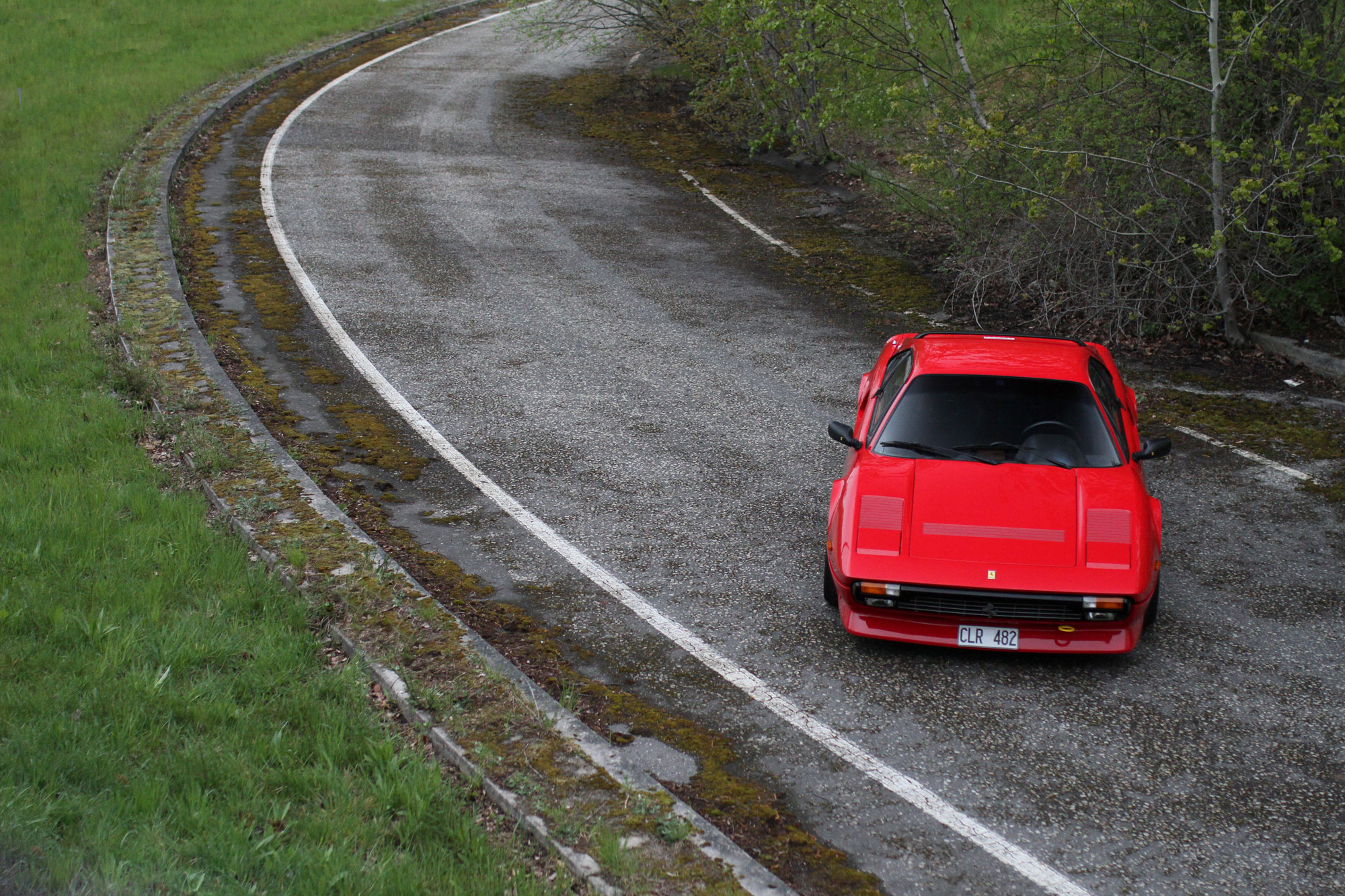 "The Porsche are nice cars but they are too good, because you can really go in wet and dry with them and it happens nothing. It gets a little too boring. I want something more selfish with character, feeling and a something more real mechanical. "

Italian cars have always been closest to Torbjörn´s heart. but a pair of Porschars has also been used because the air-cooled 911s can still give that little extra love feeling.

Torbjörn's first real sports car was an Alfetta GT and that was when he understood that some cars take time to learn to drive.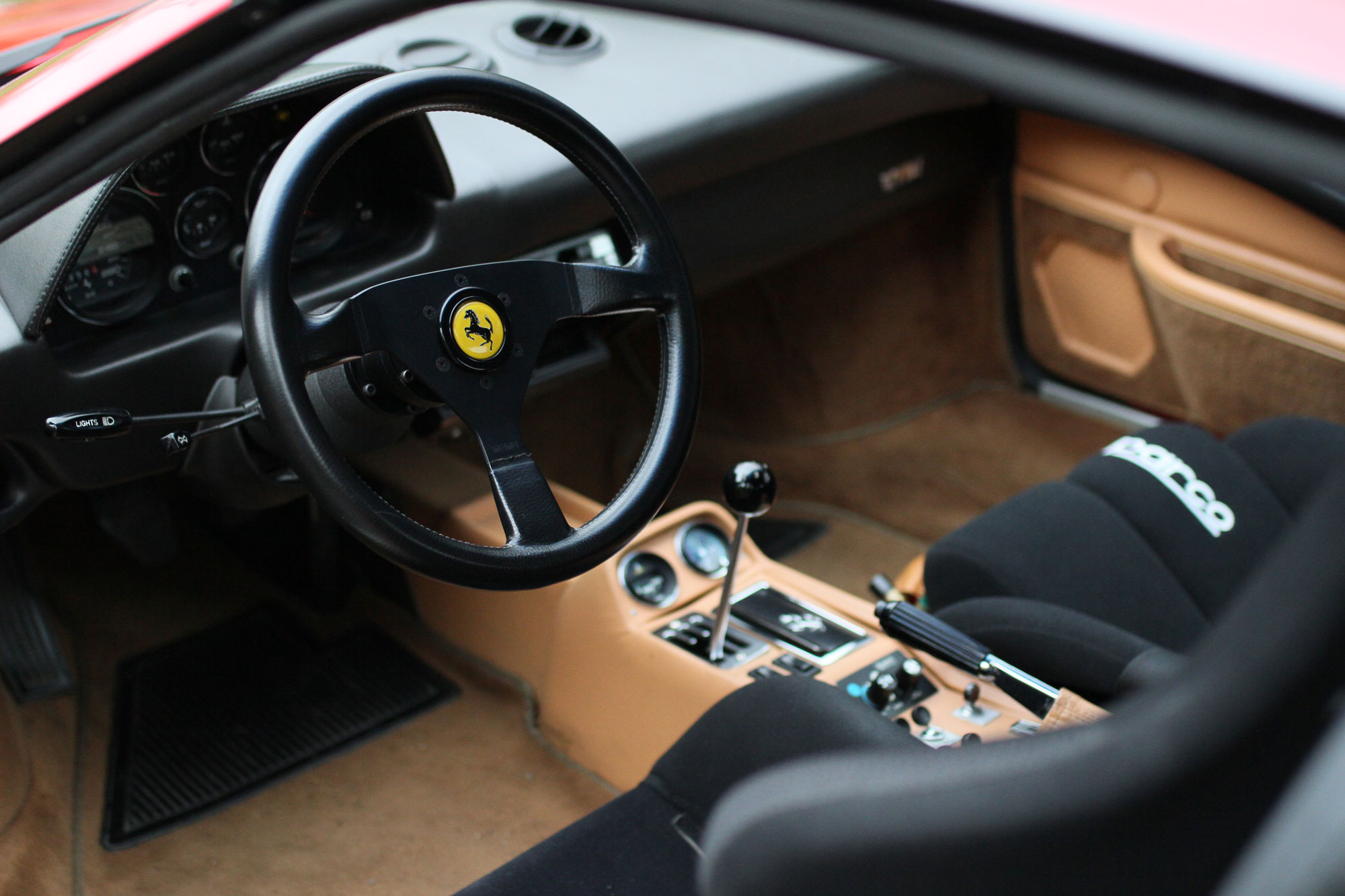 The Ferrari 308 is timeless
---
"I really had to learn to drive that car. It was completely willful and it had its tricks to start, run and I really had to treat it with tender and care. It had a lot of personality. "

When it comes to the Ferrari and personality, it is more Torbjörn who put his personality on the car.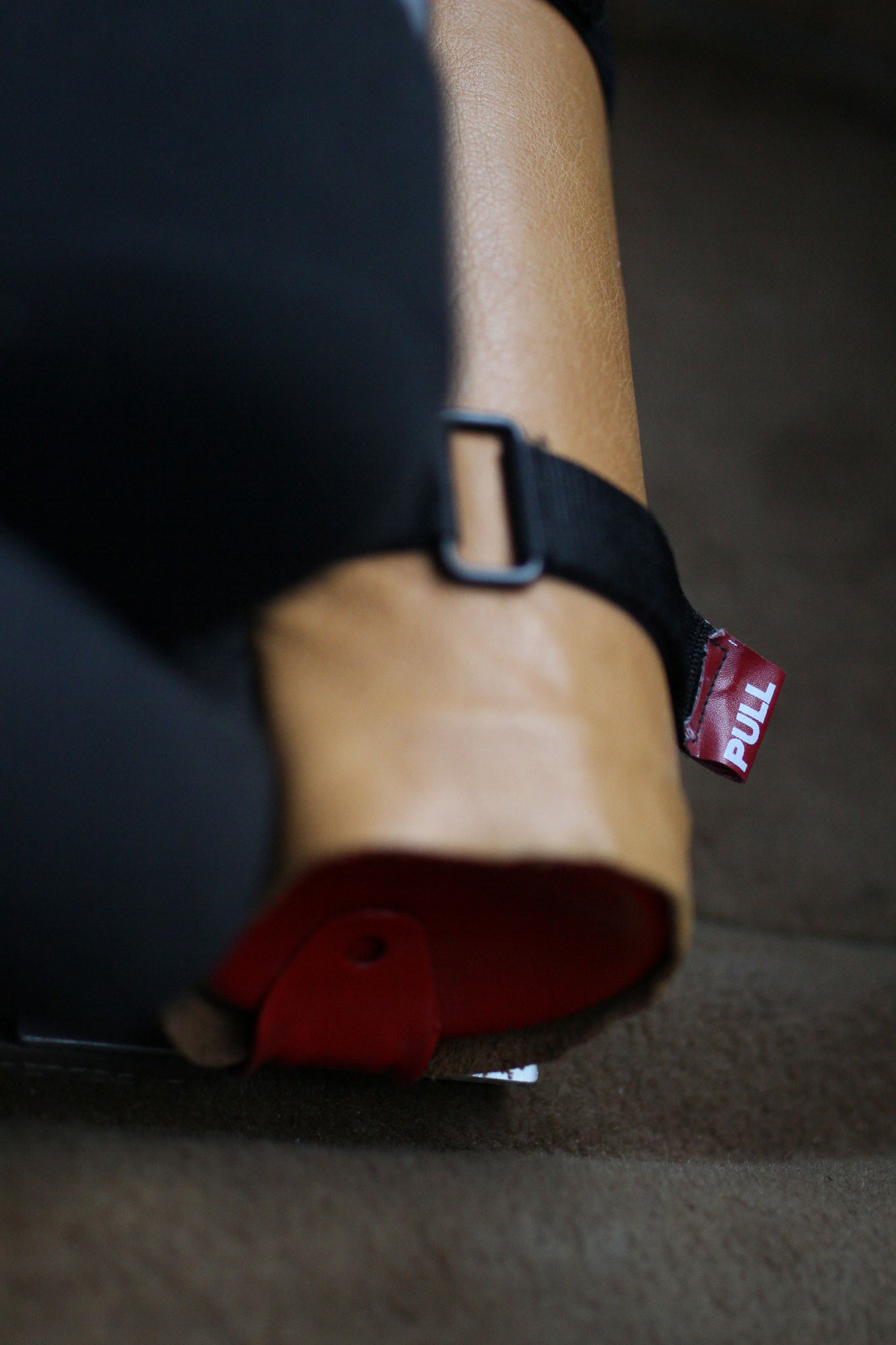 "After running the Lancia Delta on track for a few years, I wanted to switch to some more pure sports car, like."

"I had never before driven a 308, though I only knew I need to have it. It is so iconic and classic in my eyes with its color and its shapes. Clearly a sports car that will never go out of time. "

I am nodding, agreeing to what Torbjörn says while we are standing next to Ferrari´s monster hit. Those round tail lights produce so much automobile love and this particular model is a real milestone in Ferrari's history.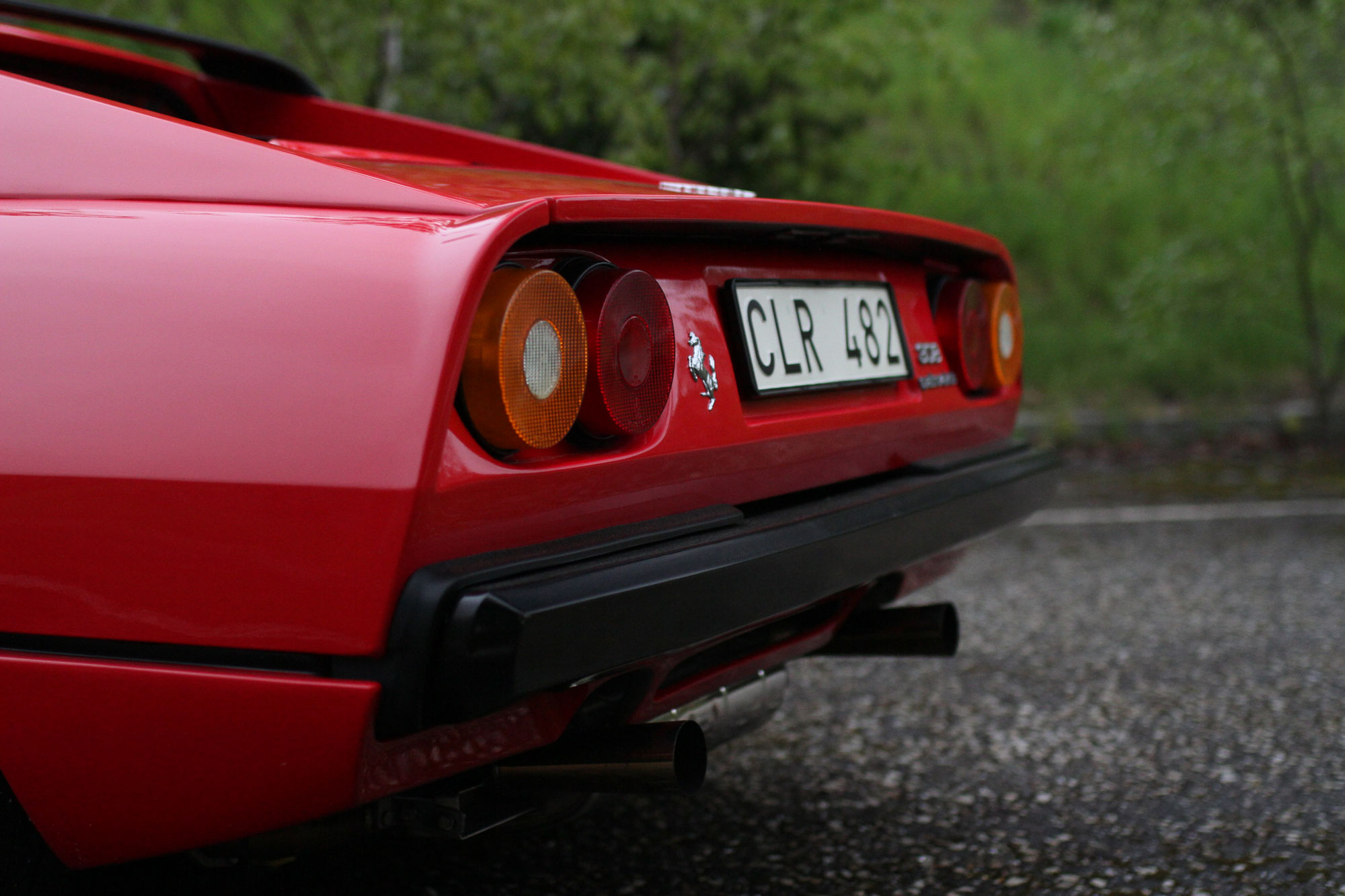 The car broke down in Italy
---
Torbjörn tells about the journey down to Italy when he picked up the car in 2010. His good friend got a gap in the calender and was able to follow along, which turned out to be a pretty long and pleasant adventure for both of them. Though it started a little tricky.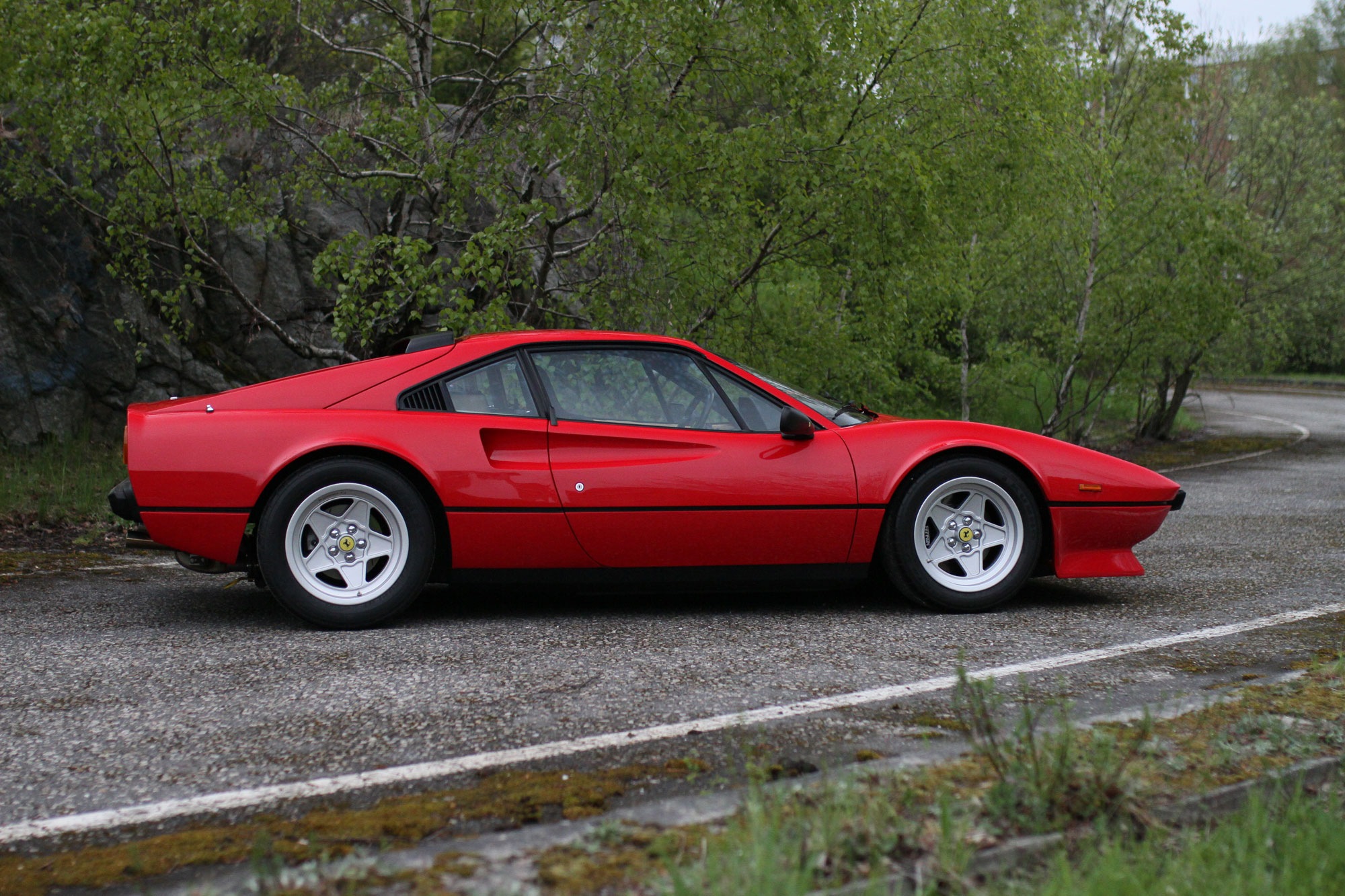 "The first thing that happened down there in Italy was that the engine went hot and that the gearbox didn't feel okay. It turned out that the water pump was broken and the clutch was totally finished."

"They said they would fix it in two days, so I called home and told them the situation. After that I sat by the Lake Garda and played poker under a tree with my friend. Of course you could spend your time in a worse place."

Two days later, Torbjörn stowed five small boxes of wine in the small tailgate and then left northern Italy behind him. Up over the mountains, over the German highways, through flat Denmark to finally park the dream car at Kungsholmen in Stockholm.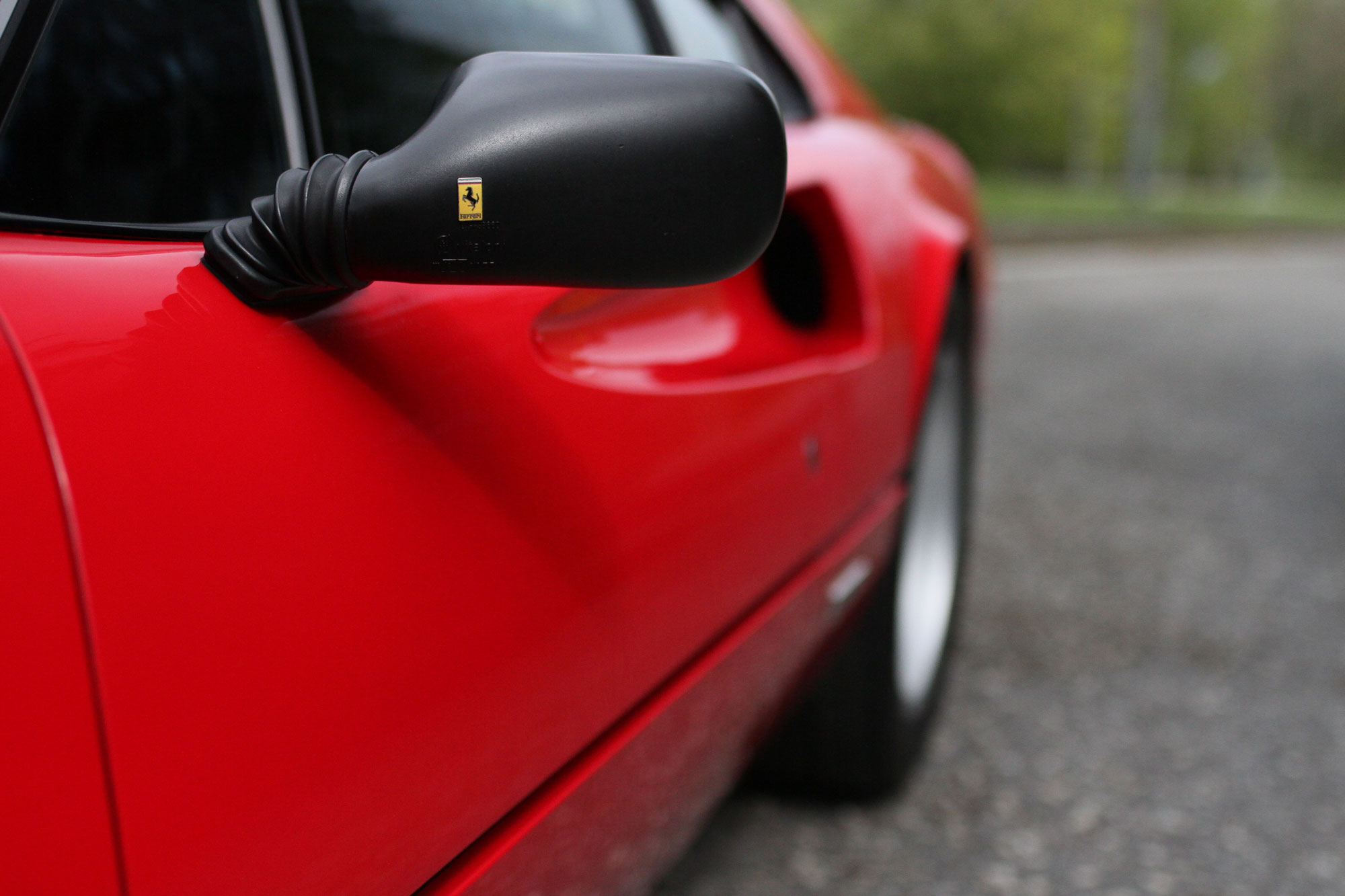 ---
Posters made by Fascinating Cars – shipped all over the world at local shipping cost
---
Ferrari dosen't give you that wow-feeling
---
When I ask Torbjörn how it felt to finally get and have his own Ferrari 308, he answers:
"Well I can say that the wow feeling in the beginning when I saw and drove cars, has calmed down a bit and does not appear in the same dramatic way as when you are a child. I can miss that."

"Though this Ferrari 308 gives me joy in so many ways and I will, as I for now, never sell it."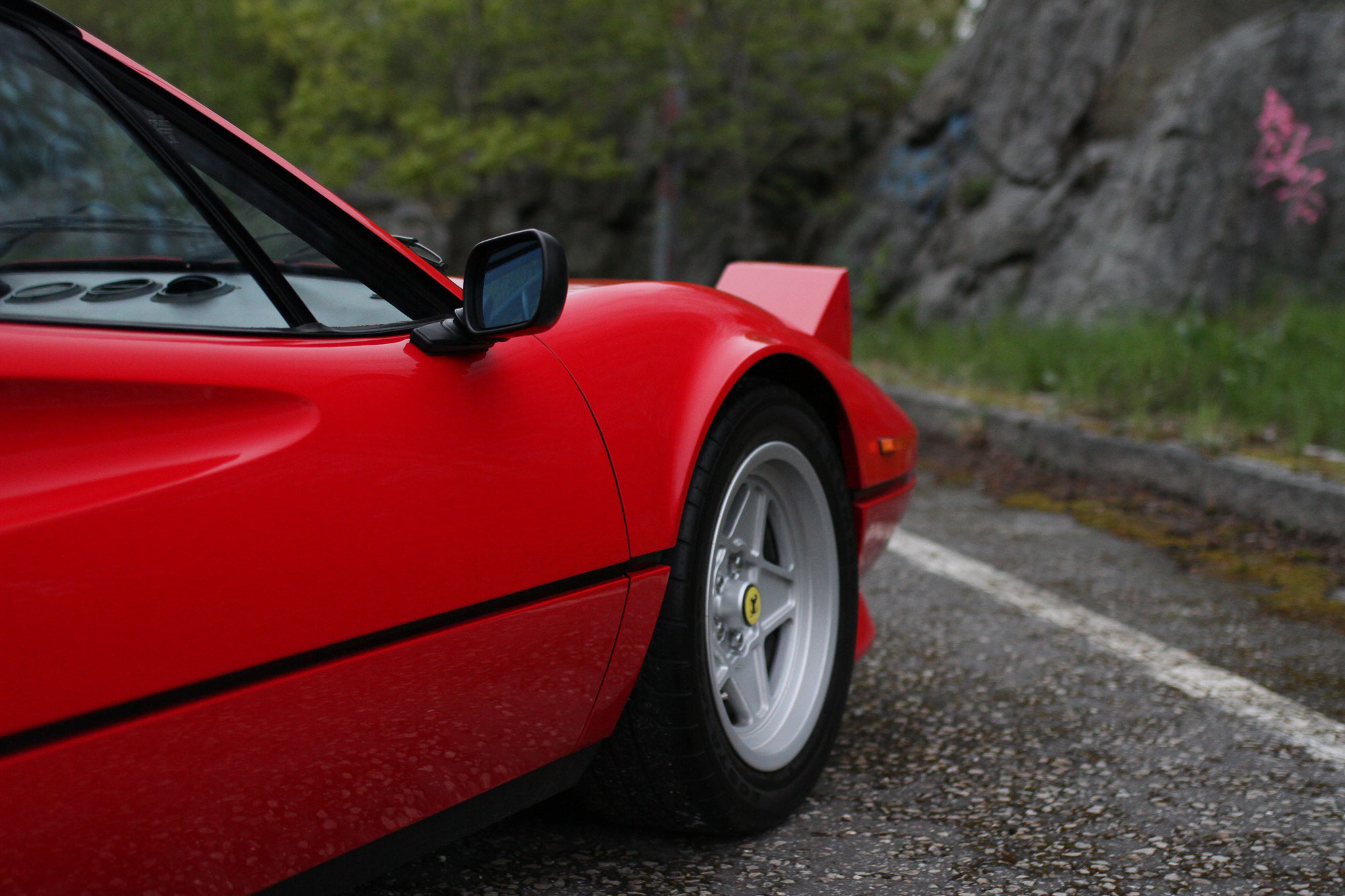 Got his homemade degree in car ownership
---
When Torbjörn talks about all the cars he owned, settings, thoughts about mechanics, searching for parts and how he takes care of this red 80's dream, I realize that he has created his own homemade engineering degree in classic car ownership.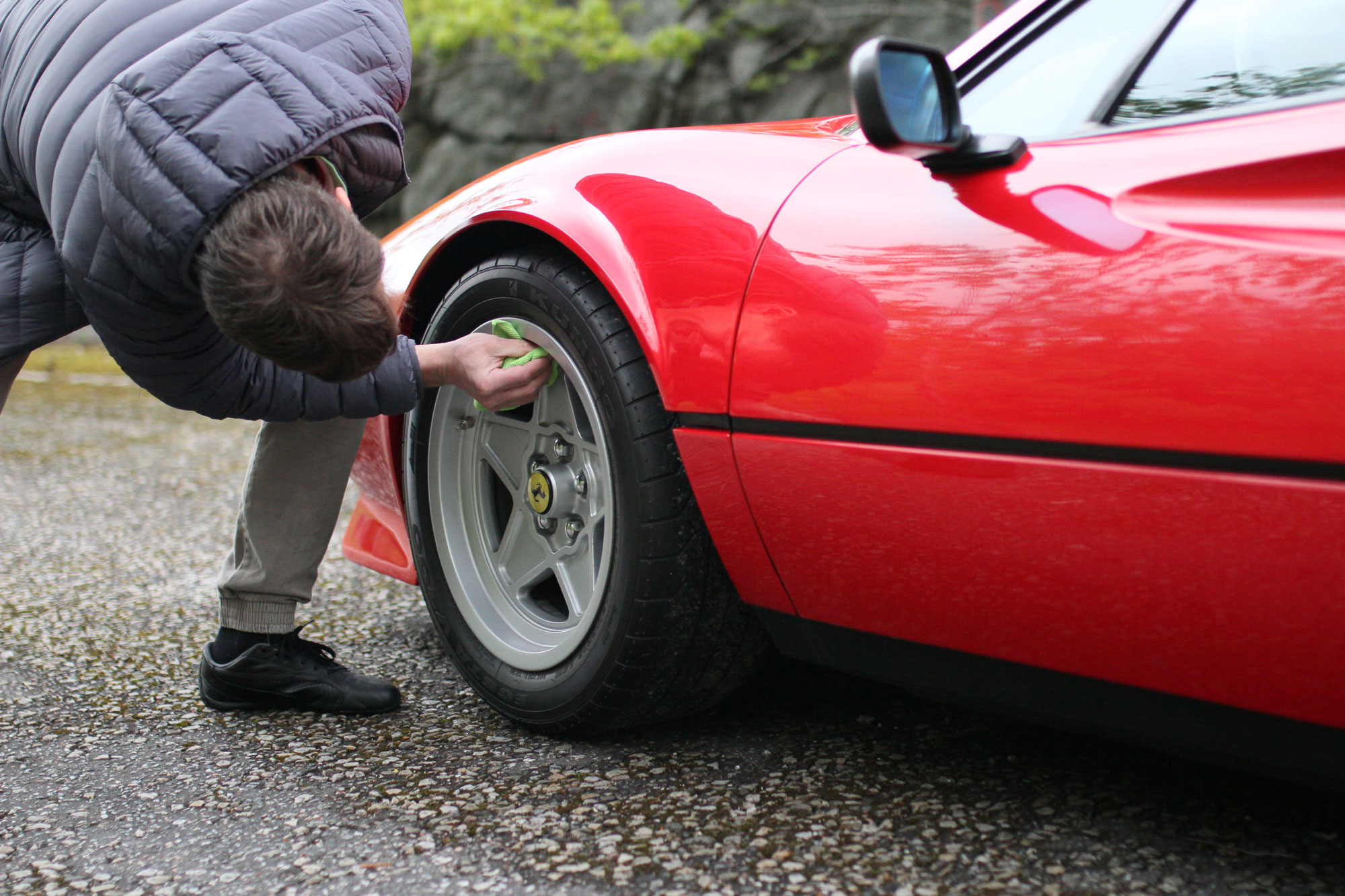 He is a sharp person who feels as a world citizen, aware and has a strong will of what he wants to accomplish and shines with joy of life and with a childish glimpse in his eyes.

That joy of life and childhood is shining even harder when we later go out on the roads to cruise the Stockholm's northern tunnel system.

"It has a different ignition sequence than the American V8 and therefore howl's more when you press the throttle."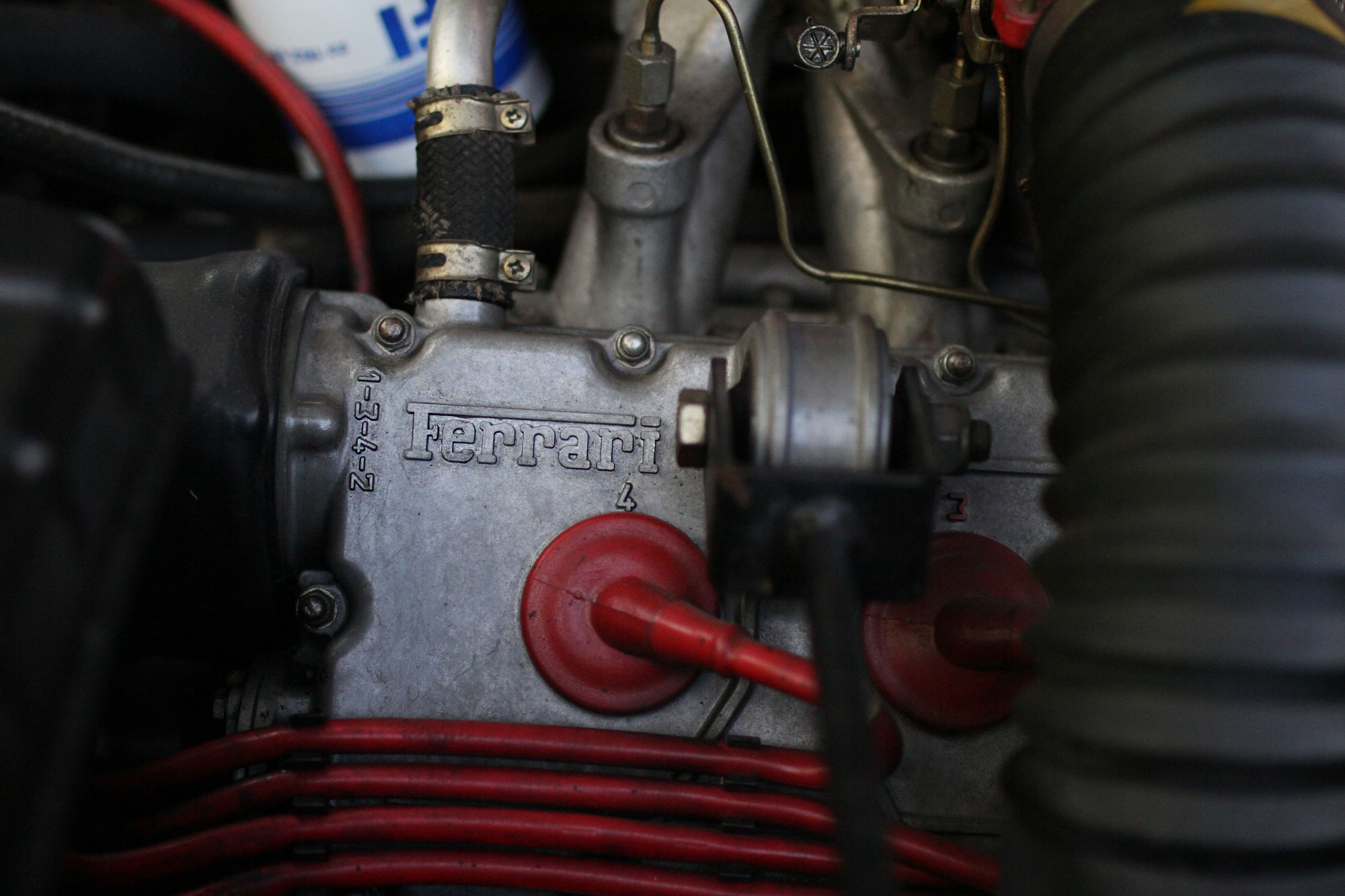 The Ferrari 308 sound the tunnels up with magic music
---
We are sitting in the tunnels and smiling and when we get out of the first one, I try to crank my smile but feel that my mouth sticks high up on the cheek.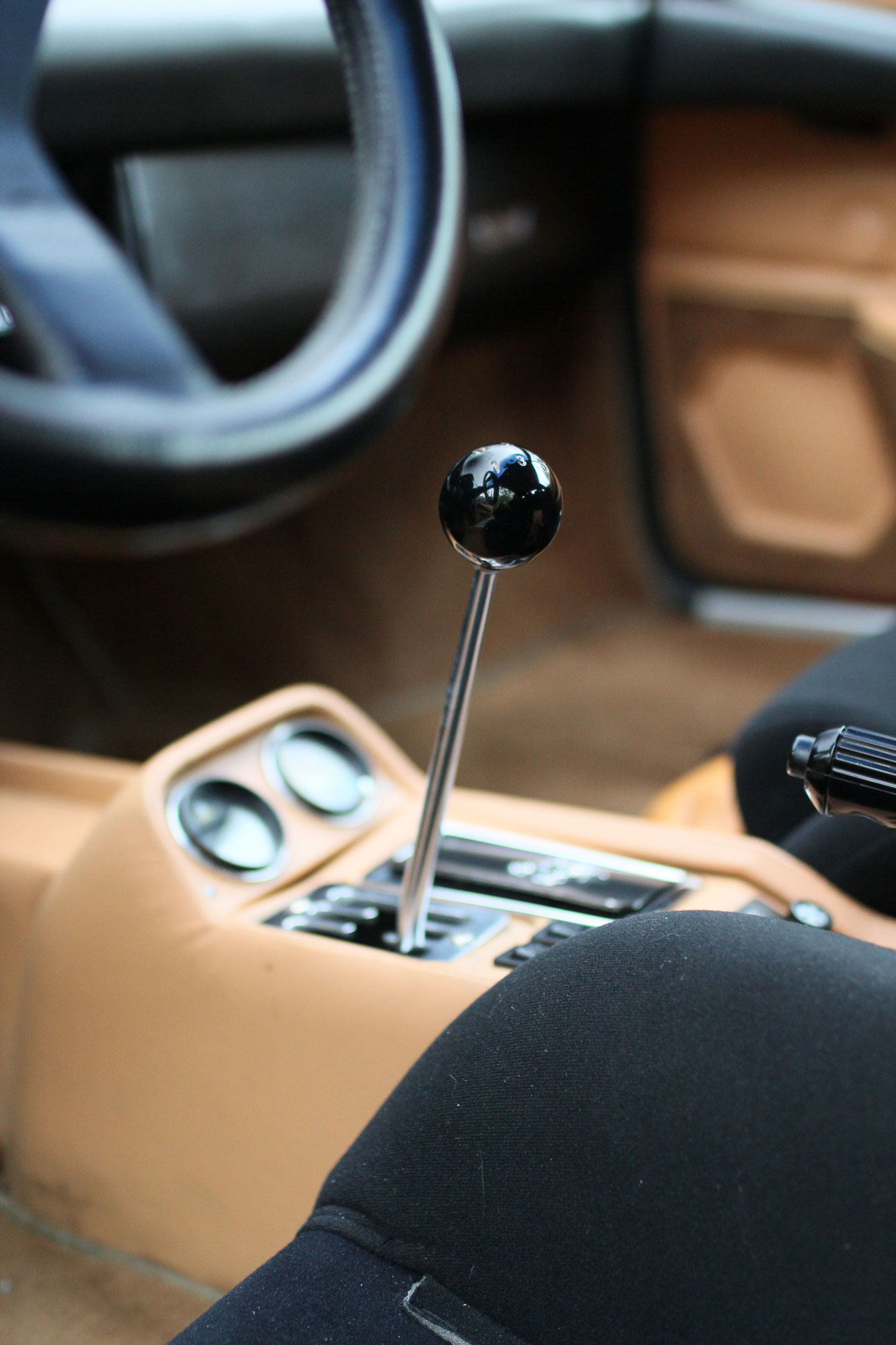 Torbjörn gears down in one of the slow tunnels and the eight cylinders are bubbling and popping to respond immediately when the gas comes on.

The tunnels eventually end and the sun have penetrated the clouds as we calmly go towards the suburbs exit again.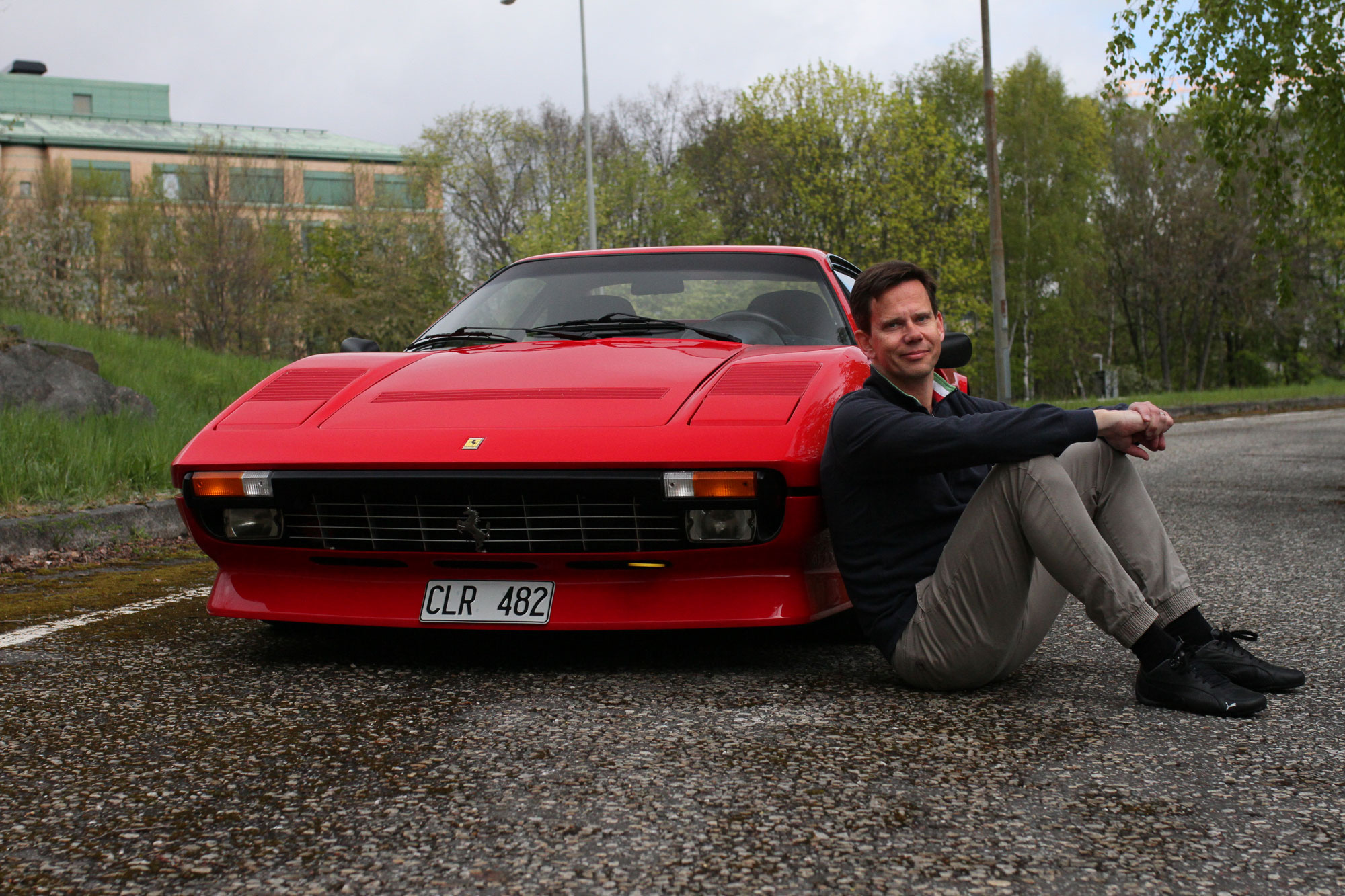 The rays of the sun illuminate one of the most iconic Ferrari cars ever made and I am filled with joy by having received this ride.

Thank you Torbjörn for your time and because you made me smile with a wow feeling in the body.

---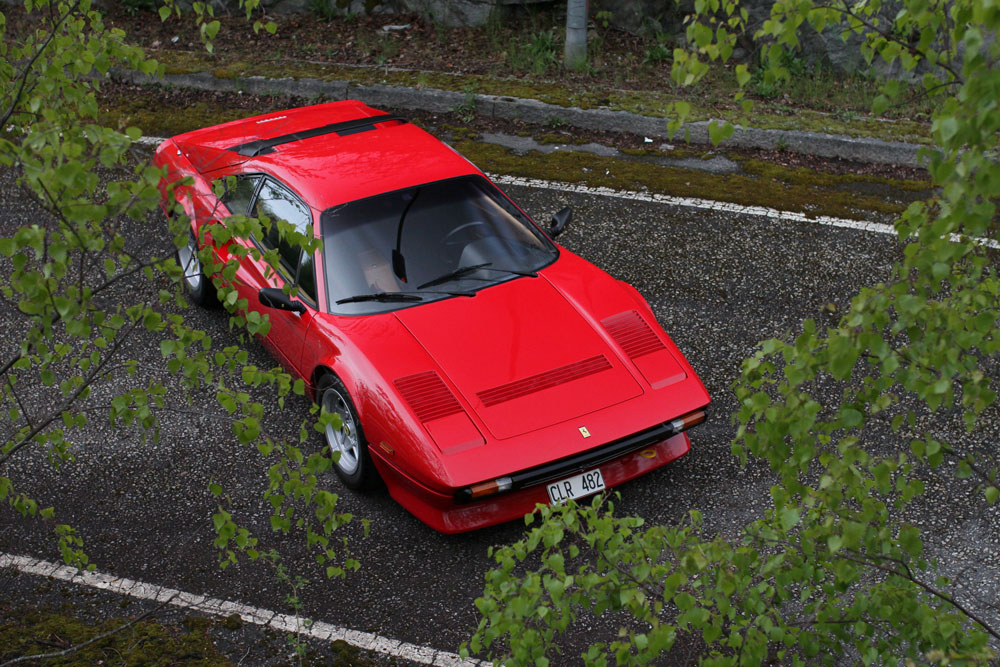 Ferrari 308 GTB QV wall posters

Torbjörns red Ferrari 308 GTB QV has the shape of an iconic sportscar. 
Maybe you had one in the wall when you were young, why not have it again?
---
Follow the Fascinating Cars journey
---