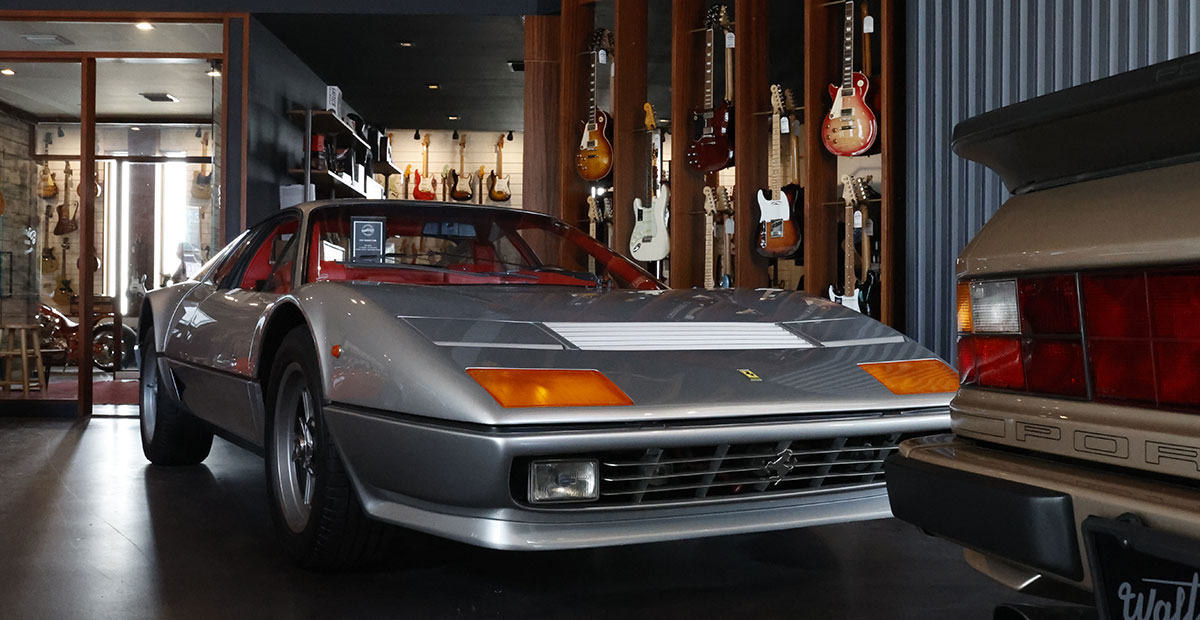 Walt Grace Vintage – lets you dream loud
---
In the heart of Miami's culture quarter lies a magically dreamy shop for car and music enthusiasts.
Founder Bill Goldstein woke up one day from his mundane life, setting aside his 25-year career to pursue his passion. That's why Walt Grace Vintage – Cars & Guitars exists today at 300 NW 26th Street in Wynwood, Miami.
---
It's 8:30 on a Sunday morning, and my brother and I begin our walk from Downtown Miami up to the world-famous art district of Wynwood.
The streets are almost deserted this early in the morning. Only a few cars, as well as a group of free-roaming chickens and roosters, accompany us on our stroll through the empty streets of this bustling city of six million.
The heat starts to intensify, and the humidity is high.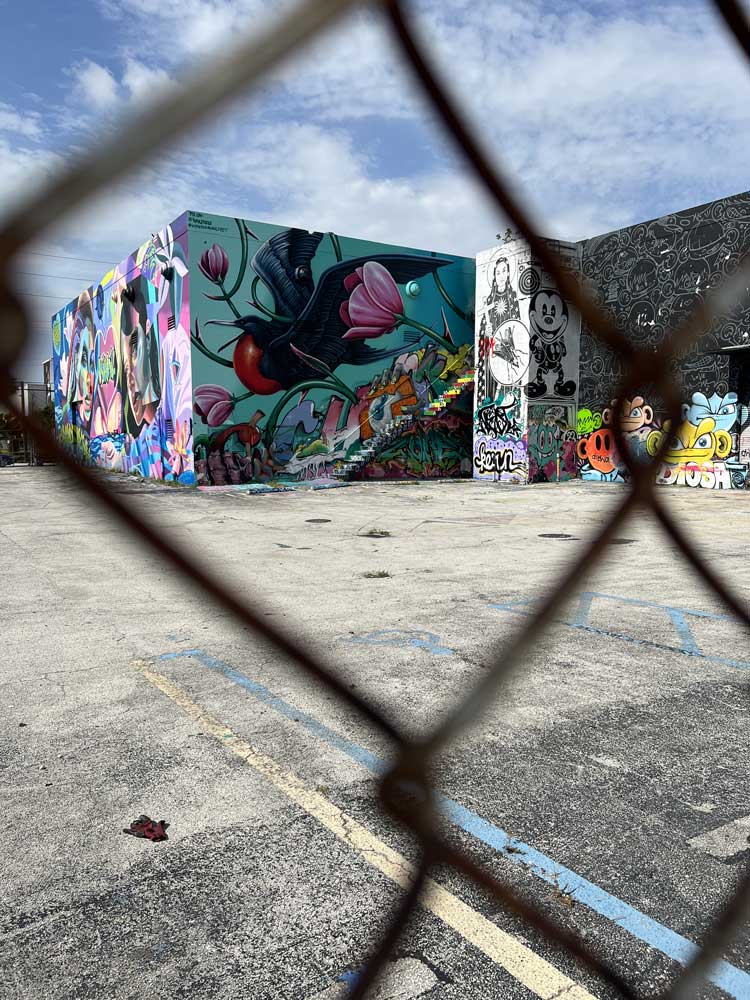 As we approach Wynwood, the walls of the buildings begin to resemble works of art more and more. Graffiti spreads everywhere.
There's everything from a depiction of the Monopoly man to a perfect replica of an old boom box covering an entire wall. There are small and large spray can impressions everywhere.
Step by step, we are getting closer to what is considered the heart of Wynwood – Wynwood Walls, the museum where brilliant street artists exhibit their works.
---
Get your own magic poster today and support Fascinating Cars
Posters made by Fascinating Cars – shipped all over the world at local shipping cost
---
Just a block away from Wynwood Walls, I catch sight of a light green Fiat 500 with the convertible top down in a storefront window of a café. Quickly realizing it's an amusing display, I look further into the same establishment and see the front of a Porsche 944 Turbo.
I press my nose and entire face against the window and see the space extending deeper, revealing the contours of cars. Just to the right of the Porsche, behind a wall, I spot the wedge-shaped front of a Ferrari.
"What is this place?" I exclaim to myself.
"Cars and Guitars," my brother replies, pointing out that the shop is open by holding the door open.
Above the door, a sign reads Walt Grace Vintage – Cars & Guitars.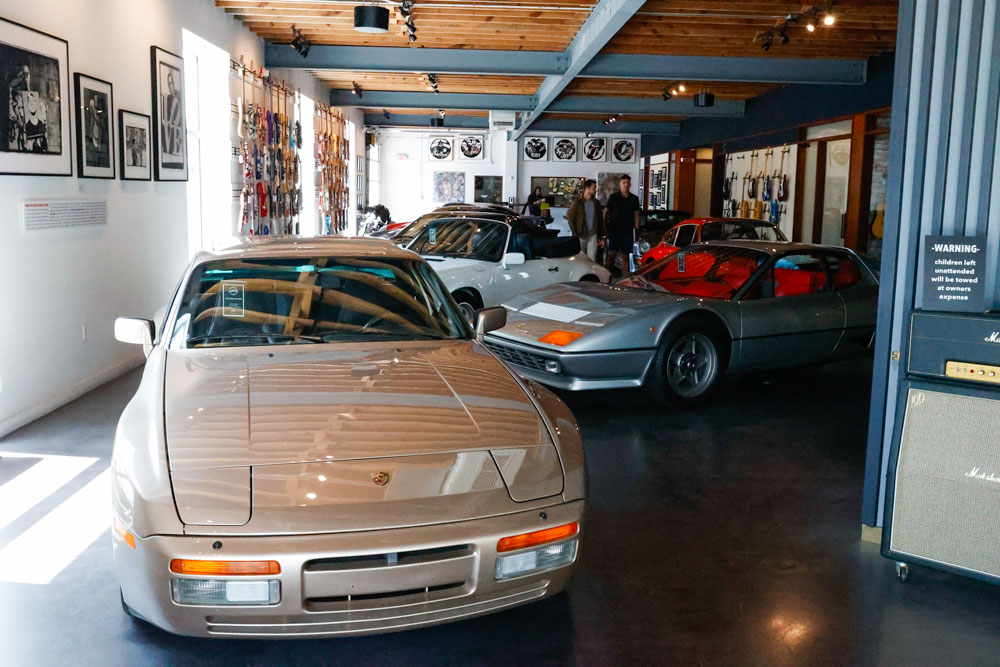 The design of Ferrari 512 will always be sports car iconic
---
The name sounds almost fictional, I think as I step onto the smooth light gray concrete floor, which leads to the café counter on the right. In the window facing the street, there are a dozen electric guitars hanging. Straight ahead, next to a black, wooden-paneled wall, stands a large Marshall amplifier next to a lime green two-seater sofa. The ceiling features dark wooden beams, and the space feels calm, airy, and exudes Scandinavian design.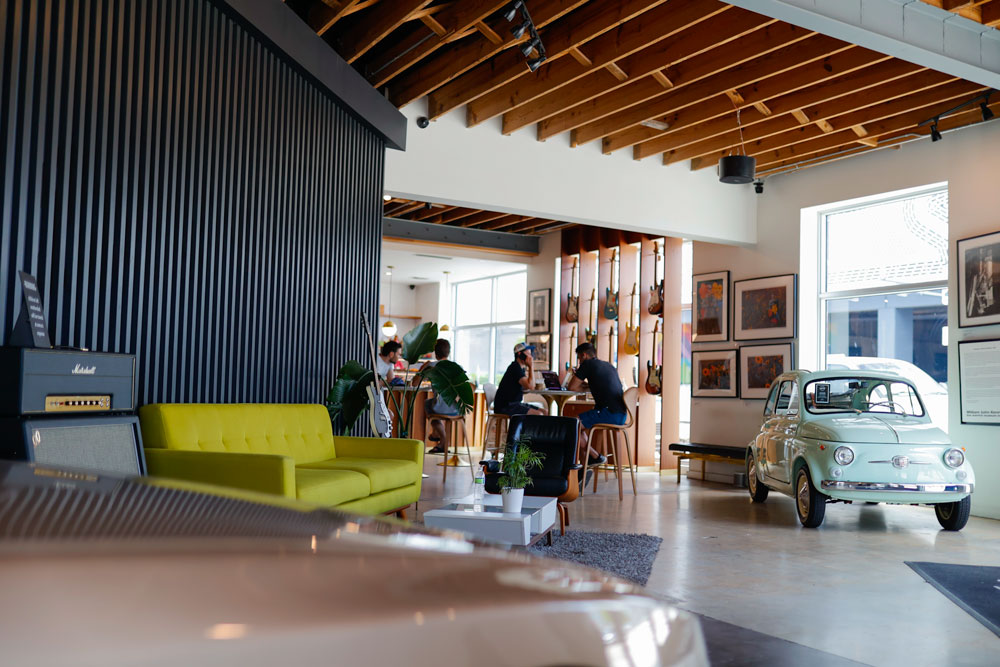 To the left in the shop, the smooth concrete floor transitions into a dark gray, creating a beautiful backdrop for the lineup of cars on display.
I see a row of Porsches in the shop, but the one that stands out the most is probably the Ferrari in the room.
There's no denying its beauty. The wedge-shaped front, the silver paint, and the red interior truly shine. On the discreet and incredibly stylish tag in the car's window, it reads "1978 Ferrari 512BB – One-owner – $350,000 – Dream Loud."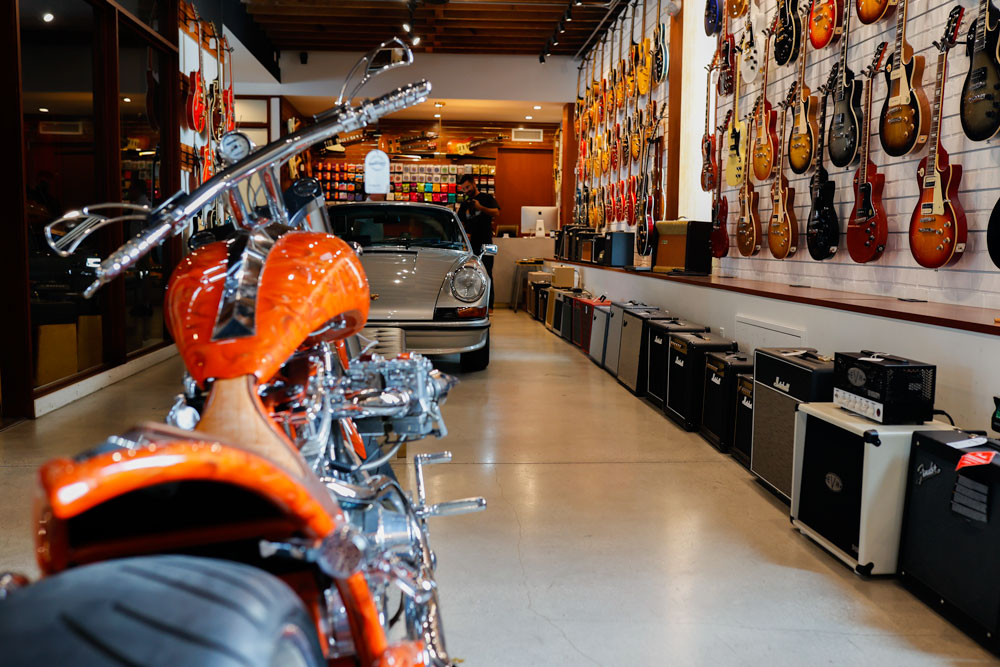 The story behind the letters BB in the name is somewhat disputed. Ferrari claims it stands for "Berlinetta Boxer" and refers to a small coupe with a boxer engine, although it's not a true boxer engine. Ferrari engineer Mauro Forghieri says it's a creation of journalists and suggests it should be "Berlinetta Bialbero," which means dual overhead camshafts.
Meanwhile, the car's designer, Leonardo Fioravanti at Pininfarina, stated that BB was first used when the predecessor, the 365, was designed, and it had the project name "Birgitte Bardot."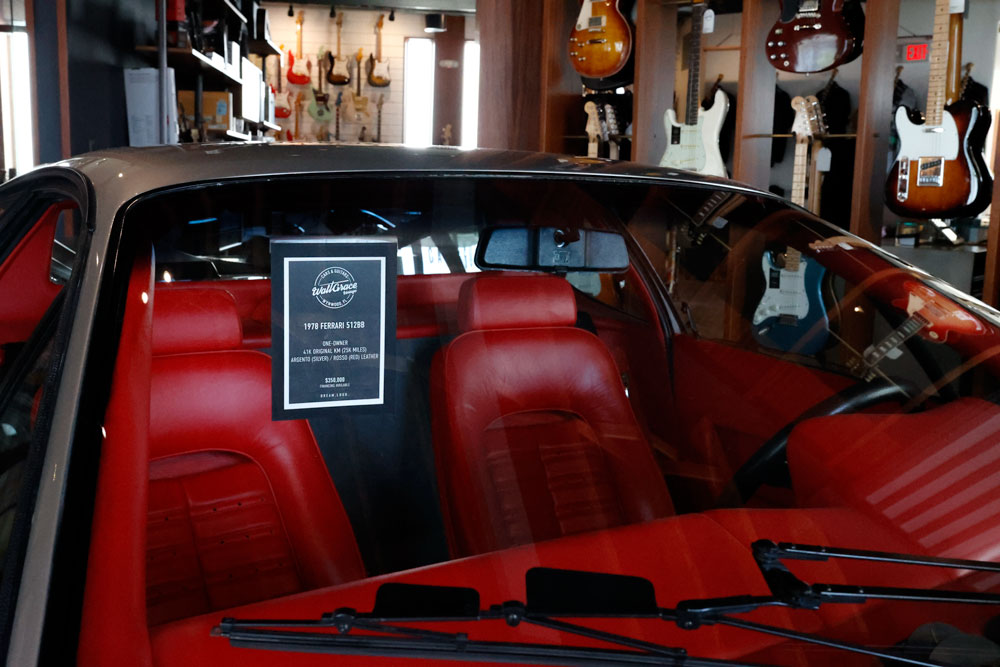 Regardless, this Ferrari stands calmly among all the Porsches, exuding glamour.
This is the child of Ferrari's 365 and later becomes the father of the iconic Testarossa.
The design of this car will forever be associated with how a classic sports car from the '70- '80s should look like.
Walt Grace's Submarine
---
As I stand there in the shop surrounded by these fantastic cars, my passionate car enthusiast self smiles, while also wondering, "Who the heck is Walt Grace?"
Later, as I read about this place, the pieces start to come together.
Founder Bill Goldstein had a moment of awakening in his mundane life when he was in the shower and heard John Mayer playing "Walt Grace's Submarine Test." At that moment, Bill had an impressive 25-year career in marketing behind him. However, he felt that all the development boxes were checked, the creative work wasn't so creative anymore, and he felt empty and depressed inside.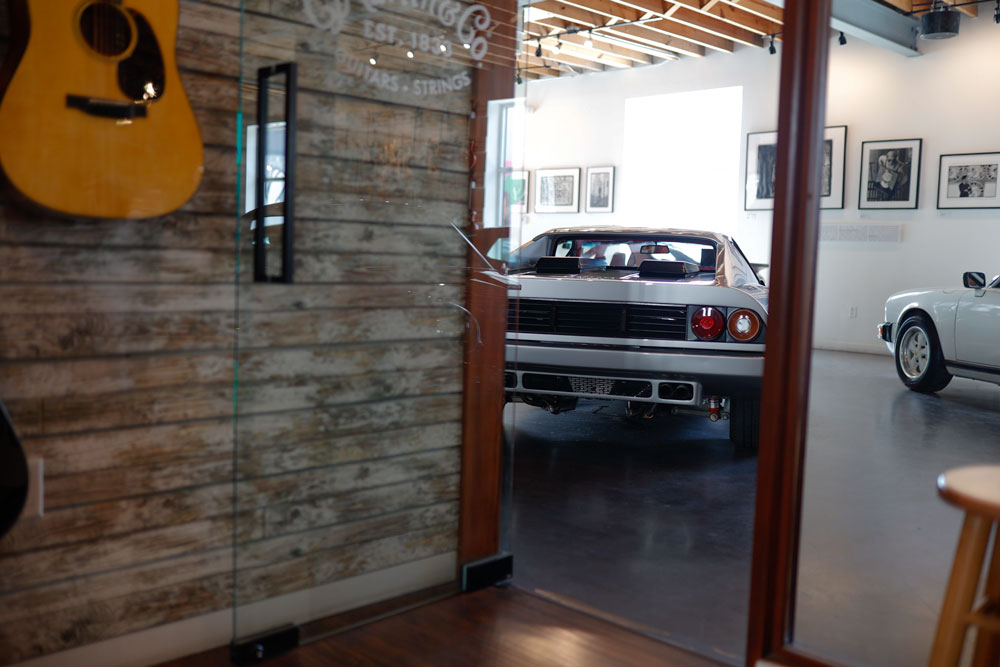 On the other hand, Walt Grace was going to follow his passion and build a one-man submarine in his basement. The song's lyrics depict how Walt's friends and family talk him down, saying he will never succeed, even suggesting he has gone mad.
Walt is determined to work hard, and armed with a library card, he eventually succeeds in building his submarine. He launches it, and one day, Walt's wife receives a call, saying that Walt has traveled underwater all the way to Tokyo. After that, friends and family proudly talk about him at the pub that now bears Walt's name.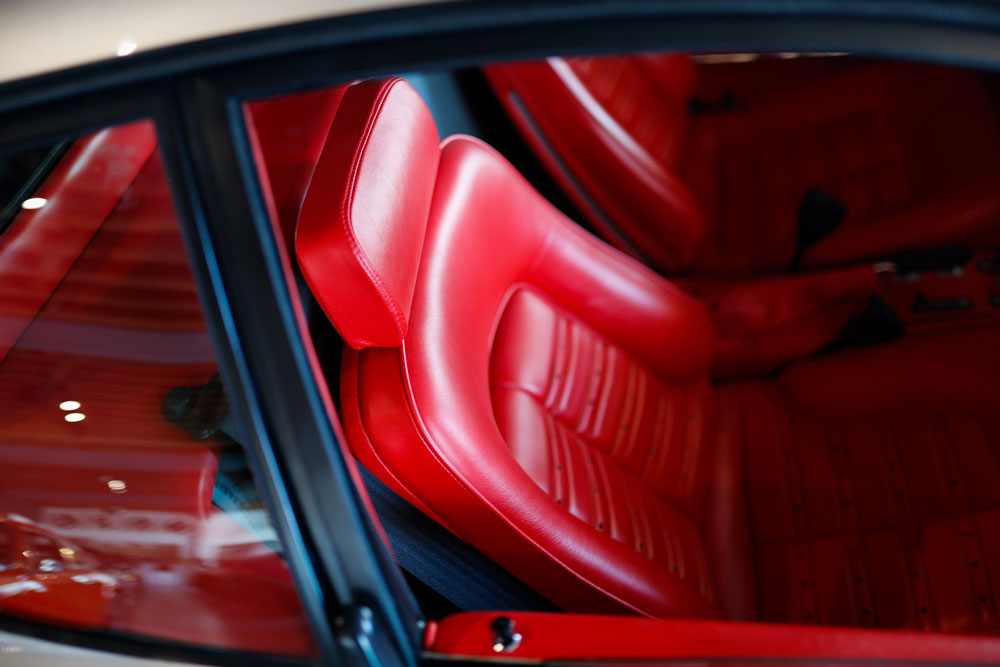 "Cause when you are done with this world – You know the next is up to you."
That's the part of the song lyrics that makes Bill react. Because it's only up to you to dare to take the next step in life and follow your passion.
Bill steps out of the shower, with a towel wrapped around his waist, and calls his company to quit on the spot.
"What are you going to do?" asks the person on the other end.
"I'm going to find my submarine!" Bill responds.
One of the worlds top ranked Guitar stores
---
They thought Bill had gone crazy, but after convincing conversations that Bill hadn't lost his mind, they understood what he wanted to achieve.
With "Cars & Guitars" in the name of his company logo, it's not difficult to understand his passions and the passions he wanted to pursue.
For most of his life, Bill has played classic guitars, and since the age of five, he has been obsessed with Porsches, or more precisely, air-cooled Porsches.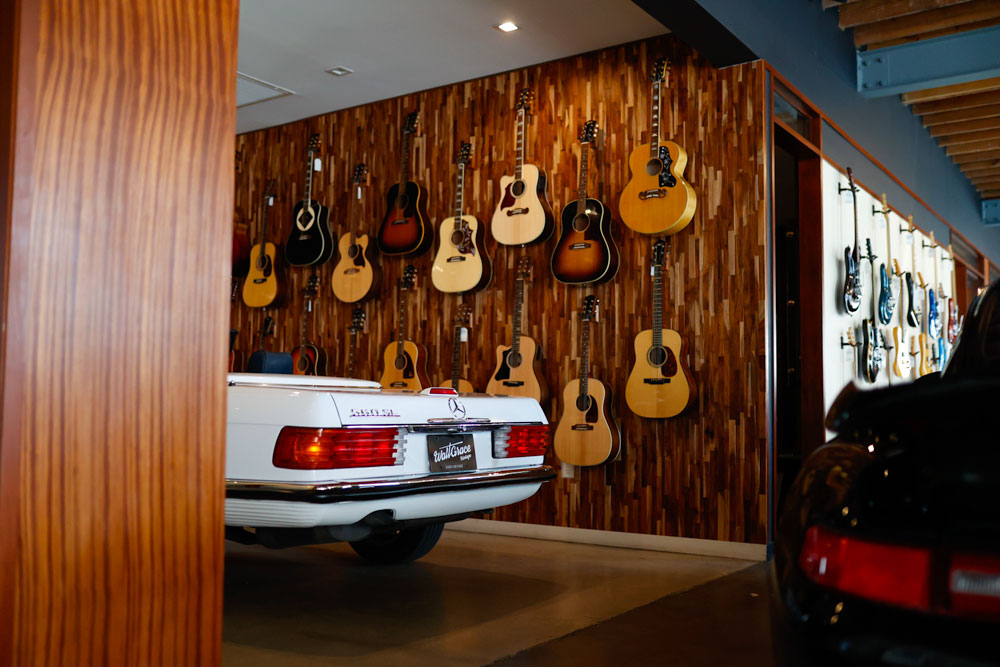 In 2017, the shop was established in the culturally rich area of Waywood, and Bill recounts in interviews how he immediately saw the vision for this space. It shouldn't be a store but a gallery for car and guitar enthusiasts like himself.
Walt Grace Vintage has become an institution, not only in Miami but in the world, at least for guitar enthusiasts.
In late summer 2022, Guitar World Magazine considered Walt Grace Vintage as one of the top five guitar stores in the world.
For those who are guitar nerds, this might be a dream come true. In one of the "guitar rooms," a painting of the Swedish icon Yngwie Malmsteen hangs, with two of his guitars on either side of the portrait. You will get the 1963 Stratocaster Electric Guitar in Shoreline Gold owned by Yngwie for only – tada – $150,000.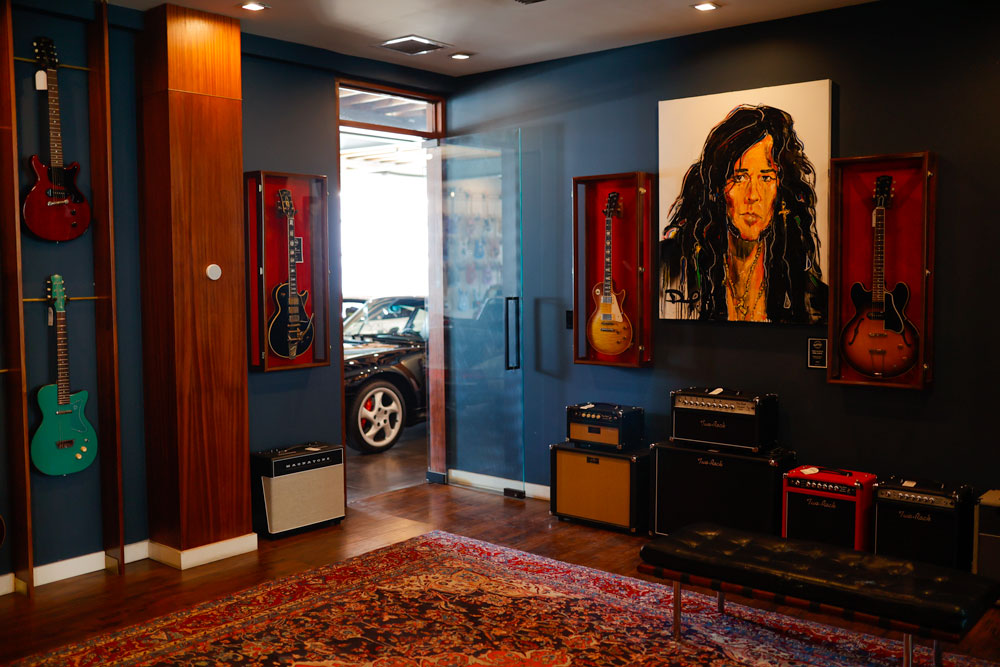 The cars on sale are "new" for the market.
---
A few days later, I return to Walt Grace again to meet Jonathan Lewis, who is in charge of the car gallery.
"When it comes to the car gallery, we are Porsche enthusiasts and specialists, as you can see before you," Jonathan sweeps his hand to introduce all the cars in front of us, and indeed, there are nine Porsches, the Ferrari, and a Mercedes.
"But just because we love Porsches doesn't mean we exclude other brands. Classic cars of all makes are welcome, as long as they meet our guidelines."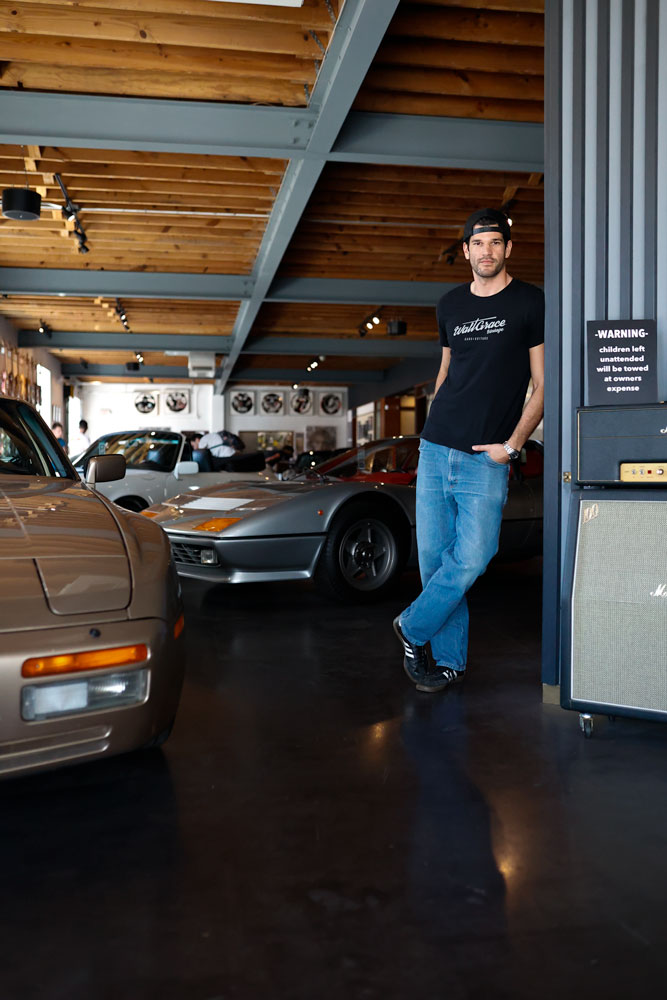 Jonathan, with his tall stature and calm, composed voice, explains their sales approach:
"We work with cars that haven't previously been exposed on the market. The cars should be 'new,' so to speak. That's why we only work with personal contacts and private collectors who want to sell their rarities."
"We never disclose chassis numbers or other details publicly that would reveal the specific identity of a car."
Jonathan continues, "After a car is sold through us, it should become untraceable. It should 'disappear' from the market, and the new owner should be able to enjoy their car in peace. It's entirely up to the new owner whether they want to showcase their new purchase or not."
---
Support Fascinating Cars – buy magic car posters …
Posters made by Fascinating Cars – shipped all over the world at local shipping cost
---
Rod Stewarts Countach
---
Both on the Walt Grace website and through online interviews, I see that they have had many interesting cars pass through their gallery. They've had Testarossas, Jaguar D-type, BMW M1s, and more.
But one car that perhaps stands out more than any other that once have past through this gallery and truly fits this location is one where it said, "Rodrick Stewart – Lamborghini Countach – 1989," on the first ownership document.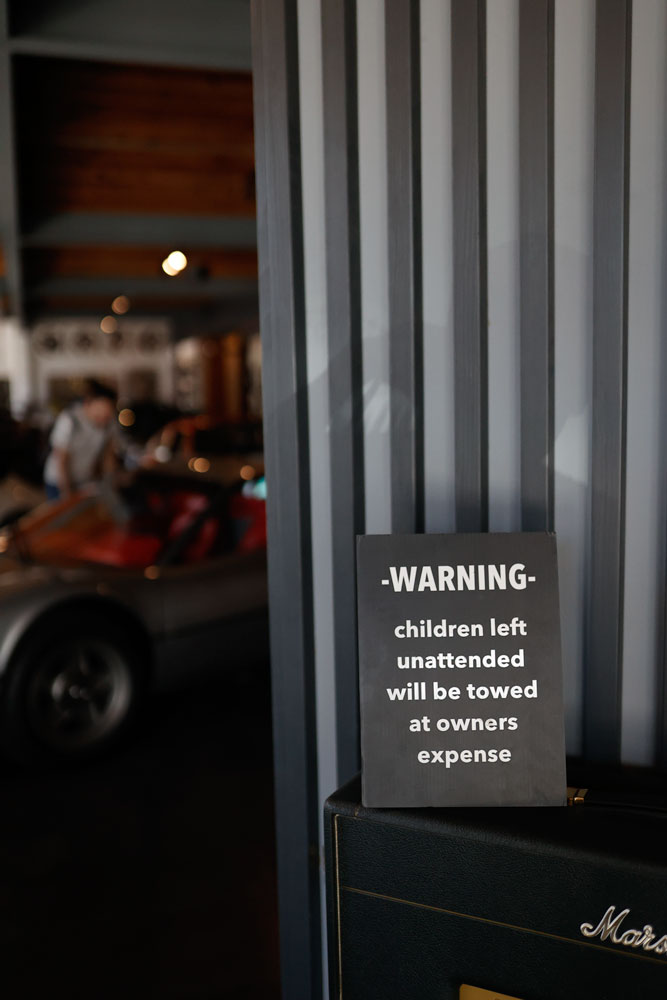 Sir Rod Stewart's with his history and his former black, low, and iconic Countach truly fit in here, framed by a musical veil of classic guitars and amplifiers.
Where else would it better belong when that Lamborghini was changing hands?
The Walt Grace experience ignites a spark
---
On this particular day, Jonathan is a bit stressed as he prepares for the delivery of a bright blue Corvette Stingray Convertible to Armenia.
"Walt Grace sells worldwide, including this American gem."
Jonathan hurries off, and I continue to wander around the gallery.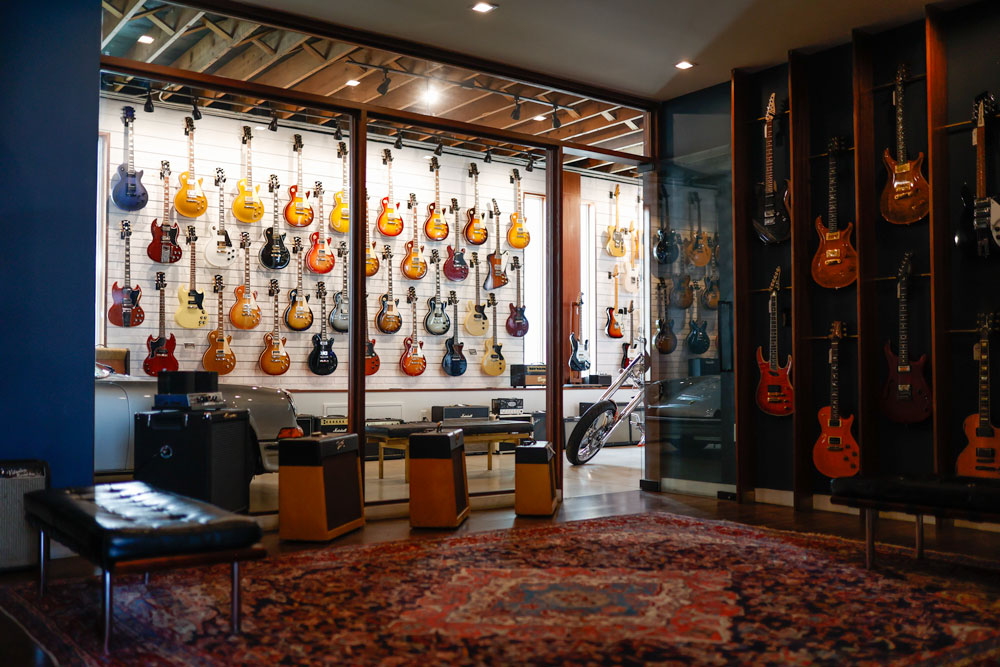 In the large guitar section, there's a silver Porsche 911S from 1973 with a 2.4-liter flat-six engine producing 181 horsepower. It stands like a statue on the floor next to a long row of Supro-, Marshall-, and Magnatone amplifiers.
The car has been fully restored and was owned by Puerto Rican racing driver Diego Fables when it was new.
It was this particular Porsche model that made founder Bill forever obsessed with Porsches at the age of three. The price tag reads $250,000, and on the walls behind it, there are nearly a hundred Gibson guitars hanging.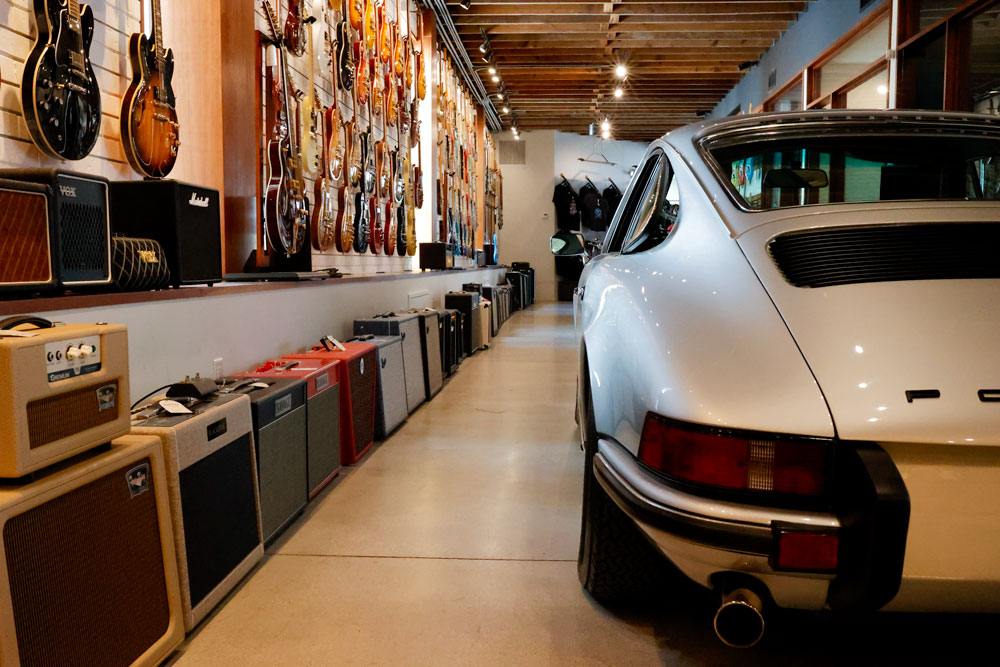 Slowly, I walk over to the café area and order a double espresso and sit down at one of the bar tables. I study the small Fiat that happily sits just inside the entrance. It looks like a little piece of candy.
I finish my drink, step out onto the street, and position myself at the intersection. I raise my camera one last time to capture the gallery's exterior. I smile and feel that Bill and Walt's story has ignited a spark of joy and courage within me.
On the building across the street, a shark swims freely on the wall, and the lunch queue at Zaks Bakery across the intersection begins to form. It's an ordinary day in Waywood, where my Walt Grace experience has just begun…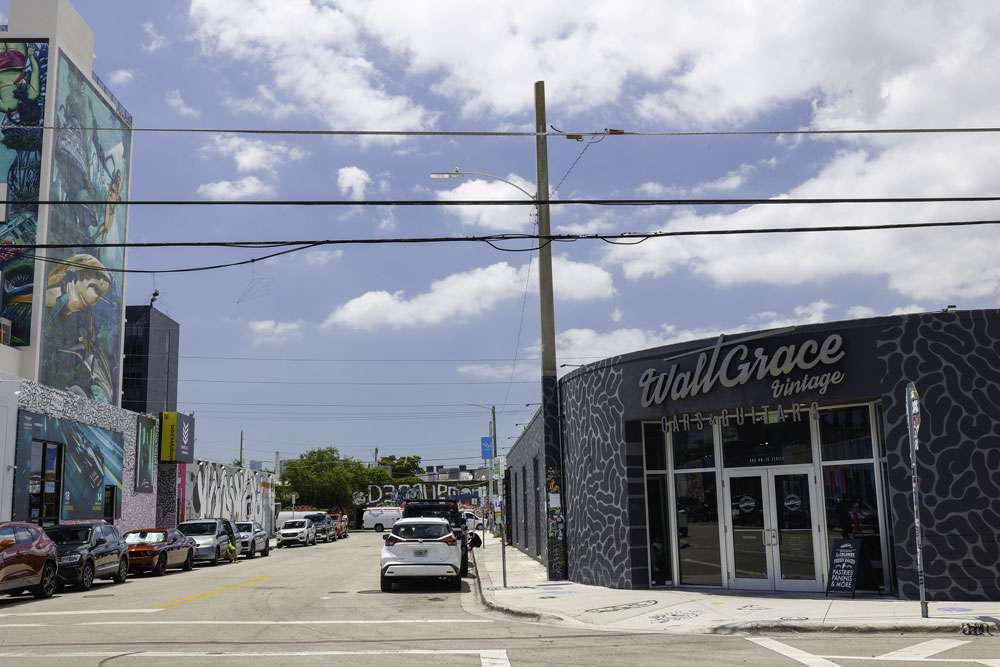 Wanna know Walt Grace better?
---
"Cause when you are done with this world – You know the next is up to you."
Wanna know Walt Grace Vintage better?
---
click on image to get there
---
Get your own wall paper and support Fascinating cars
Posters made by Fascinating Cars – shipped all over the world at local shipping cost
---
Follow the Fascinating Cars journey
---