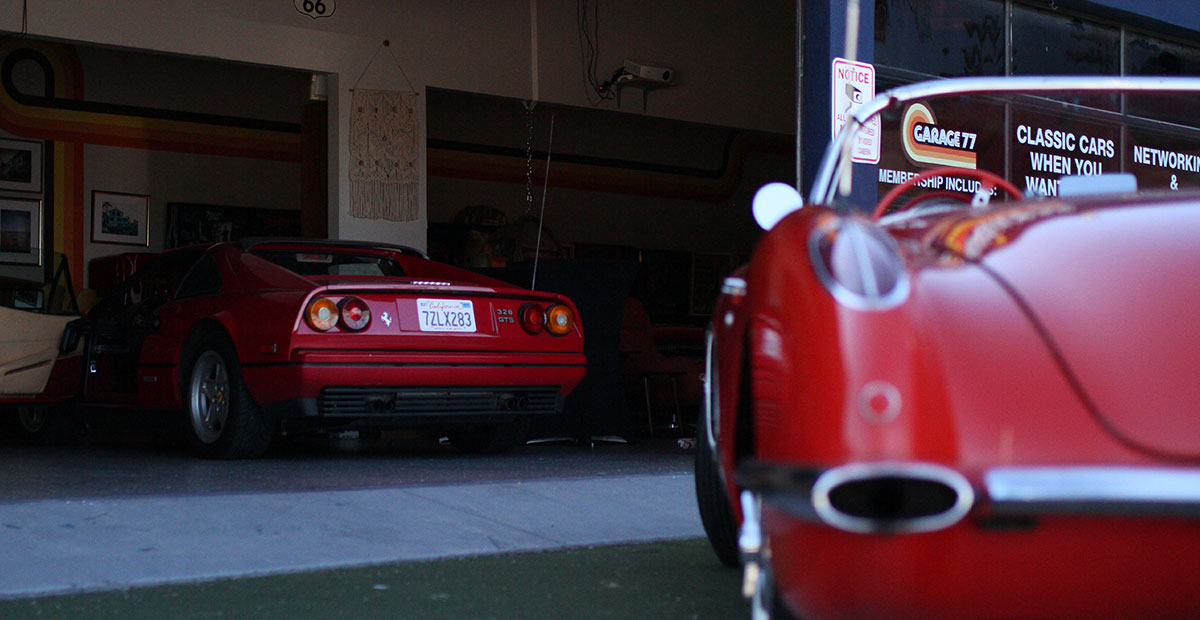 Garage 77 – The ultimate members garage
---
Do you also want to have your own garage with all possible dream cars? Where you can pick and choose which car you want for the day.
Just to choose the Porsche to picking your wife up from work one day or the Bronco to fetch the kids from school the next day? Whiteout thinking of maintenance, insurance and stuff like that?
---
Well, welcome to Garage 77. The members club where you as a member can come and go whenever you want and use any of the available cars at any time. Doesn't sound great?
Of course it sounds like a dream? You don't have to take care of maintenance, insurance, storage, service and anything else that comes with an old icon car.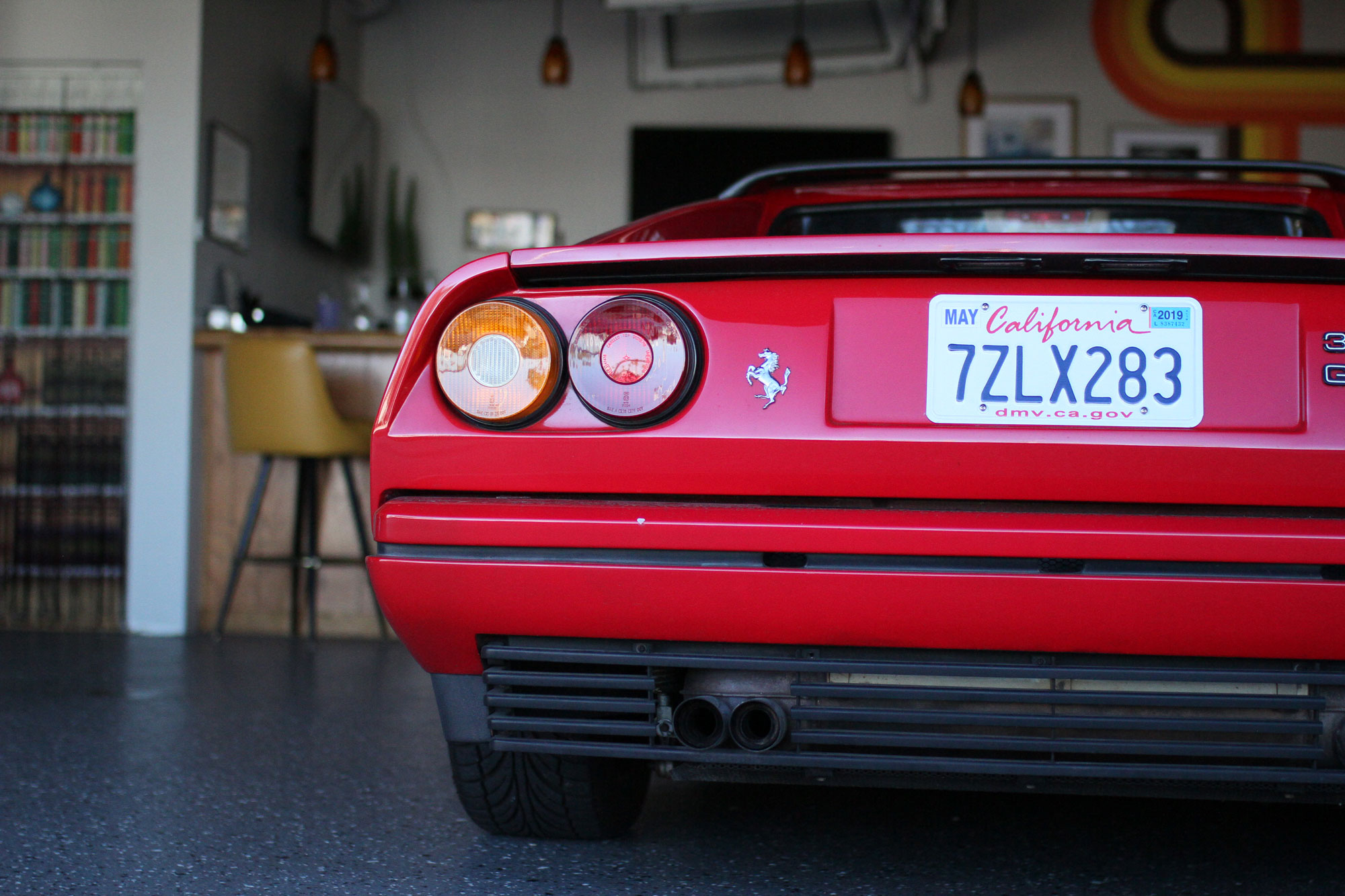 At Garage 77, you can one day come in and pick up the Ferrari 328 GTSi and crusie the curvy roads on the Highway One. Next day let´s cab down the Lincoln Continental and take your family on a luxury ride in Beverly Hills. Or do you need a different car to take your bff to her bachelorette party, why not take the Bronco?
A beer hatched the Garage 77 idea
---
Brian Waldman along with his friend and neighbour Cameron Murg got the idea for Garage 77 when they borrowed a Dodge Challenger over the weekend. The car was parked in a mutual place when they did not drive it, so both could feel that they could drive it whenever they wanted. In the evening when a beer was shared, the idea of ​​a member garage got hatched. Garage 77 was born.
"At this location we aim to have 30 members. Today it is 16 but there are 6 on the way in next coming week ". says Brian when we meet up at Garage 77 in Redondo Beach, Los Angeles.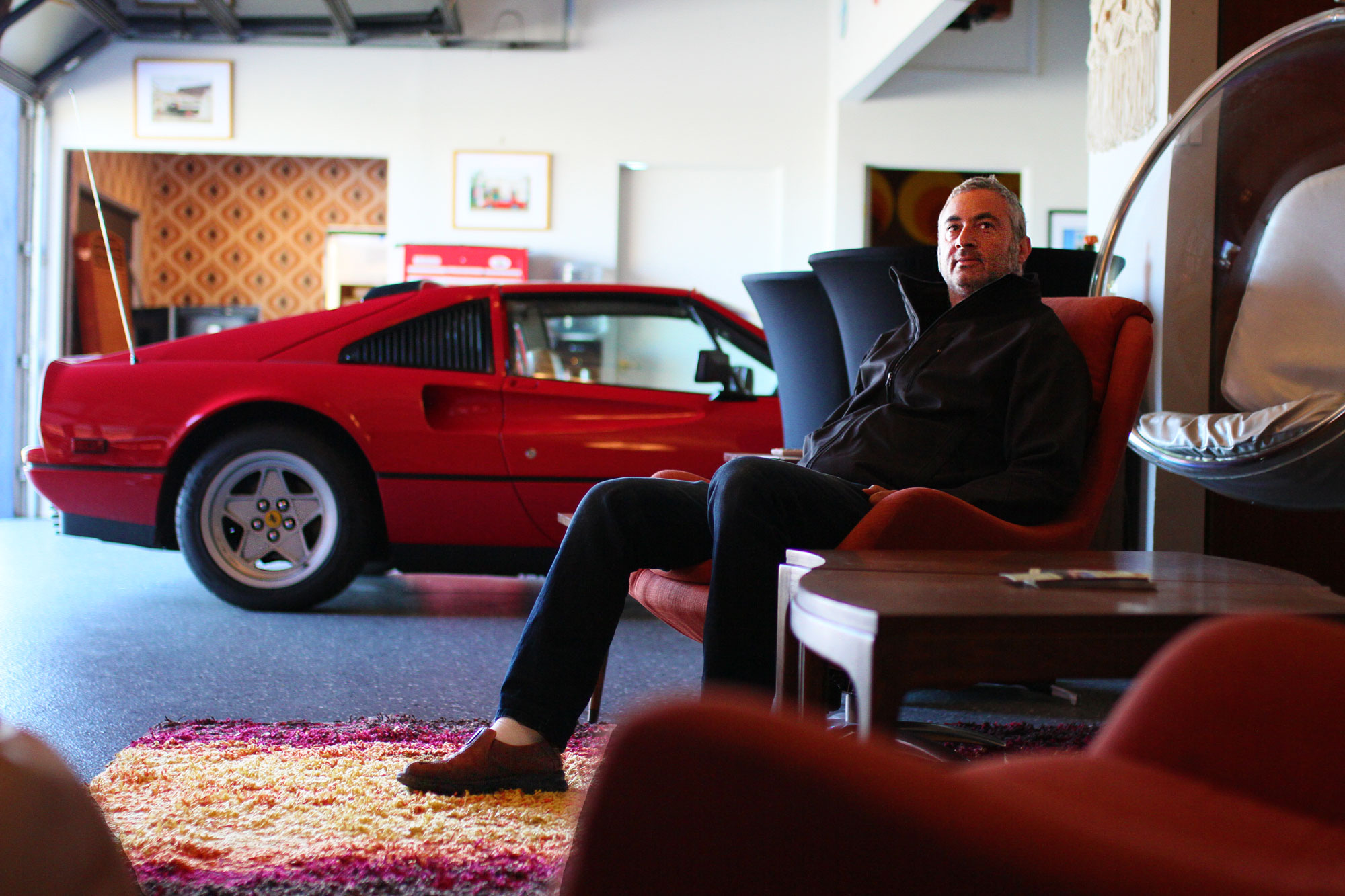 ---
Get your own magic poster today and support Fascinating Cars
Posters made by Fascinating Cars – shipped all over the world at local shipping cost
---
Along Highway one
---
The garage was bought by an old car company. Suitably enough, to close the historical car circle, it lay along the classic Highway One that stretches along the California coast. Highway One goes from the Red Wood forests in northern San Francisco to San Juan Capistrano in Southern California.
Brian explains that this garage should be like the members second home. Here they should be able to come and go as they please. Night as day.
"As a member, you can hold a party, meetings and / or events in the garage."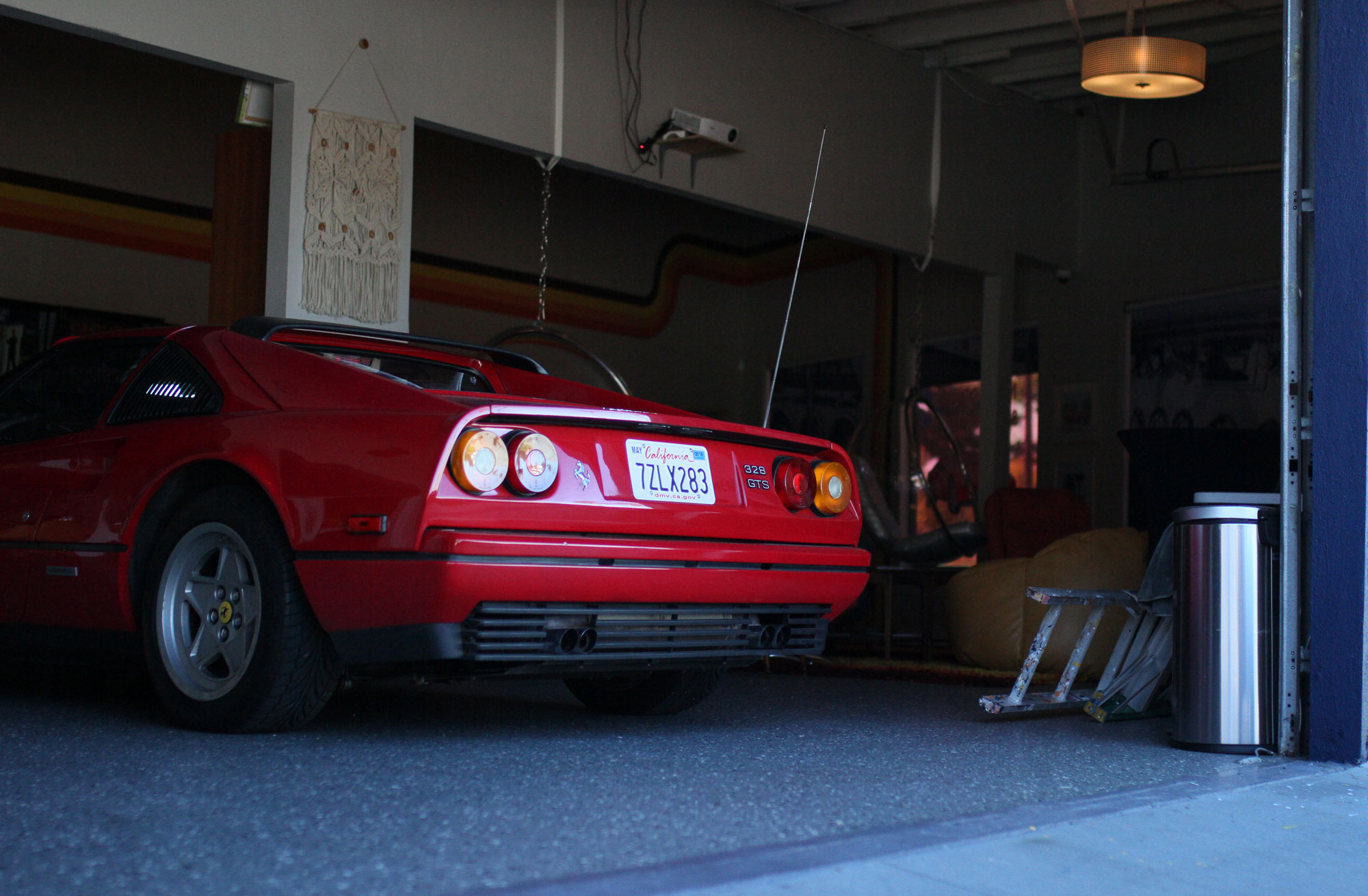 "Yes, that's why it's still a bit messy here. We had a great art event this weekend and we haven't had the time to clean everything up", Brian says a bit apologizing while pointing at two ladders that lays across one of the garage doors.
"We have workshop nights, pinball tournaments, art events, etc. It's not just about cars. Members can see Garage 77 as a point for new contacts and networking as well. "
Car family got a Camaro Cab
---
At the time when Fascinating Cars is visiting, the latest addition to the car family, a Chevrolet Camaro from 1967, is unfortunately not at home.
Well, what does it matters? Me and Brain stand in front of a Ferrari 328 and a shiny Corvette C1 from 1960.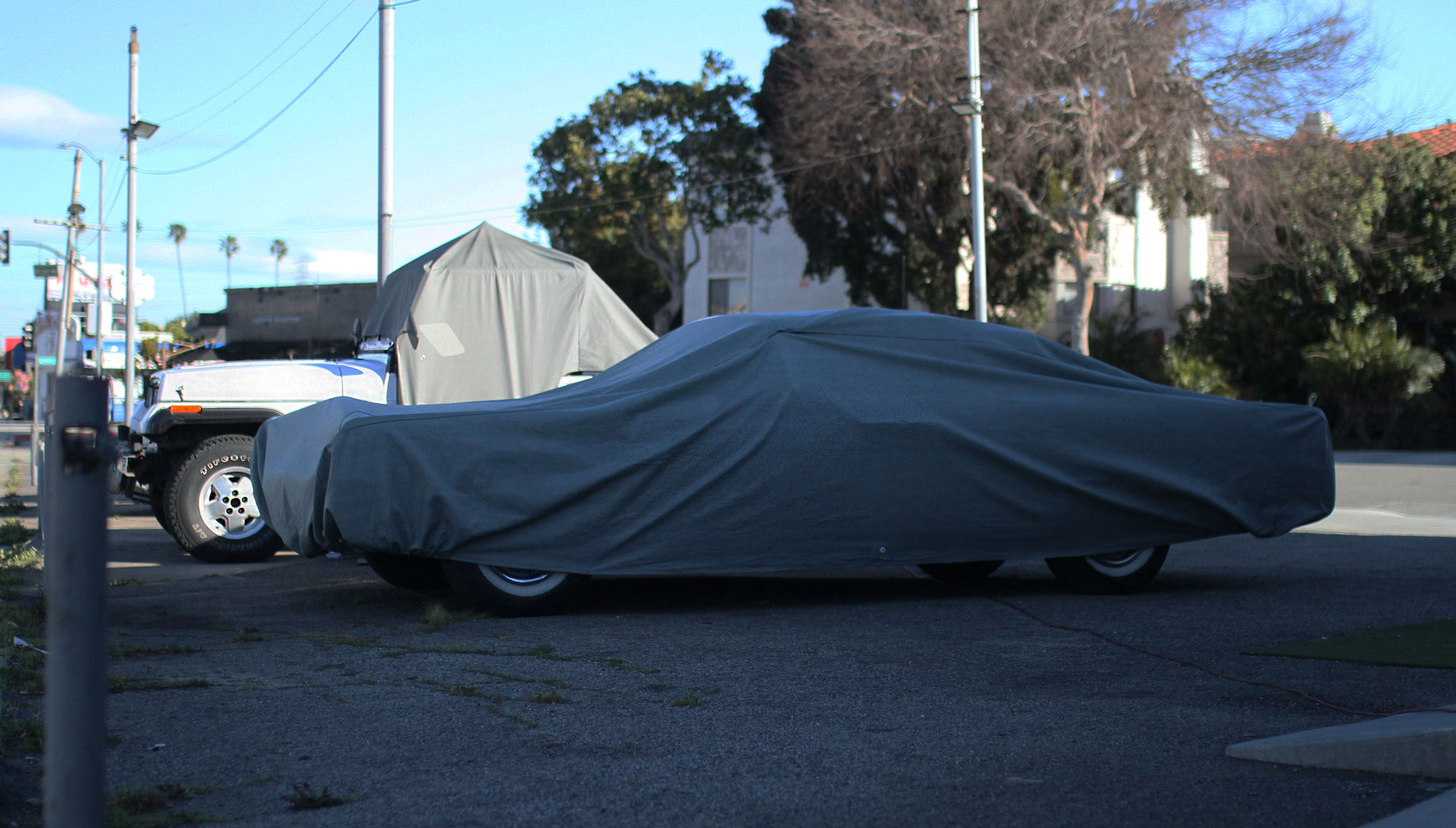 Outside the garage you can clearly see the shape, under the covers, of a Lincoln Continental, a Willys Jeep, a DeLorean, a Porsche Speedster plus an incredibly clean and beautiful Bronco.

Delorean – Drives the least – Breaks the most
---
While we undress the DeLorean, to let the sun shine on the matt aluminum body, Brain tells me that this is the car that runs the least, but breaks the most.
"It's boring because it's such a classic. Although it breaks all the time and it has hardly been out on the road. "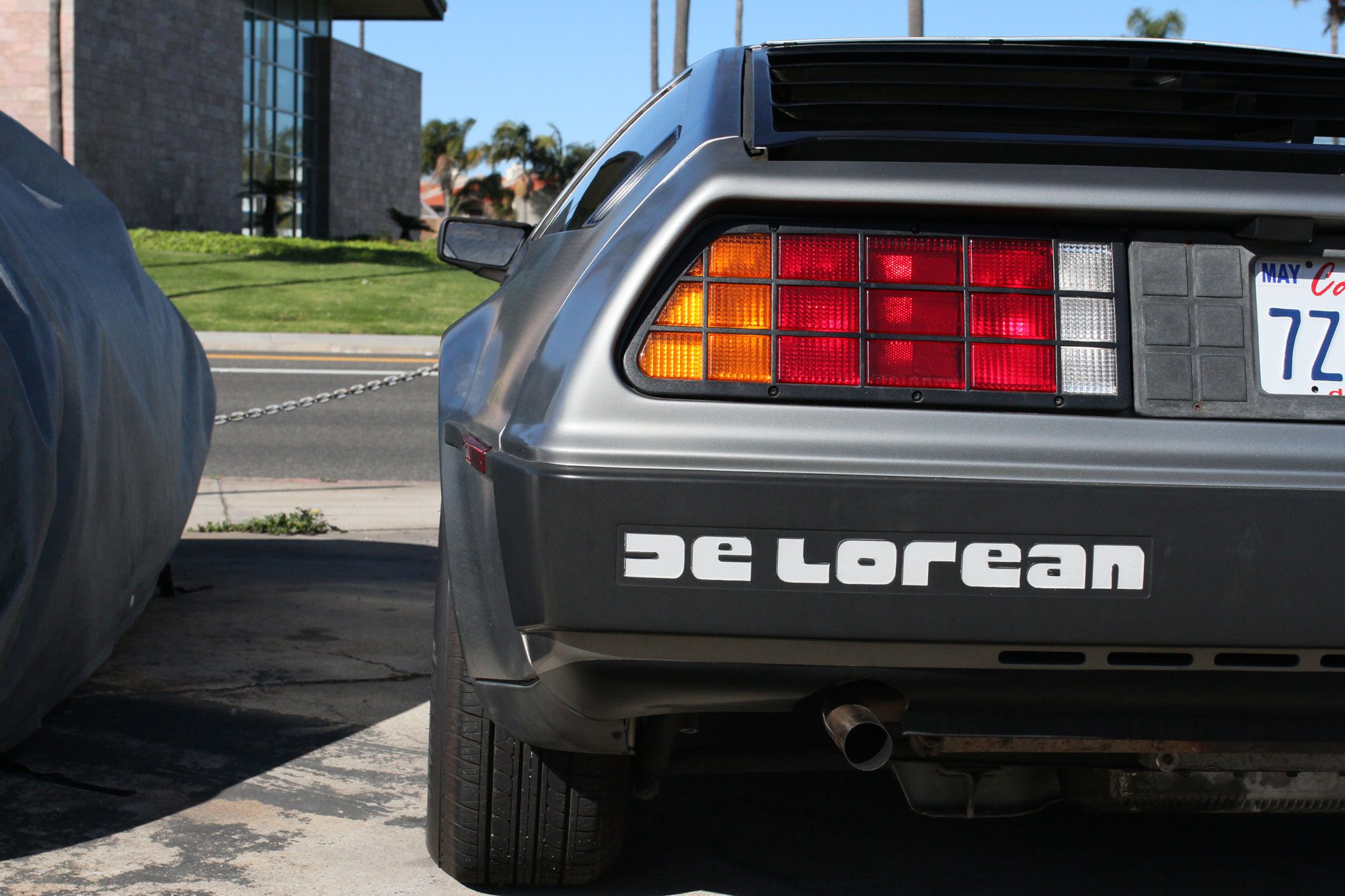 I get the feeling, between the lines, that this car may not be a family member of the Garage 77 fleet so long. Are you in the mood? Place a good bid and you might have a DeLorean.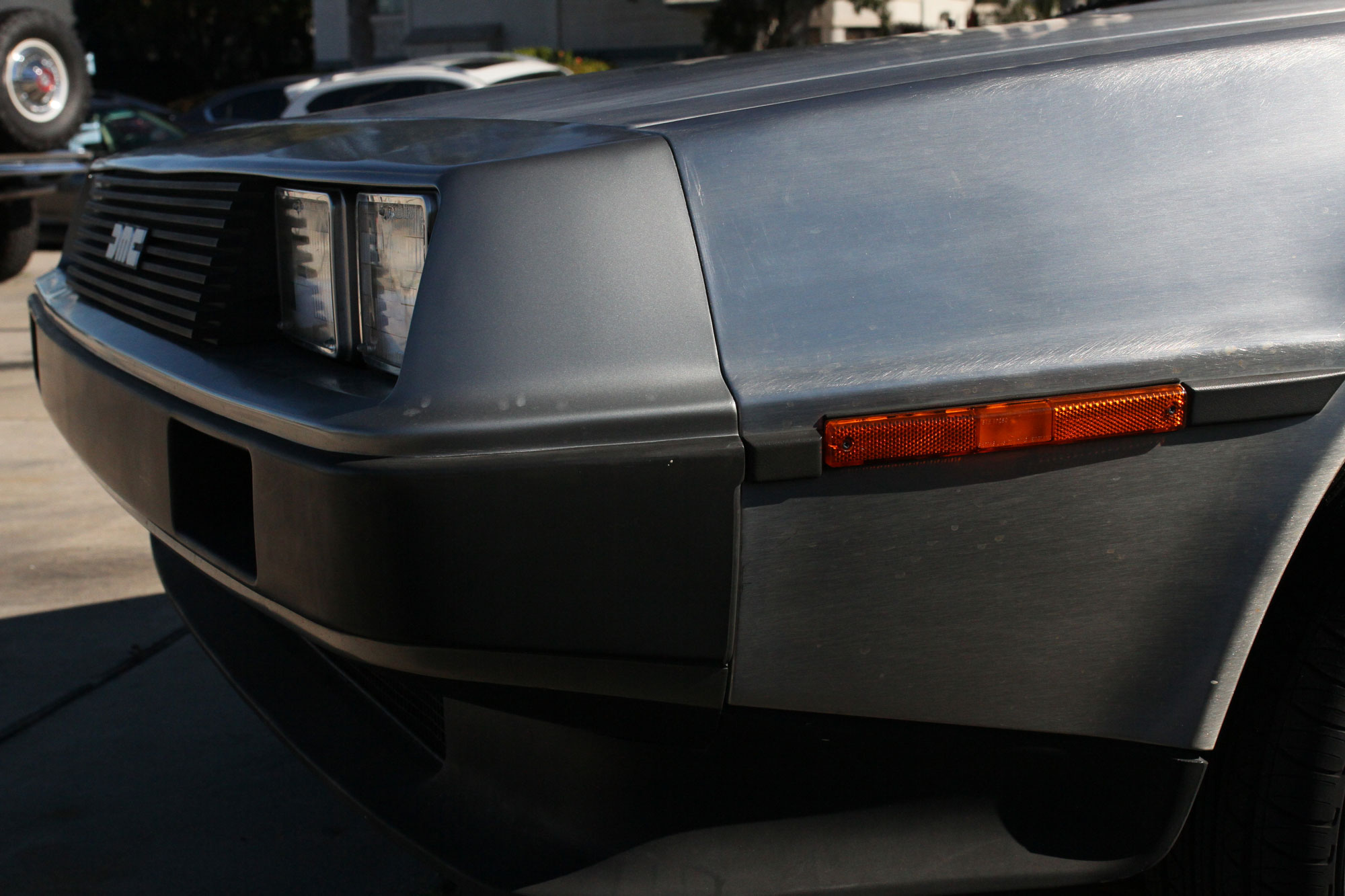 Dream car is in the 80.000 dollars ball park
---
"The dream cars we are looking at right now are in the price range around $ 80,000. Of course, Jaguar E-type is high on the list. But imagine a shiny James Bond Lotus Esprit. That would be something. "says Brian with an almost boyish smile.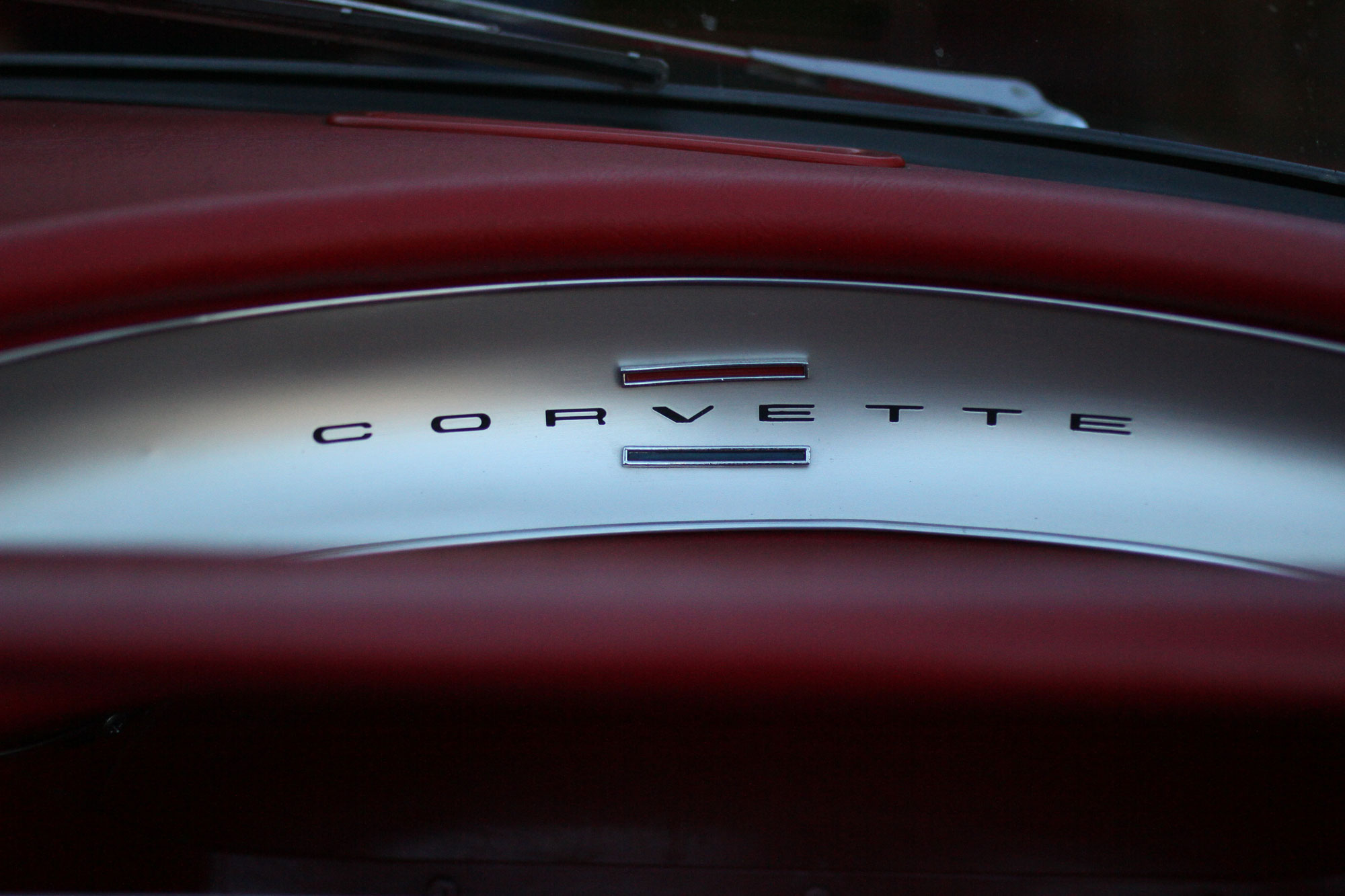 Brain works full time with Garage 77 and while we are talking, I get the feeling that he is living a bit of a dream.
He and his companions, Cameron and Stephanie Murg and Alex Howe have built a fantastic garage in 100% retro style. Everything is about having fun, meeting people, hanging out with friends and driving iconic cars. Who wouldn't want to work with that?
"When we were opening this garage, I felt it was a good idea to move my collection of pinball games here. It is incredibly appreciated." says Brain and looks over to the eight classic pinball games that are lined up along the wall of the garage.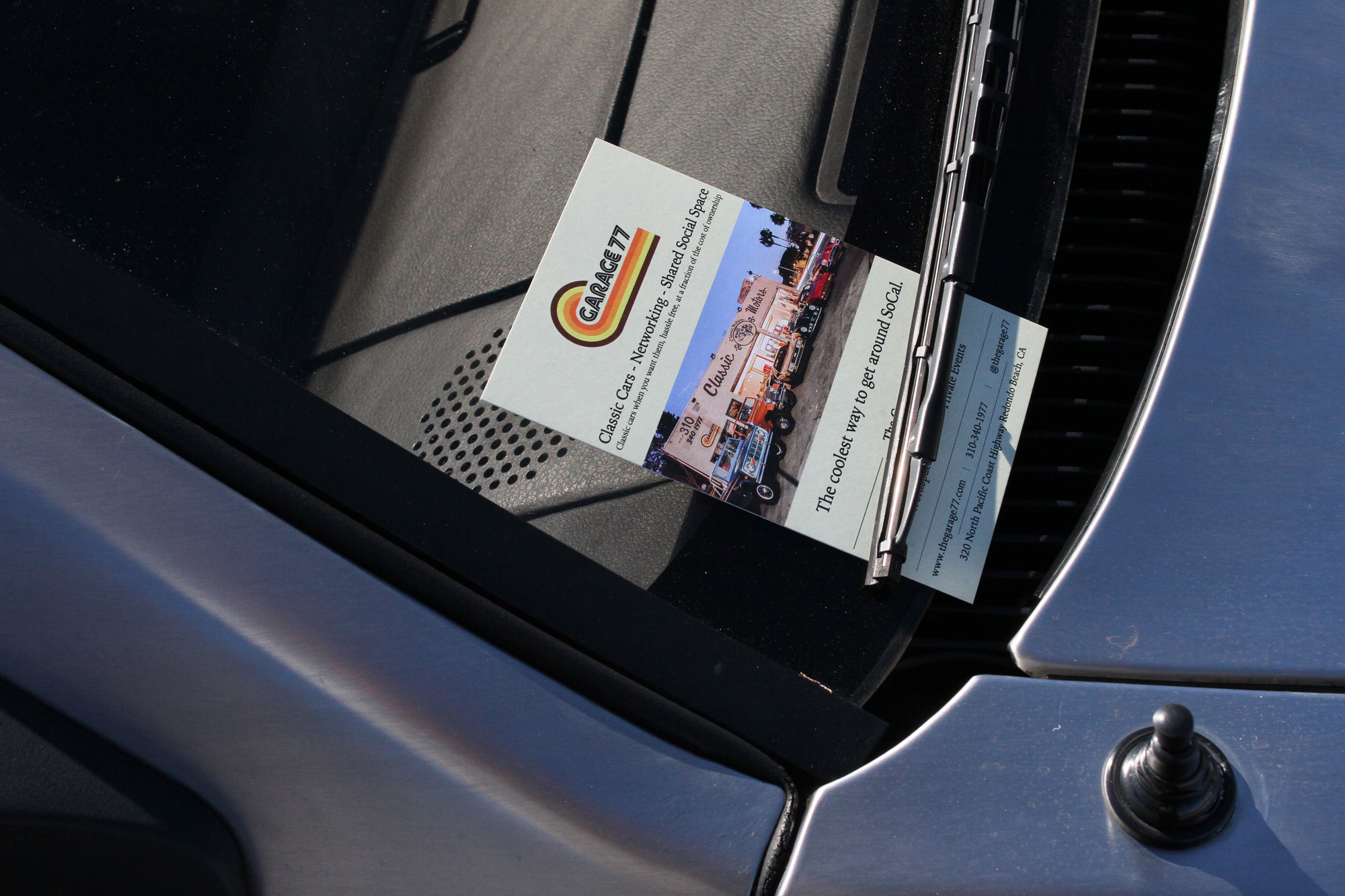 "We will also get a vintage 22' American Shuffleboard Table soon, it will be really fun."
"At the same time, if you just want to come here to sit down and have some peace, you are more then welcome. Or why not jam in our music room, over there in the corner of the garage. "Brain nods with´s his head to the corner while I'm still looking, or staring, at the classic Ferrari.
Brett´s dad hade a Bronco as well
---
"The interest is huge when it comes to Garaget 77's cars. Almost every day we get people that´s passing by and want to talk about one or several of our cars."
I get to experience this myself when I sit on the ground outside the garage and photograph the Corvett's rounded beautiful shapes. A man named Brett enters me and starts talking. His dad had a Bronco when he was a kid, and he admires the Corvette's lovely lean style. The chat went on for 15 minutes.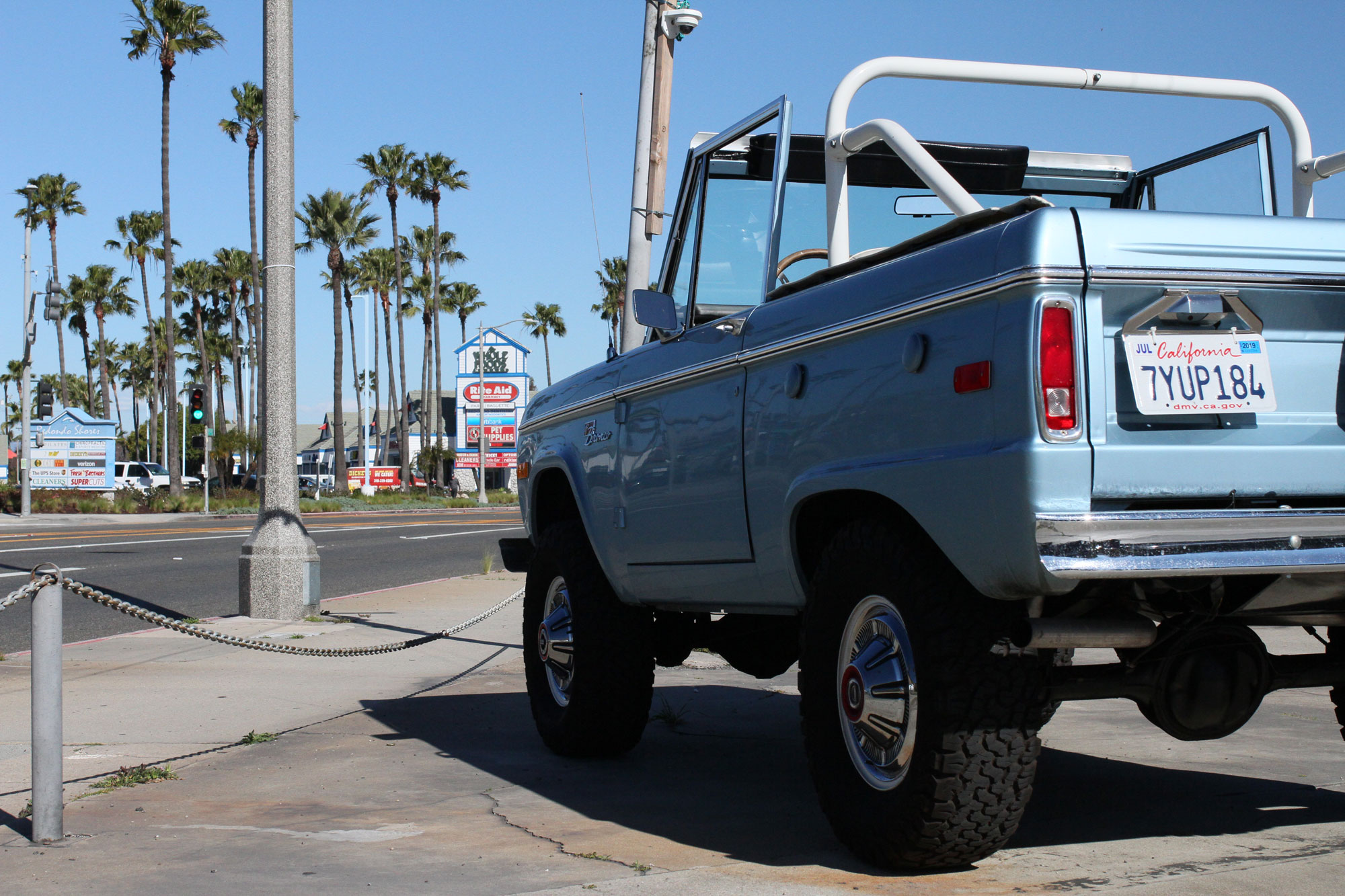 ---
Support Fascinating Cars – buy a cool wall poster
Posters made by Fascinating Cars – shipped all over the world at local shipping cost
---
Santa Monicas next
---
The shareholders see themselves opening one or two garages more, in the near future. The most attracted area at the moment is Santa Monica, a bit north on the map from Rodendo Beach.
"We would like to have a garage and a fleet that is at least twice the size of what it is today. We believe that, that area is more lucrative so you can get more members. Of course, more of us, as a company, will be required, but right now everything is in the blueprint stage."
It will be really interesting to follow Garage 77 with its unique and wonderful business concept.
Good luck with everything.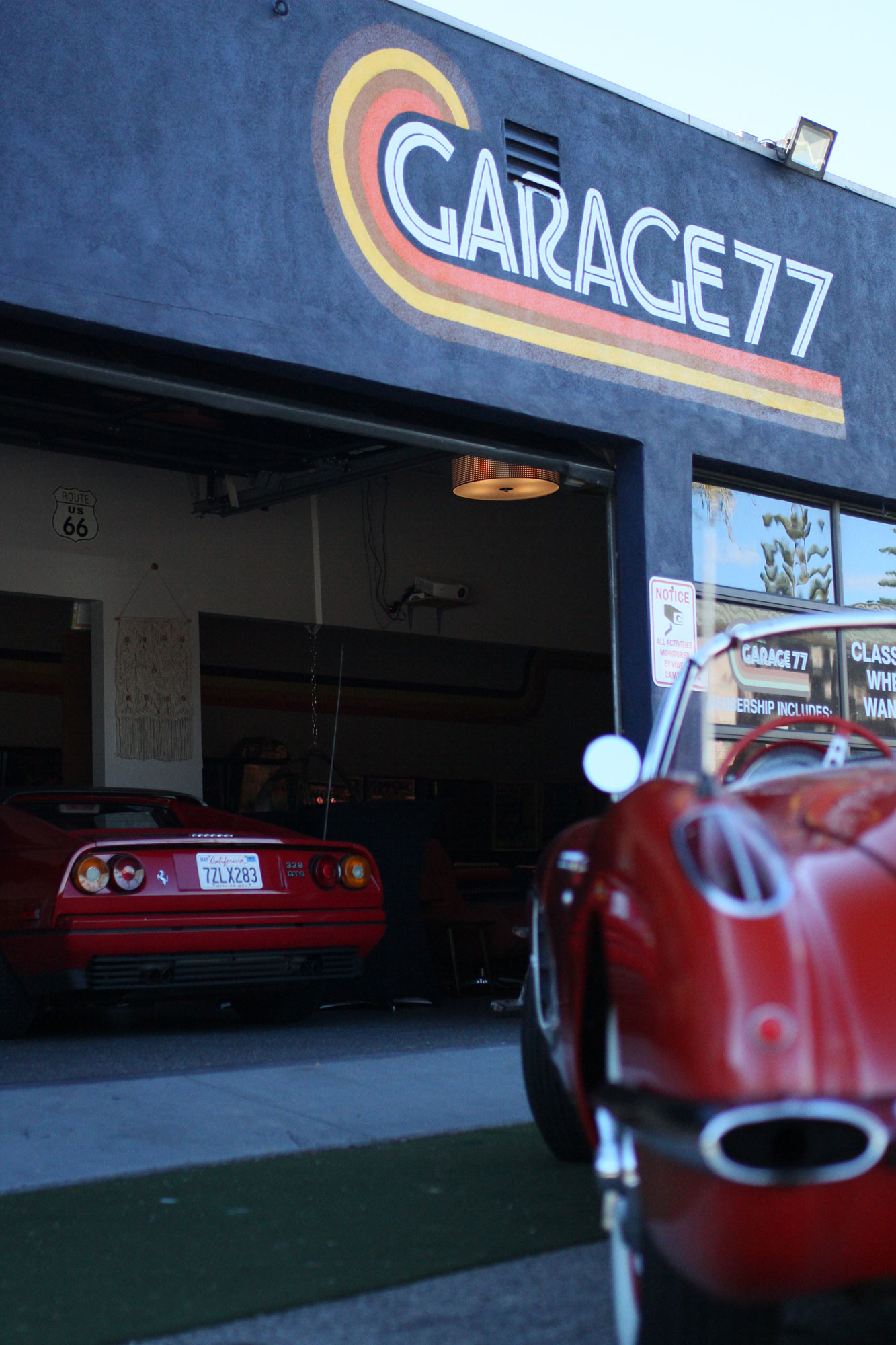 Garage 77´s Car family
---
Garage 77´s car family in the middle of March 2019
Corvette C1 – 1960
Ford Bronco – 1975
Ferrari 328 GTSi – 1987
Porsche Speedster Tribute – 1956
DMC DeLorean – 1967
Chevrolet Camaro Cab – 1967
Lincoln Continental – 1961
Jees CJ-5 – 1977
---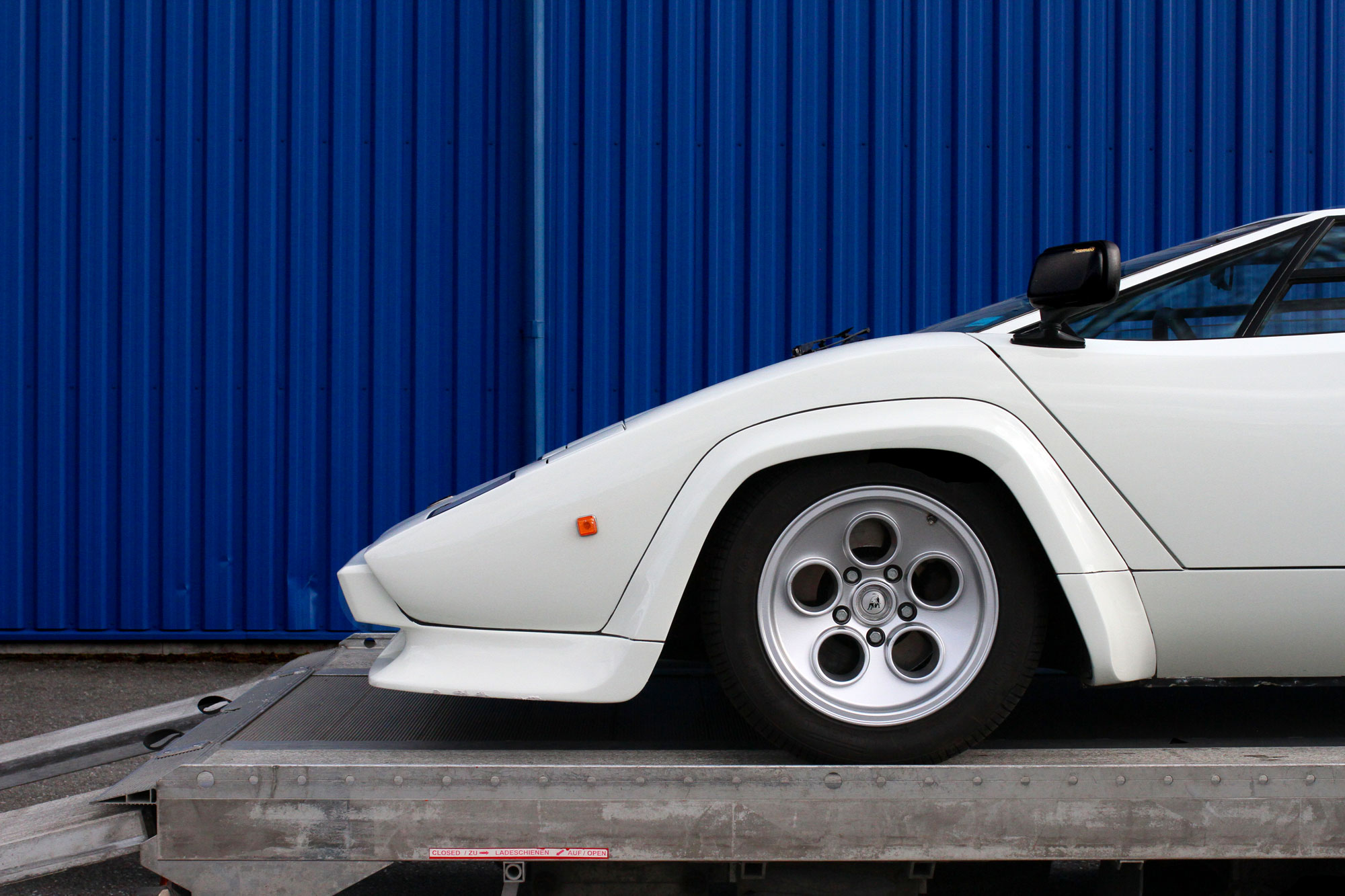 Fascinating Cars mix of car wall posters
A mix of printed car posters with the best quality –
sent to you all over the world, with local shipping costs.

Great quality – sent to you all over the world, with local shipping costs.
Posters of the Fascinating Cars library of mixed pictures
---
Read more and follow Garage 77
---
In case you want to read more, know more, get in contact or just follow Garage 77 on their journey into the future. Here you have all the opportunities internet can bring:
Follow the Fascinating Cars journey
---