Grandpa's Porsche 356
---
Fascinating Cars is about giving people a chance to tell their story or being part of a story.
Steven reached out to me on our Facebook-page, after our Los Angeles trip and told his story about his Grandpa and the Porsche 356 c from 1965.
The story is so special, beautiful and great so Steven is going to be Fascinating Cars first guest appearance.
Text and photo: Steve Mezzapesa
---
Steve Mezzapesa´s story about Grandpa´s 356:
---
My car is a 1965 Porsche 356 C with matching numbers and only 46k original miles. I inherited it from my grandpa.
To tell the story of my 1965 Porsche 356 C, I have to start over 20 years before I was born. In the '60s my grandfather, Jesse Gaskin, was in the market for a Porsche. However he wasn't the kind of guy to just go to a dealership and buy one. He loved getting a good deal. So in late '65 / early '66 when he came across a '65 356 C for sale, even though it wasn't the color he wanted, it was the deal he wanted, so he snatched it up.
The Porsche was a "grey market car"
---
The car is what's called a "gray market car" – meaning it was purchased new in Europe by a US service member and brought back to the states- where it was sold to my grandfather. My grandpa drove it home to San Jose, CA where it would live for the next 25+ years before he moved out to the country by Lodi, CA for another 25+ years.
It was the Togo Brown exterior color with brown/cream interior. In the early to mid '70s he decided that he would have it repainted in the factory ivory white color that he loved. They did such a good job, that without checking the paint code on the door-jam plaque, you'd never know it's not original paint.
---
Get your own magic poster today and support Fascinating Cars
Posters made by Fascinating Cars – shipped all over the world at local shipping cost
---
Grandpa did own the 356 for 50 years
---
Over the 50 years that he owned it, my grandfather loved and babied the car the best he knew how. He went out and bought every shop manual and maintenance book he could find so he could do all the oil changes and valve adjustments himself. And he passed down all of these references to me. (Going through them recently I found his "356 Club" sticker that I now proudly display in the rear window.)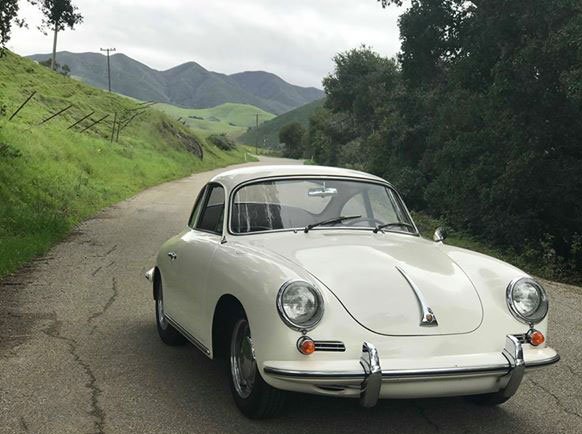 As kids we (my siblings and cousins and myself) were not allowed to be within 5 feet of grandpa's beloved Porsche. But I admired the car every chance I got, and had to beg for a ride in it more than once. He never let anyone drive it except the rare "around the block" cruise for my mom (his daughter). He even kept his own driving to a minimum.
He looked at the car as an investment that he wanted to preserve. He mostly drove it into town for church on Sundays. Because of that he only put 43,000 total miles on the car in the 50 years that he owned it.
Could not drive the Porsche for 10 years
---
The last 5-10 years of his life, my grandpa struggled with Parkinson's disease and couldn't drive himself anywhere. This horrible disease affects hand/eye coordination, hand strength, and it even made him very hard to understand because he mumbled and rambled on.
I think he was heartbroken that he couldn't drive his 356 anymore. So before he passed on he wanted to see my mother and I enjoy the car. My mom, not being into cars knew that I would appreciate, care for, and never sell the car, so she passed it to me immediately.
Because of this, I got the opportunity to take my grandpa on a drive in it a few months before he passed away. I hadn't heard him speak that clearly or enthusiastically in a long time. As we cruised around my little beach town, he gave me driving tips, and talked to me about valve adjustments and other things he thought were important for me to know. I could tell he still held the passion for this car.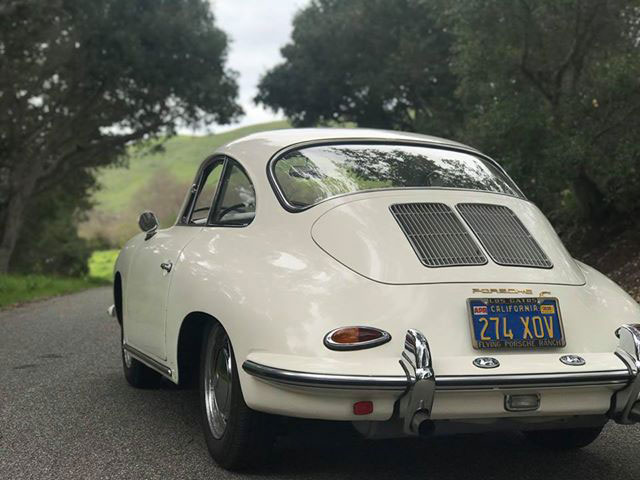 A few months later (just days before my grandfather passed away) I was out for a drive and I had engine trouble. After many phone calls and searching around I found a local expert who is highly recommended and incredible with 356's (he owns 4 of them!).
---
Support Fascinating Cars – buy a cool wall poster
Posters made by Fascinating Cars – shipped all over the world at local shipping cost
---
Blown up pushrods
---
He informed me that I had broken a pushrod. It snapped in the middle and split the pushrod tube open. He said he hadn't seen one break like that before and that it was probably a combination of a bad pushrod (from the factory). Which only lasted 43k miles, and the fact that the car sat undriven for 5-10 years.
I then embarked on a 6 month journey of having the engine completely restored. He did an amazing job, and it looks and runs like it did off the factory floor in '65.
The Porsche is going to be passed to next generation
---
I'm honored to be the caretaker of this awesome car. I know my grandpa is smiling down on me when I go out cruising in it. In the car with me are his driving gloves, his old Porsche sweater, and I even wear his vintage Porsche aviator-style sunglasses.
I will do my best to preserve it for future generations of our family. And I'm excited to pass on that same Porsche pride and enthusiasm that my grandpa passed on to me. I'll be married In a few weeks. My new bride and I will drive away from our wedding in this beautiful car. In the future, one day hand it down to our kids.
/Steven Mezzapesa
---
Fascinating Cars mix of car wall posters
A mix of printed car posters with the best quality –
sent to you all over the world, with local shipping costs.

Great quality – sent to you all over the world, with local shipping costs.
Posters of the Fascinating Cars library of mixed pictures
---
Follow Steve and his Porsche 356
---
If you wanna follow, contact or just say hey to Steve? Please contact him on Facebook. He have a good view of the Los Angeles Car meeting world. His Facebook is Steve Mezzapes
Follow the Fascinating Cars journey
---