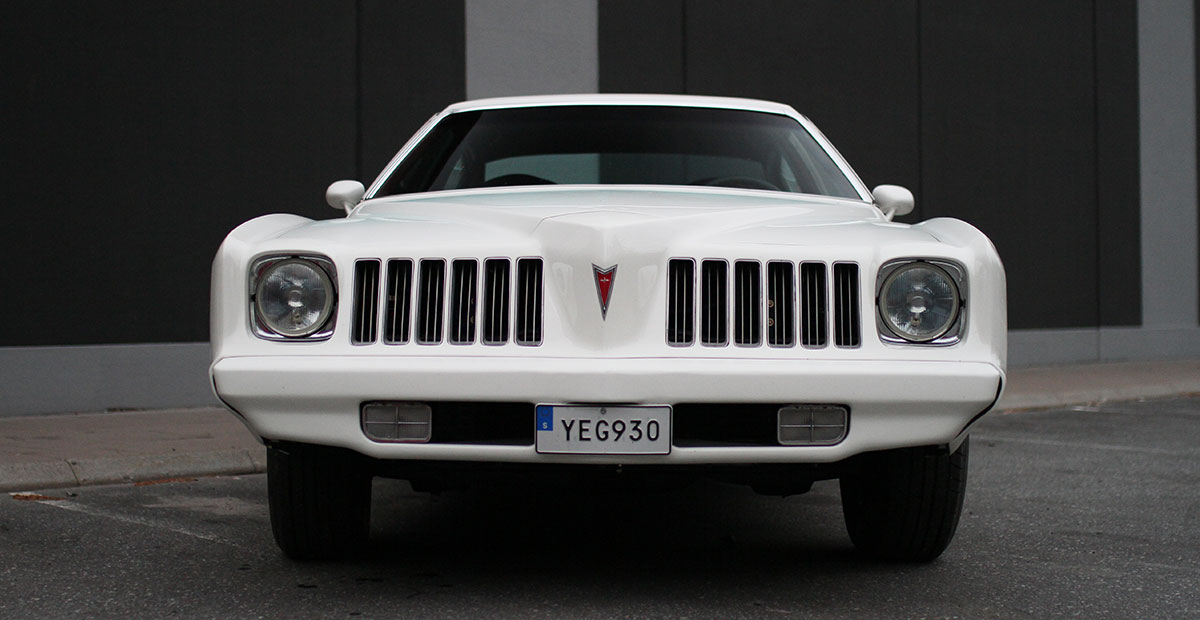 Magnum and Grandmas Pontiac Grand Am
---
"Magnum is gonna have this Pontiac Grand Am when I pass away" – Magnum often heard this when he was growing up, while he greeted his grandmother Lucretia Price in Detroit.
Those were words he didn't really take seriously. Six years ago Grandma's Pontiac Grand Am from 1975 – landed in Gothenburg harbor. Grandma had left it behind and written in the will – "Pontiac Grand Am – Magnum Coltrane Price".
---
The car has been out and about on a long trip over the weekend, Magnum tells me when the engine is a bit cranky, when we were about to get off. We are standing on a small parking gravel plane and Magnum points to the place next to it and says quick:
"On that place, the tour bus usually stands. It's at the workshop at the moment. We need to change all the windows in the bus. It's always something. "
Magnum Coltrane Price has been a major part of Swedish jazz and funk music for the last 30 years and has toured the world with all sorts of artists. He is an all-around artist when it comes to musical instruments, but right now he has a hard time playing the Grand Am engine properly.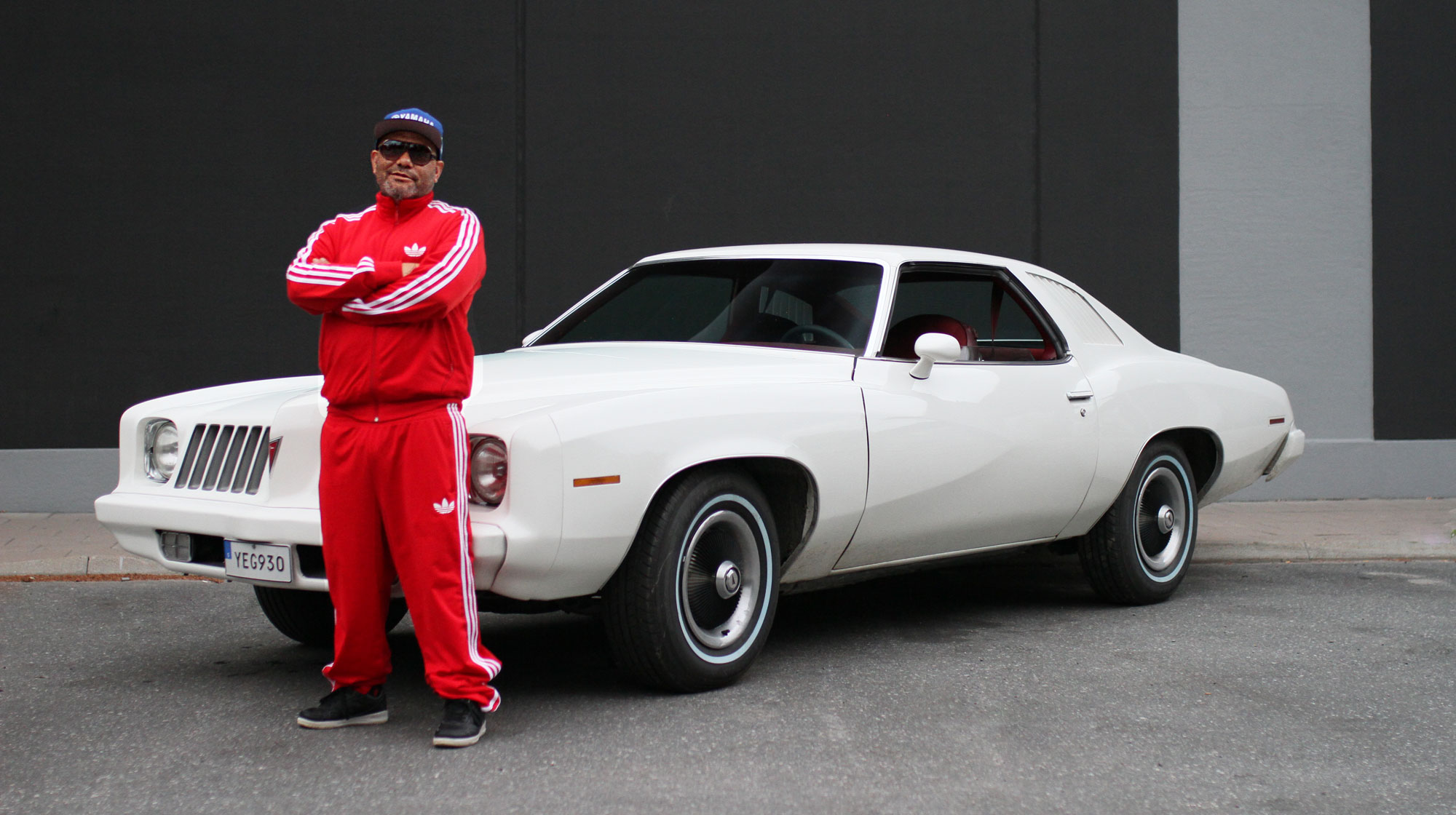 The 2 meter wide Grand Am makes the road very narrow
---
The 6.5 liters V8 does not really want to get going and as soon as the reverse comes in, it stalls. Magnum tries once again and the eight cylinders lights up at once.
"Once, the car stopped right on the slope over here. Then it was no fun, when I realized that everything in the car froze. No servo and hardly any brakes. It was an experience I can say. "
After several attempts, the engine bursts and gets going after a exhaust bang. We back out and are embraced by the lush nature that stands along the road.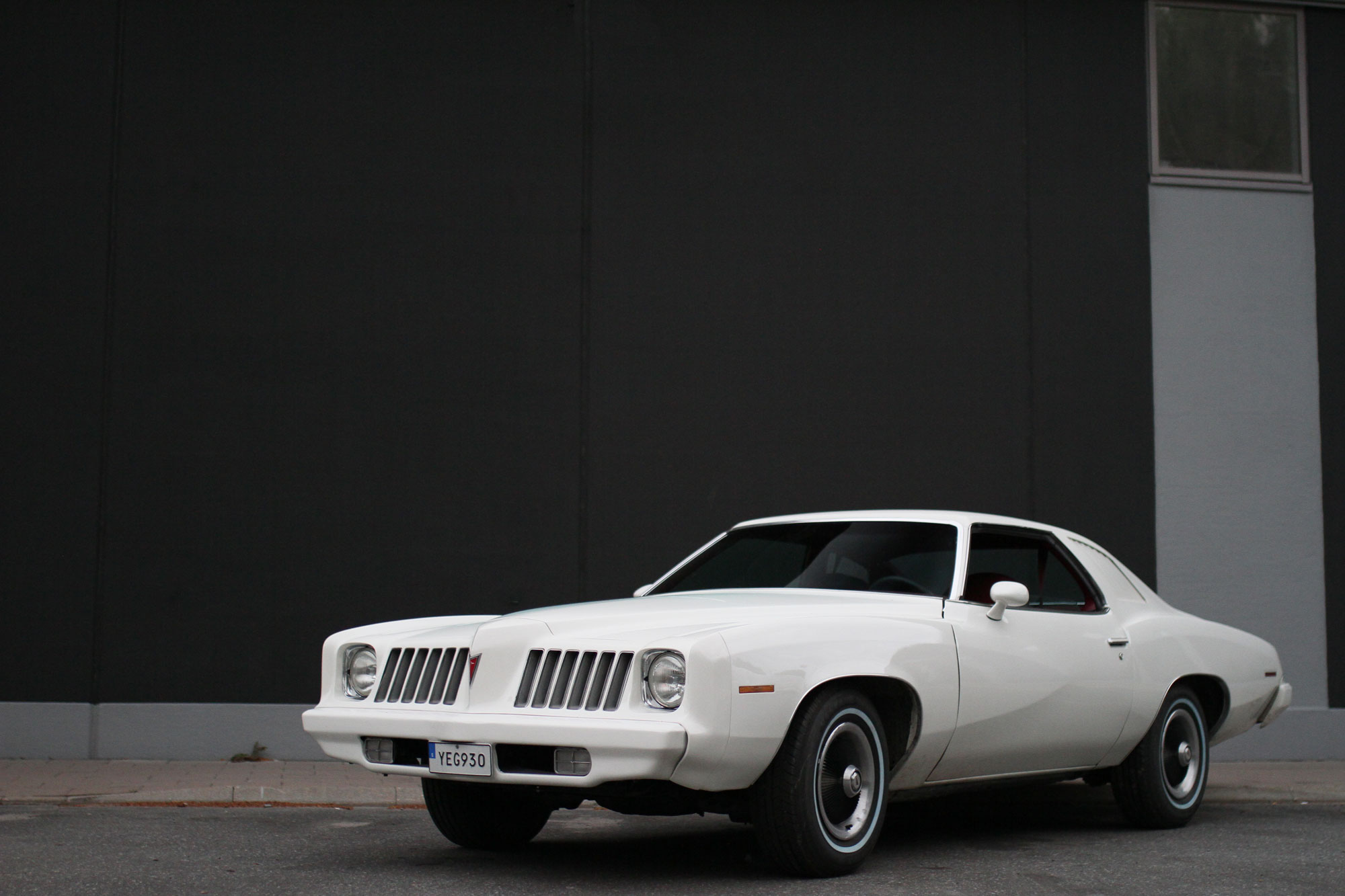 Slowly we roll down the hill and Magnum asks what time it is. I answer and he says: "I don't want to meet the bus out here, the roads are so narrow, so I kinda need to put the car in the ditch. Happened last week. "
From the passenger seat, I look out over the almost 2 meter wide and massive hood and understand what he means when we meet a small SUV. The road is really narrow.
---
Support Fascinating Cars – buy a magic Pontiac poster
Posters made by Fascinating Cars – shipped all over the world at local shipping cost
---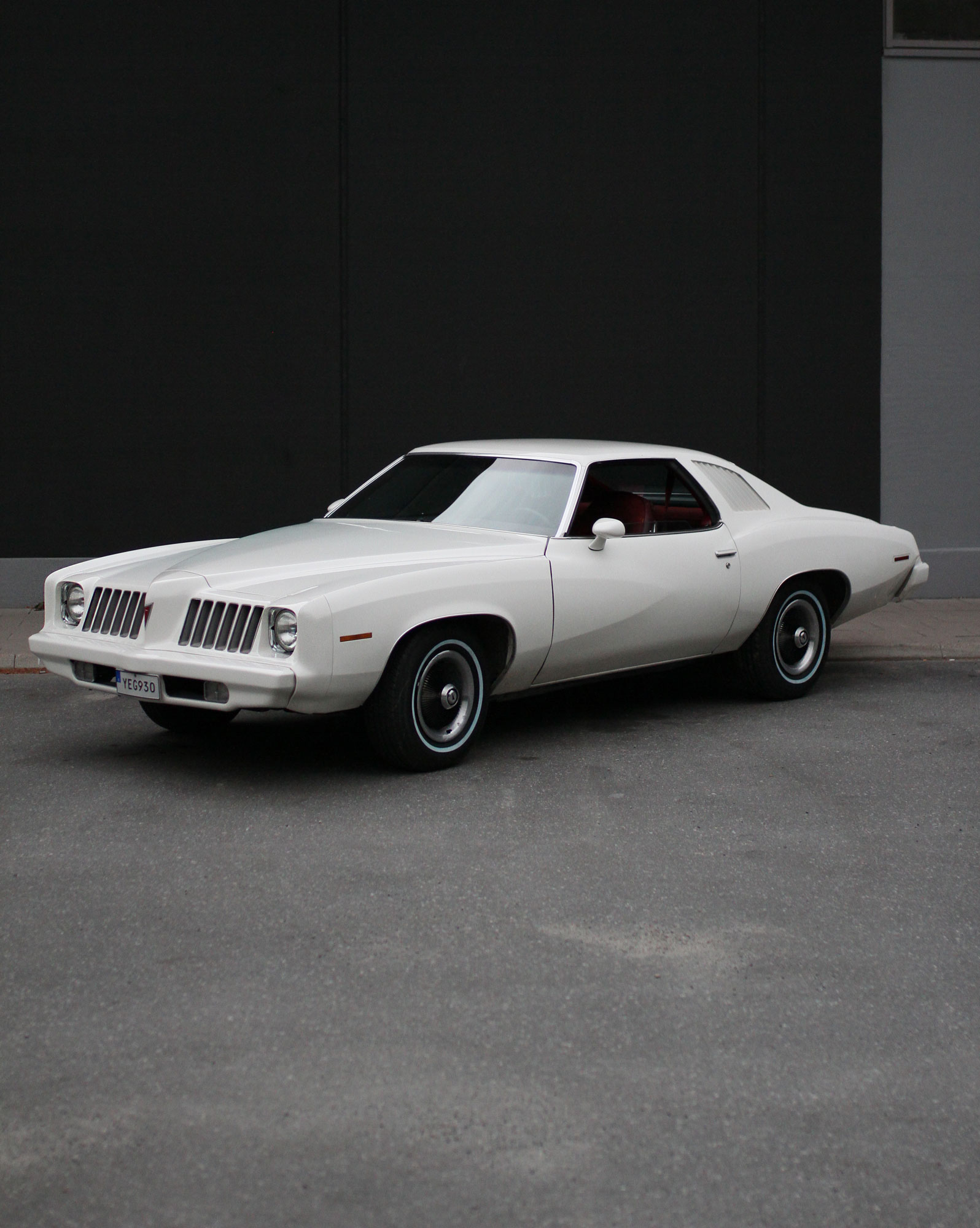 This Pontiac was the first car Magnum drove
---
"This was the first car I ever drove. I was 15 years old. Grandma let me practice driving with her in Detroit, back and forth to the store. "
"Right then, I was about to take the driver's license over there in the US, but it didn't happen. I didn't take it until two years ago here in Sweden, when I was 48 years old. Before that I have always been a motorcycle person and had a motorcycle license for 17 years."
Magnum keeps on and tell me that it is not possible to have such a car, inherited by Grandma Lucretia, and stand without a driver's license. So thanks to this heritage, and with the help of his friend Jonas Wall, Magnum took his driver's license, under a very nervous last driving test.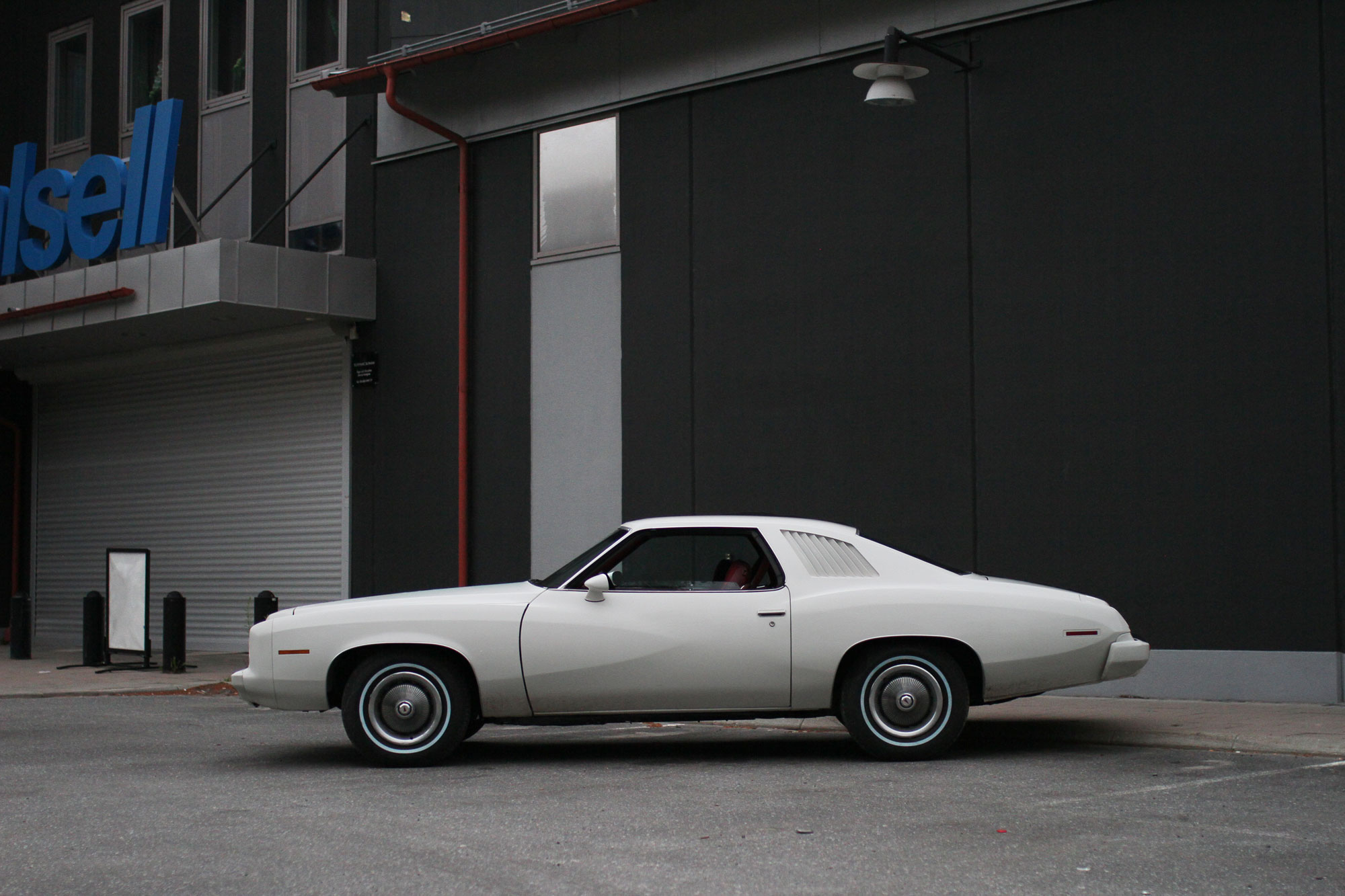 Grandma got the Grand Am as a salary benefit
---
Grandma who worked at the Pontiac factory in Detroit picked the Grand Am out as a salary benefit in 1975.
"At that time it was super cheap for all employees to get a car. GM pushed all workers to have a car. Of course, the factory workers would have a car, which they worked on in the days. Grandma took this out as a shopping car with all the bread and butter included and it was her daily ride when she would go shopping. "Magnum says with a laugh.
"To us, it seems strange now that she used this on a daily basis, though you might think this is like an American Volvo. In the Pontiac area where Grandma lived, such a car was everyday life. No one questioned that an elderly lady had a large almost six meter car with a V8."
"There were lots of these cars when I was visiting. At first it was like an exotic dream world. Didn't think it was true, but after a while I thought it was completely natural. At that time, back in the days, there were not that much Yankees here in Sweden, "says Magnum and gesticulate with his hand.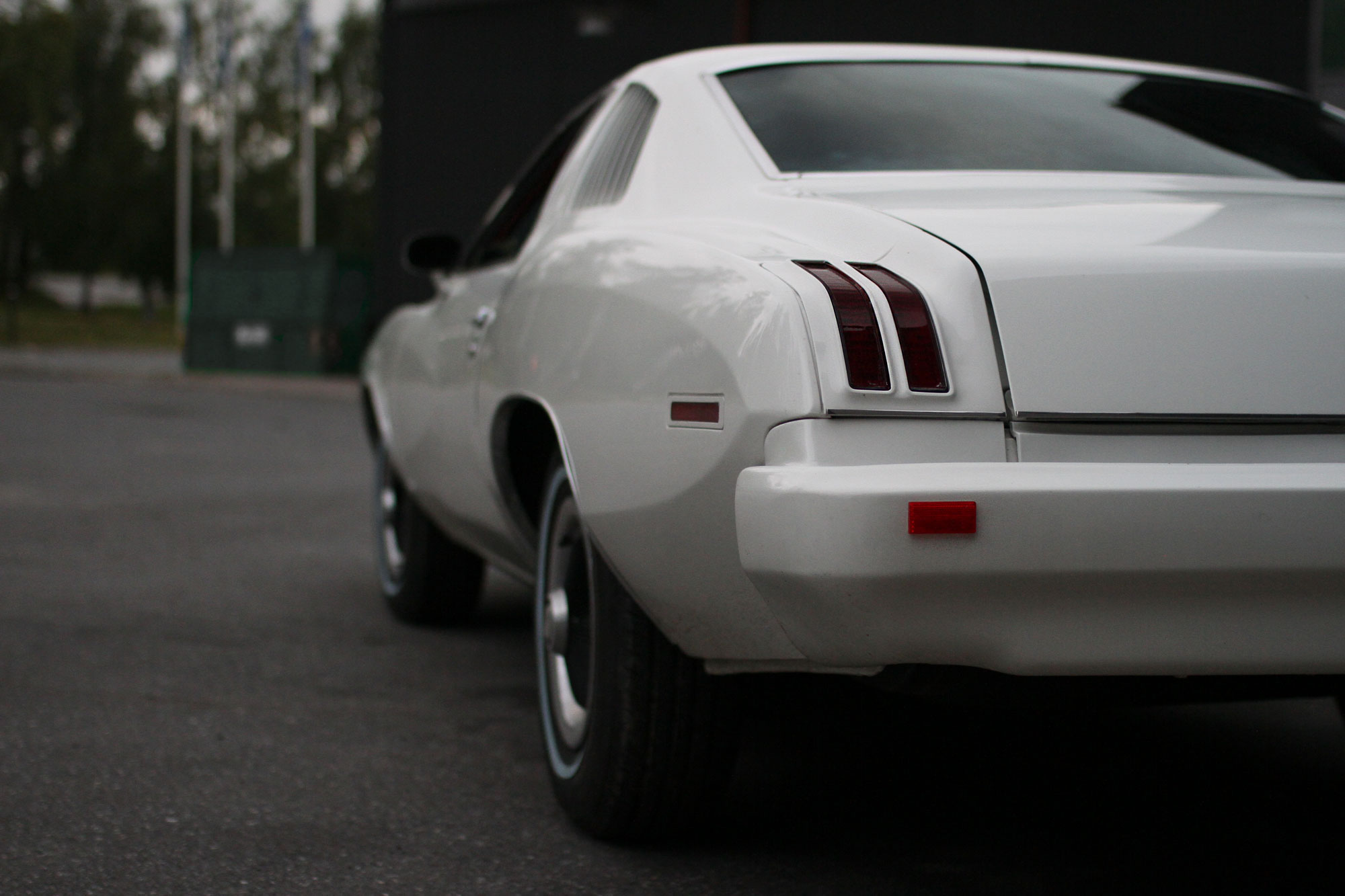 Competitor for BMW and Mercedes
---
As we stop and step out, I feel how the massive doors of this classic American are heavy to open and handle, like it should be. Power is needed to close it again. The length of the door is like a normal sized hood today.
Once out, I back up a little to get the entire 5.5 meters wide American in the camera lens. The beautiful lines along the left side fade into the camera and the wedge that is created over the driver's door continues smoothly along the butt of the car.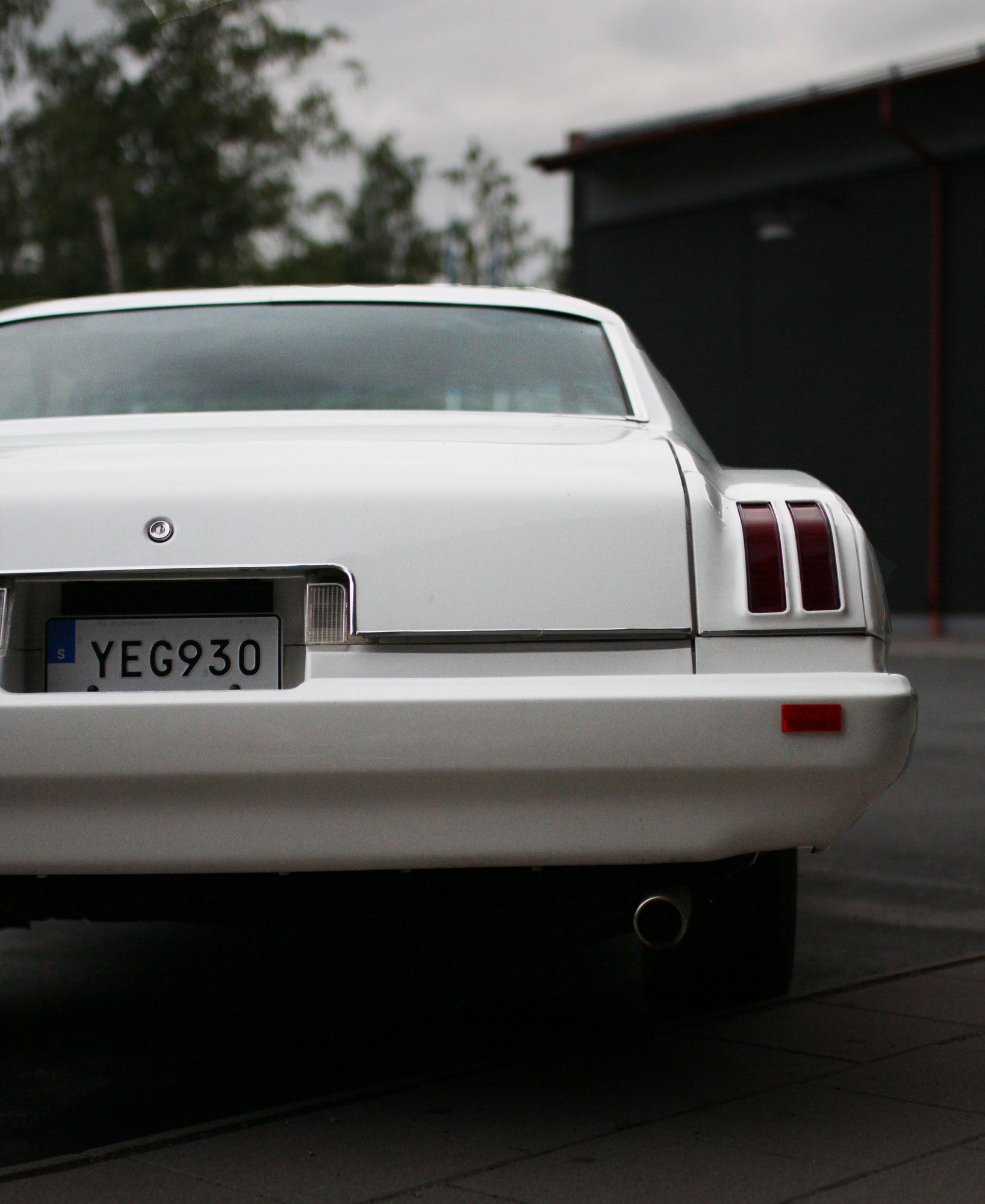 When Pontiac created the Grand Am, it aimed to stand out to those who like European cars and become a strong competitor to Mercedes and BMW. In the eyes of many critics, this American car was the closest to European standards and driving style. However, at that time the Grand Am was probably 25% larger than all competing European cars, in terms of length, width and engine volume.
---
Support Fascinating Cars – get a Pontiac wall poster
Posters made by Fascinating Cars – shipped all over the world at local shipping cost
---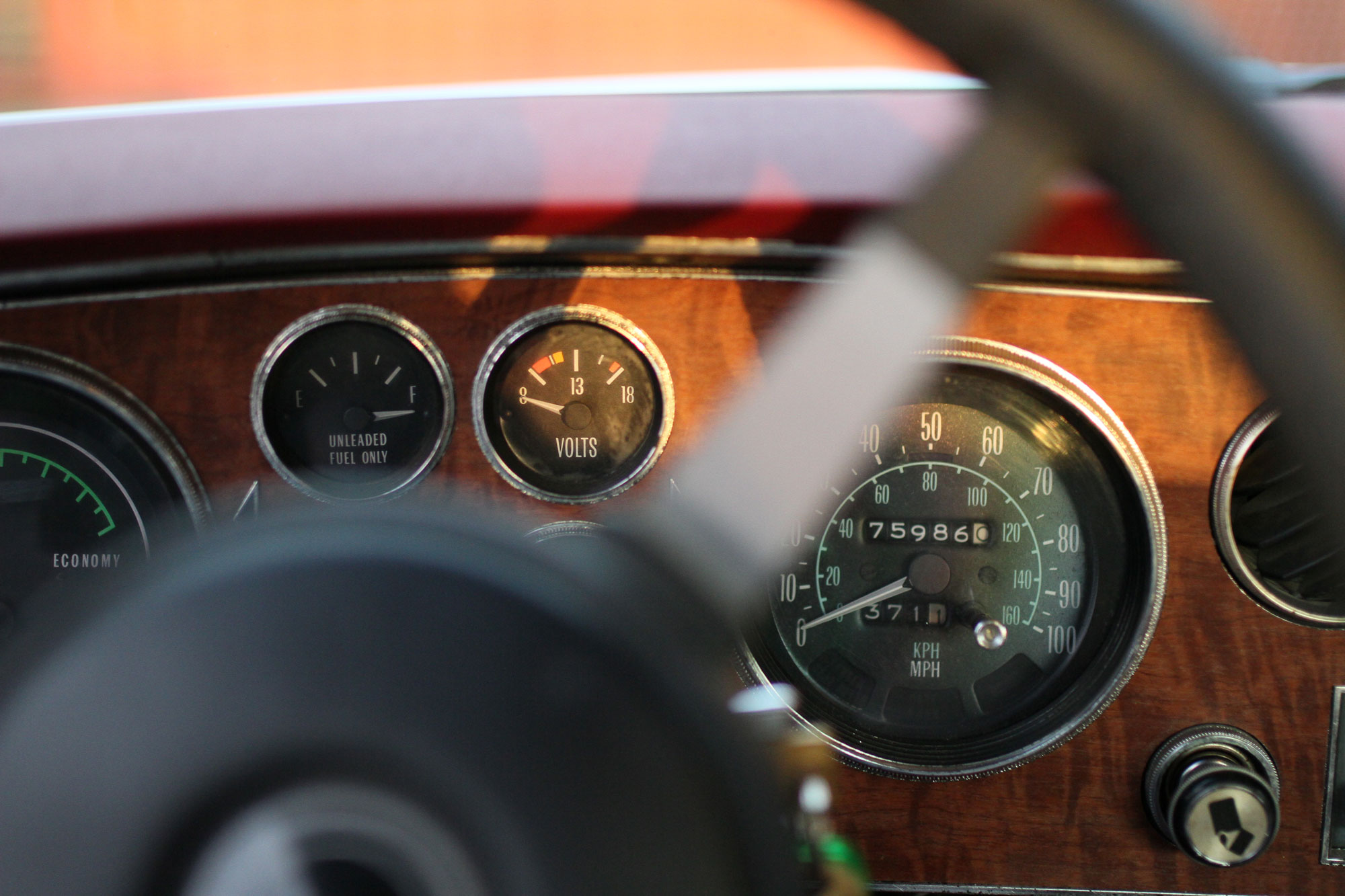 Pontiac implemented a economic meter
---
Unfortunately, the oil crisis raged around 1975 and therefore sales of this well-formed car dropped. This is because most people started to focus on more energy efficient cars.
According to the factory, the Grand Am fuel consumption was approximately 2 liters for mixed driving in 10 km. So it may seem a little strange that the factory has installed a large economic meter, to the left of the dashboard, where the tachometer should be located. The meter turns and explains whether you are economical or not when the engine is roaring.
Both laugh when we talk about the meter and Magnum asks:
"Wonder were they then pulled the limit for uneconomical, 3-4 liters, or? Maybe? "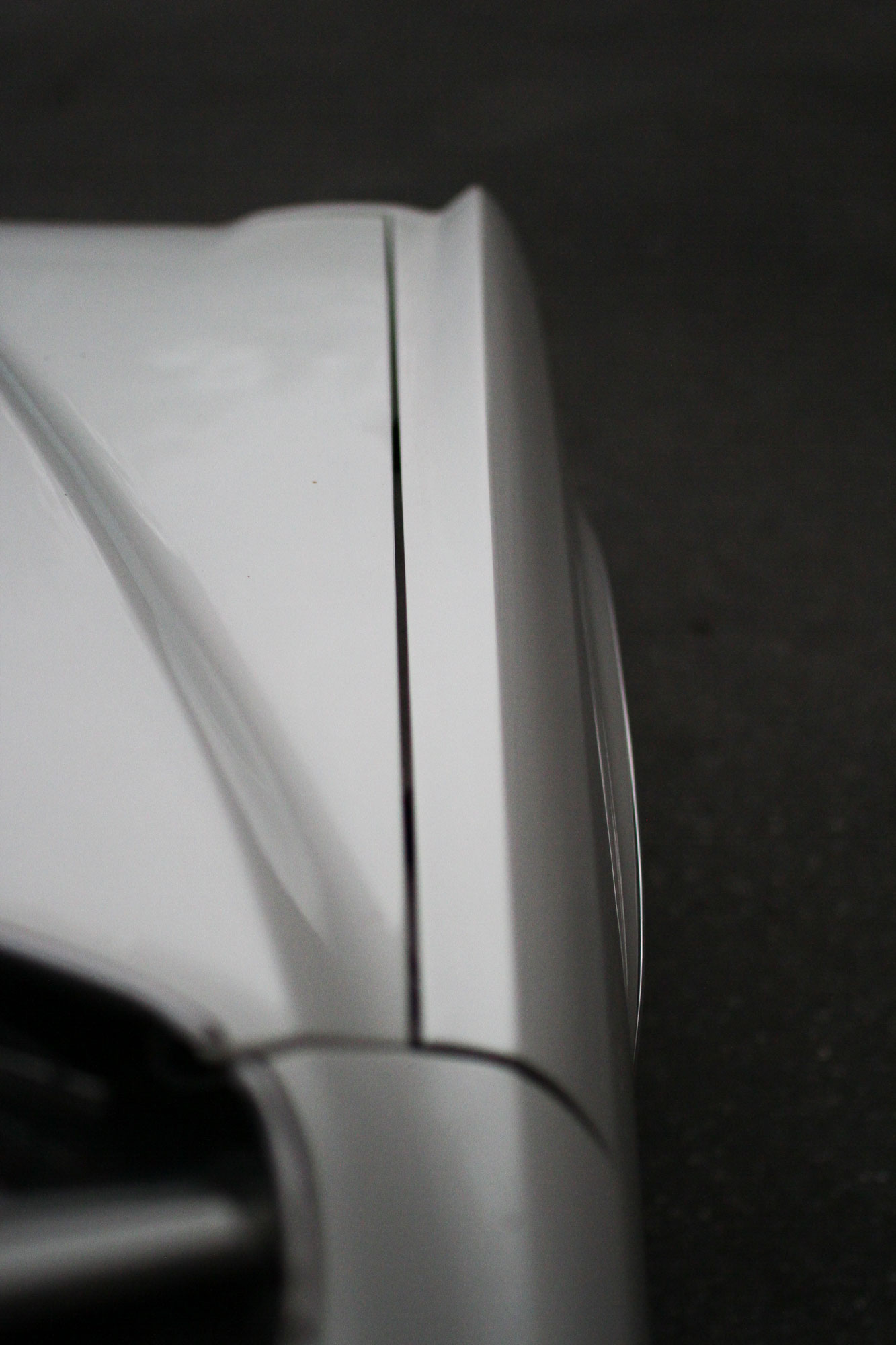 "We are out of gas, boy "- Mississippi racism shows up
---
Throughout our conversation, there is a lot of laughs, quick comments and Magnum's stories about how he flew between Sweden and the US as a youngster. He talks about his rough childhood and how he "really" became an adult when he met his partner in the early 2000s.
"During my childhood, I traveled between the US and Sweden. Growing up was pretty messy and I have a very hard time putting on years when something happened in my upbringing. "
" Though I remember when the whole Price family went in a caravan from Detroit, Michigan down to Louisiana for a family reunion. I was 12 years old "
"Grandma drove the Grand Am and the whole trip is a big positive memory even though we got to know the South's racism in Mississippi. At a gas station, a comment was spoken by the gas owner – "We are out of gas, boy!" – while other cars were refueling. Can only tell you that the mood was a bit "hot" after that, to say at least. "
Magnum slept in the Grand Am
---
" When we arrived, I panicked out of the house we were going to live in. It was not the Grand Hotel I can tell you, but more of a dump. I didn't even manage a minute in there. I ended up sleeping in the Grand Am. So throughout that trip, those days, I slept, ride and lived in that car. "
Magnum pauses for a moment after he tells me about the journey and ends with a smile on his lips:
" Aaa forgot, I also went in the van as well. There it was a bit more "jazzier" and party atmosphere. In the party van, as it was called in the caravan, there were some cousins ​​and their parents. That was fun. "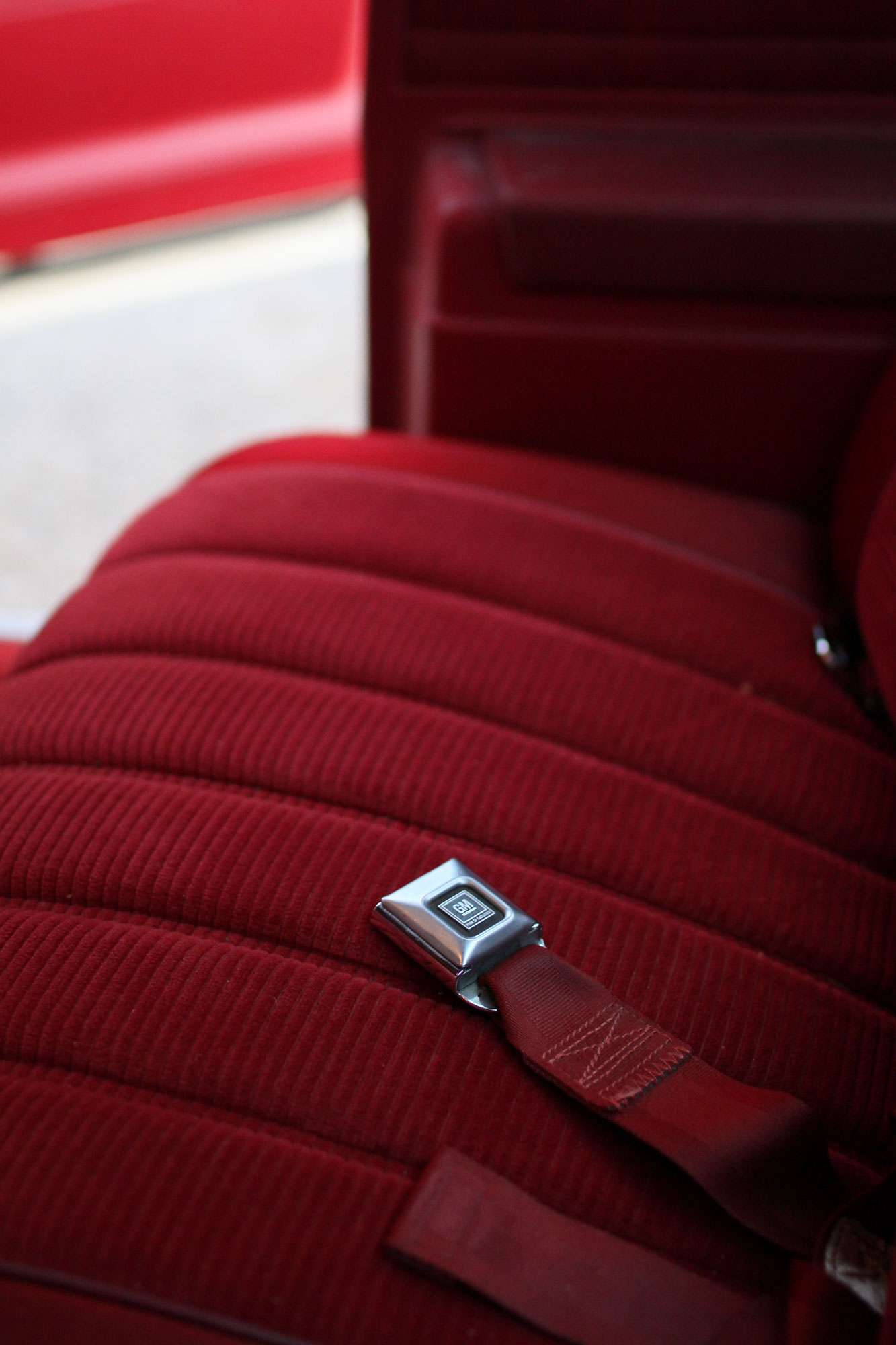 In 1975, only 8786 Grand Am's were made
---
The name Grand Am was given after the luxurious Pontiac" Grand "Prix and the fast and performance strong Pontiac Trans" Am ", although unfortunately the Grand Am model never really flew as Pontiac expected.
It is said that this was one of the most thoughtfully made American car, during this time. Pontiac´s design team did proper research on what their clientele wanted and what was most competitive at the moment. The idea was that this car would take large market shares.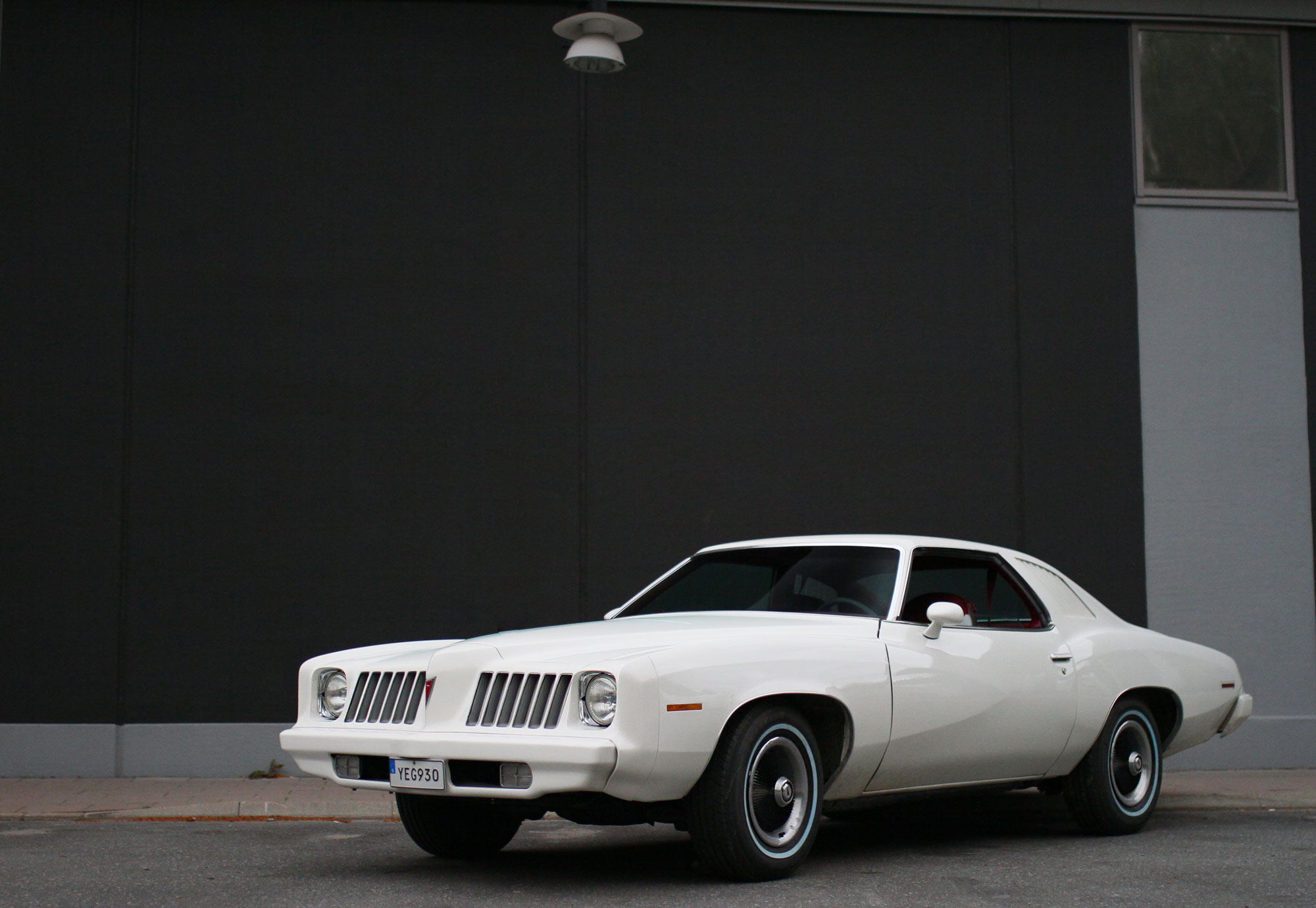 In 1973 it started really well when the car was introduced and the production stopped at a total of 43100 cars. After that came the oil crisis. The gasoline-slurping V8 engine was not as hot, so to say, and production dropped to 17,000 in 1974. In 1975, no more than 8786 2-doors and 1893 4-door Grand Am:s were made.
At the same time the GM's A-platform, on which Grand Am was built, were re-constructed. Pontiac could not defend to take a new grip around the Grand Am model financially and the production was put to a halt.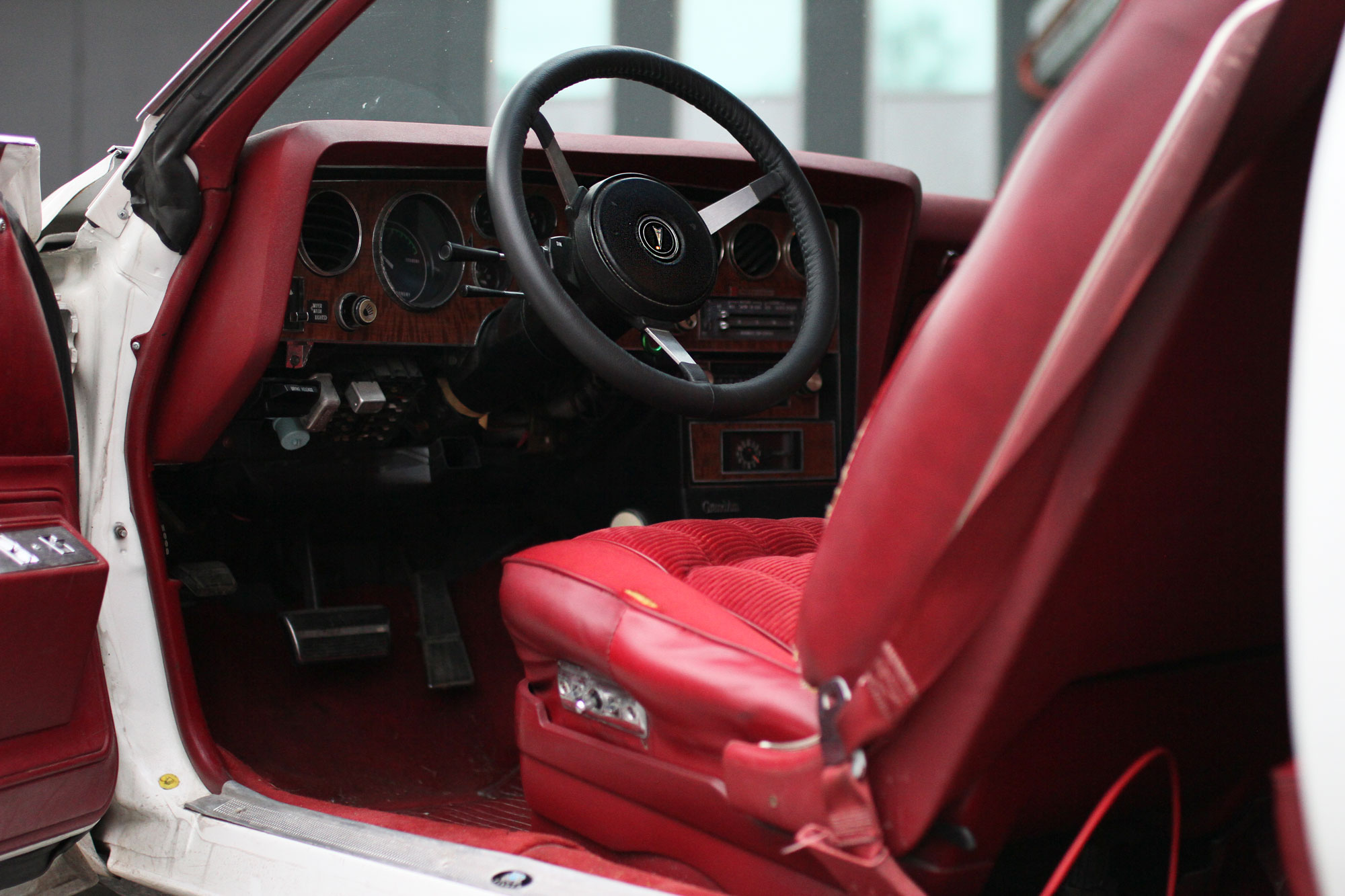 The Pontiac lands in Gothenburg
---
Six years ago, it made its last really long big journey when it landed in Gothenburg harbor.
"It is also a story in itself. I had been performing at a gig with the brand Fender and on the way back, I told the Nordic Fender Boss, that I inherited the car but had no idea how I would get it over. He gave me a number to a guy in the port of Gothenburg and, well, a couple of months later the car stood there, ready for being Swedish. Can't believe it went so smoothly and to that low price. "
The car was decayed and Magnum says it was a miracle that it managed by itself, all 500 km up to Stockholm. Jonas, once again, helped Magnum to get the work done.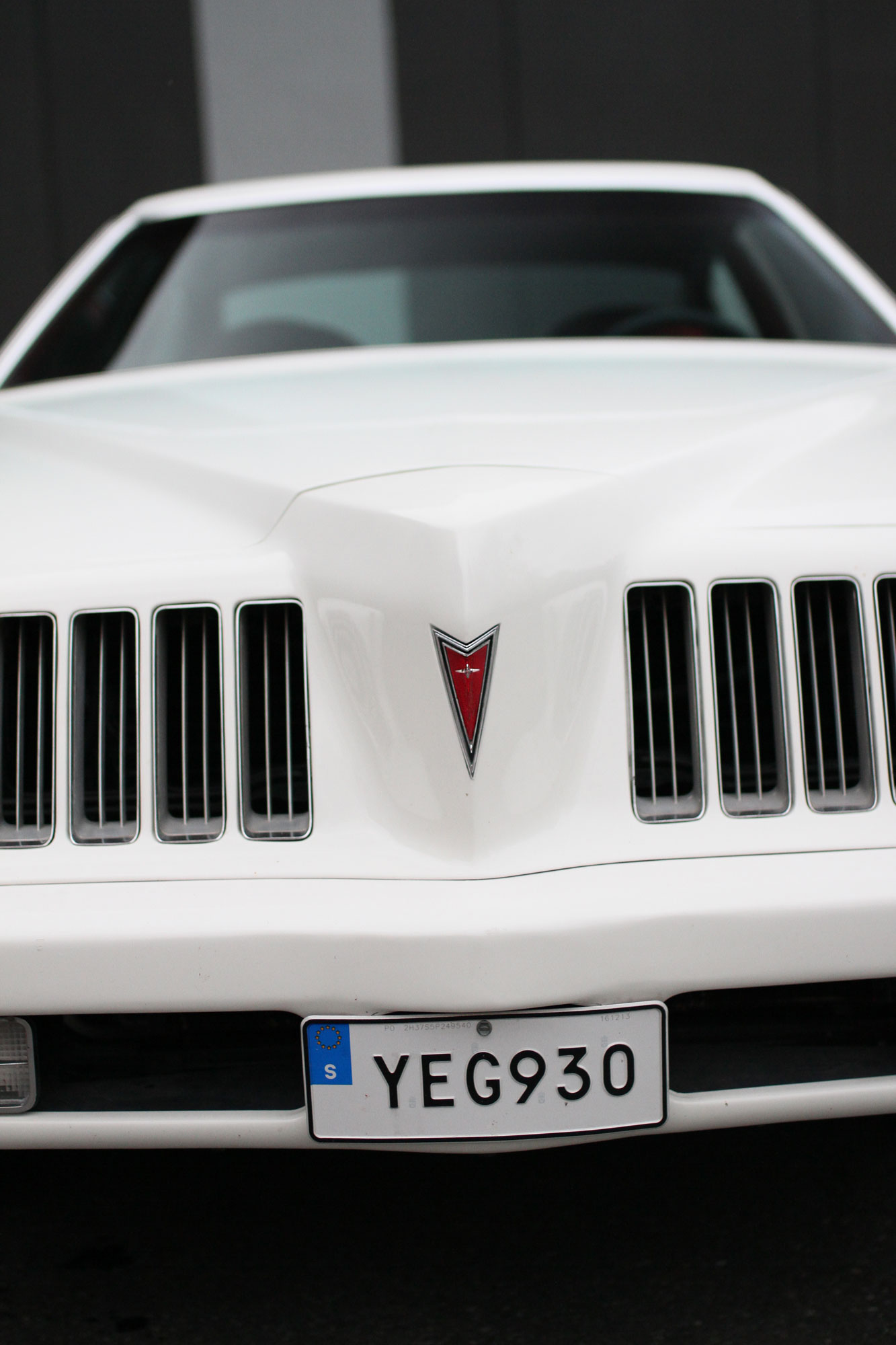 ---
Support Fascinating Cars – buy a cool wall poster
Posters made by Fascinating Cars – shipped all over the world at local shipping cost
---
Nåkab beautifed the Pontiac
---
Quite quickly he contacted Nåkab, south of Stockholm, and agreed that they would gild and renovate this Detroit beauty.
"Everything was rotten on the car. Brake and petrol leads were just crumbs. The bulky front, which is as original foam rubber, was discolored and much of the car was just old. "
" They found a stainless steel donor car in the US and took that one home to cut and paste from. "
" Nåkab has done a fantastic job and replaced the front part, renovated everything, checked the engine, slimed the bumpers both back and front and painted those. Last but not least, a really nice tribute to grandma on the engine air box. I didn't know about it myself so when I saw it, I almost started to cry. "
Magnum shows the beautiful text that is written over the lid of the air box.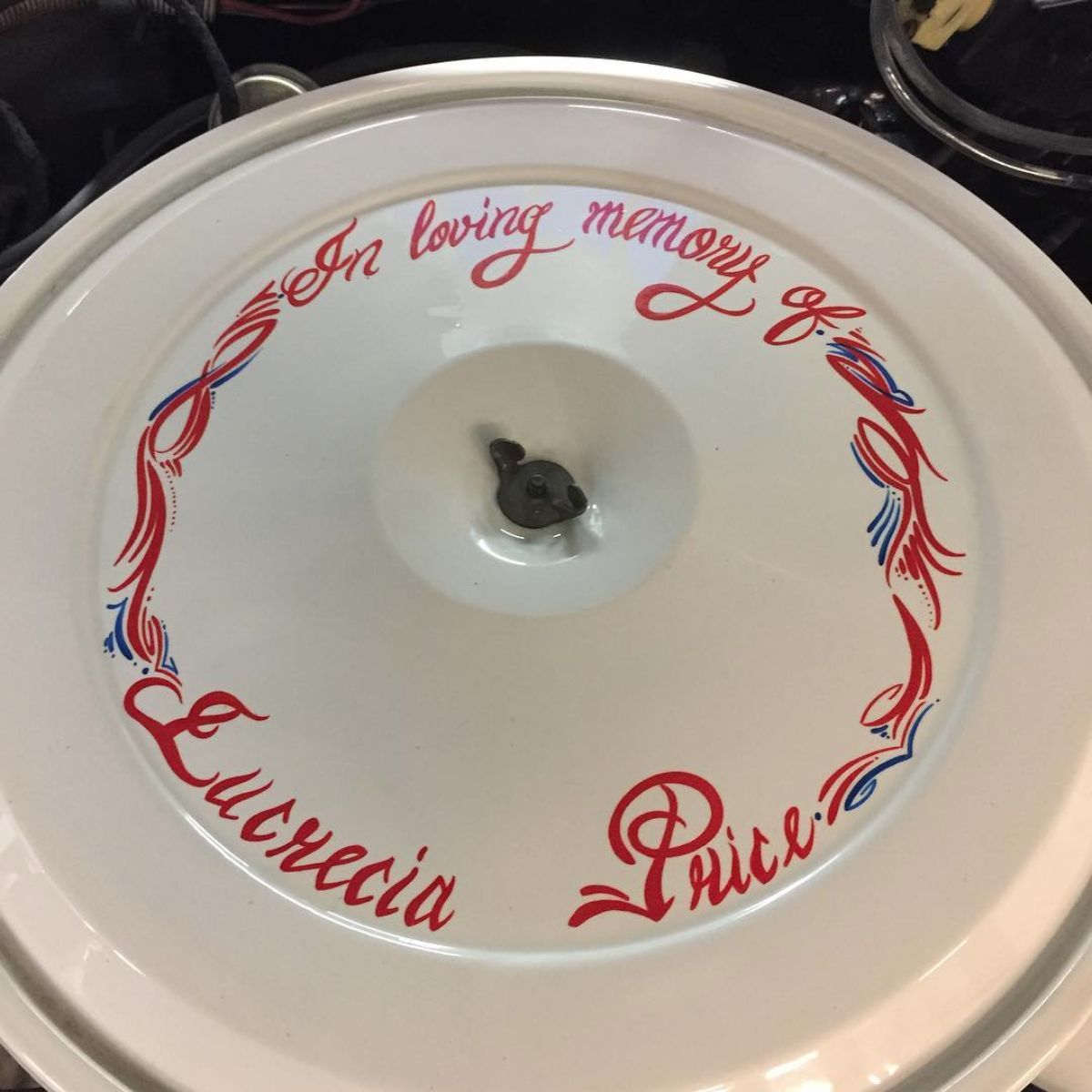 It continues to swing nicely in the curve
---
When we are heading back, Magnum gives me the key.
"This is an honor for you, because you are the first, besides me, who have driven this car after the renovation."
Once again, I get the feeling that "don't mess this now". It all starts with the engine not want to start immediately, like I hoped for. Pulls the key to the right again, push the throttle a bit and the car slowly rocks as the eight cylinders move up and down in the engine block. Phew.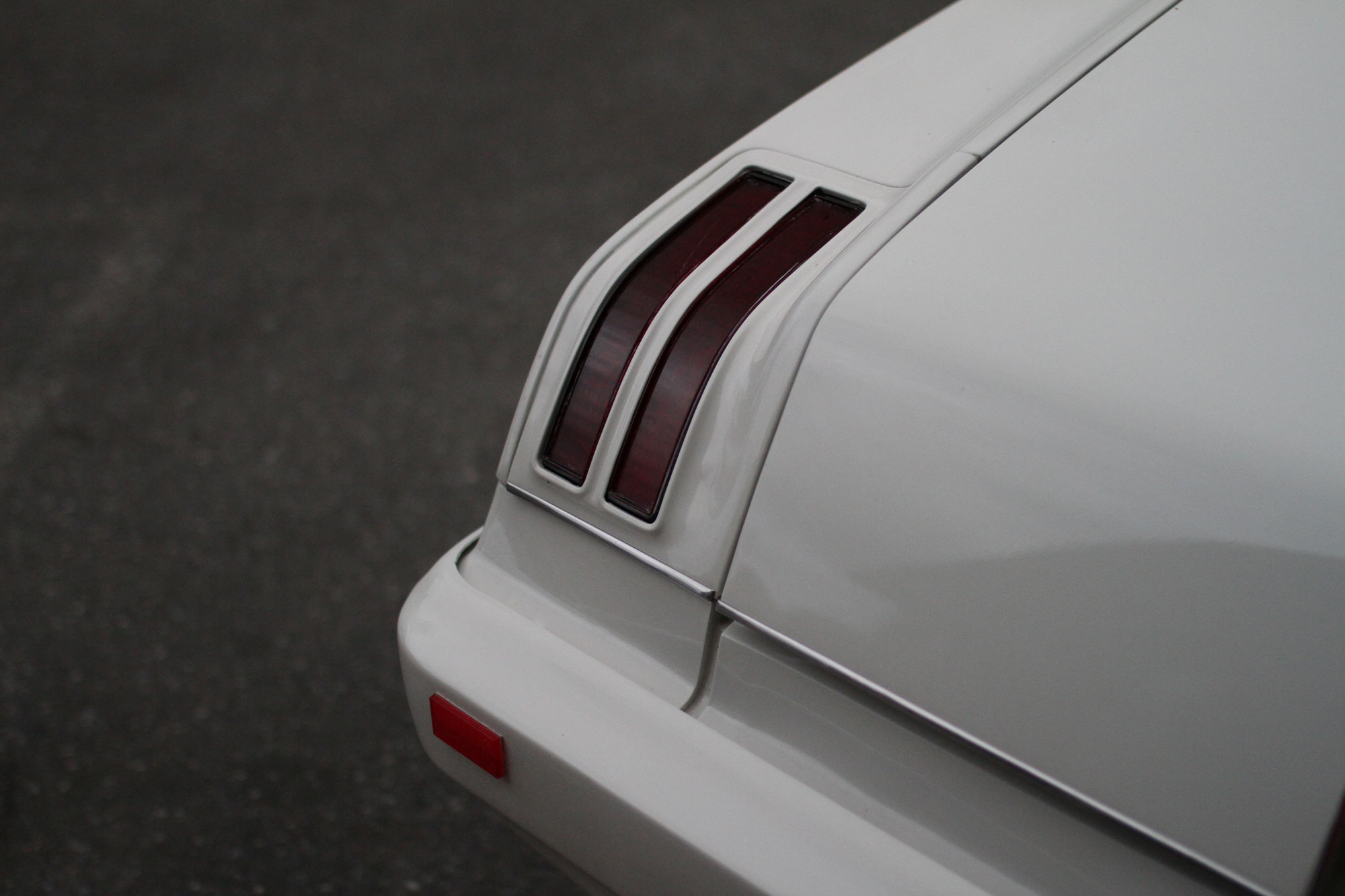 Backing out and I immediately notice that the servo on the car is instant. Not at all what I had imagined. The steering wheel responds almost immediately and the servo motor must be as large as the V8 because I don't feel like I turning around a 2 ton car.
It is large and swings nicely. At the first right curve, the car continues to swing back and forth for at least 20 meters after we got out on the straight line.
From the passenger seat, I look out over the almost 2 meter wide and massive hood and understand what he means when we meet a small SUV. The road is really narrow.
---
Get your own magic poster today and support Fascinating Cars
Posters made by Fascinating Cars – shipped all over the world at local shipping cost
---
No competitor for the European cars
---
Magnum asks me to turn on the lights. I who are not used, feverishly look for the button.
"It's the big one on the dashboard, right in front of you."
How could I miss it? It is large as a dollar coin. It fits perfectly between the fingers. The light comes to life.
When I press the throttle I feel that the 414 Nm wants to be pushed down into the ground and that the 170 horses really get this big iron machine moving.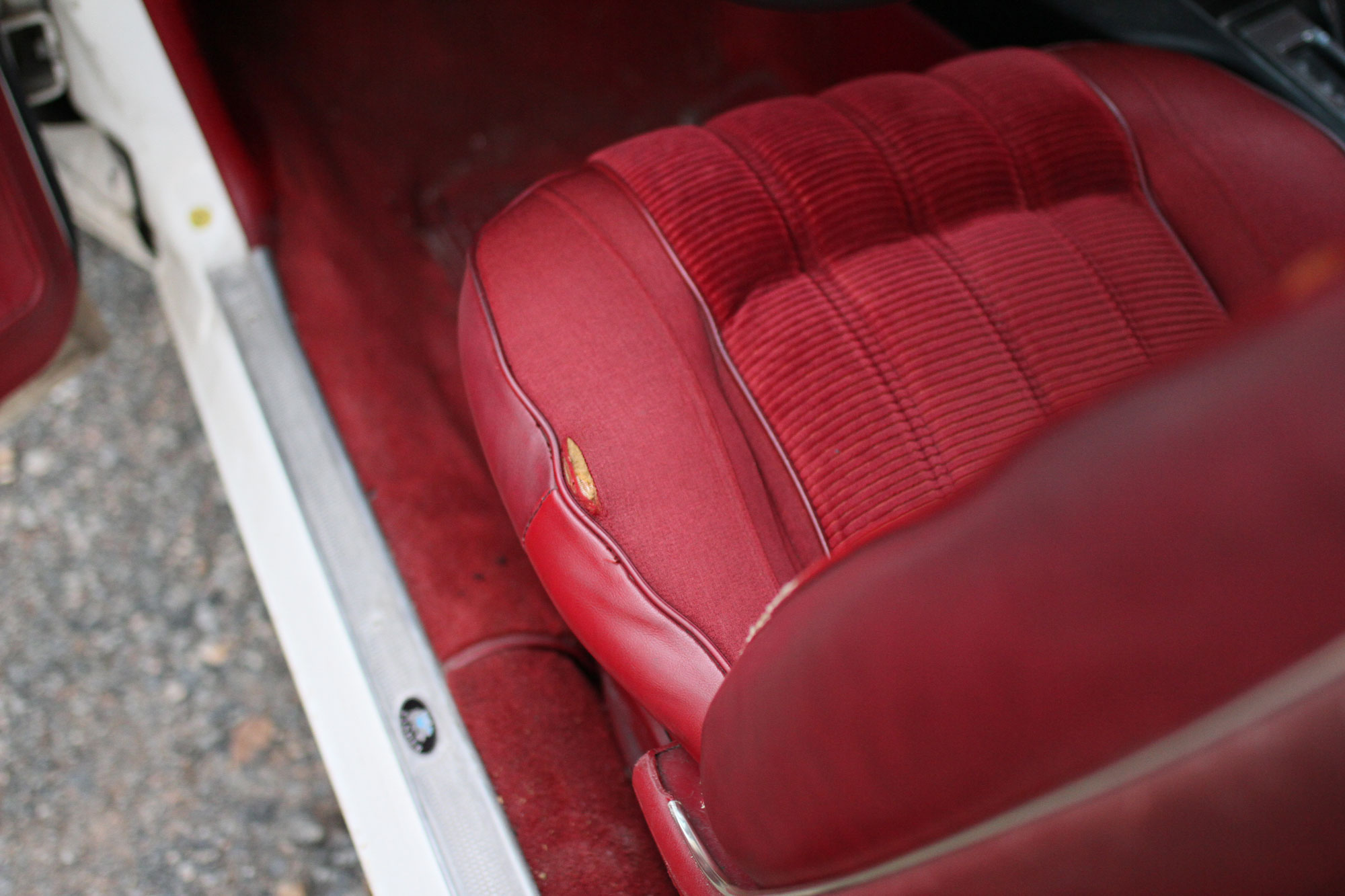 It is almost silent and the huge, beautiful white hood is flat in front of me. The feeling is living room, comfortable armchair with an open balcony door and a little road noise.
The Grand Am is really nice to drive and the 4-speed gearbox is compliant, both up and down.
But in my eyes, it cannot be considered a direct competitor to any of the European cars of that time. None of them, this is a typical American Detroit car.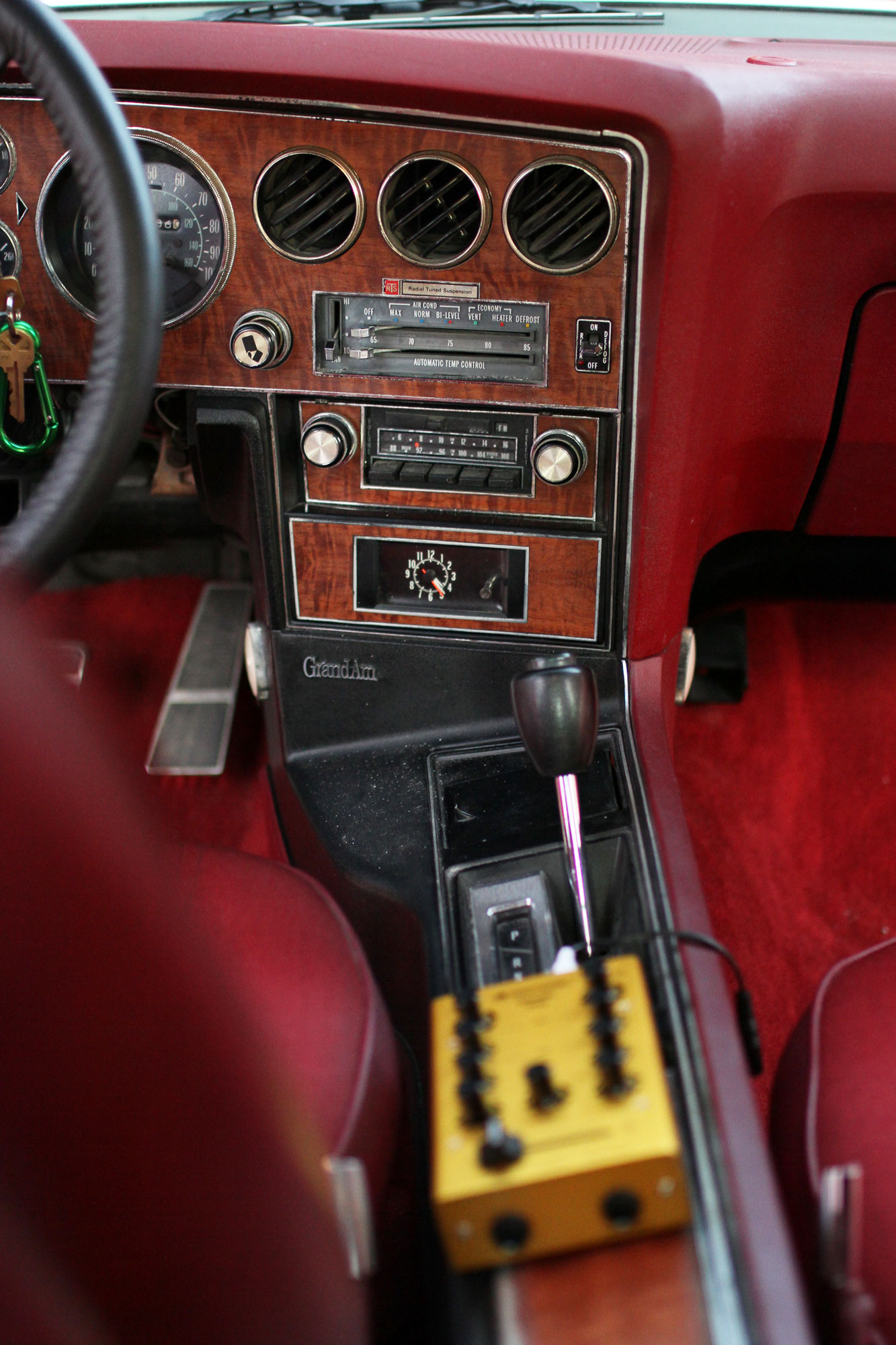 Magnum's motor circle is closed.
---
We park in the same place that we backed out a few hours earlier.
Magnum looks down at the yellow Omnitronic Mixer that lies between the seats and says:
"The dream is to slightly modify this and run my own version of Jerry Seindfelt's "Comedians in cars getting coffee". Have a rolling studio where everyone can plug in their instruments in the car and jam. "Musicians in car – playing music," or something like that. "
I look forward to that program and I think Grandma Lucretia would be proud if she found out that her car became a rolling music program.
This is the first car Magnum has ever driven and which, 35 years later, made him take the driver's license. The circle is closed, for now.
Thanks for everything Magnum.
---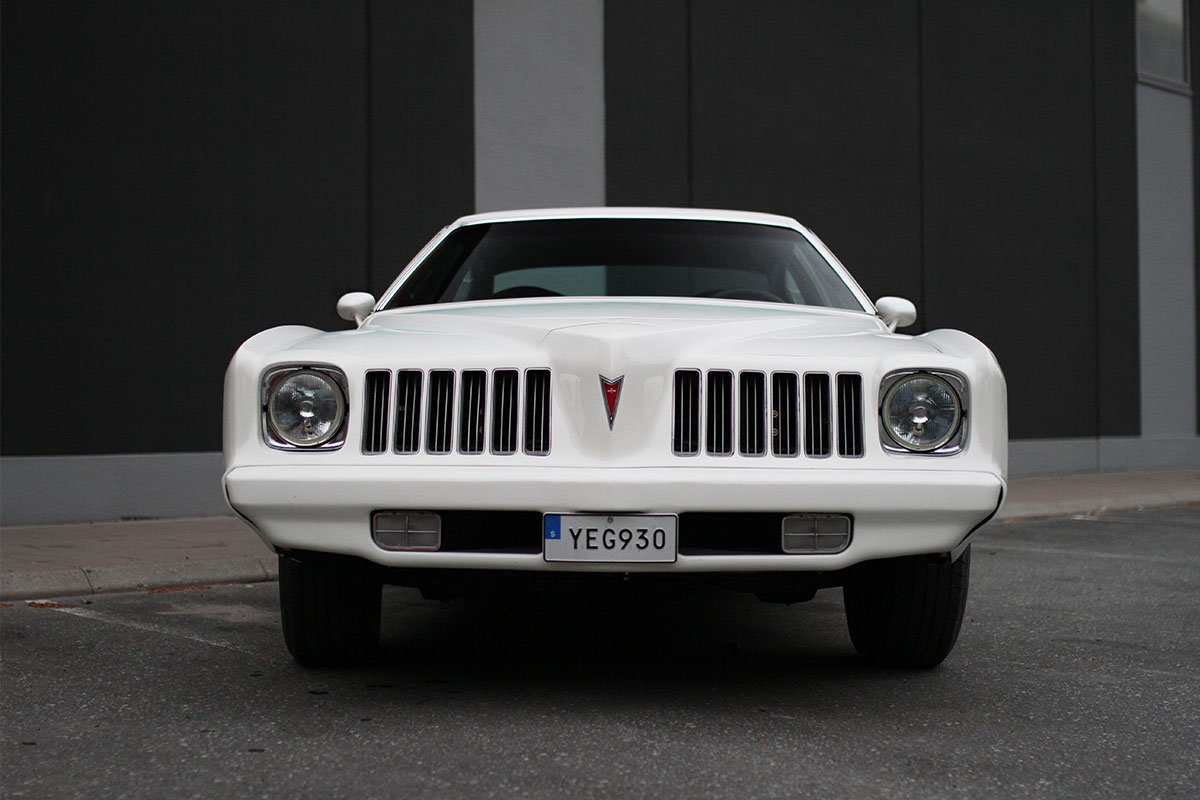 Pontiac Grand Am wall posters

This Pontiac Grand Am became Magnums grandma's when it came out from the factory in Detroit.
It's well kept now when it's rolling in Sweden and can become a great wall piece. 
Follow and listen to Magnum
---
Follow Magnum on his tours and in his everyday life with the Grand Am, music and everything that happens around him.
Magnum have written a great funk tuned tribute song to the Pontiac 6.5 – Listen to it and see to that you cruise in on his Spotify page by clicking here.
Follow the Fascinating Cars journey
---