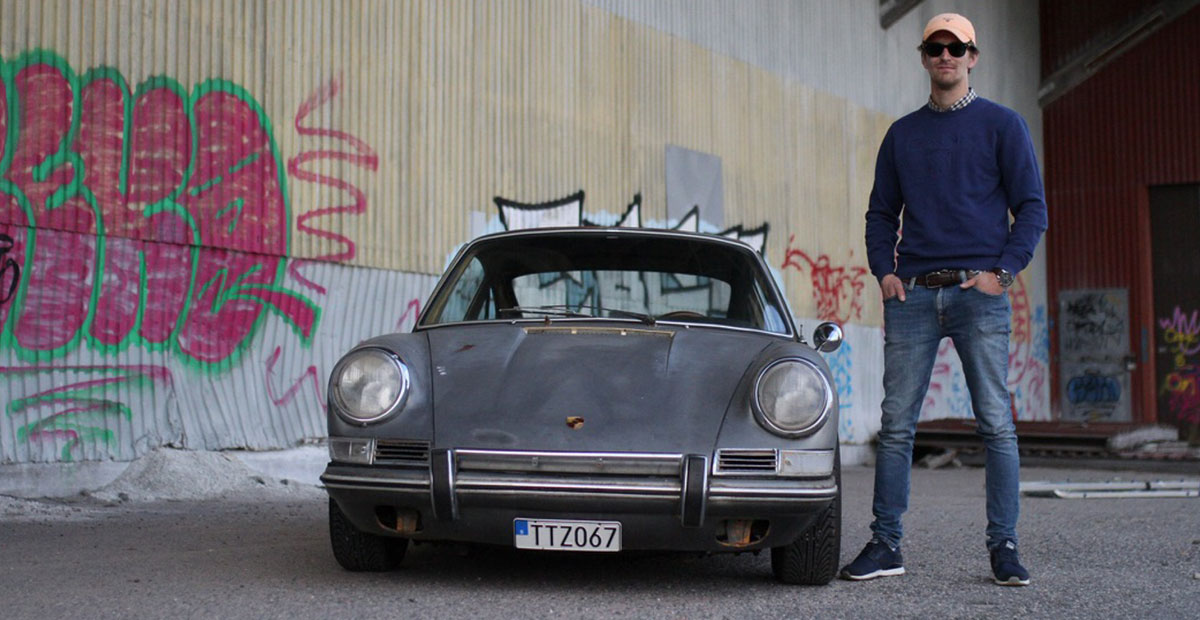 Patriks Patina Porsche 912
---
"I'll let it be like this. Why have a shiny car and stand in line with the others. This stands out, that's what I like."
Patrik Olsson's words are clear and convincing. His Porsche 912 is a hard core patina Porsche that creates attention wherever he comes.
---
The sun shines, but heats poorly when we meet at 8.30 at Alderholmen in Gävle on a Saturday morning in August.
Patrik's 912 engine puff blue grey smoke when he turns in and parkes in front of me. The sun is scarcely reflected in the chrome and the rusty backdrops makes me smile. What a car!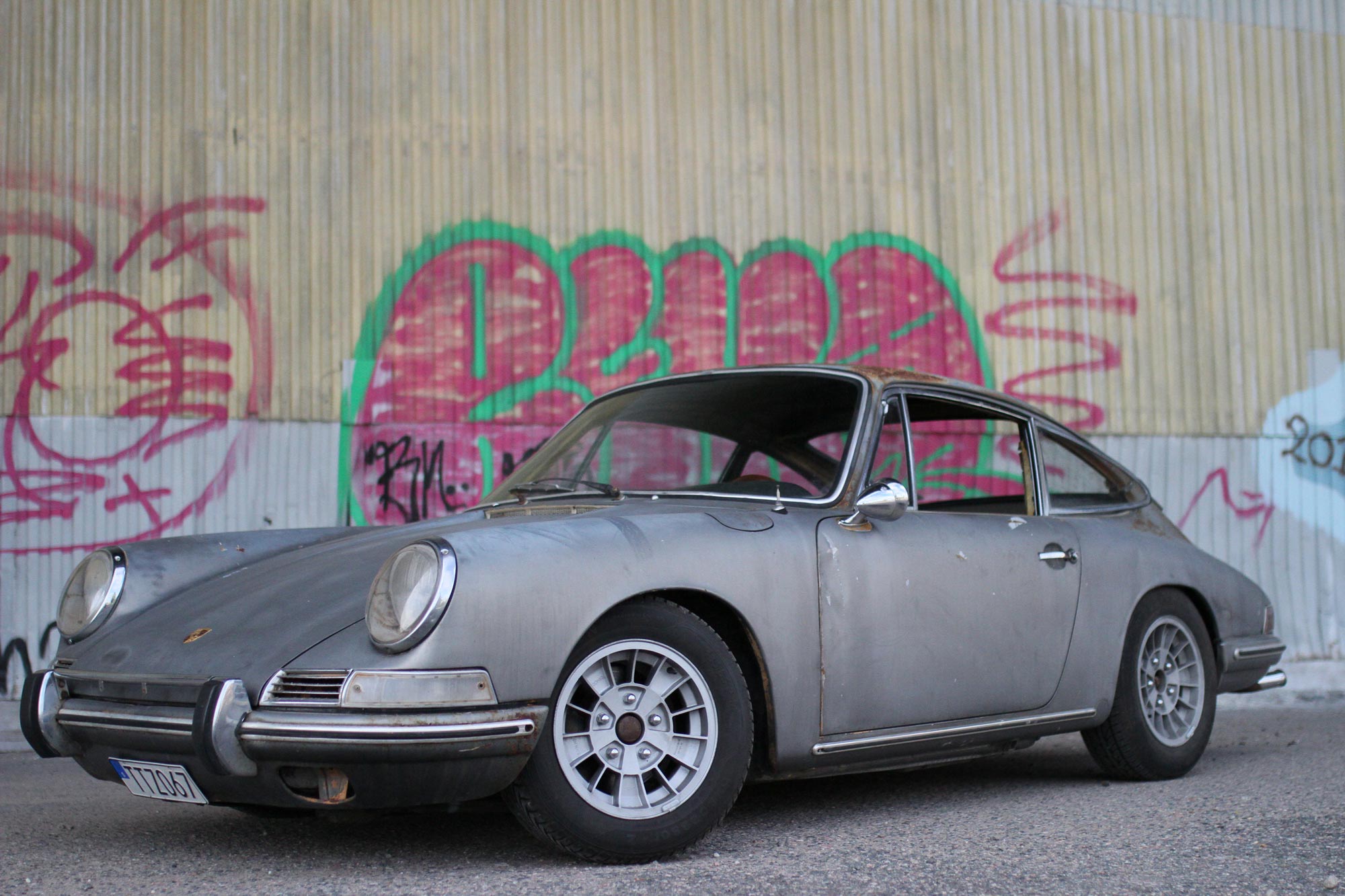 "The first time I saw it was when it arrived on the trailer to Stockholm. I understood immediately that these were not at all as the sales ad described it. "– Patrik explains to me after we shook hands.
A online purchased Porsche 912
---
The 912 is an online purchase from Belgium. In the advertisement, there were a few buckles, a little rust and the engine went smoothly. The pictures did not show much.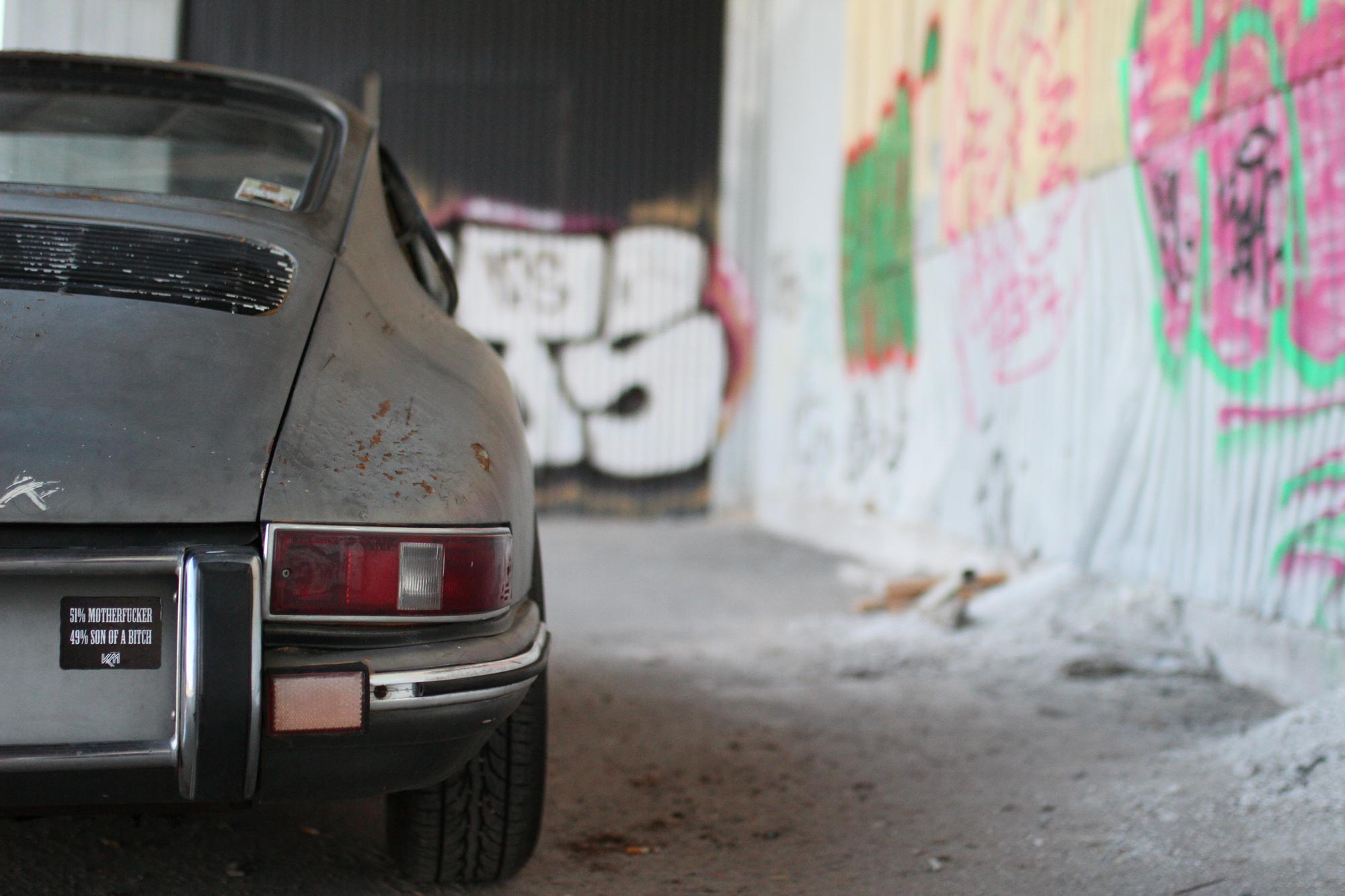 Truth was different. The floor was almost nonexistent, the engine was spinning around only a quarter of a round and the car smelled of moisture and mold. Patrik had bought it, unseen.
"I sent an email to the seller in Belgium and explained what I thought when I came home from Stockholm. Quite expected, I have still not received a response back after nine months." – says Patrik with a smile.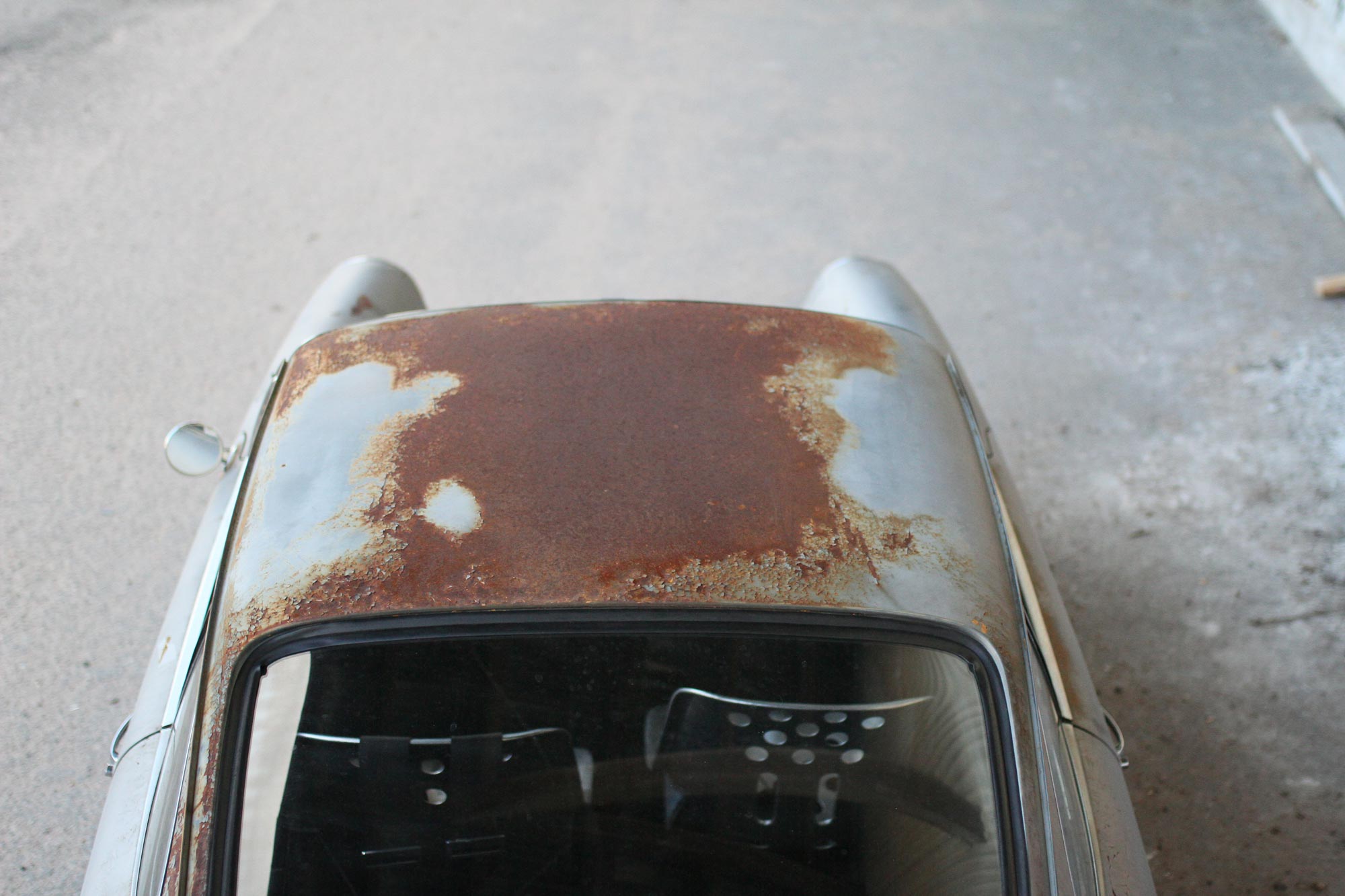 For those who like to polish their car, this car is a nightmare bigger than anyone. There is barely a spot larger than 10 x 10 cm paint that is co-colored. There are rust, sun bleaching, color changes and old damage throughout the car. The only place that has coherent color is the ceiling, the color was brown, rust brown.
Instead of getting pulled down of what condition the car was in. Patrik's unremitting optimism forced him to immediately get started with his new love.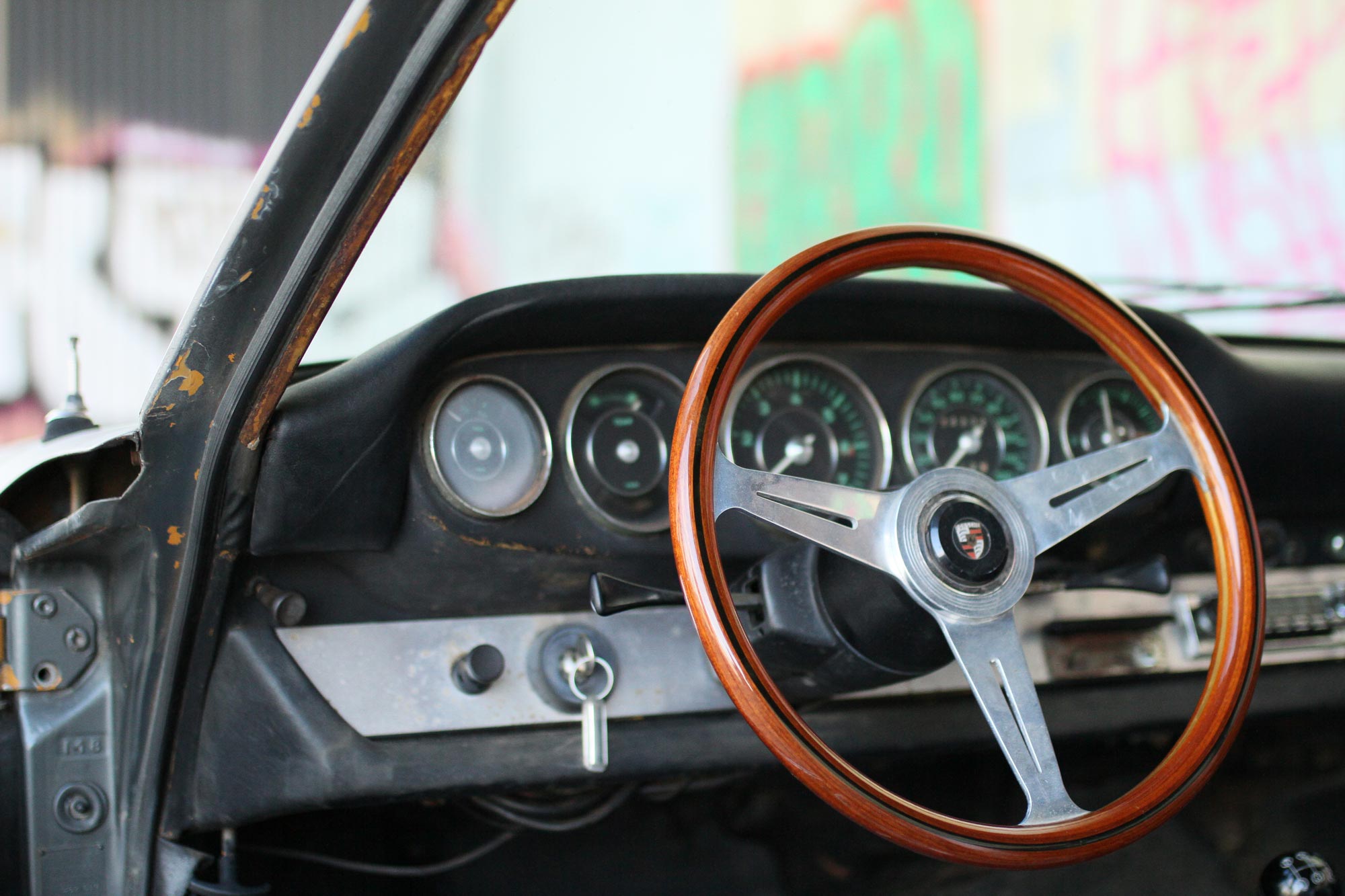 The car was delivered on Christmas Day 2017. A Christmas gift to himself as he says. Since then, they have created history together.

During the spring there was a persistent work on changing floors, removing engine, fixing the engine, braking, lowering, tearing up, building décor, sewing décor, looking for suitable parts, etc.

The boxer engine caught fire
---
In all this eagerness, when the engine was in place again. Patrik tried to launch it a couple of times. This is late one Sunday evening in February. With a definite thought, he said the classic comment to himself, after all the failed starts:
"One final try"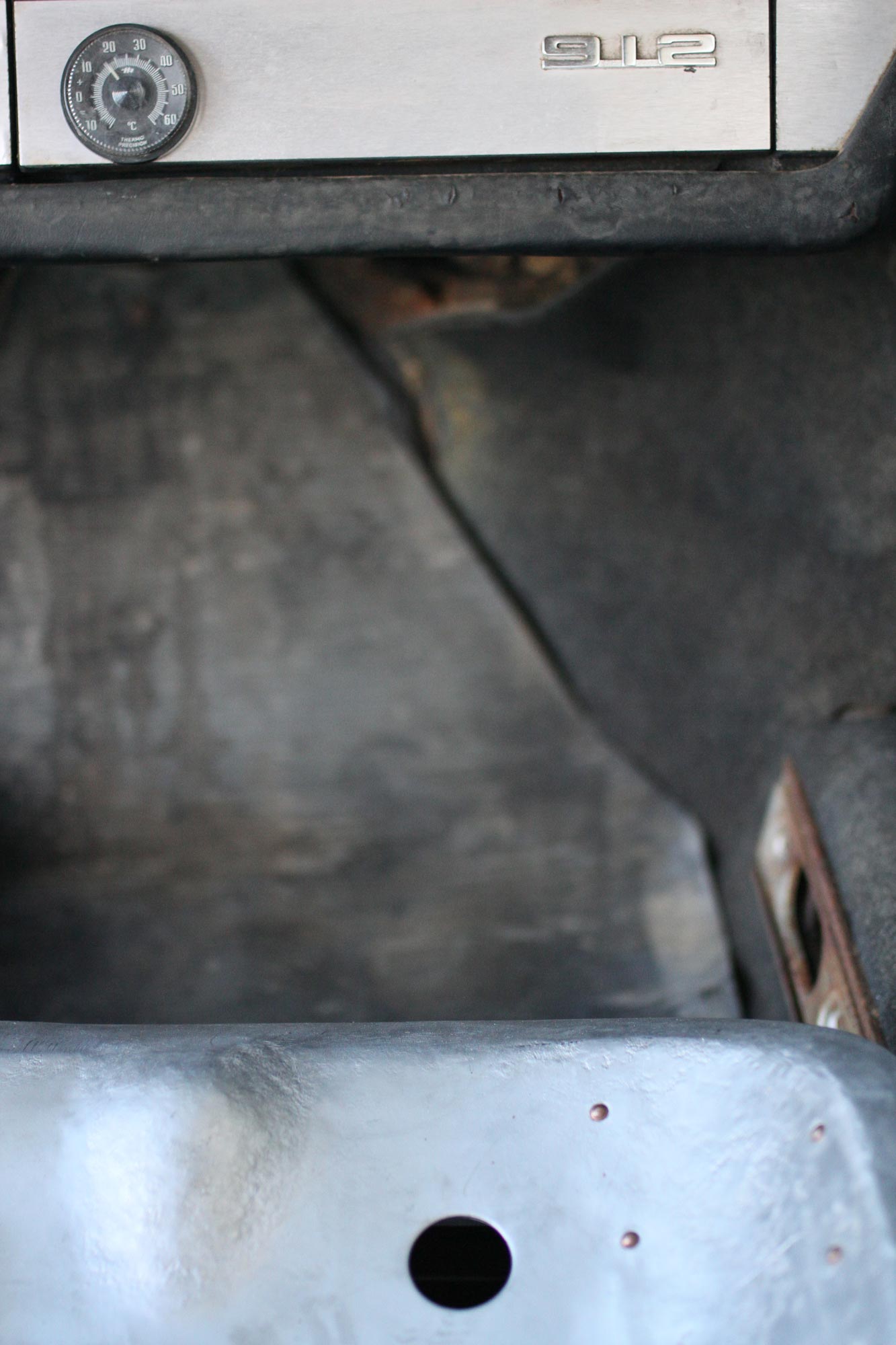 The carburetor flooded and the engine backfired. A crack in the top made the fire a fact. Flames came out from the left side of the engine where the temporary gasoline plastic can were placed. The can caught fire.

From experience, Patrik had put the fire extinguisher right next to the car so the fire didnt get overwhelming. Patrik, however, was allowed to spend a night in hospital with the second and third degree burns that he got when he moved the burning gasoline dunk.

What happened to the 912? A barely visible paint damage on the left rear fender and a discolored backlight.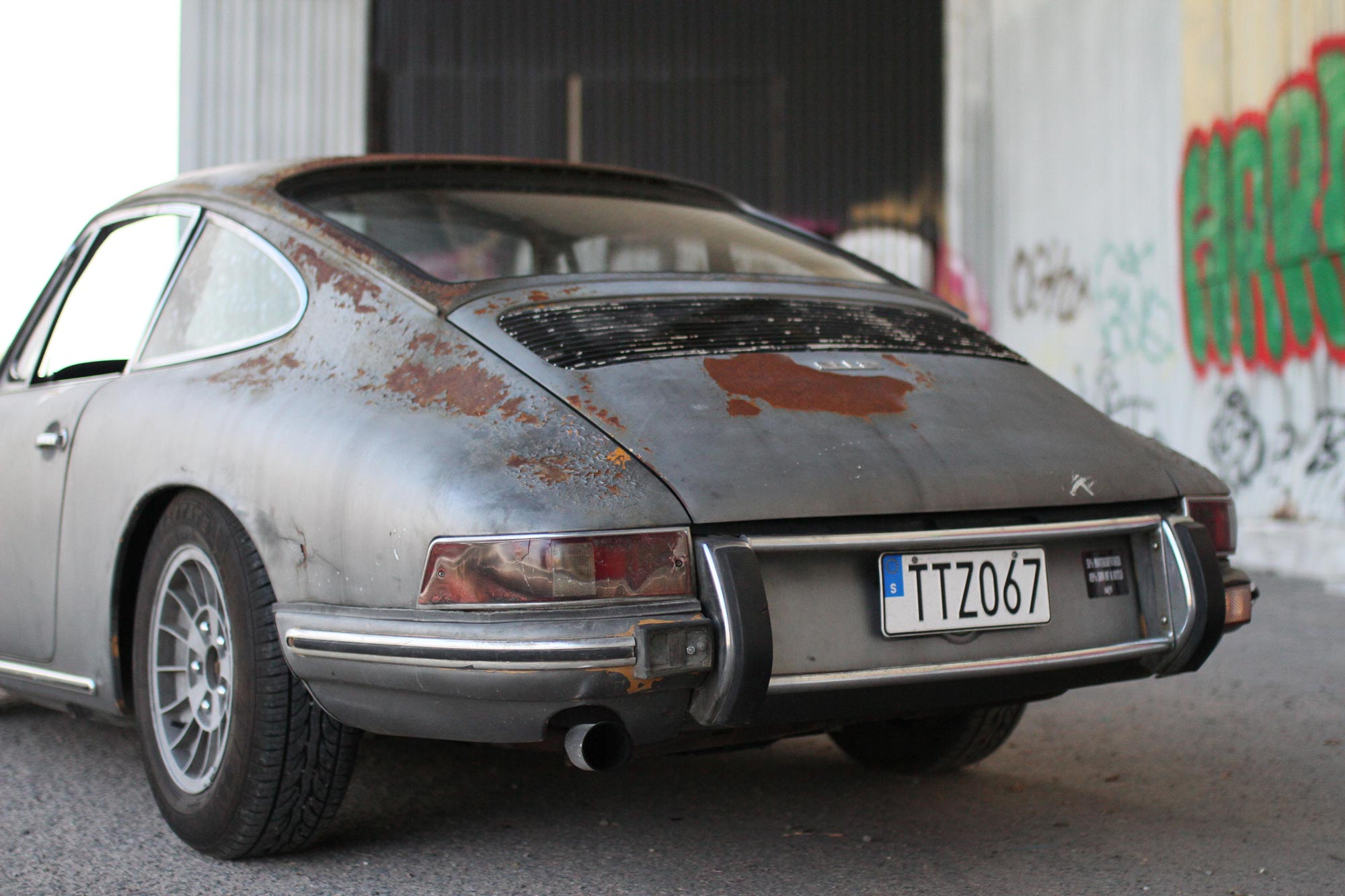 The fire did not stop Patrik in his process to create his very own Porsche 912.
The top was replaced, the engine was reinserted and the brakes fixed properly. After that, it came down to the car inspection after five months in the garage. Registration inspection needed to be done.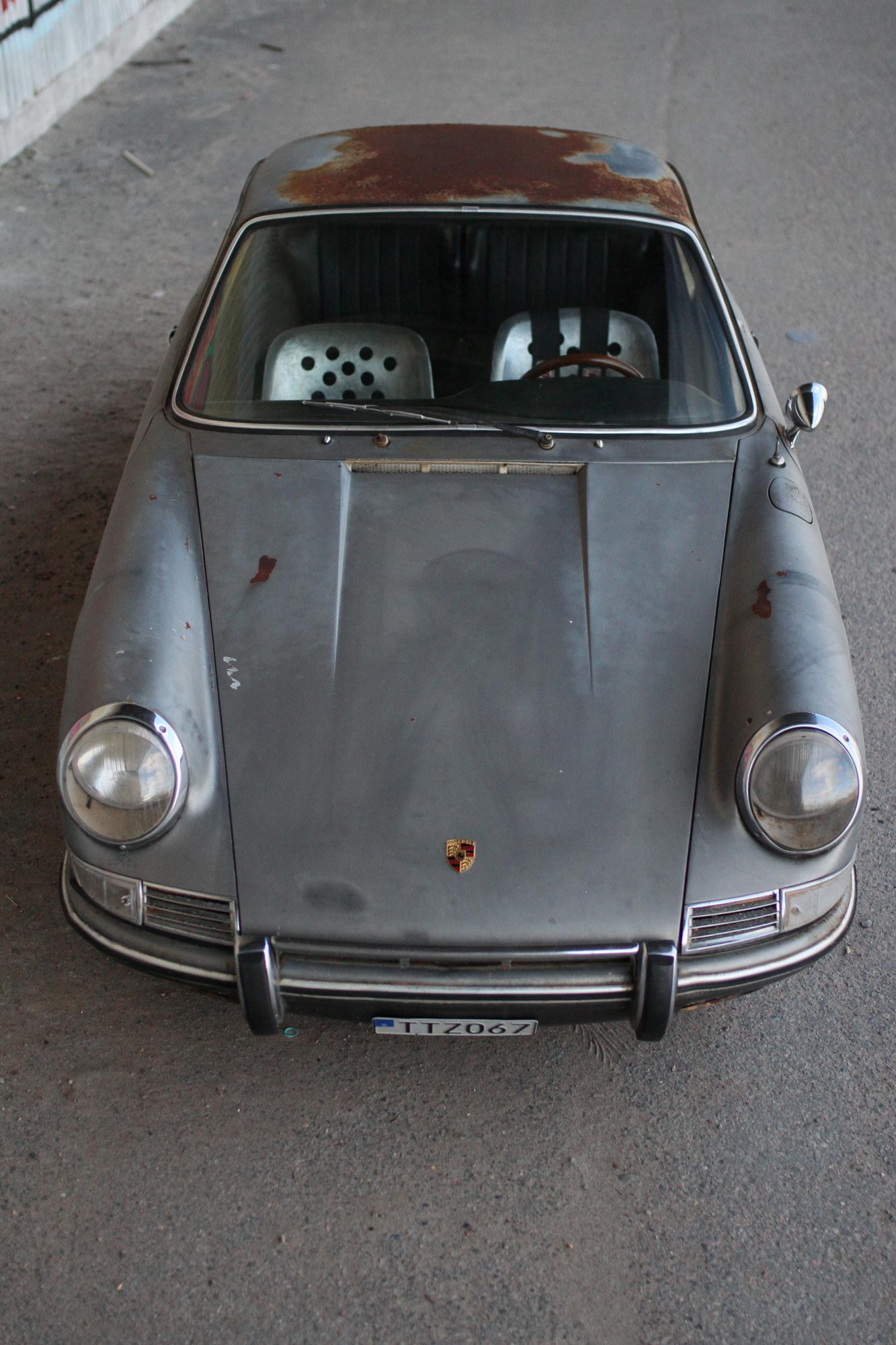 "Importing and inspecting a car is not as difficult as everyone believes. Especially not when it goes through the inspection without any problems." – says Patrik with a smile.
From April and the months to the summer, Patrik began to embellish and personalize the 912 after the visions he had.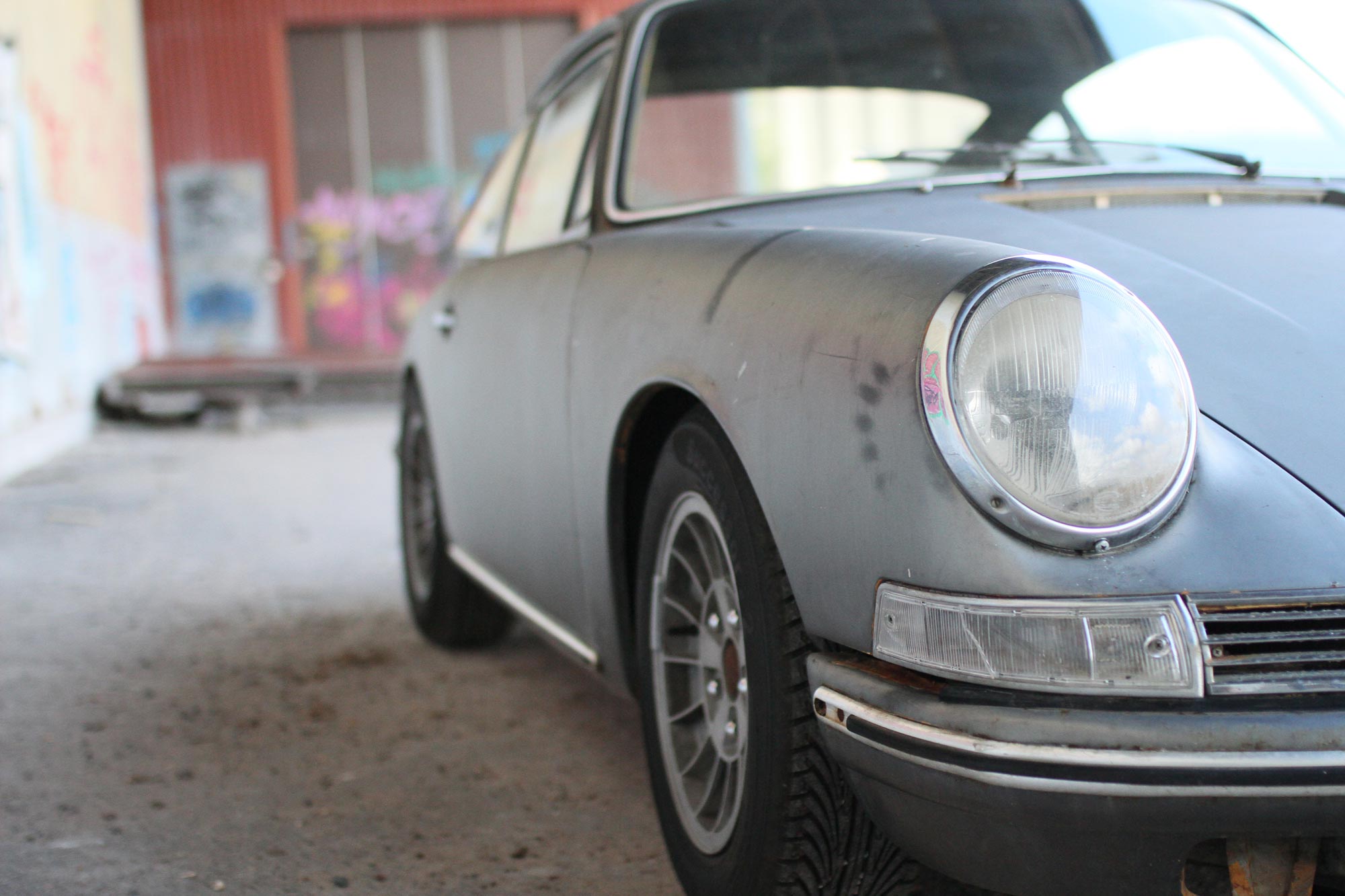 Porsche original parts had to go
---
He replaced the Fuchs wheels to more racing-like Ronal Kleeblatt wheels. The damp original chairs made room for a pair of Czech hand-made 356 aluminum chairs purchased on Urbans Garage. The Nardir Wheel, which was part of a trade, fit directly into the stripped cupé. The original back mirror made way for Mr Talbot and the gear shift knob was bought on a flea market
Slowly, a personal Porsche began to grow out of all tattered little bumps, rust bubbles and discoloured paintings.

The 912 has gone from a rustic internet purchase to a thoughtful hard core patina Porsche with great possibilities.
"Before I found the 912 I was sleepless with thoughts: Will I ever find my nice dream. When I found and bought it, my thoughts changed overnight: Imagine if I paid for something I do not get and think if everything is broken. Now I'm sleepless because I can not stop thinking about what to do with it."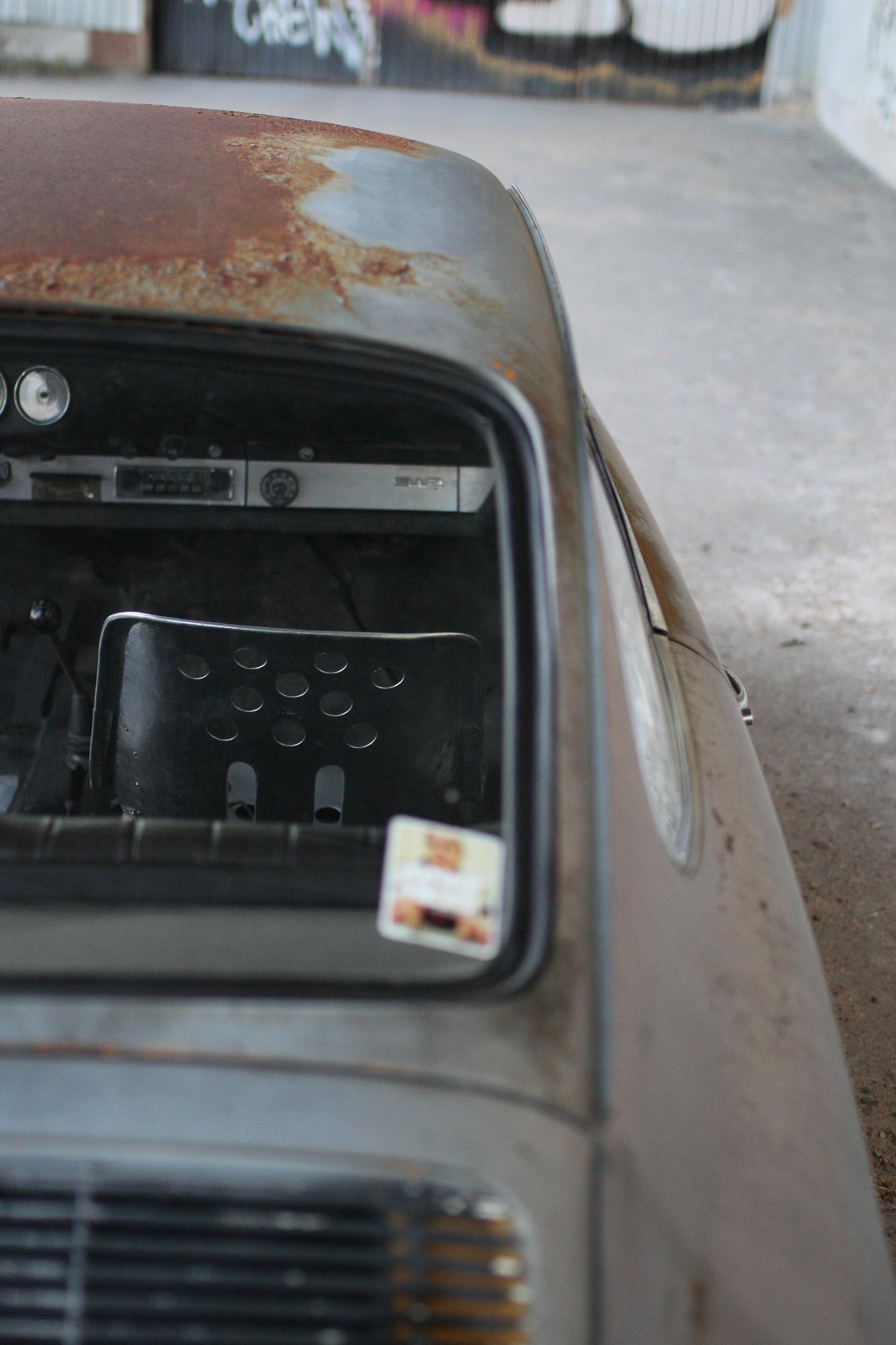 "The goal is to look as if it is found in a barn full of racing history. It should have been running on tracks all over the world, before the owner put it in the barn and "forgot" of it. "
When we say goodbye, after four hours of photography and nice conversation, Patrik drives along the gravel road filled with large pits. As he pushes the second gear in, the blue grey smoke puffs out of the exhaust system and I can not hold backa great smile.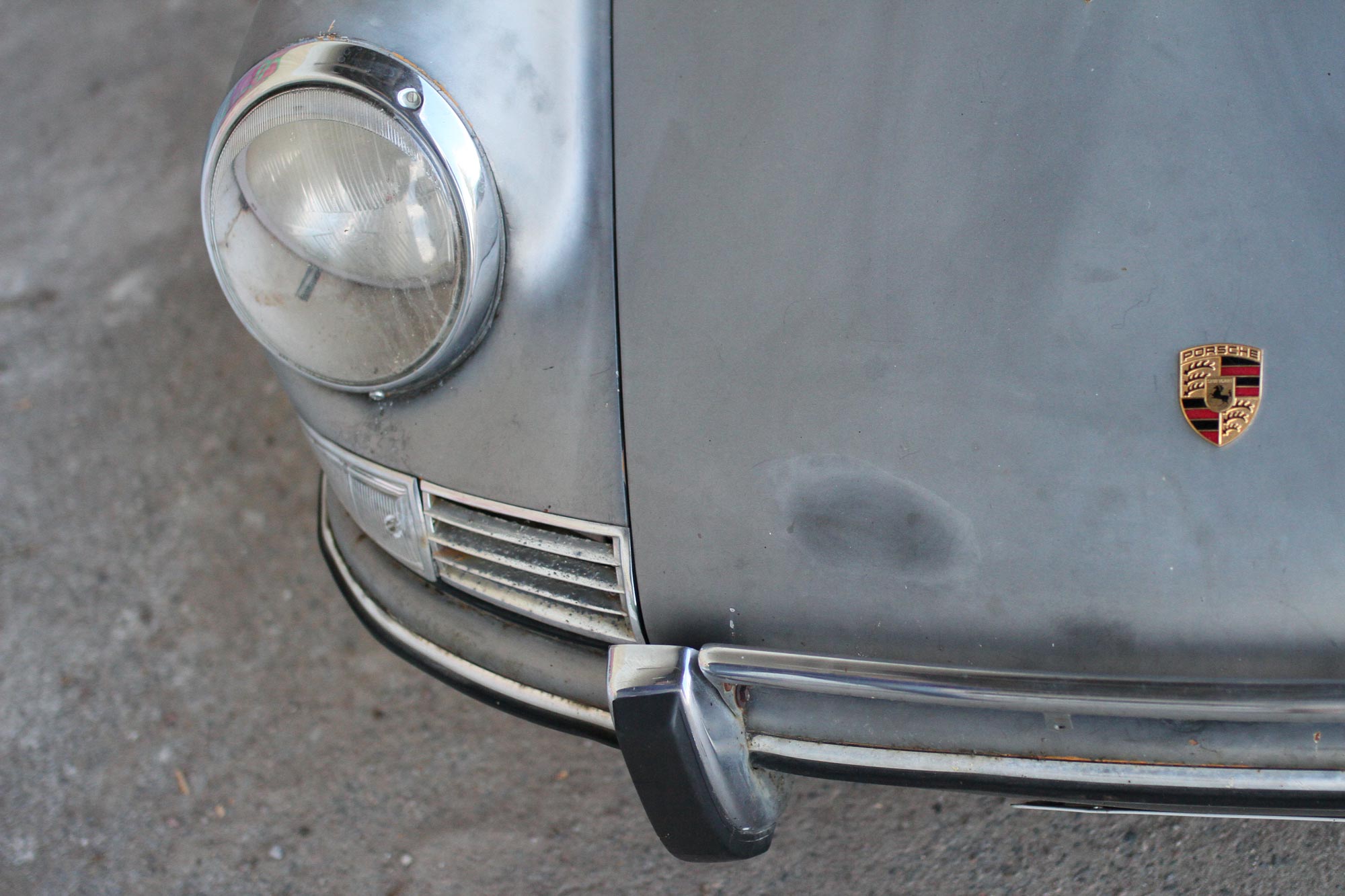 Ever since then, I longed for the fall to come so Patrik could close the door to his garage and continue to build his vision of a racing 912 that had been forgotten in a barn.
Soon, spring 2019 is here.
The Porsche 912 starting with blue smoke
---
Follow Patriks Porsche 912 trip
---

If you meet Patrik out there on the streets, have a chat with him and get to know him and his fantastic Porsche 912.
Do you guys wanna follow him and his 912´s adventure, tune in to his Instagram account Matspatrik.
---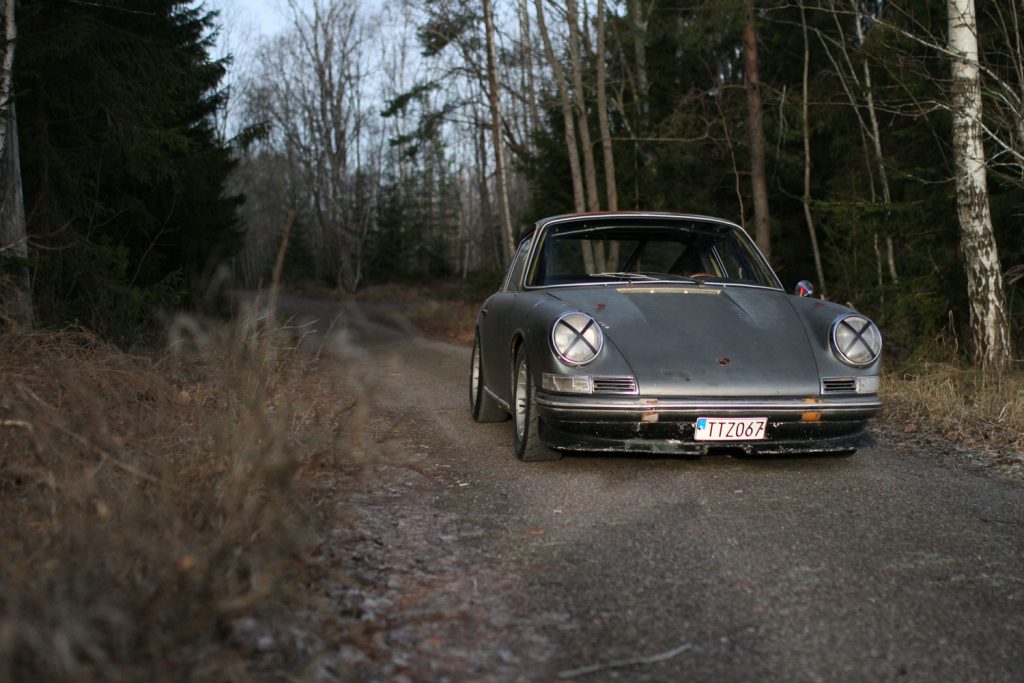 Porsche 912 Hard Core Patina wall posters
Patrik made this Porsche 912 to a hard core racing car from "before".  
The interior is so good looking so it by it self is an artwork. 
All posters are with or without text under the picture.
Great quality – sent to you all over the world, with local shipping costs.
Posters of Porsche 912
---
Follow the Fascinating Cars journey
---